As the year enters its final months, the price of bitcoin, cryptocurrency's market cap, and the decentralized exchange (DEX) Uniswap are looking like the winners of 2020 according to a report from CoinGecko, a crypto pricing directory.
2020: a bull year so far for the price of bitcoin
Although bitcoin prices took a tumble in March along with most of the economy, as the world shut down due to Covid-19, during the last weeks of October and the start of November the cryptocurrency hit multi-year highs cresting the $15,000 mark yesterday. In October, bitcoin's price jumped 28% ending the month with the best performance since the March 2020 market crash, according to CoinGecko. Bitcoin's momentum continues to propel it upwards, though it's not quite at the historical all-time high of $20,000 on December 17, 2017.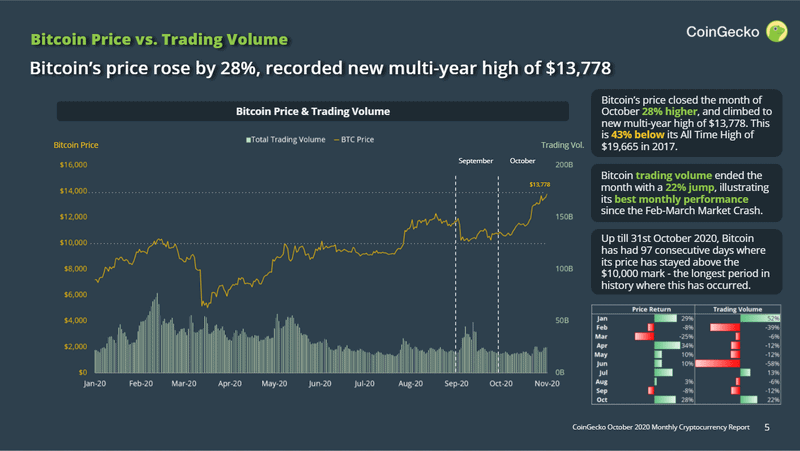 The reason for bitcoin's current price rally is remarkably different from three years ago. In 2020, bitcoin and other cryptocurrency are on the path to becoming an institutional asset. As we've reported extensively on Forkast.News, all the pieces are coming into place. A custody industry is emerging. U.S. regulators are becoming increasingly crypto-friendly. Even PayPal, which used to be hostile to cryptocurrency, is now letting users buy bitcoin on its platform.
Cryptocurrency's market capitalization hits yearly high
What's good for the goose is good for the gander, the old saying goes. According to CoinGecko's research, cryptocurrency's overall market-cap hit a high of $378 billion by the end of October.
While part of this was because of the rise in the price of bitcoin and general institutional adoption of cryptocurrency, the sizzling summer of decentralized finance (DeFi) also played a role.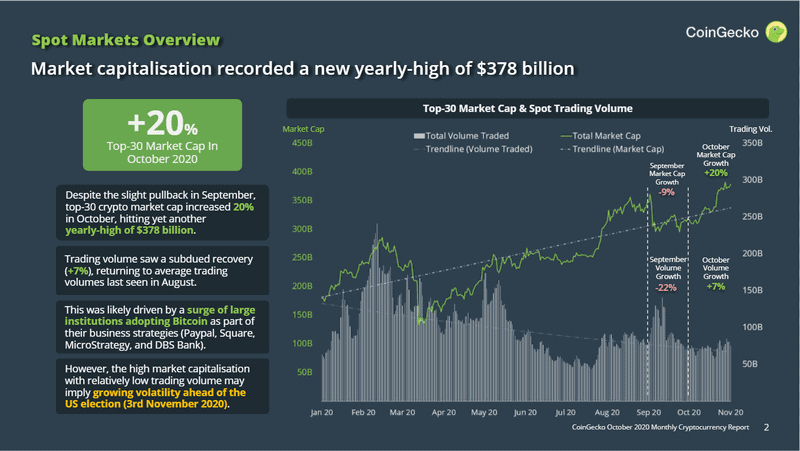 DeFi, which was blamed for the clogging of Etherum's virtual pipes, is also responsible for the interest in building up new blockchains like Solana. Recently, the stablecoin USD Coin (USDC) announced that it would expand its offerings to include Solana — similar plays have happened with other blockchain startups too. The liquidity that this brings drives adoption of new blockchains, and in turn boosts up bitcoin prices and other cryptocurrency's overall market cap.
Uniswap is the new king, but DEX may be hexed
As the summer of DeFi wound down and the market softened, naturally the volume on decentralized exchanges dropped as well.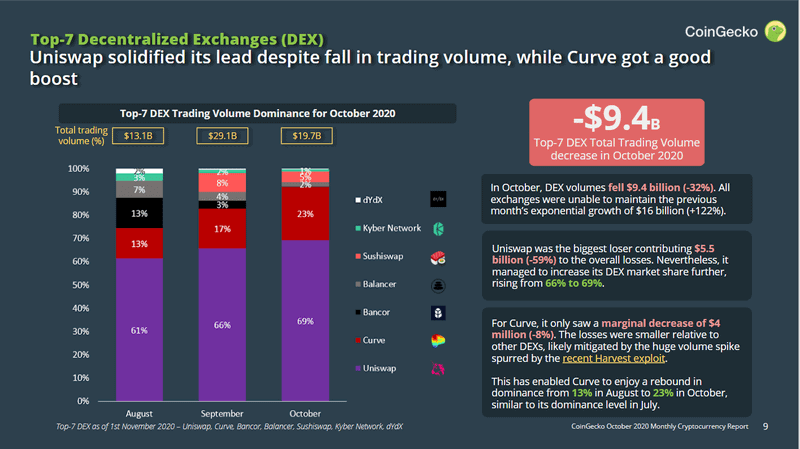 A number of DEXs saw their volumes drop precipitously, and many went under as DeFi projects imploded and traders moved assets elsewhere. According to CoinGecko, DEX volume in October fell by US$9.4 billion, or negative 32%, across all the cryptocurrency exchanges. Uniswap has hit the hardest with the biggest loss of $5.5 billion, or negative 59%.
But as Uniswap is the biggest of all of them, it has managed to weather the storm and survive — even increase its market share. Reports have it now pegged at 69%, up from 66% at the start of the month.