Nov. 20, 2020 update: OKEx reached out to Forkast.News last night to announce that its withdrawal services for all digital assets will resume on or before Nov. 27. OKEx founder Star Xu has also been released from police custody and has posted a notice in his WeChat feed, saying that he has been cooperating with authorities about an investigation into an equity merger of his blockchain company, OK Group.
______________________________________
It has been almost a month since OKEx, one of the biggest cryptocurrency exchanges in the world, suspended its token withdrawal services to its customers after its founder — Star Xu — was detained by police without a clear reason.
As police have yet to make an official announcement, and no charges have been filed, there have been plenty of rumors about the state of the company.
Has Beijing finally gotten tired of nominally Chinese companies using foreign flags of convenience? Is OKEx — which is based in Malta, gives its official address as being in Malaysia but has also kept offices in Beijing and Shanghai — being made an example of to warn other cryptocurrency exchanges operating on the mainland and targeting Chinese nationals that they, too would be subject to China's anti-cryptocurrency laws?
In China, when it comes to law enforcement matters, the police and court system often maintain an official silence for quite a long time until the officials collect enough evidence. But in this special analysis, Forkast.News will sift through what is known about the OKEx case to explain what is likely happening behind the scenes and the ominous implications for the cryptocurrency industry in China at large.
What happened to OKEx?
As Caixin reported on October 16, OKEx's founder, Star Xu, was brought in for questioning. Shortly after, the company issued an announcement stating that withdrawals of crypto assets had been suspended on its platform.
Two individuals close to OKEx told Caixin that Xu had been held by police for at least a week and hadn't been into work since.
See related article: Conflux's Open DeFi project aims to bridge East and West — with its own cryptocurrency in China
Jay Hao, the CEO of OKEx tweeted on the same day as Caixin's report that "the investigation concerns a certain private key holder's personal issue only." Shortly after, OKEx told Bloomberg that the police investigation had nothing to do with anti-money laundering or with the company itself.
OKEx's sudden service suspension affected the price of OKB, the native token of OKEx, which dropped from US$5.82 to s low as US$4.12 within 24 hours after the company's announcement. As of today, OKB's price had recovered to US$4.84.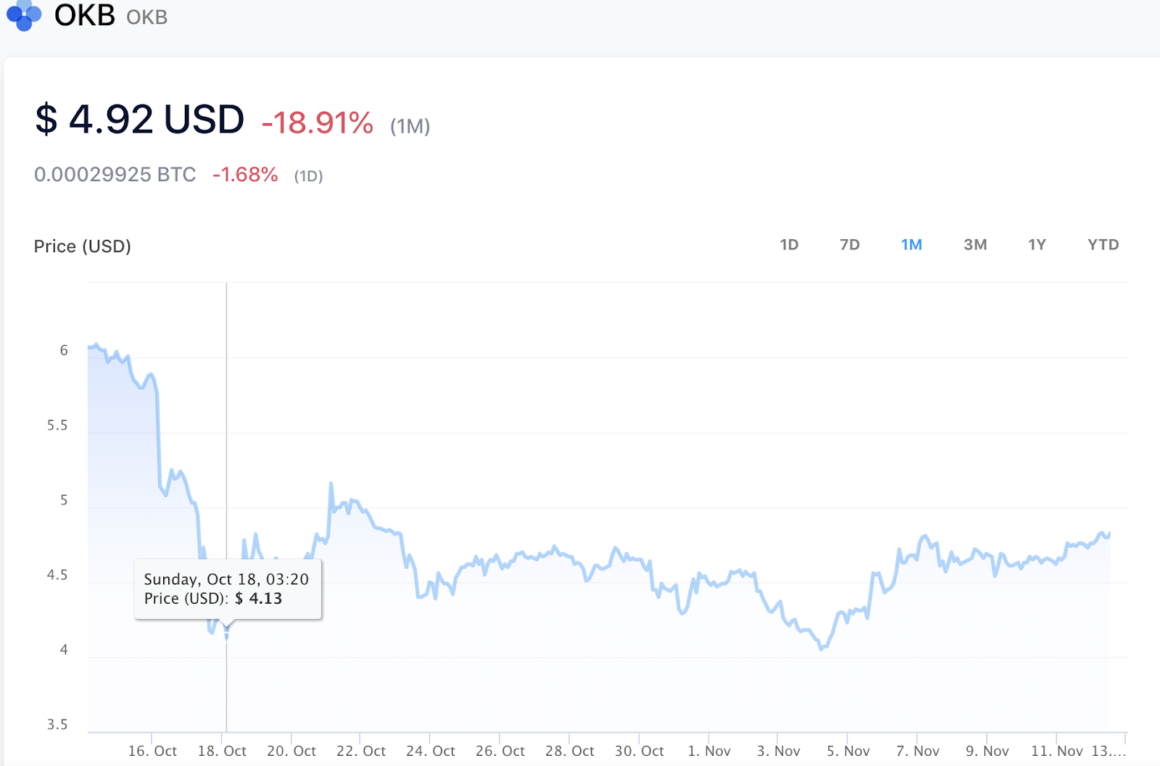 This isn't the first run-in that Xu has had with Chinese law. Back in September 2018, Xu was being investigated by Shanghai police after investors alleged that OKEx manipulated the trading market, and Xu was suspected of fraud. In 2018, Xu resigned from the CEO position of OKEx and kept a distance from the day-to-day operations of the company.
As of the publishing time of this story, OKEx's services had not yet resumed. Its customers also seem beyond irate and exasperated.
"When can I withdraw my money?" OKEx clients keep posting on Weibo, the microblogging service that is sometimes called "Chinese Twitter," in response to OKEx's post offering a lucky draw.
"Do we need to wait until Chinese New Year?" another OKEx customer with frozen crypto assets demanded to know.
OKEx replied: "When our services resume, we will notify our investors from all our official channels immediately."
What OKEx's downfall means for China's cryptocurrency industry
The modus operandi of OKEx — and many other cryptocurrency exchanges — of being based outside of China, but doing business with PRC nationals, is now facing considerably more challenges compared to before.
In September 2017, China deemed Initial Coin Offerings (ICOs) illegal and banned their issuance of them on the mainland. In response, many cryptocurrency exchanges — including Binance — decided to decamp to greener regulatory pastures.
But moving a cryptocurrency exchange's corporate headquarters out of China doesn't mean that these exchanges are stopping services to China-based traders.
In fact, the over-the-counter (OTC) market continues to thrive on the mainland, with cryptocurrency exchanges doing brisk business and allowing would-be investors to buy BTC, ETH, EOS and more from peers using RMB.
This has certainly been long on the radar of Chinese officials. In 2018, Pan Gongsheng, the vice-president of the People's Bank of China warned that cryptocurrency exchanges based overseas but solicit business from people in China are still illegal.
In response, some cryptocurrency exchanges decided to spin off their operations to keep a firewall between their Chinese and overseas divisions. For example, Huobi's cryptocurrency exchange business, based in Singapore, is a wholly different entity than Huobi China, which is based in Hainan and mainly focuses on developing blockchain technology.
OKEx is in a similar situation. To evade mainland China's regulations, Star Xu tried to divide his company into separate entities — OKEx based in Malta, and OKCoin in Beijing.
However, a judge in the Hangzhou court issued a verdict finding that OKEx, based in Malta,is only an overseas registered website derived from www.okcoin.cn — meaning, that OKEx and OKCoin are related.
OKCoin now bills itself as a "blockchain explorer" company that tracks cryptocurrency prices and provides other cryptocurrency-related information, such as total value locked in decentralized finance (DeFi).
The scandal of OKEx brings up another concern: custody. If Xu is one of the private key holders of OKEx's wallets, he is, ipso facto, the custodian of all of the digital assets. This presents a plethora of issues: exposure to local securities laws, and the fear that there could be a QuadrigaCX-like scenario where, if the keyholder dies or vanishes, retail investors are wiped out.
There's also the KYC (know-your-customer) question. Like many cryptocurrency exchanges, OKEx's OTC platform lacked a sufficient KYC procedure — and authorities might have considered it a potential money-laundering disaster in the making.
Further, the fact that all the trading occurred overseas means dispute resolution mechanisms available to traders in China would be limited.
The crackdown on Xu and OKEx coincided with some regulatory developments on China's crypto front. On October 19, elite universities and internet giants drafted the Blockchain Information Service Security Specifications. Led by the Ministry of Industry and Information Technology, Chinese regulators were moving to tighten regulations over blockchain, cryptocurrency and related information services. Also, two days before the OKEx was forced into suspending service, a government draft of anti-money laundering regulations was also released. The proposed regulations would define China's basic anti-money laundering technical security code, including standards for blockchain technical code, KYC/AML code, blockchain finance and blockchain asset types.
While China has officially adopted blockchain technology as a nationwide strategy, what is happening to OKEx suggests that supervision of cryptocurrency exchanges is tightening.
While it remains to be seen whether China's crackdown on OKEx is the beginning of another industry-wide wipeout like that in 2017, after China banned ICOs and crypto companies shuttered across the country, other cryptocurrency exchanges in China should consider themselves warned, loud and clear.