The crypto exchange has a presence in China, but not an official registration.
Binance closed its doors in China in July 2018, according to a filing in China's National Enterprise Credit System reviewed by Forkast.News.
The National Enterprise Credit System records show that the company incorporated in China in 2017 and registered its address at the Chengqiao Economic Development Zone in Shanghai.
No police, no raid, no office. Hope you didn't pay to read that FUD block. pic.twitter.com/W2msvY2hSA

— CZ Binance (@cz_binance) November 22, 2019
According to the filing, the company's Executive Director is Chen Guangying, CTO is Wang Lilai. "CZ" Changpeng Zhao is not mentioned on the filing. In late 2017, the company said it was moving its headquarters out of China given the hostile regulatory environment. Initially the company looked at moving to Japan but eventually decided on Malta. While its corporate domicile is in Malta, its team is distributed throughout Asia with the majority working in Singapore.
The Shanghai Police Department's Weibo account is also silent about a "raid" on Binance's offices. While there is a post warning that digital currency trading platforms are illegal in China, and that the department had recently shut down a cloud-mining app called Bitmine (比特矿场) in Shanghai, Binance is not mentioned.
While Binance doesn't have an official presence in China, it's likely that it still had some employees in the country that worked remotely. The Block and local media reports from China published addresses that purported to be Binance's Shanghai office, but appear to be co-working spaces, which gives credence to the idea that the employees in China were remote workers. According to a statement released by Binance, the company's team is distributed across 40 different countries.
Binance also had a stake in the Chinese-language Blockchain news platform BABI but the platform shuttered towards the end of 2018.
In response to the Block story, Binance CEO Changpeng Zhao has threatened to sue The Block for libel but a suit has yet to be launched.
After the story was published Thursday, the price of Bitcoin dropped 8.4%.
This story comes shortly after police in Beijing shut down the exchange BISS, arresting 10 of its staff members, including its CEO. Police in Shenzhen are also said to be cracking down on cryptocurrency companies in the city having issued alerts to the public about the legality of exchanges and crypto mining companies.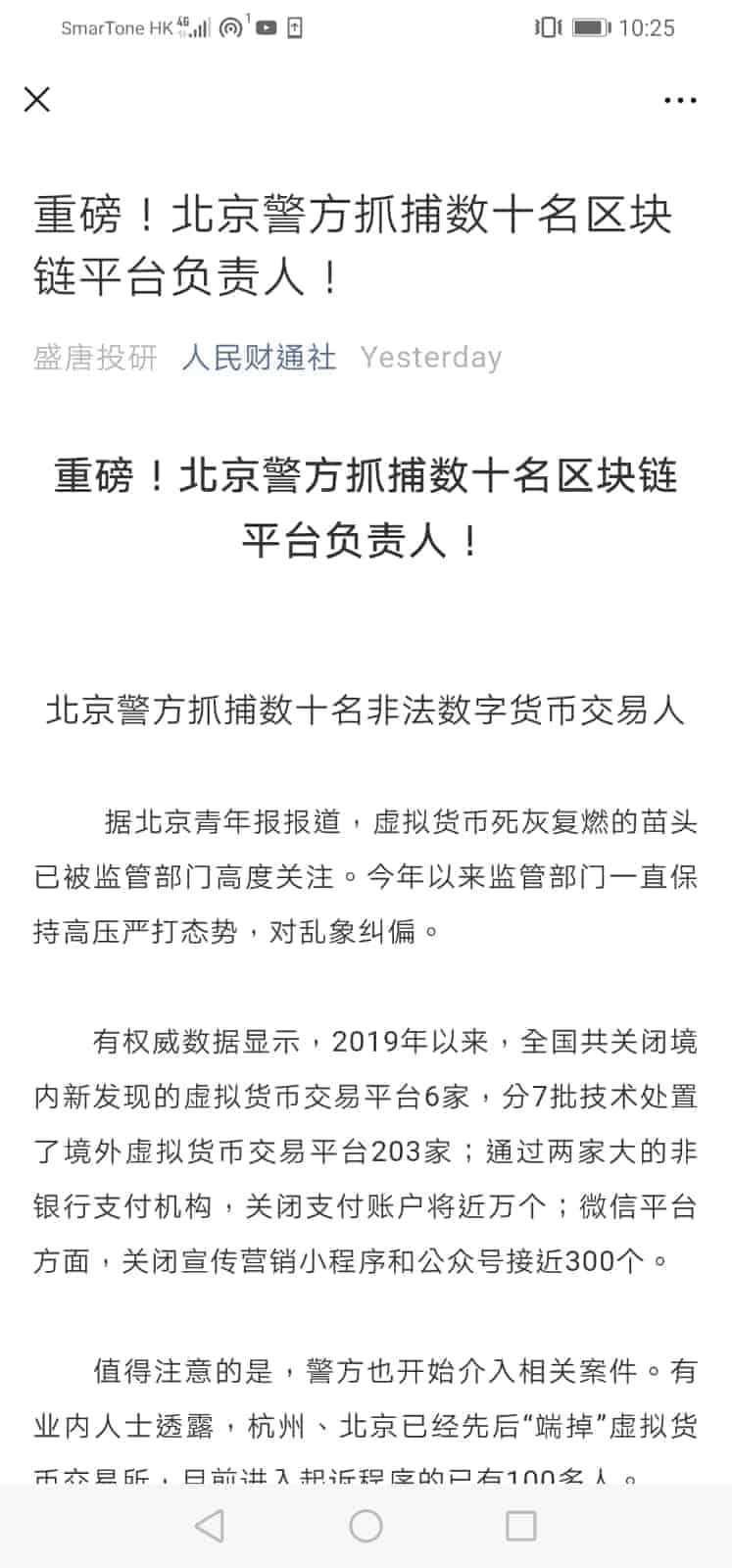 By the time of publication, Binance had yet to respond to Forkast.News' inquiry about the nature of their Shanghai office and presence in China.
See related article: What's Next for CZ? Binance CEO on Getting Hacked, Being Compliant, and His Future