Binance and Huobi — two of the world's largest crypto exchanges — are encountering markedly different receptions by authorities in China.
Binance became the target of scolding by China's state media this week, while on the same day, rival Huobi received the Chinese media equivalent of a coronation.
China National Radio (CNR) news, a Beijing-based official mouthpiece for the Chinese government, recently published a story about initial coin offerings and crypto trading — which have been illegal in China since 2017 — warning users about the potential risks of losing their capital in an unregulated market. The story highlighted the dangers of the ICO market, noting how many ICO projects have failed to materialize or provide returns for their investors.
The CNR article also singled out Binance as a primary example, reporting on Binance's security breaches and noting that Binance users have lost funds on the exchange because of alleged lax security practices.
CNR also warned that some crypto exchanges have moved from China to offshore jurisdictions to evade Chinese regulations, but continue to target users in mainland China. It warned that if consumers are unable to determine the identity of the operator, property losses would be difficult to recover.
China's "bitcoin billionaire" Li Xiaolai joined the fray, posting the article on Weibo along with a comment that names Binance's founder and CEO, popularly known as "CZ": "risk alert: Look what Zhao Changpeng did… Feel bad for Binance users!"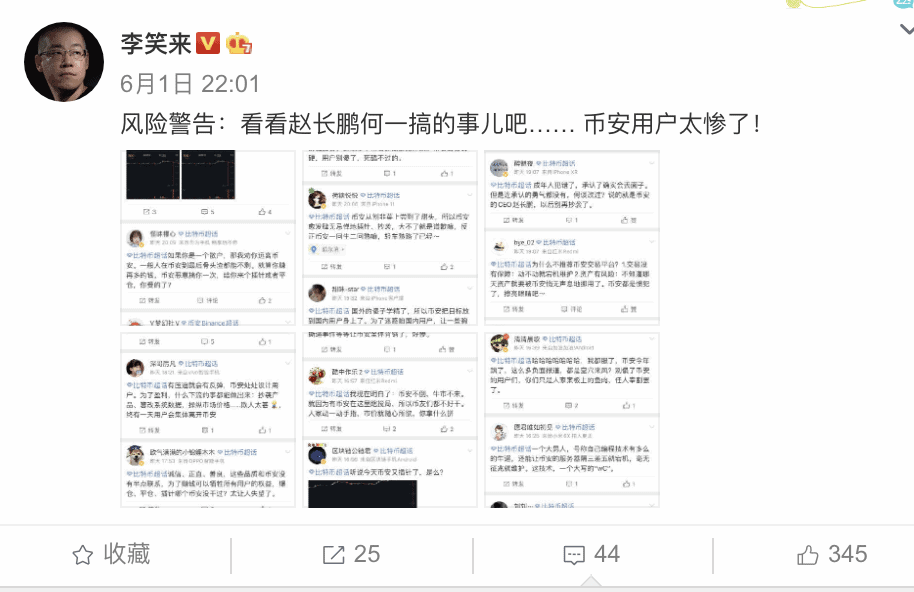 In the meanwhile, Binance competitor Huobi — which, like Binance, also conducts its cryptocurrency trades outside the mainland so it would not be subject to Chinese regulations — is being covered by Chinese media with a markedly different tone.
On Central Television Channel 13 (CCTV) this week, Huobi was highlighted as being an important part of the tech cluster in Hainan, the new free-trade port of China.
Binance and Huobi are in the exact same business of allowing customers to buy or sell coins for other cryptocurrencies or fiat money. Why the difference in how they are regarded by Chinese state media, which are essentially megaphones for government authorities?
When China's state-run TV stations, radio, newspapers or online news platforms issue a warning about a company, usually it's a way of public policy being announced or laundered. Beijing also uses state media from time to time to try to bend non-Chinese corporations to its will.
In 2013, Apple's warranty practices came under heat by Chinese media as a proxy for Beijing's annoyance with Washington's treatment of Huawei and ZTE and Apple's prior stance of hosting — and protecting — Chinese users' data outside of the country (offshore and out of reach). While Washington has not backed down and its scrutiny of Huawei and ZTE has only intensified over the past few years, Apple eventually capitulated to China's demands and opened up a data center within China to store user data locally, which now makes Apple user data easily accessible to Chinese law enforcement.

During the government media's 2013 campaign against Apple, many celebrities also posted criticisms of the company on Weibo. However, this negative publicity turned out to be a government-coordinated message push as some celebrities apparently forgot to delete instructions to "post at around 8:20" from the end of the government directive they were supposed to re-post as their own.
In response to the recent Chinese National Radio body slams, Binance is now saying that its local China site was only a test platform and not meant for the general public use. The exchange claims that according to their analytics, most users were actually from Egypt and not mainland China.
Flying a flag of convenience
Binance hasn't had a corporate registration in China since 2018, as the company said it was moving its headquarters out of the country due to a "hostile regulatory environment." In late 2019, there were reports that police "raided" Binance's office in Shanghai, but these reports later turned out to be unsubstantiated claims from rumor mongers.
Huobi has maintained an office in China, but like Binance conducts its primary operations off-shore, which observers have pointed out is a ploy to evade the mainland's anti-crypto laws and regulations. The two exchanges are so similar in what they do that they are often mentioned interchangeably in the same sentence about large crypto exchanges. They compete for essentially the same customers.
Binance and Huobi also co-starred in a recent report by the blockchain research and security firm Chainalysis.
Chainalysis traced $2.8 billion in criminal bitcoin transactions in 2019, and found that the majority of the transfers went through Binance and Huobi. In fact, the two exchanges' share of those transactions were almost identical, with 27.5% via Binance and 24.7% going through Huobi, according to Chainalysis. Chainanalysis notes that these illicit activities appear to come from only a small percentage of the total accounts handled by the two exchanges.
But in other ways, the two business rivals are two very different companies. Here is where this blockchain story comes to a fork.
A tale of two exchanges
In contrast to Binance, Huobi has taken a different approach to Chinese government relations.
In 2018, when Binance had already moved its corporate headquarters out of China for more crypto-friendly shores, Huobi stayed put and opened a Communist Party of China branch within the company.
Hosting an in-house government liaison and lobbying department is a move that many big corporations make in China, to make nice with the government and to signal cooperation and regulatory compliance. The Communist Party's charter says that any enterprise in China that has at least three party members as employees shall establish its own party branch.
So, while Binance moved to Japan, and then allegedly to Malta (though the Maltese recently disavowed having any jurisdiction over the company), Huobi set up an in-house party branch to demonstrate Huobi's loyalty to the Communist Party and willingness to be under government supervision.
Huobi is now also participating in China's new national Blockchain Service Network as one of the 14 founding members of the platform. The company has also been participating in various projects in China's Belt and Road initiative, according to Bloomberg.