In this issue
EDX Markets: Interest despite crypto crackdown
Forkast 500 NFT Index: Cautious NFT traders
Alibaba: New leader eyes Web3
---
1. Lingering interest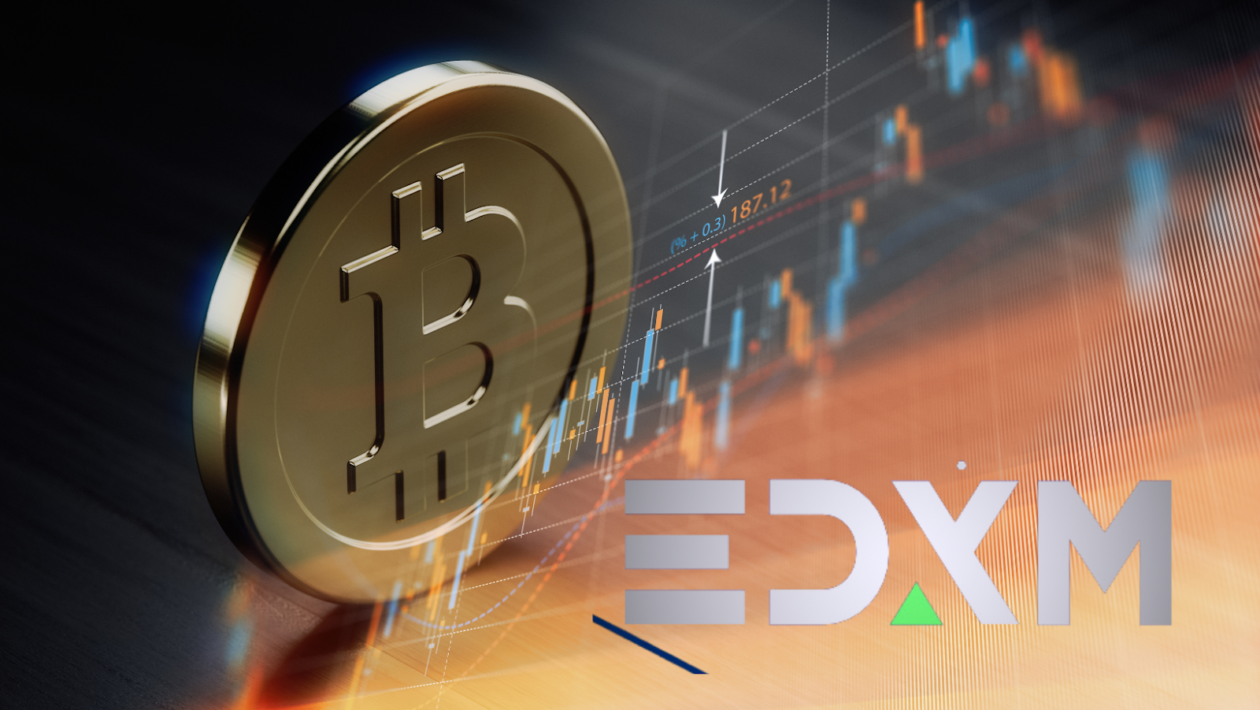 EDX Markets, a new crypto exchange backed by major Wall Street players such as Fidelity Investments, Citadel Securities and Charles Schwab, will offer Bitcoin, Bitcoin Cash, Ethereum and Litecoin trading services. The launch, which echoes BlackRock's Bitcoin exchange-traded fund (ETF) filing last week, reflects the institutional interest in cryptocurrencies despite SEC's crackdown on the industry.
Bitcoin, Bitcoin Cash, Ethereum and Litecoin are not named securities by the U.S. Securities and Exchange Commission.
New Jersey-based EDX has also completed a new funding round from investors, including options exchange operator Miami International Holdings and affiliates of proprietary trading firms DV Trading, GTS, GSR and Hudson River Trading, the exchange said in a press release Tuesday.
Unlike other centralized crypto trading platforms, EDX said it adopts "non-custodial model designed to mitigate conflicts of interest," which means the exchange does not directly handle customers' digital assets. Instead, it operates similarly to traditional stock markets where brokerage firms book orders from investors, as reported by The Wall Street Journal Tuesday.
EDX also plans to introduce a clearinghouse later this year to facilitate the transactions and exchange of payments, but will still refrain from directly holding investors' assets.
---
2. NFT markets smile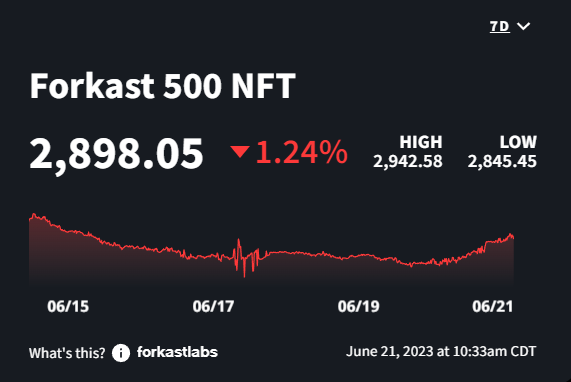 The Forkast 500 NFT Index declined 1.24% this week, but following double-digit losses just one week ago, the current decline can be interpreted as positive.

This week has brought plenty of bullish news, and it's beginning to counteract the recent FUD (fear, uncertainty and doubt) across the crypto industry. But traders remain cautious with their funds, spending their money on established projects instead of new mints.
The Ethereum NFT Composite lost 4.31% from a lower index impacting the average sale price in some of the top NFT projects.
The average sales price for Bored Ape Yacht Club (BAYC) in May dipped to a low of US$80,000, unseen since July 2021, with a slight improvement this month, averaging at US$84,000.
BAYC spin-off Mutant Ape Yacht Club's average sales price this week fell to US$15,000, its second lowest level since the collection's inception in August 2021.
Doodles' average sales price stood just under US$4,000 over the past seven days, nearly even with last week but down from the beginning of June when it stood at US$4,300.
Moonbirds' average sales price decreased 17% from US$3,968 to US$3,364.
Ethereum saw a 9% decrease in total U.S. dollar sales volume, as Polygon fell 20%, while the Solana blockchain's total sales volume increased by 4.99%. The Solana NFT Composite strengthened 2.35%, also aided by SOL regaining some of its value following the scare of the SEC labeling it as a security.
3. A friendly face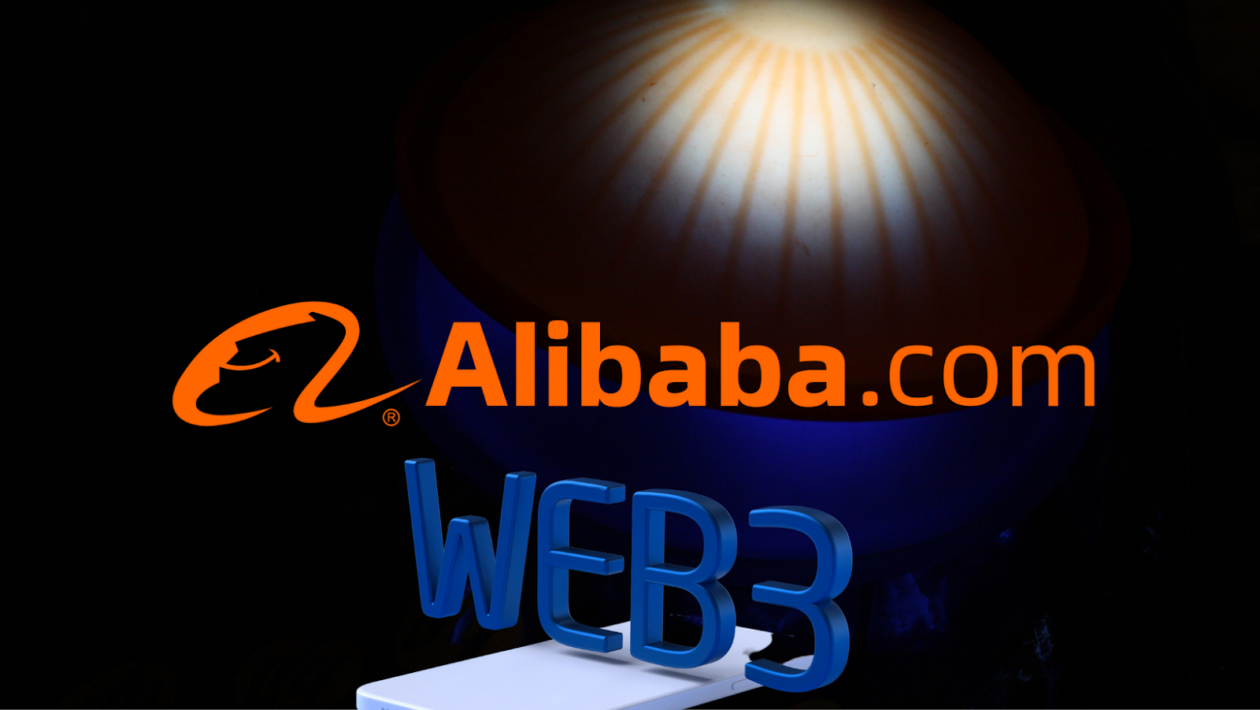 China's e-commerce giant Alibaba Group Holding Limited's incoming chairman Joseph Tsai is a vocal proponent of Web3 technologies and has multiple investments in the crypto space. In a leadership shuffle announced Tuesday, Tsai, who is currently Alibaba's executive vice chairman, will succeed Daniel Zhang as chairman.
Taobao and Tmall chairman Eddie Yongming Wu will take over from Zhang as chief executive officer, according to an Alibaba press release. The appointments will take effect on Sept. 10.
Tsai was one of Alibaba's co-founders in 1999. He holds citizenships in Taiwan and Canada, and is a permanent resident of Hong Kong.
The crypto industry might be impacted by the appointment of Tsai, who tweeted "I like crypto" in December 2021.
Blue Pool Capital, a Hong Kong-based investment firm that functions as Tsai's family office, has invested in numerous Web 3.0 companies, including Polygon Technology and NFT firm Artifact Labs, according to business information platform Crunchbase. Blue Pool was also one of several Hong Kong backers of the now-collapsed crypto exchange FTX, according to SCMP.
Tsai is also the governor of the Brooklyn Nets of the National Basketball Association that announced a partnership with blockchain-based fan engagement platform Socios.com in October 2021, and introduced Netaverse — a virtual reality broadcast service of basketball games — in January 2022.
(Updates to section 2 commentary to correct NFT involvement in Fortnite and adds comment from Epic Games)