Earlier this year, developers on Bitcoin were inspired by Ethereum's non-fungible tokens and created their own spin on blockchain collectibles with Bitcoin's Ordinals. Five months and over 12 million ordinals later, developers on Ethereum are feeling similarly inspired by Ordinals to create another new collectible called Ethscriptions.
Named after the inscription process that is used to create Ordinals, Ethscriptions allow images, files, or text under 96 kilobytes to be stored on-chain using almost any type of Ethereum transaction type. It's a heck of a lot cheaper than storing on-chain data using smart contracts' storage.
While there are no major use cases for it yet, this is one of those types of innovations that usually pays off down the road, and if you consider that Bitcoin's inscriptions were part of the blockchain well before ordinals were invented, you can see that sometimes potential isn't realized until a later time.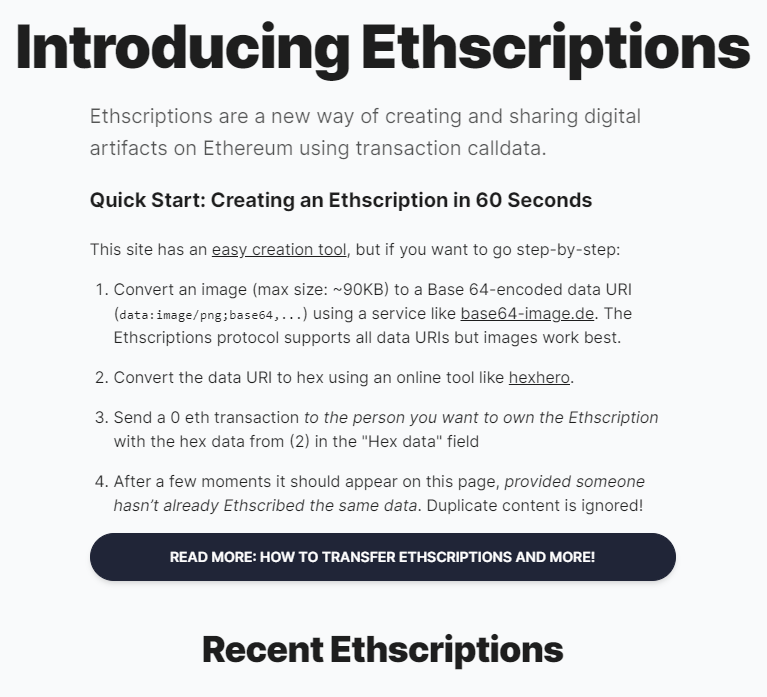 Noteworthy Happenings
Here's what is making news in NFTs this week
Ethscriptions came out of the gates swinging, both with new tech and also its first 10k collection called Ethereum Punks. The 10,000 collection of "ethscribed" punks quickly sold out, and then wrapped using Emblem Vaults' wrapper to make them tradable on OpenSea. So far over 260 ETH (US$461,216) has been traded for Ethscriptions, with a majority of that being for the Ethereum Punks.
Introducing Ethscriptions: a new way of creating and sharing digital artifacts on Ethereum using transaction calldata.https://t.co/XfQ7RdtblD

ALSO: Introducing Ethereum Punks. Because why should all non-contract Punk collecting happen on Bitcoin?https://t.co/d3Ycwbdc2Z…

— Middlemarch (@dumbnamenumbers) June 16, 2023
Peep the charts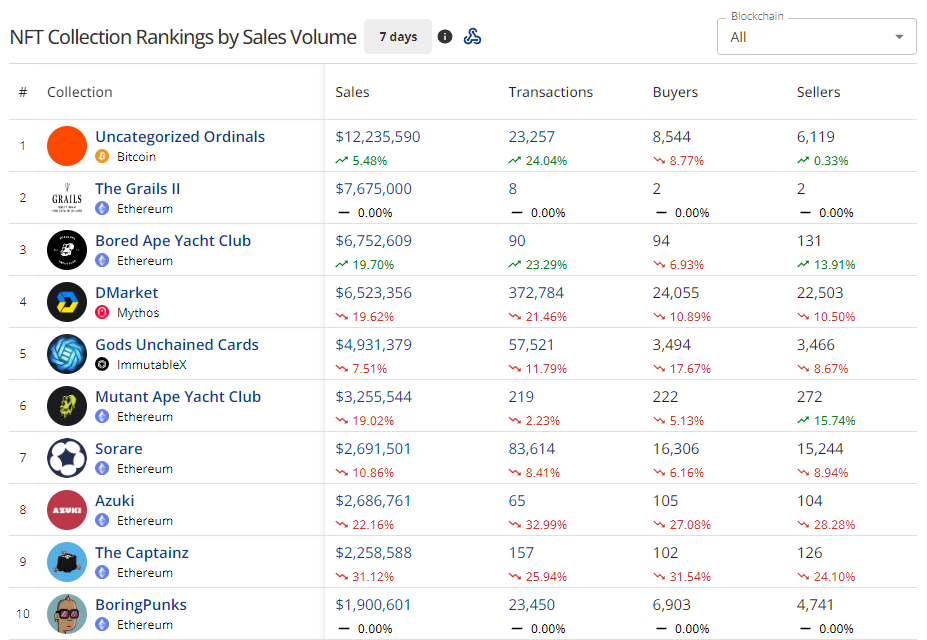 Bitcoin's Ordinals are the king of the NFT collection rankings by sales volume again.
Sotheby's auction of Three Arrow Captial's grails, including the now iconic 'The Goose' is easily in the second spot following the massive day of generative art sales.
It's hard to keep Bored Ape Yacht Club down, but their prices sure are falling. Average sales prices earlier this month typically ranged from US$80,000 to US$95,000, but have fallen in the past seven days to US$67,000 to US$80,000. May and June saw Bored Ape's monthly average sales price fall to lows not seen since July 2021
Mutant Ape Yacht Club, Azuki, The Captains, and Boring Punks are still helping profile pictures dominate the top 10, but sales are down from last week, ranging from 19% – 31% less than this time last week.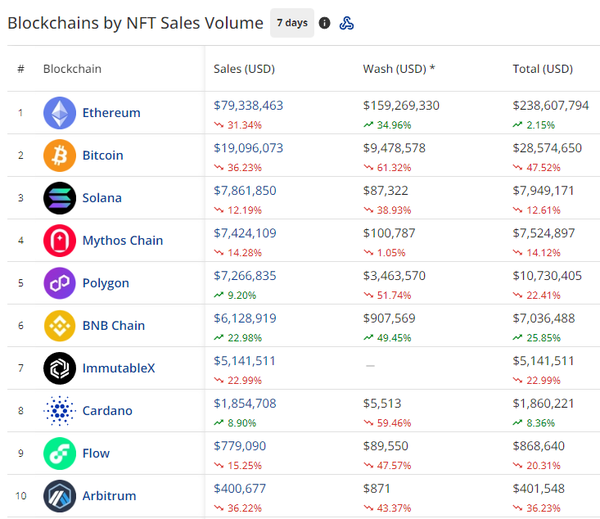 Ethereum is in the green, primarily from the inclusion of the big Sotheby's auction sales
Bitcoin's ordinals are down over 17%, perhaps showing some fatigue in the ecosystem that now boasts over 12 million ordinals
Mythos Chain and Polygon are extremely close in weekly volume, but expect this to change once secondary markets open for Nike's .Swoosh sneakers on Polygon