Ordinals and BRC-20s, if you didn't get in on them earlier this year you probably won't be anytime soon. Let's be honest, the tech is still a bit rough around the edges, both in the UX and the products themselves. Not yet shiny enough to attract the trading volume that we see elsewhere, Bitcoin blockchain collectibles have taken a big hit in this bear market. Still, they are a diamond in the rough, and I can't shake the feeling that as a whole we are not sufficiently bullish on what's about to come on Bitcoin.
Sales of ordinals and BRC-20s are down, with their total non-fungible tokens declines outpacing other blockchains if you look at this year alone. From Bitcoin's peak of US$196 million in sales this May to August's US$11.9 million, sales are down 93%. Ethereum's 2023 peak of US$969 million in February to US$226 million in August represents a 73% decline, while Solana is down 77% and Polygon is down 49%.
Others have pointed out similar numbers, but I don't love the comparison, especially in this highly speculative market with bubbles around new tech. Bitcoin's ordinals and BRC-20s were just born this year, feeding into a sales bubble that all other chains saw during their initial NFT surges last year. If you compare the all-time high of each blockchain's monthly sales to August 2023, you'd be hard-pressed to see any difference between Bitcoin's 93% decline and the rest. Ethereum is down 95% from its US$4.9 billion peak in January 2022, and Polygon and Solana are both down 90% from their peaks last year.
Hopefully there's no disagreement about the importance of this comparison, just like none of us would question Bitcoin's dominance in global adoption and security. The two knocks against Bitcoin that I mentioned earlier, (the lack of smart contracts, and the general weakness of the wallets, marketplaces, and more) are similar to how Ethereum started, with no smart contracts, and marketplaces like OpenSea that sometimes wouldn't load for days on end. Bitcoin is in the exact place it should be, just over half a year into its roadmap. 
Once the issue of quality is addressed, adoption will come from the biggest names in NFTs, possibly even Beeple.
Last week, three major happenings in the Bitcoin ecosystem showed indicators that some of the biggest names in NFTs are already taking Bitcoin more seriously than ever.
Ethereum's On Chain Monkeys announced that they will be migrating their full 10k edition collection to Bitcoin. Why? It's right in their name; the blockchain you live on matters. With no doubt about the longevity of Bitcoin, OCM sees an opportunity to be the biggest name in PFPs on Bitcoin and is pushing their crypto all-in on the move.
Yuga Labs, the creator of the Bored Ape family of NFTs and the Otherside metaverse already has a presence in Bitcoin with their TwelveFold NFT collection. Last week they kicked off a series of 12 weekly ciphers built around the TwelveFold art, and are giving the first person to solve each puzzle 0.12 BTC (roughly US$3,000). Their big bet on the biggest blockchain should tell you a little something about their belief in the importance of this chain.
The tech on Bitcoin is getting a buff, with a new feature called parent-child inscriptions being merged into inscriptions. This will create a standard for linking collectibles on-chain, and lays the groundwork for collections, lineage, and abstract ideas that probably haven't even been thought of yet. 
The tech is improving, and the community is growing while builders chip away at the rough edges around the core of the inscription movement. Bitcoin is forever and so will its collectibles. So take your time getting in; the Bitcoin ecosystem isn't going anywhere.
Peep the charts

Global NFT sales have fallen to levels last seen in May 2021, and buyers, sellers, and transactions look eerily similar to that time as well. I'm watching to see if we drop to the US$30 million to US$55 million range which puts us back in February 2021 territory — a time before the bubble fully inflated. We're all waiting to see where our floor is, and ultimately how much trading from the last two or three years was actually collectors valuing these assets.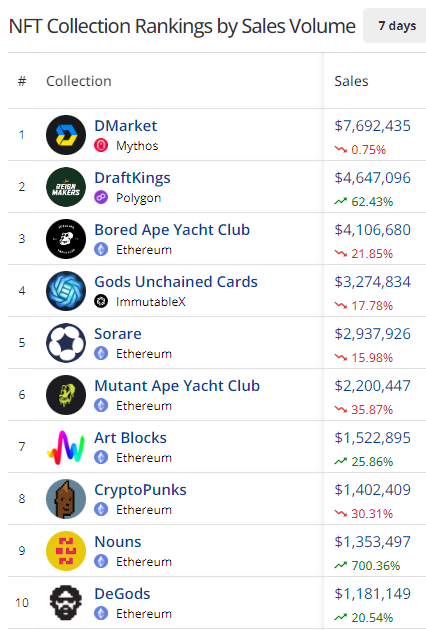 DMarket is crushing, this week again sitting on top of one of the collection rankings Their US$7.6 million in gaming skin sales bested fantasy sports collectibles, gaming assets, PFPs, and art.
DraftKings, Sorare, and NFL All Day all scored big in the past week with US$4.5 million, US$2.9 million and US$1.1 million respectively, benefitting from the kickoff of the NFL season. Sports collectibles are here to stay on the blockchain, and even thrive during the bear market.
Nouns sales are flying, but it's not good news there. Their DAO has forked, and in the process, given holders the opportunity to sell their Noun NFT back to the DAO for much more than the current going rate of the NFTs on secondary markets.