Decentralization and security cannot be compromised in the search for scalability and high transaction throughput, said Gavin Wood, founder of Polkadot, in a keynote speech this week at the 2021 Shanghai International Blockchain Week.
"Some teams have really lost sight of the fact that decentralization and security are not optional features here. This is not something that we can cut corners on," Wood said.
"Parity has not lost sight of this, and we will be redoubling our efforts to ensure that our networks are decentralized and peer-to-peer to the maximum extent that is technologically possible," Wood added. Parity Technologies is the engineering team commissioned by Web3 Foundation to build Polkadot's initial implementation.
See related article: What is Polkadot and why is it one of the hottest blockchains right now?
Growing regulatory pressure
Non-decentralized applications were likely to face greater regulatory scrutiny and centralized elements of networks — such as RPC servers like Infura running on Ethereum, custodial wallets, decentralized applications with a centralized web server running it, and non-peer-to-peer stablecoins — were potential targets for regulation and unlikely to be viable in the long run. But software development and the general maintenance of a network or running generic nodes appeared to be safe, although regulations across different jurisdictions varied, Wood said.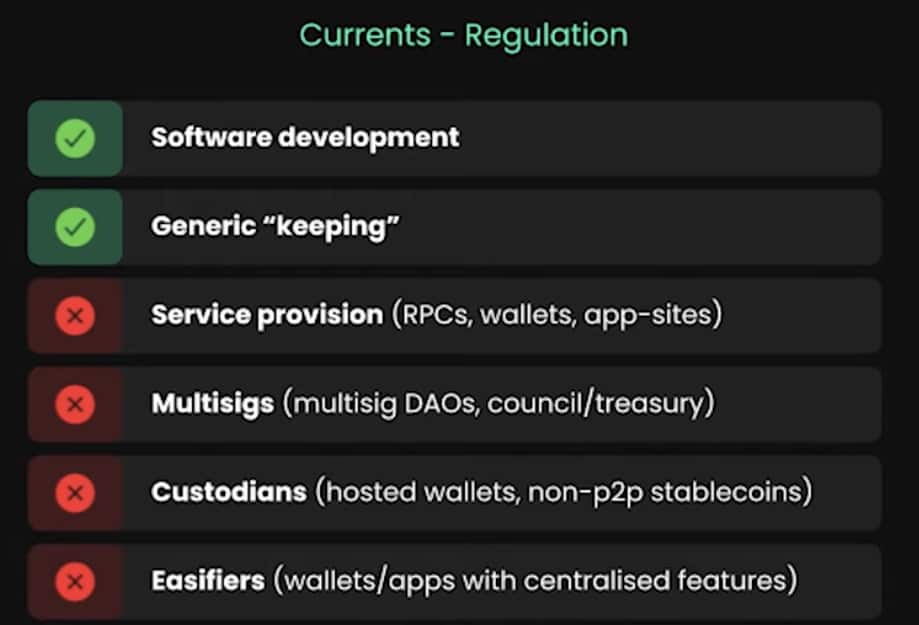 With the need for greater decentralization, alternatives to aspects of Polkadot's governance, such as the Polkadot Council, would need to be found. Light clients would also need to be innovated in order to avoid RPC servers — "a very obvious choke point for any supposedly decentralized network," Wood said.
"There will be other technologies as well in order to allow for nodes when running on the network to have a degree of privacy between each other for maximum levels of security despite being decentralized," Wood added.
Parachain auctions coming to Polkadot
Polkadot is a blockchain protocol that connects multiple specialized blockchains into a multi-chain network in which individual blockchains — or parachains — connect to and are secured by the Polkadot relay chain. Due to the limited number of parachains that can be supported on the main relay chain, slot auctions are being used to select the parachains to be added to it.
Eleven parachain slot auctions have taken place on Kusama and 12 parachains are currently running live on Kusama, Polkadot's canary network for blockchain developers to build and test out their code as well as products and services. The Kusama parachains include Acala's Karura Network, Astar's (previously called Plasm) Shiden Network, Phala's Khala Network, Bifrost, and KILT Protocol.
The highly anticipated parachains on Polkadot will be technologically viable from early to mid-December, with a deployment to Kusama, Polkadot's canary network, by end of October.
"The parachain code in our codebase is feature complete," Wood said. Polkadot's full code audit has been completed and corrections to the code are expected to be completed by early November at the latest, he added.
The first batch of five Polkadot parachain auctions is scheduled to start on Nov. 11, with a new auction each week, according to a Polkadot blog post on Oct. 13.
The first batch of five parachains will be onboarded from approximately Dec. 17 instead of immediately following each auction like in the case of Kusama. Each auction on Polkadot will assign a parachain slot for a total of 96 weeks (divided into eight 12-week lease periods) as opposed to Kusama's 48 weeks.