In this issue
Crypto regulation: Singapore, Thailand tighten measures
Forkast 500 NFT Index: Seemingly no end to declines
Voyager: Shrinking portfolio
---
1. Doubling down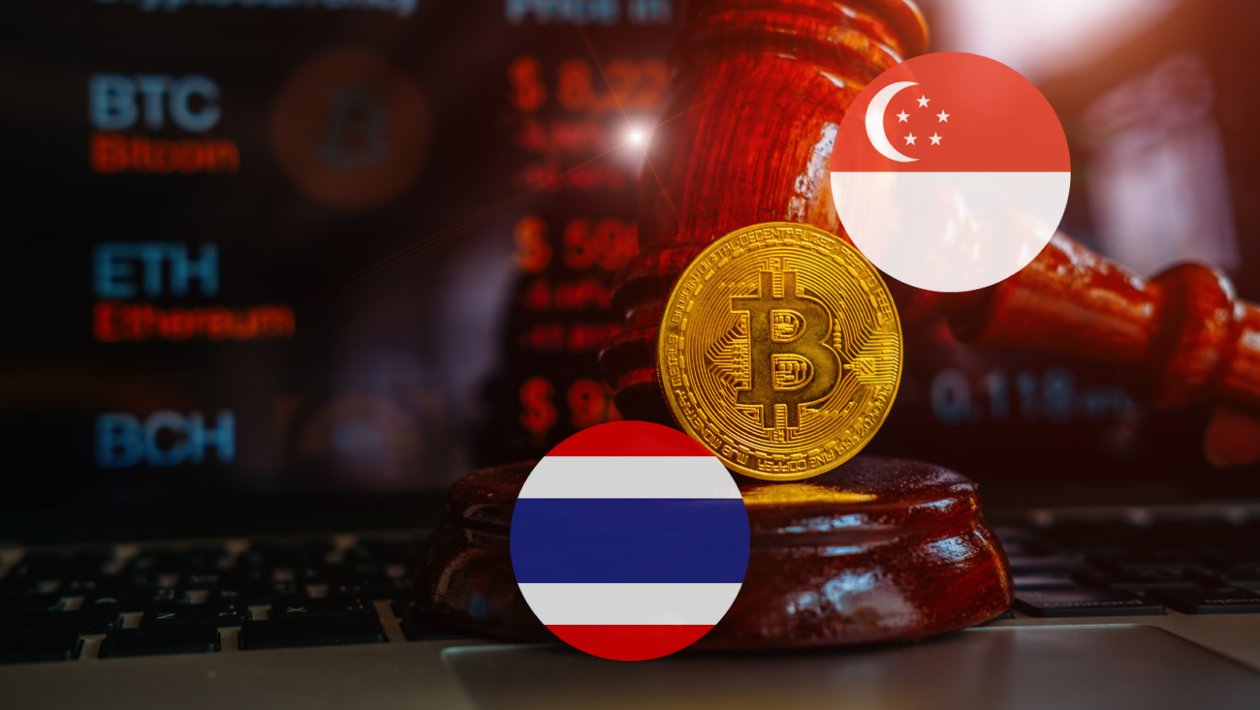 Crypto regulations have tightened in Singapore and Thailand this week, in measures aimed at enhancing customer assets. The Monetary Authority of Singapore (MAS) now mandates crypto firms to hold customer assets in third-party trusts, while Thailand's Securities and Exchange Commission (SEC) has introduced bans on crypto lending and staking services.
In a Monday press release, MAS stated that digital payment token service providers, — the term used by Singaporean officials for crypto assets — must safeguard customer assets under a segregated, statutory trust by year-end. The MAS said this move aims to "mitigate the risk of loss or misuse of customer assets" and facilitate asset recovery in the event of insolvency of a crypto service provider.
MAS also intends to prohibit crypto service providers from offering crypto asset-based lending and staking services to retail investors, considering such services "generally not suitable for retail public."
Also on Monday, Thailand's SEC announced rules to ban crypto firms from providing custodial services that yield returns to depositors and lenders, which would cover both crypto lending and staking.
Effective from July 31, the rules also require crypto firms to display a disclaimer that reads, "Cryptocurrencies are high risk. Please study and understand the risks of cryptocurrencies thoroughly, because you may lose your entire investment."
The moves by Singapore and Thailand came after a series of crypto lender insolvencies in the past year, including the collapses of Celsius Network, Voyager Digital, BlockFi and more, which involved multiple billions of U.S. dollars in crypto deposits.
Beyond the two Southeast Asian nations, South Korean legislators approved a bill last week aimed at protecting cryptocurrency investors, marking the country's first step towards establishing a legal framework dedicated to the asset class. The new legislation mandates crypto service providers to implement specific measures to safeguard customer assets and maintain comprehensive records of all transactions.
---
2. No bottom in sight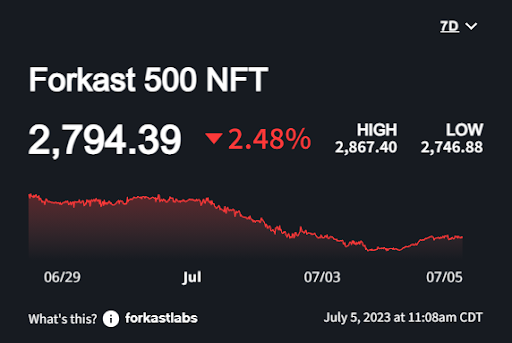 The NFT market continued to refresh all-time lows, falling to 2,746.88 as the Forkast 500 NFT Index reflected troubling times in the world of blockchain collectibles. The index is down 2.48%, with Ethereum NFTs are seeing a 3.43% decline, outpacing Solana, which lost 2.86%, Polygon, which shrank 1.26% and Cardano, which decreased 3.09%.
Solana's sales volume hit a high of the year with US$26 million on June 30.
The Solana Monkey Business Barrel Raffle was the top-selling NFT collection last week, bringing in over US$29 million in sales since June 30. But most of the amount will be refunded, as this was a designed mechanic of the NFT ticket raffle.
Solana leapfrogged Bitcoin in seven-day sales with US$40 million compared to Bitcoin's US$32 million. But refunded SMB Barrel Raffle sales will move Solana to third place, ahead of Polygon's US$7.5 million.
Bored Ape Yacht Club's (BAYC) average sale price extended its decline to near a two-year low. This month's average sale price of US$70,000 reflects a floor price drop of 17% to 29 ETH over the last seven days.
Noteworthy seven-day floor price changes include Yuga Labs' HV-MTL (-30%), BAYC (-17%), Azuki Beanz (-20%), Azuki (-17%), The Captainz (-14%), Nakamigos (+26%), Clone X (+20%), Doodles (+18%) and Moonbirds (+11%).
---
3. Precarious position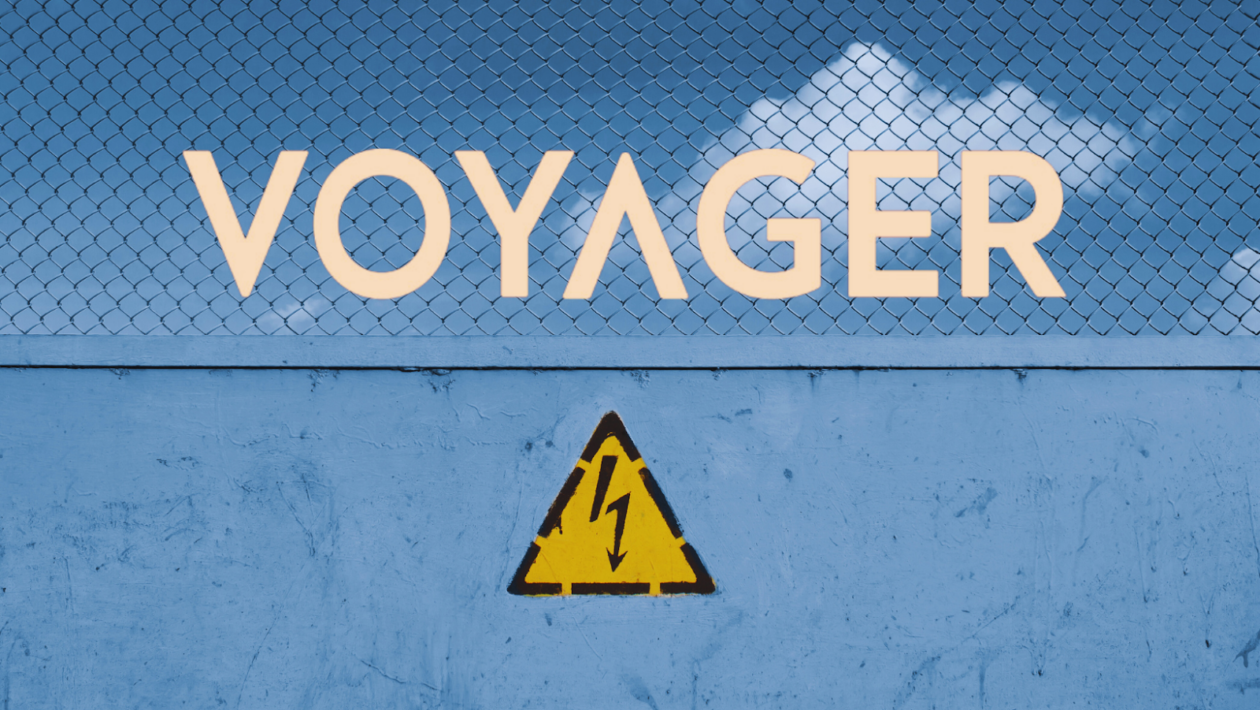 Bankrupt cryptocurrency lender Voyager has seen a US$113 million reduction in its portfolio since reopening customer withdrawals on June 23, data from Arkham Intelligence show. Prior to this reopening, Voyager held nearly US$413 million in cryptocurrencies, which was down to under US$300 million as of Thursday.
Last summer, Voyager, alongside several other crypto lenders and staking service providers, fell into bankruptcy following their exposure to the demise of Singapore crypto hedge fund Three Arrows Capital and Terra's algorithmic stablecoin. Voyager froze customer withdrawals on July 1, 2022, but recently allowed a 30-day window for its customers to partially transfer their crypto holdings.
Meanwhile, Celsius Network, another crypto lender that filed for bankruptcy in July 2022, received approval from a U.S. bankruptcy court last week to start conversion of its altcoin holdings into Bitcoin or Ether from July 1, marking another step towards the distribution of funds to the company's creditors.
Arkham Intelligence data show more than US$625 million worth of cryptocurrencies still belonging to Celsius, down from the US$1.59 billion it held before initiating partial withdrawals in early May.
Over the past year, a string of crypto lenders including BlockFi and Genesis Global Capital have collapsed, largely due to their exposure to the failed hedge fund Three Arrows Capital and the Bahamas-based multibillion-dollar exchange, FTX.