In this issue
Fidelity: Close to filing its own Bitcoin ETF
Forkast 500 NFT Index: Azuki disappoints
Asset tokenization in Singapore: One step closer
---
1. Bull run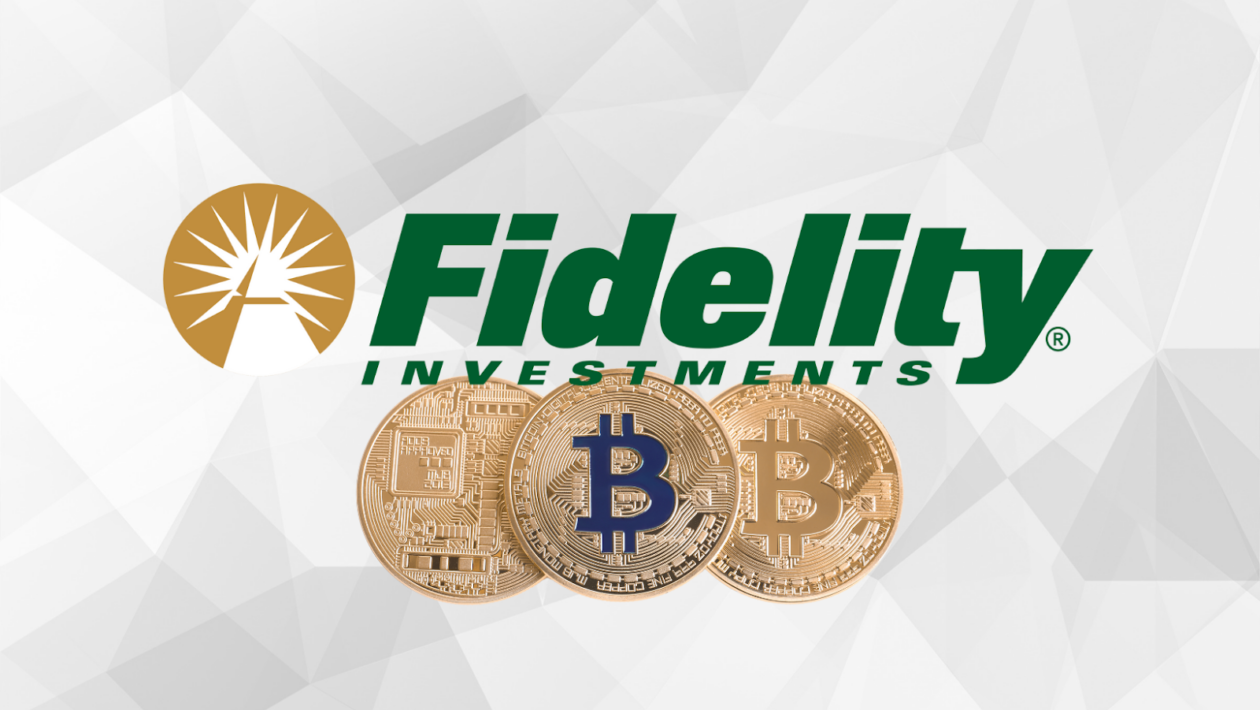 Cryptocurrencies are receiving a significant push as Fidelity Investments is reportedly nearing the filing of its own spot Bitcoin exchange-traded fund (ETF), the Block reported Tuesday, citing people familiar with the matter.
The move would not be Fidelity's first attempt to file for a Bitcoin-backed ETF. In March 2021, the Wall Street giant filed for a spot Bitcoin ETF named the Wise Origin Bitcoin Trust, which was rejected by the U.S. Securities and Exchange Commission in January 2022. But it launched the Fidelity Advantage Bitcoin ETF in Canada in December 2021, which has risen 75% since the beginning of this year.
According to the Block, Fidelity's application will join the list of financial institutions that have recently submitted or updated their applications to issue spot Bitcoin ETFs, including BlackRock, WisdomTree, Invesco, Valkyrie and Bitwise.
A spot Bitcoin ETF is a publicly traded investment vehicle tracking Bitcoin price, which allows investors to have Bitcoin exposure without directly handling the underlying cryptocurrency.
"Bitcoin ETF applications have supported investors' sentiment as institutional and retail investors could show increasing interest in the market through such investment vehicles," said Denys Peleshok, head of Asia at Belize-based financial brokerage CPT Markets, in email comments.
"If the SEC approves new applications, the market could record a surge in demand and in the number of buyers," said Peleshok. "Due to the SEC's legal stance over cryptocurrencies, the market could further concentrate on Bitcoin and Ethereum, the two largest assets in the market."
Since BlackRock filed for its Bitcoin ETF on June 15, Bitcoin is up by more than 22%, peaking at US$31,389 on June 23, the highest since June 2022. Bitcoin traded at US$30,433, at press time, according to data from CoinMarketCap.
---
2. Liquid dreams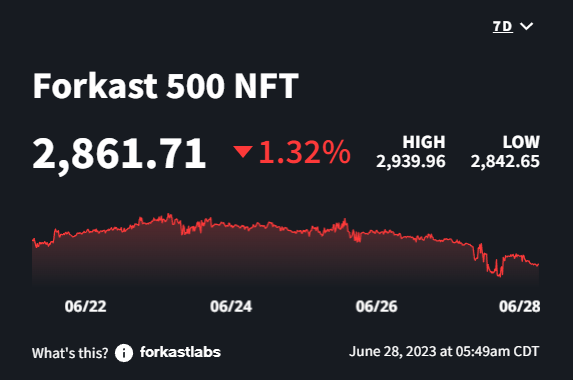 The NFT markets saw another week of decline, and again, Ethereum's NFT ecosystem is dragging the broader market down. The Forkast 500 NFT Index is down 1.32%, as Ethereum's decline of 1.51% stands in stark contrast to Solana, Polygon, and Cardano's gains in value of 1.7%, 1.23% and 5.75%, respectively.
---
3. Singapore calling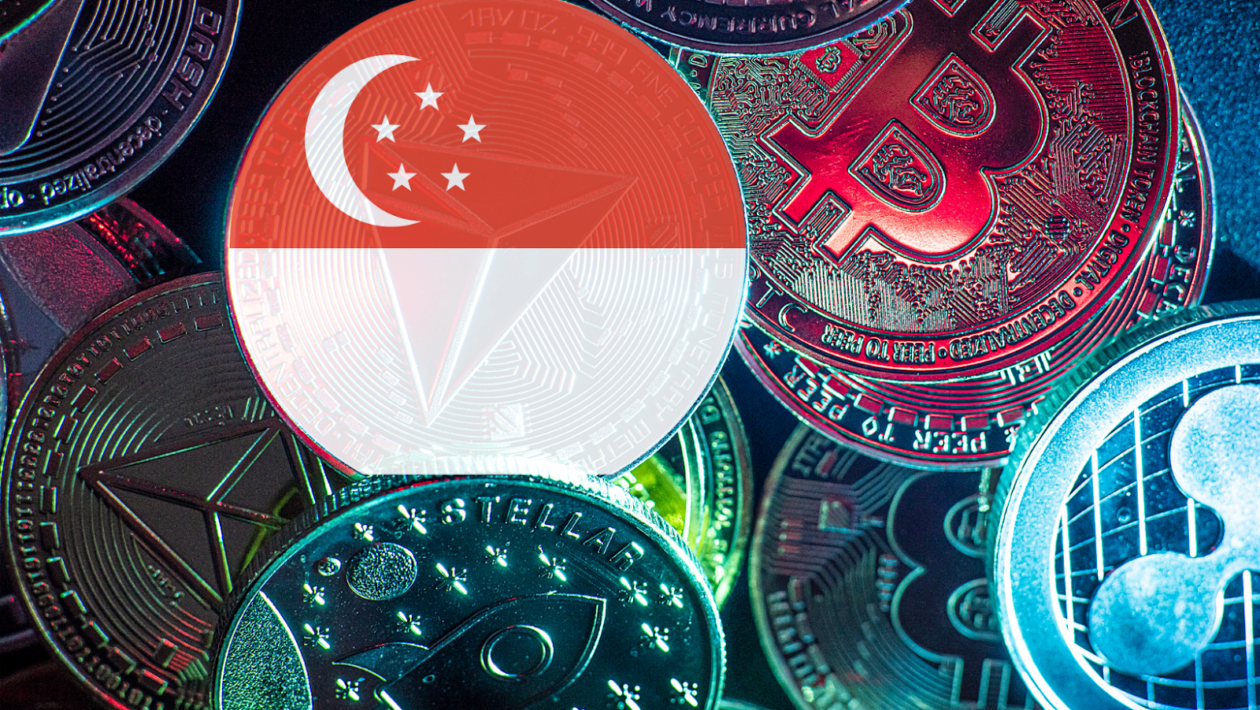 The Monetary Authority of Singapore (MAS), the city state's central bank, has proposed a framework to design open and interoperable networks for digital assets, as the country seeks to harness the power of asset tokenization to improve its traditional financial services.
"The real value in the digital asset ecosystem" lies in the tokenization of real-world and financial assets through distributed ledger technologies and smart contracts, which could "enhance the efficiency, accessibility, and affordability of financial services," MAS wrote in its report.
"Unless digital asset networks are interoperable, both with each other and with traditional financial market infrastructures, fragmentation would reduce the network benefits and can create frictions such as inaccessibility, increased liquidity requirements due to separation of liquidity pools, and pricing arbitrage," noted MAS.
MAS' proposal – jointly developed with the Bank for International Settlements and other financial institutions – is part of Singapore's Project Guardian initiatives announced in May 2022 to explore the adoption of asset tokenization and decentralized finance in the city state's financial industry.
MAS also announced an expansion of Project Guardian to test the potential of asset tokenization across more financial asset classes, enlisting 11 financial institutions — including banking giants Citi, HSBC, DBS and Standard Chartered — to form the Project Guardian Industry Group to lead industry pilots in asset and wealth management, foreign exchange and fixed income.
Japan Financial Services Agency, the first overseas financial regulator to join Project Guardian, will work with MAS on digital asset innovation while safeguarding against risks to financial stability and integrity.
MAS' move comes as Singapore seeks to utilize the power of blockchains in its financial system, while minimizing risks of crypto assets. Last Thursday, The Asia-Pacific branch of technology firm Ripple Labs said it would start offering crypto-enabled digital payment services in Singapore after receiving in-principle approval from the MAS.
Also on Thursday, MAS released a whitepaper – jointly developed by the International Monetary Fund, Amazon, DBS Bank, and multiple other industry players.– for "purpose-bound" money, detailing a technical overview of digital currencies designed for specific purposes.