Another test of China's much-anticipated central bank digital currency was launched today in the east of the country, this time with support from Chinese online retail giant JD.com and Bank of Communications, in an apparent push for adoption ahead of the Beijing Winter Olympics in February.
Nasdaq-listed JD.com and state-owned Bank of Communications plan to hand out 500,000 e-CNY red envelopes in a giveaway worth a total of 20 million yuan (US$3.1 million) to residents of Shanghai and Suzhou, according to information from JSChina.com, a web portal set up by the local government, with details confirmed by JD.com.
Each red envelope, set to be distributed through a lottery system, contains e-CNY worth 20 yuan and a JD.com coupon worth 20 yuan.
Digital development
The new digital yuan trial in eastern China marks a further advance for the world's second-largest economy in testing its state-backed digital currency.
China got an early start studying what a central bank digital currency might mean for a country. In 2014, the People's Bank of China began looking at the possibility of a government version of Bitcoin. With each passing year, the disappearance of paper yuan from the economy made the idea more feasible. By 2019, accounting firm PricewaterhouseCoopers reported that 96% of Chinese were regularly shopping online.
In late 2020, the digital yuan was ready for pilot testing among China's masses. Between October 2020 and August 2021, China spent at least 305 million yuan on major trials of e-CNY, according to data compiled by Forkast.News, based on publicly available information.
Millions of people in China have had the opportunity to try the new technology. A white paper released last month by the central bank said e-CNY trials had seen nearly 21 million personal wallets opened and transactions worth a total of around 34.5 billion yuan (US$5.3 billion).
Some Chinese cities have also adopted e-CNY for urban transport networks. Public transportation operators in Beijing, Chengdu and Suzhou are now accepting digital yuan as payment. A Shanghai taxi company also started to accept e-CNY payments this week. Oil giant Sinopec has enabled digital yuan payments at 27 gas stations in Beijing as of this week.
The central bank's operations office in Beijing yesterday said in its work plan for the second half of this year that it was accelerating its efforts to develop e-CNY payment scenarios for the upcoming Beijing Winter Olympics. Some possible scenarios include paying in e-CNY with Olympics ski gloves that come with a chip embedded and act as a digital wallet, as reported by China Daily.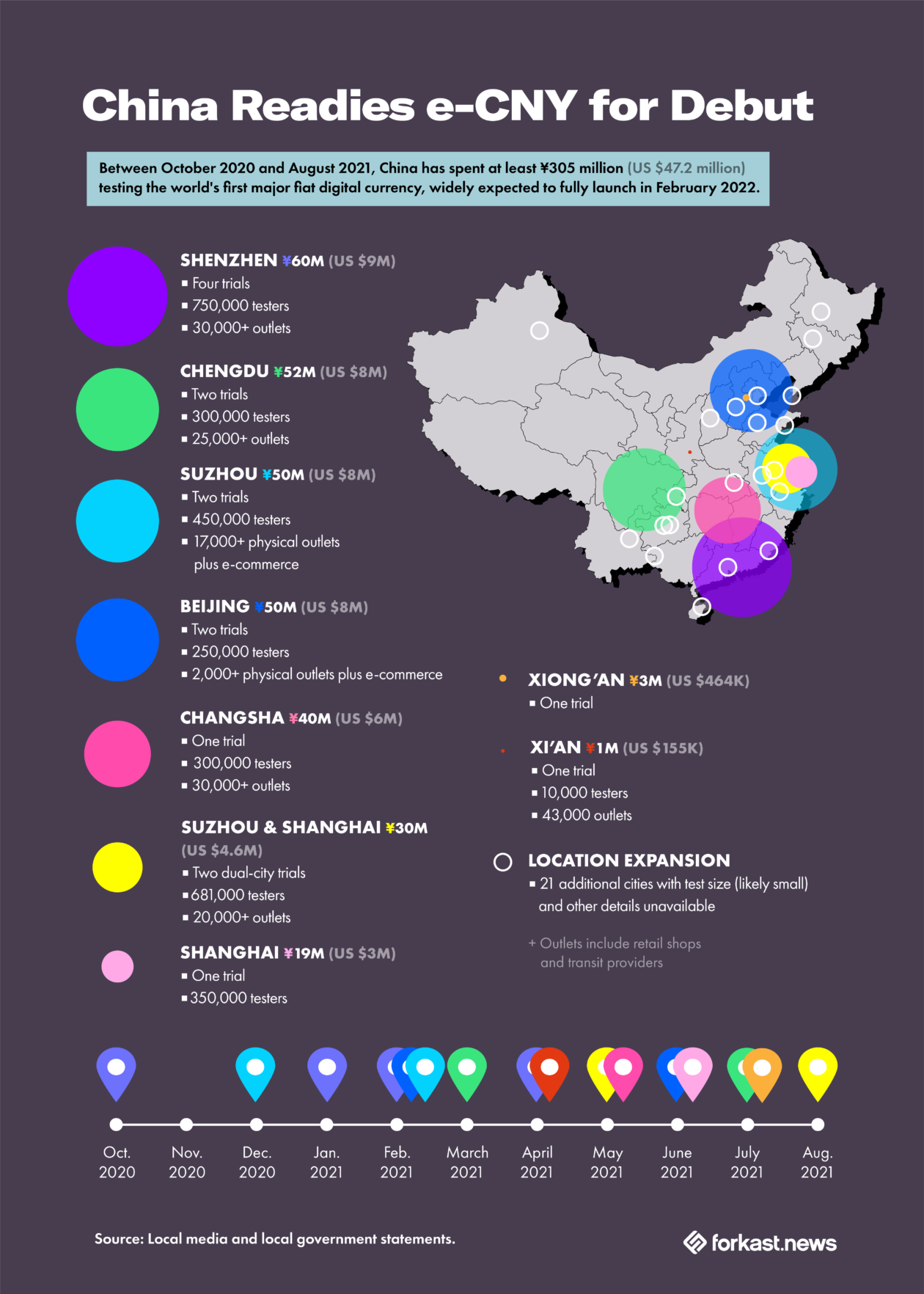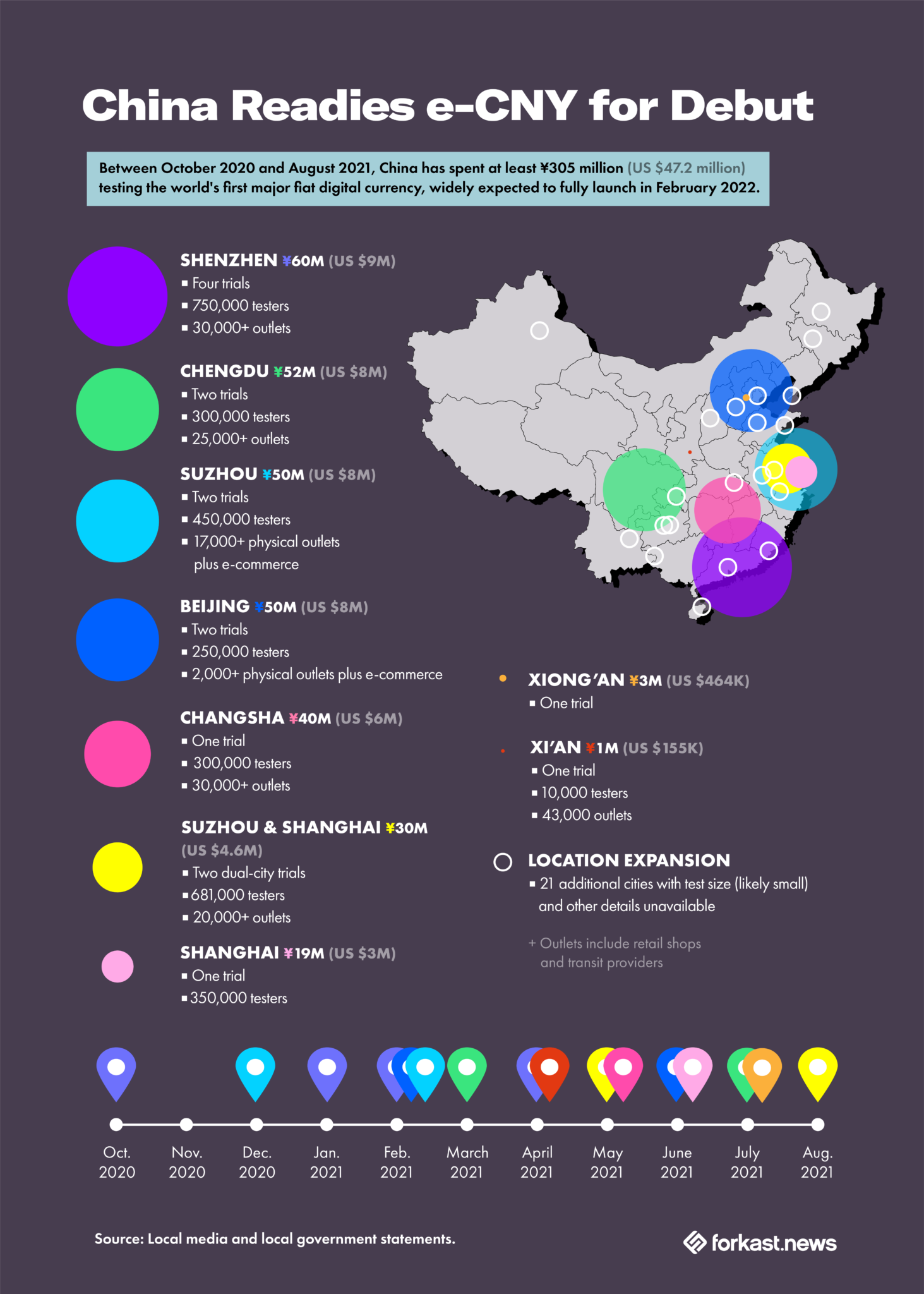 As China has scaled up its e-CNY trials, it has become natural for Chinese tech giants to participate. In December 2020, JD.com started accepting e-CNY to support pilots schemes when the government sent digital red envelopes containing digital yuan to 100,000 residents of Suzhou.
Starting in January, JD Group also began offering an e-CNY salary option to some of its employees in five Chinese cities — Shanghai, Shenzhen, Chengdu, Changsha and Xi 'an.
Growing momentum
Between December 11, 2020, and June 18, 2021, nearly 1 million e-CNY sub-wallets had been connected to JD.com's app, and the total number of e-CNY users on JD has reached 450,000, with total spending amounting to more than 100 million yuan, according to the tech giant.
Ant Group, an Alibaba affiliate, has also taken part in the trials. MYBank, an online-only bank backed by Ant Group, announced its participation in China's digital yuan pilot trial in February.
Meng Liu, a blockchain analyst at research firm Forrester, told Forkast.News that the central bank could leverage the tech giants' massive customer bases to quickly scale up its trials while developing more application scenarios and enhancing the user experience at the same time, thanks to their technological innovation capabilities.
"On the other hand, through cooperating with tech giants, the [central bank] could, to some degree, weaken the dominance of tech giants over consumer data, as they could only obtain part of the user data given the e-CNY's controllable anonymity nature," Liu said.
Liu added that online transactions in digital yuan via internet platforms such as Didi, JD.com and Meituan would package, encrypt and push user payment information to the platforms in the form of sub-wallets, and that platforms could not directly obtain users' personal information, further guarding privacy.
The move by Bank of Communications to join hands with JD.com in launching the latest round of tests also comes in line with sentiment around broader e-CNY operations carried out by state-owned banks.
Andrew Collier, managing director of Orient Capital Research, told Forkast.News earlier this week that the central bank might outsource some digital currency operations to state-owned banks, because not only did those lenders have the capacity to perform those operations, but they were also under the control of the government.
Kelly Le contributed to this report.