Ramping up the testing of China's new DCEP digital currency to include 50,000 people, China's central bank has distributed 10 million digital yuan (US$1.4 million) that are now being spent at thousands of restaurants and retail stores this week.
The e-RMB, which the People's Bank of China (PBOC) has distributed via digital "red packets," was awarded through a lottery in Shenzhen, China's technology center and one of DCEP's pilot test cities. The DCEP red-packet lottery winners, which were announced yesterday, can now spend their digital yuan at over 3,300 stores in the Luohu District of Shenzhen until October 18. After that, the free e-money expires.
Though China's new central bank digital currency has been in pilot testing for the last few months, this is the first time that the digital yuan is being used on such a large public scale by China's ordinary citizens, the laobaixing.
As one of the four cities to pilot-test DCEP, Shenzhen also just published its "five-year plan" ahead of President Xi Jinping's visit today to the hi-tech powerhouse. The plan, a blueprint for the city through 2025, includes having China's central bank establish a new fintech innovation branch office in Shenzhen that would further develop and seek global cooperation opportunities for using DCEP.
The new digital yuan, officially known as DCEP, or "Digital Currency Electronic Payment," is the People's Bank of China's ambitious effort, six years in the making so far, to bring China's money supply into the digital age and help make the RMB a stronger competitor against the U.S. dollar in international trade and finance.
Before the PBOC issued digital yuan "red packets" to Shenzhen residents, DCEP was being tested only largely within four large state-owned commercial banks — namely ICBC (Industrial and Commercial Bank of China), Agricultural Bank of China, Bank of China and China Commercial Bank — and other closed, small-scale environments in four cities designated for pilot testing. Two obstacles that DCEP testing faced early on were limited offline applications and the lack of efficient and stable large-scale usage.
If this week's large-scale DCEP spending by the red packets-receiving laobaixing proves to be smooth, glitch-free and well-received, China watchers say it would strongly suggest that any technical or user problems are solved and that the official launch of DCEP could be imminent.
BREAKING: #China has MASSIVELY applied DCEP (digital currency electronic payment), the digital yuan in Shenzhen.

All Shenzhen residents can apply for red pack lottery. The money will be allocated via DCEP.

It aims to stimulate consumption. #Crypto #Bitcoin #cryptocurrency pic.twitter.com/0iewsB1FSM

— Alice Crypto (@AliceolaCrypto) October 12, 2020
But even as DCEP "red packets" became the top news across China and attracted 1.9 million people to register and give it a try, not everyone is embracing the approach of DCEP.
See related article: China's new DCEP could fast-forward the nation into a cashless society
The new e-RMB still faces questions, like why users should switch over from other trusted and better-established private digital payment platforms, and given DCEP's limitations, government controls and implications for user privacy, whether the Chinese people want to use DCEP if it is not "free money."
The DCEP "red packets" lottery
Aside from beta testing DCEP's underlying technology, Shenzhen government's announcement last week that it would distribute 50,000 virtual "red packets" — each containing 200 yuan in the form of DCEP for Shenzhen residents to spend locally — served to help stimulate consumption in the city as well. The spending is being unleashed after the "Golden Week" holidays in China, which used to be a peak time for traveling, shopping and retail revenues, but all three have been dented this year by the Covid-19 pandemic.
The lottery and awards are also helping publicize and stir greater excitement for the DCEP. Many Chinese people are already accustomed to cashless payments as a way of life and may not otherwise switch from trusted and already popular private e-payment platforms like Alipay and WeChat Pay.
The DCEP lottery made national news in China even though only Shenzhen residents were eligible. Within two days, 1.9 million people registered for the lottery, which meant the odds of winning were 2.6%.
This week, the Shenzhen government sent congratulatory text messages to the 50,000 winners with a link to download the e-RMB wallet and claim 200 digital yuan.
Shenzhen resident Zhixi, an insurance company employee who asked not to use her last name, is one of the 50,000 lucky ones who won 200 free digital yuan, which is equivalent to about US$30.
Zhixi first found out about the DCEP lottery in a WeChat post titled "Shenzhen to distribute 10 million yuan 'red packets,' apply for it before it's too late!"
Despite increasing amounts of media coverage about the DCEP in China, Zhixi had never heard of DCEP or the digital yuan before, but she thought she would register and enter the contest for fun. Two days later, she received a text message from the Shenzhen government that said: "Congratulations! You won a Luohu digital yuan 'red packet.'"
Zhixi thought DCEP was similar to vouchers that the Shenzhen municipal government has given out to the public before. Since May, Shenzhen has distributed several rounds of free money through Alipay and WeChat Pay to help boost the local economy during the pandemic.
"I found (DCEP has) nothing different with the money I received in Alipay or WeChat Pay wallet."
To claim their digital yuan, winners had to download an e-RMB wallet, which is still in the testing phase. Zhixi was not able to screenshot the e-RMB wallet due to the app's settings, but she provided Forkast.News with photos of the e-RMB wallet taken by camera.
According to the photos provided by Zhixi, the e-RMB wallet looks similar to an unauthenticated photo of the e-RMB that circulated on Chinese social media back in May. Four functions are listed in the app: pay and receive money through a QR code, deposit money and withdraw money from RMB to digital RMB.
According to Xinhua News Agency, an official mouthpiece of the Chinese government, the DCEP "red packets" can only be used to make purchases at authorized retailers. The e-RMB cannot be transferred to others, or saved to one's bank account.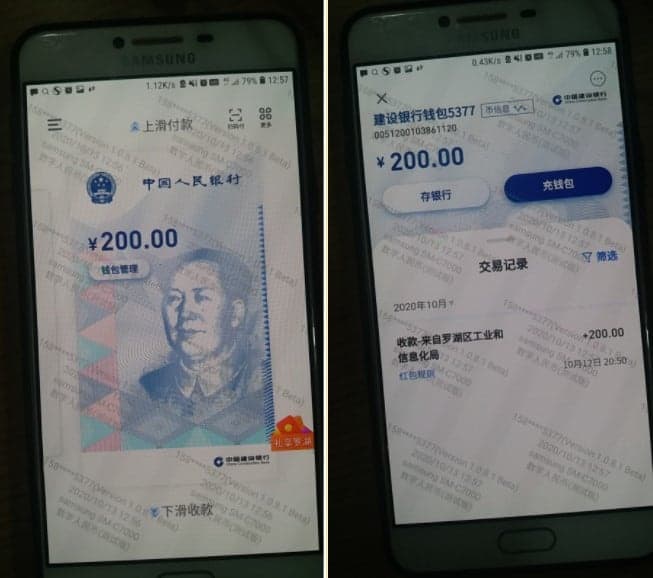 Also, the DCEP "red packets" will be usable only this week. For the next few days, individuals can use DCEP in 3,389 stores, including shops, supermarkets and restaurants in Shenzhen. Any unused DCEP "red packets" after the one-week period will expire and be "recycled" back into the digital RMB system.
In other words, this new digital currency is just like fiat money — except the government can now set rules on how the money is to be used (not for regifting or for savings) and put an expiration date on it. The central bank can also seamlessly, if and when it wants to, take all of its e-money back.
DCEP is approaching, will people accept it?
Recently, Fan Yifei, the deputy governor of PBOC, said at the Sibos banking and financial conference that DCEP has reached another milestone: 3.13 million transactions have now been processed using DCEP, moving 1.1 billion yuan or US$163 million, in tests in the pilot cities of Shenzhen, Xiong An, Chengdu and Suzhou.
While China's officials are promoting DCEP, what do the laobaixing think?
Zhixi, who won the lucky draw, plans to spend her DCEP this weekend, as it will disappear on Sunday if not used. Though she is happy to have the free money, she is concerned about the safety of the e-RMB wallet.
"To register in the e-RMB wallet, I only need to sign in my phone number and receive a message code," she said. "What if I lost my phone?"
As for the future of DCEP in general, Zhixi thinks it's a good thing. She thinks there is little to no difference between a DCEP wallet to other private payment platforms.
"To me, (the launch e-RMB wallet) is just establishing another digital wallet," she said.
But she does feel inconvenienced in having to open another app to pay her bills. As a frequent WeChat user, she enjoys the mega app containing multiple functions that can provide a one-stop solution and more seamless mobile user experience, which includes WeChat Pay.
However, some Shenzhen residents are not as positive as Zhixi toward the new e-RMB.
Qinglang Mao, who works at a technology company, told Forkast.News frankly about his misgivings toward DCEP. He has concerns about its traceability, its possible lack of permanency and also how everything he does with his money would be imprinted on a ledger for the government — or anyone else with access to DCEP's technical inner workings — to see.
"What if my salary would be paid in the form of DCEP? Then later the DCEP you use to pay for a car or a house can be traced back to your income. Then, there is no room for grey incomes," Mao said. "Even though I don't have a 'gray income,' (I dislike) all my spending [being] exposed to others."
But Mao still participated in the lottery, as he is curious and wants to know more about how DCEP might impact his business in the future.
Mengchan Qiu, a worker in the IT industry, told Forkast.News that even though she participated in the DCEP lottery for the free money, she is also reluctant to do more with the state digital currency.
"In the short term, DCEP has no impact on me, but in the long term, it might have both pros and cons, and even more disadvantages than advantages," Qiu said.
Qiu is not sure the DCEP wallet is safe or secure. She is also concerned about the possible misuse of her personal information.
But why, then, did she provide her personal information to participate in DCEP "red packets" lottery?
She said it was only "a lucky draw and there is no cost."
Mao shared similar sentiments.
"I only take the initiative to use DCEP if the government gives 'free money' to me," Mao said.