Four years ago, Magic Leap wowed the world.
In a video that promised the future potential of its augmented reality (AR) system, dozens of headset-wearing schoolchildren gasped as a whale appeared to breach through the floor of a gymnasium, leap high in the air and crash back through the floor, leaving huge splashes of water made from pixels in its wake. Another promotional video demonstrated the platform's potential for gaming: mixing the surrounding real world with the virtual, a gamer blasts his way through an enemy army of computer-generated robots that interact with the gamer's real-life surroundings. Annihilated robot bodies crumple over desks or bounce off walls, with the headset's computer generating the 3-D images in real time in relation to what was around the player.
To investors and observers alike, this was a technological masterpiece. To augment so seamlessly what was rendered by a computer and what was not — with near-perfect interaction between the two — would be an achievement that might be described as magical. Particularly intriguing to investors was the concept that this could all be done via a headset. No supercomputer required.
Investors were wowed and their dollars flowed in. According to Crunchbase Pro, by December 9, 2016, the company had raised a Series E round for a total of $2.6 billion in funding at a valuation of $10 billion. This figure is staggering as the company with the next largest funding round in the sector, according to Crunchbase data, is Niantic, which made the ultra-popular Pokemon Go game.
In contrast to Niantic's success, Magic Leap was never quite able to build what it had imagined in the early promotional videos. The end result was not a lifelike, high-resolution augmented reality — those videos were rendered by a special effects house — but rather an experience that looked like the holograms imagined in the original, 1977 Star Wars.
As a result, Magic Leap's much-anticipated consumer headset turned out to be a market fiasco. Despite aspirations to sell a million headsets in its first year, the company last year was only able to clear out 6,000 of the "creator edition" headsets, which were intended to be an early version of the product for developers. From this data point, Magic Leap decided to pivot to enterprise sales, but disappointing results and fierce competition from Microsoft's technically superior HoloLens meant the company only received lukewarm feedback. Last month, Magic Leap announced that it was laying off 1,000 of its 1,900 staff and warned of future layoffs should it be unable to secure additional funding.
Forkast.News tried to get in touch with Magic Leap to discuss all of this, but the Florida company's PR office did not respond to requests for an interview.
See related article: Blockchain Adoption Starts with Gamification — Yat Siu, Animoca Brands, on the Future of Crypto
Magic Leap and the capital markets
Augmented reality is a comparatively longer funding process than other industries, with VCs trickling in cash instead of making big bold bets in the firms' early years. Data from Crunchbase shows that AR firms raise on average $7 million, with a long tail of funding rounds that can reach up to 12. In comparison, firms in the video game industry raise an average of $11 million over an average of three rounds, while the mobile apps industry raises $18 million on average usually in three rounds.
Valuations in the AR sector aren't as high as other emerging tech sectors because of the lack of unicorns (a firm with a valuation of over $1 billion). AR only has three unicorns: Magic Leap, Niantic of Pokemon Go fame, and game engine maker Unity Technologies (though it is debatable if Unity should be counted as an AR or a generic gaming/software company). So, comparatively, valuations within the AR sector come in at an average of $187 million per company versus $441 million for video games and $456 million for the mobile industry.
CB Insights shows that the bulk of unicorns are in the e-commerce or artificial intelligence space, which results in the valuations for AR being lower; there are more, less valuable companies in the space than other emerging tech segments.
In an already challenging capital market, AR startups will have a tough time raising that next round. "The Covid-19 pandemic and the global recession/slowdown that will follow will certainly have a material impact on the augmented reality and virtual reality markets, it will be harder for companies to close new business as businesses will tighten their belts and focus initially on mission-critical needs," Lyron Bentovim, president and CEO of the Glimpse Group, a New York-based AR startup incubator, told Forkast.News. "The business slowdown together with the challenges of raising fresh capital will certainly cause consolidation in the space with weaker entities being removed from the market."
Bentovim — who also thought that the Magic Leap layoffs were because of a mediocre product with a high price tag and not Covid-19 — points out that the difficulties to bring in fresh capital can be seen in the funding data.
Throughout 2018, on average 74 rounds were closed per quarter. During 2019 that dropped to 64 per quarter, and only 41 have been closed for all of 2020. On average, a round gives a firm 18 to 24 months of runway. Considering the downward trend of rounds being closed, there are an estimated 70 to 90 AR companies in danger running out of capital and hitting the wall. (Based on a Forkast.News analysis of funds that closed rounds between Q2 and Q4 in 2018, minus successful closed rounds from Q3 2019 to Q1 2020 and announced M&A deals.)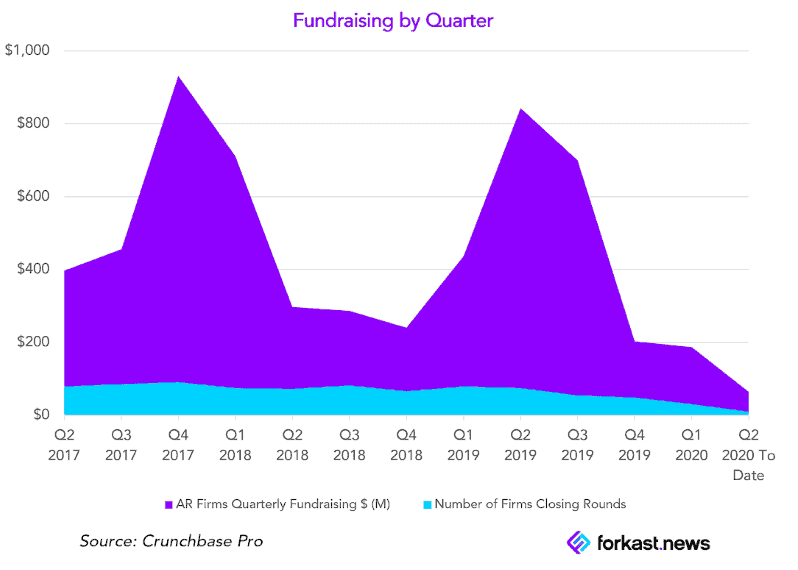 So what happened to these companies? Some were acquired, but the majority are in danger as there's simply not as much capital to be had post-Magic Leap for the AR sector; VCs simply no longer have the enthusiasm for a risky expensive venture. During all of 2018-2019 Magic Leap raised $741 million in a Corporate Round and a Series D, with a Series E hitting north of $250 million to take the firm to $1 billion. All in all, Magic Leap absorbed over a third of the capital allocated for AR. Keep in mind that during 2020, total investment dollars headed towards AR are expected to be the lowest since 2015. Since January 1, 2020 only $253 million in VC cash has been allocated to AR, whereas 2019 was a $2 billion year in venture funding for AR companies.
Does AR still have a future?
While it might be tempting to write an obituary for augmented reality if Magic Leap goes under, it's important to note that the segment is both profitable and well-received by consumers when done on a mobile phone. Specialized hardware like the headsets required by Magic Leap is capital intensive and requires adoption at scale to make profitable. In contrast, there's already a current install base of 1.05 billion AR-compatible phones, according to industry analyst group ARtillery Intelligence.
"There are technical challenges that are currently in the way for a truly immersive AR headset, but once these are resolved the AR industry will take the next leap forward," says Bentovim, of the Glimpse Group, which invests in AR software companies at the moment and not hardware firms. This will likely come from a deep-pocketed tech giant that has no problem facilitating the spend without relying on fundraising, Bentovim adds, like Microsoft with its HoloLens project.
Until then, however, phones are likely the more effective medium for AR.
Delineating between AR hardware and AR software is key. While neither Niantic nor Nintendo have released official earnings data from Pokemon Go, analytics firm Sensor Tower estimates that the game generated nearly $900 million in player spending in 2019, with 20% going to Nintendo.
Snapchat has successfully monetized AR with its lenses, which create a branded AR experience for the user.
The social media company derived an estimated $1.114 billion from AR advertising last year. Snapchat makes up the majority of all AR revenue being generated, with Facebook coming in second .
"When applied in the right way, AR can prove to be useful and help businesses and consumers engage with their day to day in exciting ways," Sanj Surati, a creative consultant with London-based creative agency Tiger Heart, told Forkast.News. "I think the notion of 'AR being the future' of what we all do is problematic as it creates a destructive need for it to succeed, without it being built from the ground up in a measured and responsible way."
Engagement is something that AR advertising does incredibly well: the conversion rate for AR ads is in the 20% range while the average for generic online advertising was 2.35%, with the top quartile converting at 5.31% or higher.
Surati points out that the AR industry has the potential to enhance the consumer experience in the retail industry, particularly with the clothing and makeup sector as these sectors want more interactivity with their products.
"One thing I will say is that the AR landscape is still in its infancy, and the opportunity for success is huge," Surati says.
Although investors might be punishing the AR industry at large for the failures of Magic Leap to deliver something close to what it initially promised, it's tough to argue against the effectiveness of AR as software — rather than hardware — when used in advertising. Snapchat's Superbowl AR filter reached 300 million people, building brand awareness with a population almost the size of the entire United States. How many people tuned into the actual broadcast this year? Only 98 million. Less than a third of what Snapchat reached.