Chinese activists are using NFTs and decentralized technology to document and preserve details of protests over Beijing's zero-Covid lockdown rules that erupted in several cities and universities over the past week and morphed into criticism of communist party rule and leader Xi Jinping.
Protesters are posting articles and images on Matters, a U.S.-registered decentralized content-sharing platform built with the Interplanetary File System, or IPFS, which has been referred to as the Airbnb for cloud data storage.
"When you're at a place where information is censored, you'd naturally want to archive and back up content," Annie Zhang, founder and chief executive officer of Matters, told Forkast.
The rare public protests erupted after an apartment fire on Nov. 24 in Urumqi, the capital of China's Xinjiang region, killed as many as 10 people, leading to accusations that Covid lockdowns had prevented people escaping the building.
One article trending on Matters said: "Those who stood up were heartbroken not only because 'some residents do not have the ability to save themselves.' They also became aware of a fact that they'd ignored all along: when we repeatedly back down, sooner or later it'd be your turn to fall off the cliff."
NFT collections related to the protests are also available on OpenSea, the world's largest NFT marketplace.
They include "Silent Speech" and "Blank Paper Movement", both minted based on images related to the protests. Silent Speech is a collection of 137 NFTs, and Blank Paper Movement consists of 36 stylized images that drew inspiration from protesters who held up blank sheets of paper to symbolize suppression of free speech.
Censor antidote
Demonstrations initially focused on the nation's zero-Covid policy, which could result in citywide lockdowns and quarantines even if isolated cases are discovered, but they soon escalated to direct criticism of the ruling Communist Party. Such actions in China can lead to arbitrary arrest and imprisonment.
Videos and photos from the protests circulated on the Chinese internet, which is ring-fenced by China's government from the global web in what is known as the Great Firewall. The video and pictures were quickly removed by censors.
"Some posts related to protests were taken down within minutes they were published," Zhang said.
Decentralized content platforms, such as Matters, can be used to counter censorship, given the decentralized technology's immutability and that the content does not live on a single server, which makes it difficult to delete or alter.
As of Wednesday, dozens of articles about the protests have been posted and trending on Matters' platform.
An article published on Sunday showed WeChat screenshots of a compilation of footage of protests taken from the streets in dozens of universities across the nation.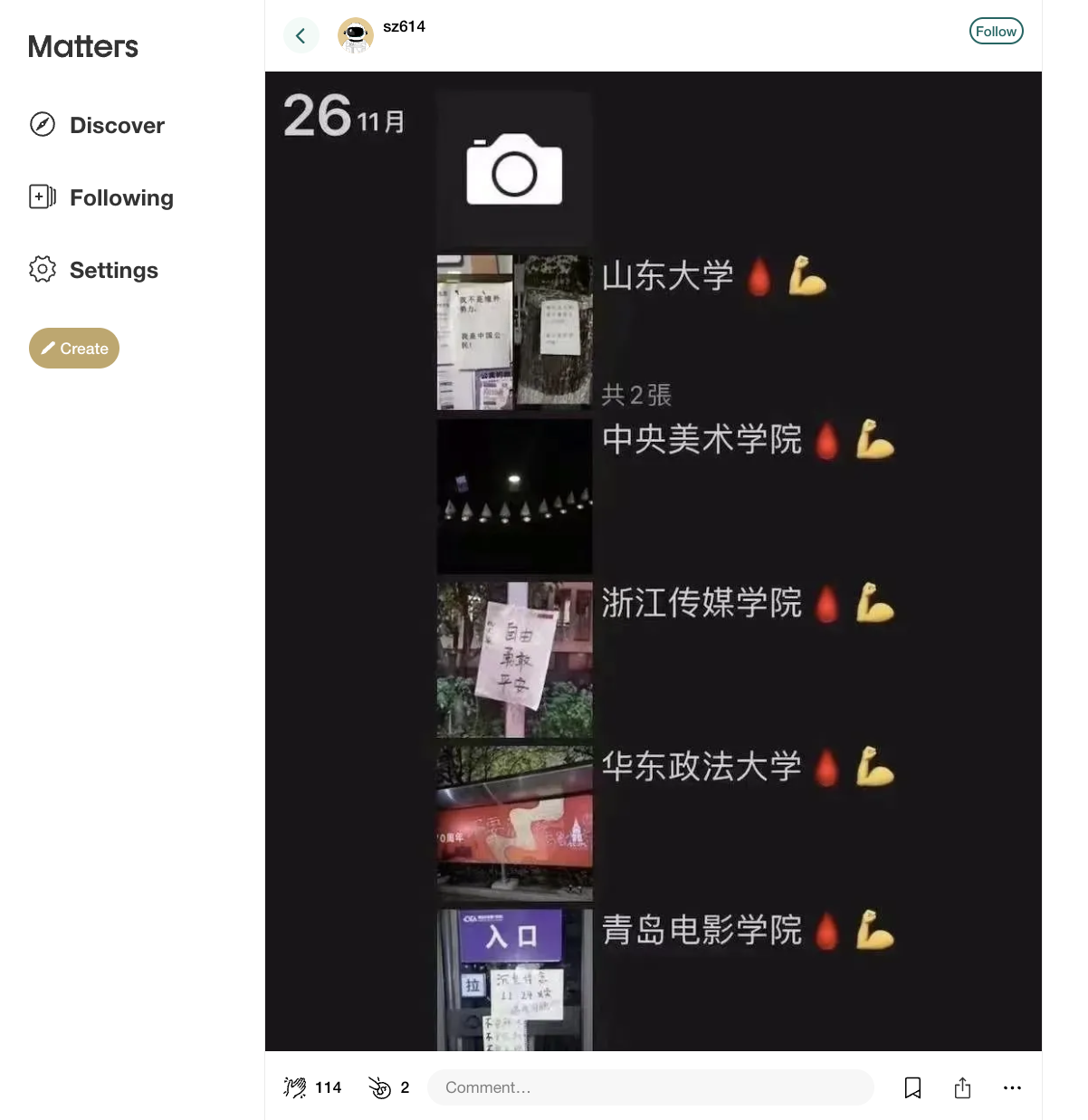 "Many are writing about their lives or moving articles that were censored on WeChat to our platform," Zhang said.
"Some people are saying what they can do the least now is to write and document, and that's also a process of self-empowerment," Zhang said. "It seems to me that the meaning of documenting has evolved beyond just leaving a record or archive."
Launched in 2018, Matters is no stranger to hosting such content and has become increasingly known as an outlet to get around censorship, particularly in China.
As early as 2019, users started to post about China's MeToo movement and back up important files on the platform. The platform also hosted posts related to protests in Hong Kong in 2019, followed by commentary around the coronavirus outbreak in the Chinese city of Wuhan in 2020.
In April, Matters users also published content related to the censored video "Voice of April," which composed audio calls and complaints made by Shanghai residents as they faced weeks of Covid lockdowns.
While "the right to be forgotten" remains a burning question for users in certain regions, Zhang said in an April interview with Forkast that "the right to 'be remembered' is a more pressing and urgent matter."