In this issue
China's economic woes: Trouble brewing for crypto?
NFTs: Casualties and a new combatant
Rise of Friend.tech: Bright spot in a bear market
From the Editor's Desk
Dear Reader,
Following a slew of grim economic data from China and amid ongoing investor queasiness related to Russia's war against Ukraine, persistently high interest rates and simmering geopolitical tensions, the outlook for cryptocurrencies is, let's say… complicated.
But in all honesty, when was it not?
From its very birth 14 years ago, crypto faced — and continues to face, in some quarters — persistent questions over its inherent value. And since then, it has endured — and survived and thrived in — tough times that have included regulatory assaults, correlations with nosediving equity markets and economic slumps, exchange and token collapses that have tested it almost to destruction, and more.
And here we are. Crypto is clearly still very much alive. As are many of the innovations that it has ushered in.
This week we're given a timely reminder of that by the news that recently launched Friend.tech, a decentralized application that integrates tokenomics with social media, has attracted more than 100,000 users in under two weeks.
The current moment may not be the most obvious time to launch a completely novel product, but Friend.Tech's colorfully pseudonymous developers, 0xRacerAlt and Shrimppepe, have demonstrated that plucky "can do" spirit that's not an uncommon feature of the crypto and Web3 space.
It's possible that Friend.Tech may be a flash in the pan, a development of passing interest and a fad for some of the fickle celebrities that have gravitated to it. But then again, its developers' punt on their new social media model may amount to more, or give rise to other, similar projects.
Remember how the naysayers dissed crypto when it first appeared?
Until the next time,
Angie Lau,
Founder and Editor-in-Chief
Forkast.News
---
1. Bumpy road ahead?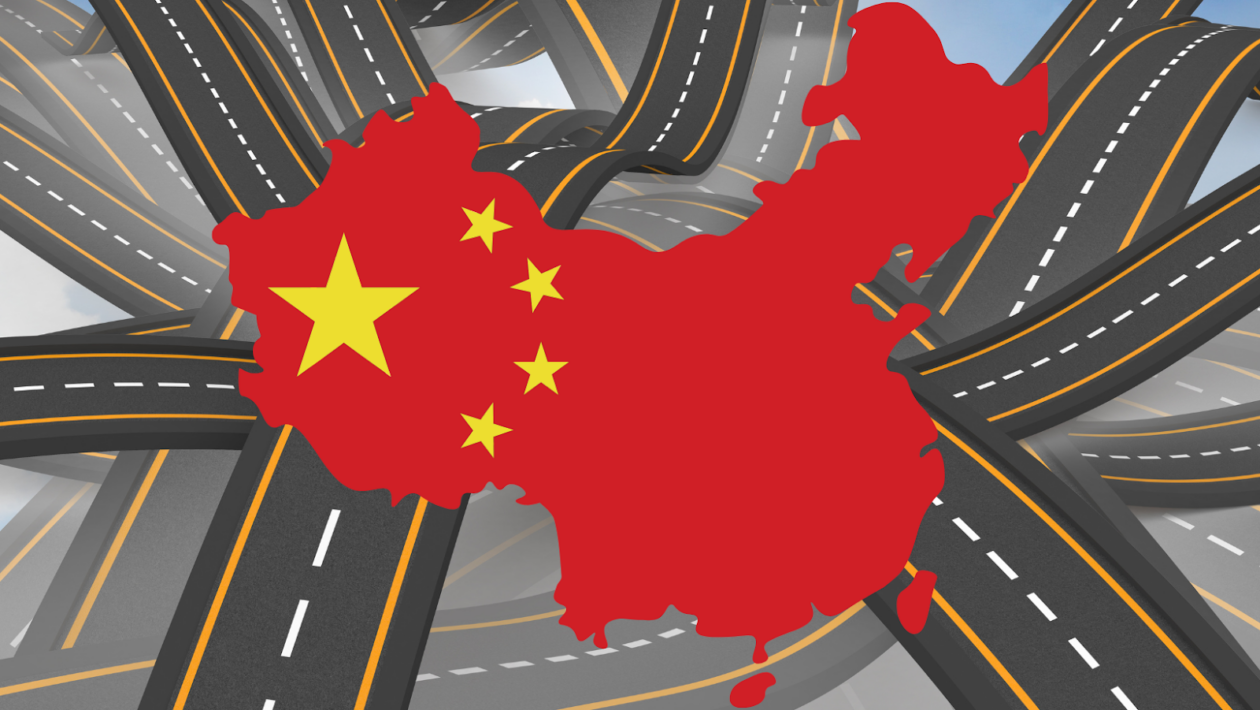 China, the world's second-largest economy, has seen a halting economic recovery in the post-pandemic era and faces deflationary pressure for the first time in two years. That, and the government's inadequate stimulus policies so far, could spell trouble ahead for its economy and the crypto market.
China's consumer price index (CPI) in July declined by 0.3% on the year, in the index's first fall since February 2021, while its producer price index (PPI) dropped 4.4% to book a 10th consecutive month of decline, according to the National Bureau of Statistics earlier this month.
Apart from deflation pressure, China's economic data in July also showed the fastest export decline since early 2020, an uptick in unemployment as well as weaker-than-expected domestic consumption.
Despite the pressing economic turmoils, China's central bank only cut its one-year loan prime rate (LPR) by 10 basis points to 3.45% on Monday – a policy stimulus much smaller than the analysts expectation of two 15-basis-point rate cuts in both one-year and five-year LPRs, according to Reuters on Monday.
Concerns over currency stability could account for Chinese policymakers' reluctance to deploy stronger policy supports, as the offshore Chinese yuan weakened to a low of under 7.3 per U.S. dollar last week, from the all-time low of 7.3749 in October 2022.
"The biggest (macro risk for cryptocurrencies) is a potential devaluation of the Chinese Yuan, trading at the weakest level since 2007," Markus Thielen, head of crypto research at digital asset service platform Matrixport, said in an emailed note last week.
"In August 2015, when China devalued the yuan for the last time, Bitcoin prices declined by 23% during the two weeks following the devaluation," Thielen added.
Forkast.Insights | What does it mean?
Make no mistake – China's economic woes are a genuine cause for concern. The specter of an extended period of deflation – a phenomenon that ushered in a "lost decade" of sclerotic economic growth in Japan in the 1990s – is just one among many ugly developments in the world's second-biggest economy.
Add to that a slump in exports, a crashing property sector that accounts for more than a quarter of the national economy and which has driven its growth for decades, and an unwillingness by companies to invest.
Combine those with a youth unemployment rate that exceeds one in five 16-24-year-olds – a state of affairs so dismal that the authorities have decided simply to hide it rather than own it, presumably because they're worried about a public backlash.
And then top all of those things out with the fact that China is almost certainly a source of phony official statistics, meaning that things may be even worse than the numbers look, and gosh, what a mess.
When this much goes this wrong in an economy that has the heft and interconnectedness of China's, the outlook for investment in almost any risk assets – including cryptocurrencies – isn't ideal.
Some may say that if Chinese crypto holders sneeze, the rest of the market will catch a cold. But not so fast. The country's central bank declared last year that the country's share of global Bitcoin transactions had fallen to just 10% from more than 90% before authorities began cracking down on all things crypto in 2013. So even if crypto prices suffer as a direct, domestic result of all the economic misery, that effect will be diminished compared to what it would have been a decade ago.
Another mitigating factor amid all the gloom may be the fact that such a broad pullback of investment in China as we're witnessing means that money has to go somewhere. It may be wishful thinking to suggest that some of it may end up in crypto, but it's not out of the question.
And if China devalues its currency, the yuan, historical data suggest that there may be some upside, if not for the entire crypto market, then at least for the chunk of it accounted for by Bitcoin – although the relative strengthening of the U.S. dollar that would result may take some of the upward momentum out of that.
However, in short, crypto, like many other investments, is a risk asset, and in times such as these, all bets are off.
---
2. Fear is in the air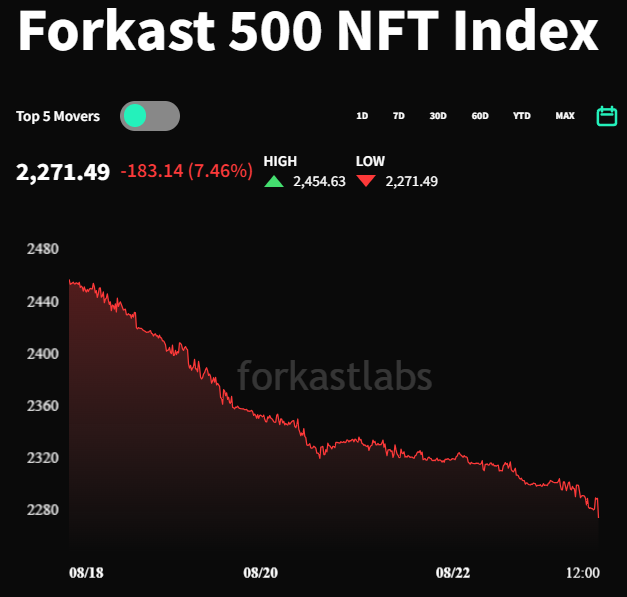 Creator fees or royalties remain a hot topic in the non-fungible tokens ecosystem. In 2022, X2Y2 and the LooksRare marketplaces decided to no longer enforce creator fees, and soon after Blur carried the baton in the race towards zero fees. On Aug. 18, OpenSea announced its decision to no longer enforce royalties, and the NFT market had an immediate reaction.
The value of NFTs has plummeted by nearly 7.5% following OpenSea's announcement to not enforce creator fees.
Creators argue that royalties are necessary to both drive innovation in Web3 and to support artists, while tech purists want no strings attached to the digital assets they now own.
Mark Cuban, Yat Siu and Yuga Labs are just some of the biggest names to make statements opposing OpenSea's decision, with Mark Cuban calling it a "HUGE mistake." on messaging platform X, formerly known as Twitter.

Trade profits have fallen to an average of -us$2.08 million daily since Aug. 18, and reflect the lowest average profits since the last week of June following Azuki's disastrous mint.
Platforms like the Zora marketplace are innovating around royalties by sharing a percentage of platform fees with NFT creators.
Forkast.Insights | What does it mean?
There's real fear in the air in the NFT markets. From creators who are seeing the creator fees they depended on in secondary NFT sales disappear, to collectors who are realizing their favorite artists or projects may stop creating, marketplaces' decision to no longer enforce creator fees (royalties) is a scary big deal.
NFTs were supposed to be the building blocks of a new digital economy, one that promised a completely new and rewarding way for creators, innovators and buyers to transact. At the core of this economy was one of NFTs earliest and biggest selling points, perpetual royalties. Only problem is, these "forever fees" weren't actually real, and they still are not. At least, not yet.
Today, royalties can only be enforced at the marketplace level, and without these marketplaces buying in, creators cannot rely on fees as a revenue stream. There's a time and place for debating the merit of royalties, but after years of debates in the NFT community, all we've managed to do is stagnate.
Instead of building a new token standard which could possibly include perpetual royalties, we debate. Instead of developing staking mechanics that drive fees towards creators, we debate. Instead of rethinking how platforms can share profits with creators, the Zora marketplace has this covered. Yet our small number of innovations for something that supposedly matters so much seems to show that it maybe doesn't matter as much as we say it does.
They say necessity breeds innovation, and seeing the value of NFTs reacting to a future that involves no creator fees highlights just how necessary innovation may now be if prices are what the market cares about. The average NFT sales price is up since OpenSea's announcement, and while that sounds nice on the surface, it reflects expensive NFTs that are being sold at huge losses, like Bored Ape #8585 which sold for US$255,000 on Saturday. This seller took a US$777,000 loss on the once-million-dollar NFT, maybe fearing that the loss would be even greater if they waited any longer.
While we wait for the broader NFT community to help with innovation, teams like Yuga Labs, the creator of the Bored Ape Yacht Club are forced to take matters into their own hands. Last week they announced, in a haymaker of a counter to OpenSea, that they will be sunsetting their entire catalog of NFTs from being tradable on the OpenSea platform.
The marketplace war now rages on, with a new army on the battlefield that could lead to more devastation in the markets. As projects begin taking matters into their own hands. expect traders to be in the crossfire of this ongoing battle, with the value of NFTs, collectors' wallets, and the life of projects themselves to be the main casualties of this war.
---
3. Next big thing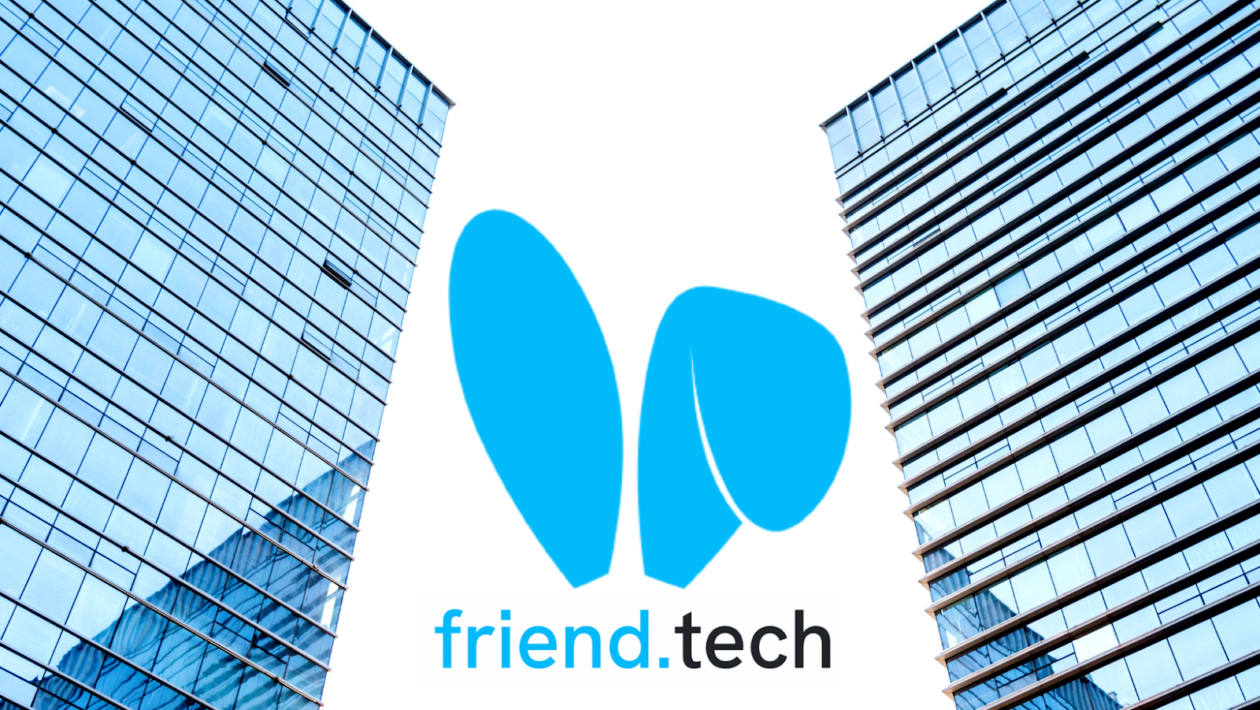 Friend.tech, a new decentralized mobile application that integrates tokenomics with social media, has seen over 100,000 unique traders and 1.1 million transactions since its launch on Aug. 10, making it one of the top-earning protocols in the crypto ecosystem.
Launched on Coinbase's Base blockchain, Friend.tech allows its users to issue "key" tokens – previously known as "shares" – that are linked to their Twitter accounts and unlock engagements such as closed chat groups. The tokens can be bought and sold, and prices rise as their issuer's fan bases grow.
Friend.tech charges a 10% fee for every transaction, with 5% going to account holders and the other half to the platform. At press time, DefiLlama data showed Friend.tech had generated almost US$7 million in fees over the past two weeks.
Some Friend.tech users have expanded their tokens' usage beyond exclusive chat rooms and Twitter messages. Pseudonymous crypto trader and influencer RookieXBT is offering his "key" holders 33% of the revenue he receives on Friend.tech and other privileges such as free X (previously known as Twitter) premium subscriptions.
The social media application has also attracted those outside the crypto space, with U.S. basketball player Grayson Allen launching his Friend.tech account over the weekend.
On Tuesday, Friend.tech renamed its "share" token to "key," explaining the new name "better illustrates their purpose as in-app items used to unlock your friends' chatrooms."
However, some speculate the change of names might be driven by regulatory concerns. "(The move was made) probably to get around being called a security," said Forkast Labs NFT strategist Yehudah Petscher on Tuesday, after U.S. regulators recently brought a spate of lawsuits against digital asset platforms.
Forkast.Insights | What does it mean?
The rapid ascent of Friend.tech demonstrates the demand for a fresh social media experience combined with the allure of quick profits, a phenomenon dubbed SocialFi.
In just a few days, the platform attracted over 100,000 users, comprising celebrities, athletes, and prominent crypto influencers. Some users claim substantial earnings via Friend.tech, which converts a user's X (previously Twitter) followers into private chat channels. Access to these channels is granted by purchasing shares in a social media creator's profile.
This novel method of tokenizing Twitter profiles offers creators an alternative avenue to engage their audience. If this model gains traction, it could challenge the NFT industry. In a significant move, OpenSea, a leading NFT marketplace, announced its plan to drop mandatory creator fees by month-end.
So far this year, the NFT market has struggled. The Forkast 500 NFT Index, which tracks the market's health, has been plummeting regularly this summer and has dropped 42% since the beginning of the year.
With NFTs' waning popularity as a fan-engagement tool, Friend.tech might just be the breakthrough SocialFi needs.
However, the platform is not without its concerns. Observers have pointed out the platform's susceptibility to phishing attacks, counterfeit tokens, and rumors suggesting that a potential token airdrop is artificially boosting its popularity.
Nevertheless, Friend.tech has reintroduced excitement for crypto creators looking for profits in the ongoing bear market, raking in over 1,864 Ether (approximately US$3.1 million) in protocol fees.