The Central Asian nation of Kazakhstan is rapidly becoming a new hotspot for the cryptocurrency mining industry, following an exodus of mining operations from China.
The country is a major producer of coal, which it uses to generate the vast majority of its electric power, and it lies just across the border from the northwestern Chinese region of Xinjiang.
Enegix, one of the biggest crypto mining companies in Kazakhstan, which last year opened a 180 megawatt data center, is among miners preparing to scale up amid increasing demand for its services.
"Demand has definitely skyrocketed," Dmitriy Ivanov, a sales director at Enegix, told Forkast.News. "It's been a hell of a year just watching the interest. At first there was basically no interest, probably in September of last year. And then suddenly there was a rise in interest, and there is more [of a] rise in interest."
"The switch from [crypto miners] just looking for hosting solutions to actually looking for a partner for building facilities has been considerable and noteworthy," he said.
Displaced Chinese miners find new home — next door
Wattum, a U.S. crypto mining firm, reached an agreement with Enegix earlier this month to build a 16MW facility in Kazakhstan, a commitment worth US$2 million, with construction planned to start in July. The two companies are discussing adding another 50MW facility in an investment that would be worth US$8 million.
Following the deal with Wattum, Enegix is in talks with other companies — mostly from China — to invest jointly in building new mining facilities in four locations. The data centers would have capacities of 50, 70, 100 and 100MW, respectively, and Ivanov said Enegix planned to disclose further details of the plans in the coming weeks.
Didar Bekbauov, a co-founder of Xive, a crypto mining company that offers hosting services based in the Kazakh city of Almaty, told Forkast.News that many miners with operations in China had reached out to the company, and that he was busy scheduling visits for those who wanted to visit its mining facilities in Kazakhstan.
"One [Chinese miner] has already come for a visit, and another one wants to visit in July," Bekbauov said, adding that another Chinese miner had signed a contract with the company and made prepayment to book slots for July. "[Chinese miners] are already actively coming and searching for relocation."
Chinese mining rig maker Bitmain is also offering assistance to clients that want to relocate their mining operations from China to other countries, including Kazakhstan.
BIT Mining, a New York-listed Chinese crypto mining firm, announced last week that it had delivered its first batch of mining machines to Kazakhstan. Last month, it said it was investing US$9.33 million to build and operate a data center in Kazakhstan
Nasdaq-listed, Beijing-headquartered Canaan, one of the world's largest crypto mining equipment makers, has also launched its own crypto mining business in Kazakhstan, with some Avalon Miner units already in operation.
Edward Lu, a senior vice president at Canaan, told Forkast.News that the company was partnering with local miners to deploy its own mining machines.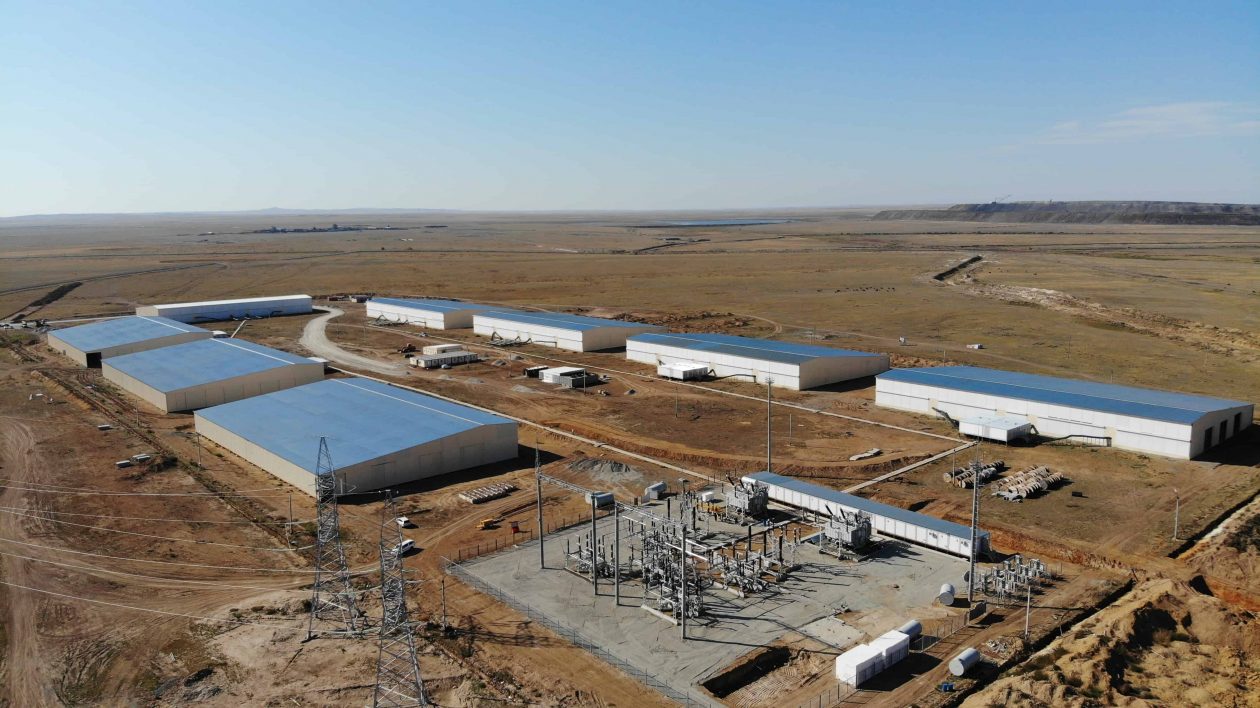 China has long been the world's biggest miner of major cryptocurrencies. Almost 72% of the global hashrate for Bitcoin came from China between September 2019 and April 2020, according to data compiled by the Cambridge Centre for Alternative Finance.
Chinese miners are no strangers to seasonal migration. In the past, some would move their operations from one region to another within China to pursue cheaper electricity. But these days their destinations are very different. As China tightens the screws on the crypto mining sector, Chinese miners have been considering decamping to countries in which they are less unwelcome, and Kazakhstan has become a favorite destination.
"Given Kazakhstan's [geographical] convenience, we could foresee that many of our mining rigs will be moved to Kazakhstan in the next few months," Lu said.
Hotspot may already be too crowded
Kazakhstan appears to have attracted such interest among Chinese miners that some say it may be running out of capacity to accommodate more.
Alejandro De La Torre, a vice president at Poolin, a major mining pool with significant operations in China, told Forkast.News: "We've considered literally every place across the globe because that's what we do. We consider places. That's my job … However, I think Kazakhstan has already hit a sort of a ceiling as to how many miners can move into the country."
De La Torre added that Poolin was looking at options across both Canada and the United States.
Xive's Bekbauov told Forkast.News that much of the surplus power in Kazakhstan was already being used by crypto miners, and that it would take time to build infrastructure to utilize spare electricity to meet new mining demand.
"Kazakhstan can absorb only maybe a limited part of this," Bekbauov said, tweeting on Friday that Kazakhstan would not be able to host all Chinese miners due to "electricity capacity limitations."
Kazakhstan has also supplied spare electricity to neighboring countries such as Russia. "But when we built this 180MW facility, we were able to become the purchaser of power right here locally — a very stable purchaser that does not have downtime or anything like that," Ivanov said, adding that the arrangement was efficient and to the advantage of local power producers.
Denis Rusinovich, a co-founder of industry professional networking platform Cryptocurrency Mining Group, who has also served as a vice president of Kazakhstan's blockchain industry lobby, said in an interview with Forkast.News that the Chinese miners' migration had been "very sudden" and there had been "no preparation."
"Kazakhstan had never expected to be ready for this amount of demand," Rusinovich said. "Kazakhstan can absorb some but not all."
Why crypto taxes are welcome here
Yet Kazakhstan is planning to introduce a tax on power consumption by crypto miners. According to a report by local media outlet Kursiv, a new rule that forms part of amendments to the tax code was under review in the Senate. If passed, it would require miners to pay one tenge (about US$0.0023) per kilowatt hour for the electricity they use. Last Thursday, local media outlet TengriNews reported that the president had signed the new law, and that the charge would take effect on Jan. 1, 2022.
Ivanov of Enegix said that the industry should be given every opportunity to develop, and the money that it brings — in revenue and in investments — is "considerably exceeding this tax."
"It's not a game changer," Ivanov said. "It does signify that the government is intent on taxing it, having a profit from it, and letting it operate. In that way, it is an indication of a green light, so to speak."
Bekbauov of Xive also said that the tax was not a particular headache, considering the advantages it could bring by signaling that "the industry will be legalized."
"It's good for mining," Bekbauov added. "No government entity, no authority could question your legitimacy."
Mining firms say that at present, it remains convenient for Chinese miners to migrate their operations to Kazakhstan. There is a 12% value-added tax for miners importing equipment, but it can be circumvented under certain circumstances. A crypto mining firm based in the country told Forkast.News that if a foreign miner could register a company in Kazakhstan, it could avoid VAT by shipping equipment to itself and pledging not to sell it for five years.
"Generally speaking, if you're trying to mine for yourself, and if you expect the lifespan of your equipment to be probably about three years, I'm guessing there is a good incentive for you to import it to your own company [set up in Kazakhstan]," the mining firm said, adding that it typically took no longer than around six weeks for an overseas miner to set up a local company.
As miners flock to Kazakhstan, some concern has emerged over a lack of mining machine maintenance and technical professionals in the country.
Rusinovich said that at the moment there were not enough qualified personnel in Kazakhstan.
"It's very likely that the Chinese or miners [from other countries] will need to bring the know-how," he said.
Some companies appear to be doing just that. Canaan announced earlier this month that it was opening its first after-sales service center in Kazakhstan, its first outside of China.
"I would have to say that there are not enough repair sites in Kazakhstan," Ivanov from Enegix said. "In reality, there is a queue for repair … when the surge of demand just hits the industry like this, it's hard to quickly find qualified specialists, especially for mining machines. It's not exactly something they teach you in college."
Enegix has a repair center on its site, as it runs an authorized after-sales service center for MicroBT machines.
Are China's Bitcoin carbon issues shifting across the border?
Other worries have emerged about how environmentally damaging incoming mining operations are.
China's pledge to go carbon neutral by 2060 is widely suspected to be one of the main reasons for Beijing's crackdown on the crypto mining industry, and Kazakhstan has similar plans to reduce its carbon emissions.
Kazakh President Kassym-Jomart Tokayev announced last December that the country was working to reach carbon neutrality by 2060. That followed a national plan the country introduced in 2013 in pursuit of a "green economy," setting a target of generating 50% of its power from alternative and renewable energy sources by 2050.
About 87% of Kazakhstan's electricity is generated from fossil fuels, with hydropower accounting for 12% and generation from solar and wind installations less than 1 percent, according to data updated last October by the International Trade Administration at the U.S. commerce department. Coal, produced in the nation's northern regions, is used to power more than 70% of the country's electricity generation, according to the ITA report.
See related article: Cryptocurrency's carbon footprint is massive and not sustainable
Coal-fired power appears to be a major source of crypto miners' electricity in Kazakhstan. One crypto mining firm said that all of its current operations used coal-generated electricity, but that it was exploring gas options with potential investors in new mining facilities.
Another mining firm said that electricity had been priced at approximately US$0.035 per kilowatt hour, which was "not the cheapest in the world but … stable," given steady power generation fired by coal.
Oyuna Baldakova, an energy researcher and a PhD candidate at Freie University Berlin, said in an interview with Forkast.News that it was a good thing for Kazakhstan to potentially see an inflow of new investment by miners, "but of course you have to be mindful of the energy consumption."
"It would be interesting to push the idea of encouraging the government to collect [the planned new tax] then use it to invest in renewable energy or cleaner energy sources," she said.
See related article: How serious is the threat of Bitcoin mining to the environment?