China's Blockchain-based Service Network (BSN), a state-backed consortium tasked to build a domestic digital infrastructure, wants to go international but some experts said BSN's links to Beijing could be a challenge overseas amid concerns about data security and privacy.
BSN describes itself in a user manual for potential clients as a worldwide infrastructure network that provides a one-stop-shop for blockchain and distributed ledger technology and decentralized applications (DApps).
BSN, which doesn't build blockchains itself, does offer programming, software development and other services, according to the manual. It has said it aims to build a global network that will allow connectivity between different blockchains to improve efficiency and cut costs for clients.
But in the drive to go global, BSN will need to convince potential overseas clients that the company is independent of China state control, that data is safe, and that transactions won't be censored, Zennon Kapron, founder of fintech consultancy Kapronasia, told Forkast.
"Those kinds of questions are going to be critical questions for them to overcome," Kapron said.
Such issues may become more pressing as BSN on Sept. 6 launched its Spartan Network, which it said is an international platform for public blockchains and only available outside of the Chinese mainland.
Next steps
BSN Spartan was developed by Hong Kong-based Red Date Technology Ltd, which Beijing tapped to design and build China's domestic blockchain infrastructure.
Red Date, which the company said has around 200 employees, built a track record in China helping to design so-called "smart cities." It handles R&D, maintenance and daily operations for BSN, according to Hong Kong's WHUB startup website.
"I would emphasize the point that BSN is going to be challenged by its image," Yaya Fanusie, an adjunct senior fellow at Washington-based think tank Center for a New American Security and a former Central Intelligence Agency analyst, told Forkast.
"BSN has had this Chinese government brand. My sense is that Spartan is really just a rebranding," said Fanusie, who also testified before a U.S. Congress panel last year about BSN.
BSN is China's attempt to "build the infrastructure for Web 3.0, the next level of the internet or the next evolution of the internet," he said.
"The founders and the Chinese government really want to see infrastructure that the rest of the world uses but which is under Chinese control, or at least where the Chinese state has influence over that infrastructure," Fanusie said in the Forkast interview.
BSN has powerful backers in China, including the National Development and Reform Commission (NDRC), which sets and executes national economic policy. The NDRC also implements the Communist Party of China Central Committee's policies and decisions on development and reform, according to the commission's website.
Other BSN partners include China Mobile Communications Group, a state-owned telecommunications company that is the biggest in the country; and China UnionPay, a financial services company that is also state-owned.
Not so?
However, Tim Bailey, vice president of global sales at Red Date Technology, said the Chinese government has no involvement in BSN's international network.
Bailey, who spoke with Forkast on Sept. 14 from Ireland when on a roadshow to showcase BSN Spartan, said the new network is solely funded by Red Date's Hong Kong entity. It will be governed by the BSN Foundation in Singapore, with members including Red Date and a number of "global firms" that will be disclosed soon.
"Red Date will certainly be the only Chinese company in the first 10 members [of the foundation]. The others are all global companies," Bailey said. "We believe it's very important in order for BSN Spartan to be accepted as a global network that the governance is also global."
Bailey added that BSN Spartan's code is open-source. "It's completely open and transparent. The approach that we're trying to take is just be very open about what we're doing."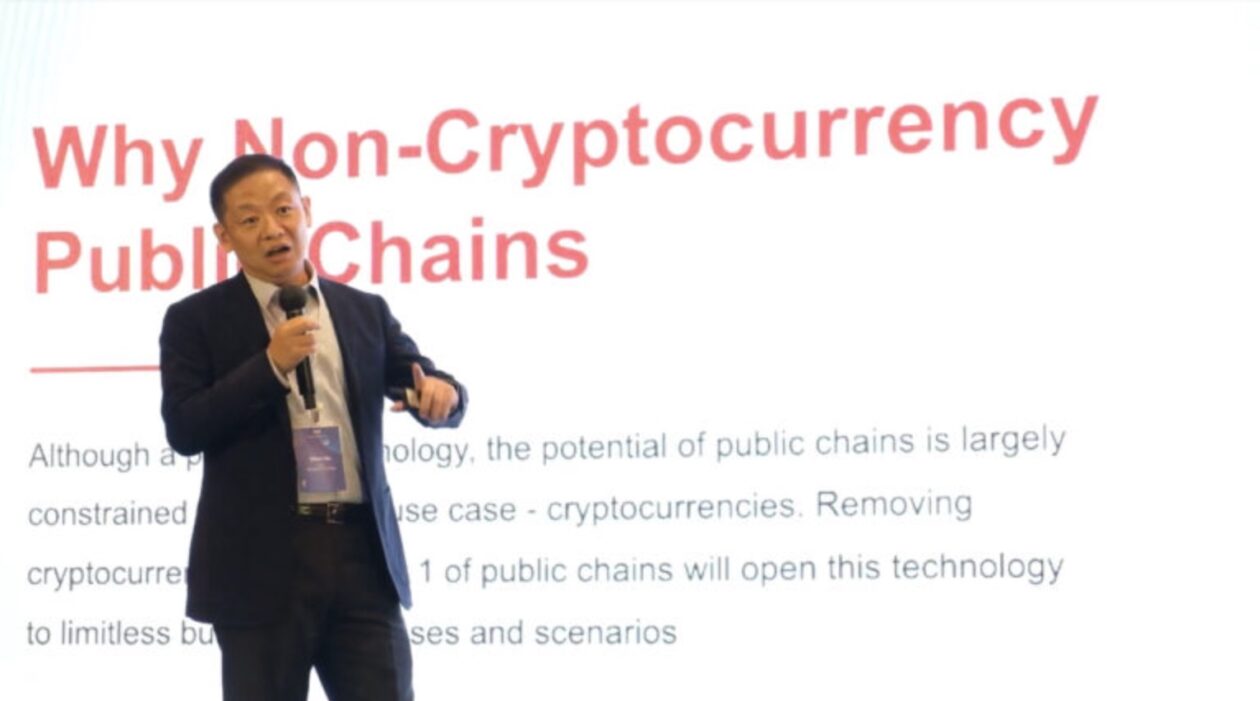 U.S. pushback?
The launch of BSN Spartan reflects China's ambition to build the infrastructure for Web3, but there has been little pushback from the U.S. government so far, said Fanusie.
"I would say the BSN is a very, very small niche policymaker interest," Fanusie said. "Those in government that are concerned about technology and the competition with China are looking at it," Fanusie added. "But it's not the highest priority issue yet."
Fanusie said that some policymakers see the concerns that the U.S. government had with global telecommunications supplier Huawei Technologies Co. and 5G infrastructure development repeated with BSN and blockchain.
Huawei was a leader in development of 5G cell phone networks until the U.S. and many of its allies banned use of its equipment in their telecommunication systems, citing the company's links to the Chinese government as a national security concern.
"If the BSN right now is maybe a little footnote, it's only going to become potentially more of a headline because it relates to clear national security issues that the United States has with China," Fanusie said.
Crypto BSN?
The BSN Spartan Network supports three public chains – Ethereum, Cosmos and PolygonEdge – in "non-crypto versions" that are hard forks of their original public chain frameworks, BSN said in its whitepaper released in September.
Such a non-crypto foundation, which is in line with China's stance after it banned crypto trading last September, could appeal to some businesses that want to test blockchain capabilities, but are put off by crypto's price volatility, according to BSN.
However, that doesn't mean developers can't issue tokens or cryptocurrencies with their layer 2 applications on Spartan, Yifan He, an MIT graduate and the chief executive officer of Red Date, told Forkast in an interview for an upcoming Word on the Block episode.
"We also welcome crypto industry [players] to build layer 2 crypto on Spartan Network," He said.
Bailey added that the BSN team believes if a developer or a business wants to use public chain technology, they shouldn't have to be involved in cryptocurrencies. "But we also believe that if a developer or an organization wants to create a cryptocurrency, that's fine. They can do that on layer 2 at the application level."
While BSN Spartan takes credit card payments via fiat currency for gas fees, it also allows anonymous payments made with U.S. dollar-pegged stablecoin USDC, according to BSN.
"They're trying to appeal to both sides," Fanusie said. "They're offering stablecoin [as a payment option] because they don't want to shut people off globally."
Expansion route
He and Bailey left on a roadshow to promote BSN Spartan soon after its Sept. 6 debut in Hong Kong. Destinations include Ireland, London, Istanbul, Dubai, Bahrain, Saudi Arabia and Singapore, according to Bailey.
BSN aims to be a global network, but will have more buy-in in the region near China, Fanusie said. "Why? Because there are more direct ties to Chinese tech investment."
"You have Chinese entrepreneurs in Singapore and elsewhere within East Asia and Southeast Asia. Those areas are probably areas where I think the China connection may be less of a hindrance," Fanusie added.
Companies in nations that have worked with China's Belt and Road Initiative would make sensible potential customers for BSN, according to Kapron.
It would be straightforward for countries, such as some Central Asia nations, that have already made decisions to partner with China to use BSN, said Kapron.
"But for countries that are not as politically entwined with China in those ways or have as many partnerships, then the question is a little bit more difficult."