The city of Chengdu will be launching China's largest digital currency trial to date starting today, following those already completed in Beijing, Suzhou and Shenzhen.
"The Chinese central bank has been more confident about issuing digital yuan as it expanded to the west, reflecting the positive results of earlier tests in several cities," Liu Xiaochun, former president of Zheshang Bank, told the Beijing magazine Caijing.
Prior to Chengdu, there had been six trials of the "Digital Currency, Electronic Payment" (DCEP) project in China, with a total distribution of 120 million digital yuan. Chengdu's trial, which will conclude March 19, is for an additional 40 million digital yuan.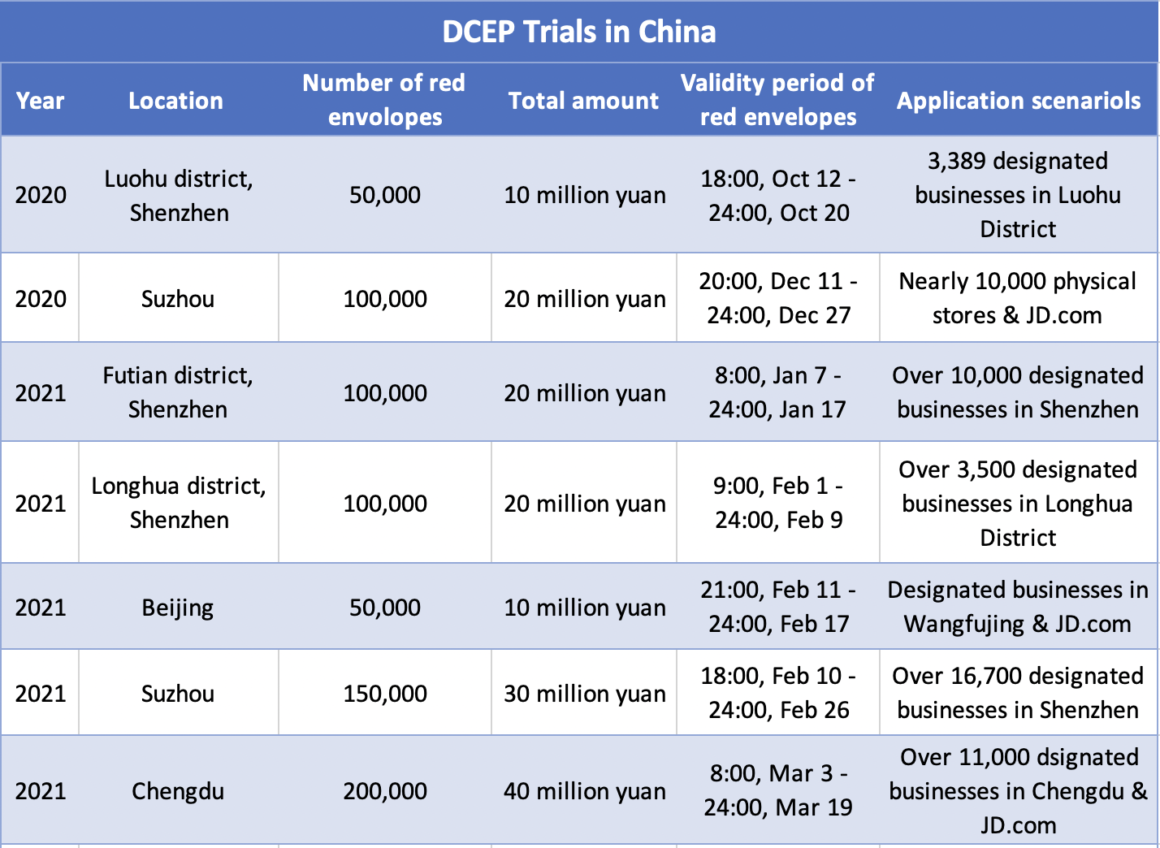 Transaction types have become more diverse as testing has progressed. In the first several trials, the digital yuan — officially known as e-CNY but also still commonly referred to by its original project name, DCEP — could only be used in brick-and-mortar shops. Subsequent tests have included online shopping, online car-hailing, phone-free hardware wallets and ATM machines.
Future e-CNY tests will also likely feature the digital yuan in cross-border transactions. Last week, the People's Bank of China (PBOC) announced that it has joined forces with the central banks of United Arab Emirates, Hong Kong and Thailand to explore the use of digital currencies in cross-border payments. Analysts believe that China's e-CNY central bank digital currency (CBDC), once it is accepted for use outside of China's borders, could one day challenge the supremacy of the U.S. dollar in international trade and finance.
"The idea is that China will not allow the RMB to become a freely flowing currency, and be traded freely on the international stage, that's why RMB will not become a global currency," said Andrew Work, co-founder and director of the Lion Rock Institute, in an interview with Forkast.News. "[RMB] is not going to be a freely traded currency that people can buy and sell whatever and however they want, but it may give the PBOC more confidence to allow it to circulate a little more freely in certain countries and in certain systems."
The impact on China's mobile payment market
Mobile payments are already commonplace in China. In the third quarter of 2020, 34.5 billion mobile payments were transacted in China at a value of 116.74 trillion yuan, an increase of 35.6% year-on-year, according to a PBOC report. Mobile payment has also become the main payment method used by consumers on a daily basis. The 2020 Mobile Payment User Questionnaire Report shows that 74% of consumers used mobile payments every day in 2020, an increase of 4.4% from the previous year.
Alipay and WeChat Pay, as the first generation of digital payment in China, are already transforming China into a cashless society. Transactions are settled with a simple scan of a QR code or clicks on payment links. As the number of participating consumers has grown, so has the sophistication of the services, which have evolved from simple payments to loans, asset management and money-market investments.
China's mobile payment market is currently a duopoly, with WeChat Pay and Alipay together controlling 94% of the 59.8 trillion-yuan market, according to iResearch. WeChat Pay represents 38.8% and Alipay 56.6% of the market as of the second quarter of 2020.
The Chinese government's entrance into the digital currency market has raised questions about the future of the two private payment giants.
All seven DCEP trials tested China's proprietary digital yuan app. WeChat Pay and Alipay, up to now, have not been involved in any of the DCEP trials.
"I don't think the PBOC wants to replace the banks or WeChat Pay, or Alipay, or Unionpay, but they do want to have more visibility into their operations and more control over the big deals," Work said. "I think it will make the PBOC and regulators happier to be able to see more of what is going on inside WeChat Pay and Alipay and other financial [institutions]."
Advantages of DCEP's e-CNY
Although the digital yuan has not yet officially launched, its tests so far have revealed a wealth of information about its likely future characteristics.
How does the e-CNY digital yuan stack up against WeChat Pay and Alipay — or fiat money — from the user's perspective?
"DCEP is as easy to use as Alipay and WeChat Pay. I used the digital yuan to pay for lunch and recharge my metro card at railway stations," Lu Xinyu, a Shenzhen e-CNY red envelope lottery recipient, told Forkast.News. "Digital RMB red envelopes had a validity period, if the funds were not used up by the end of the trial, the balance will be returned to the issuer."
Here are some of the digital yuan's benefits, according to users and digital currency experts:
Potential downsides and limitations
As the digital yuan is currently still being tested and has not yet launched, its full array of characteristics and capabilities is not yet publicly known. But based on its trials so far, users should know that:
"There will probably be new business opportunities in converting the digital RMB into Euros or U.S. dollars," Work said. He added that as more Chinese people travel overseas and make payment by digital RMB, how to take it, and how to get rid of it cheaply for merchants will be a new game.
Is DCEP's digital yuan a threat to Alipay and WeChat Pay?
China's central bank has said that it would not create direct competition between the digital yuan and Alipay and WeChat Pay. "People will still be able to use WeChat Pay and Alipay after DCEP is issued. They don't belong to the same dimension. WeChat Pay and Alipay are wallets for currency, while the digital yuan will serve merely as money in the wallet. DCEP will simply become a new addition to people's wallet," said Mu Changchun, head of the research institute for digital currency at the PBOC, who spoke at the Second Bund Summit in October 2020.
At an event held by the Digital Finance Research Center of Peking University in December 2020, Zhou Xiaochuan, former governor of the People's Bank of China further clarified that the DCEP has adopted a two-tier operating system, where the first tier involves the commercial banks converting some of their central bank deposits into digital currency. These banks then distribute the digital currency to consumers. The process is intended to mirror the way physical cash is distributed.
"At the DCEP test stage, the three telecoms companies and the four state-owned banks are involved, and other third-party payment institutions will likely be integrated in the future," wrote venture capitalist Huang Qifan of the China International Economic Exchange Center in his article the Six Strategic Reflections on the Development of the Internet Economy.
Patent applications from both Alibaba and Tencent, the parents of Alipay and WeChat Pay, suggest that these platforms have scoped out their role within the DCEP ecosystem. According to Bitcoin SV, Alibaba has filed five patents on "digital currency delivery and transaction account functions, supervision and handling of illegal accounts, digital currency wallets, and support for anonymous transactions." Tencent has filed a patent related to the transaction of digital assets.
At the Financial Annual Conference 2021, Li Lihui, former PBOC president and current leader of the China Internet Finance Association's blockchain working group, said, "Whether the DCEP can eventually replace WeChat Pay and Alipay as the main payment tool, and even become a global digital currency, will be a process of market choice."