In what analysts say could be a "game changer" for China's new digital currency as well as access by the nation's rural poor, the People's Bank of China this week tested out a "phone-free" digital yuan for the first time.
According to People's Daily, a hospital in Shanghai became the first testing ground for the Digital Currency Electronic Payment (DCEP) "hardware wallet" — a smart card-like device that can be used for payments with the digital yuan without needing a mobile phone or the internet.
Similar in appearance to a debit or credit card, the DCEP hardware wallet uses near-field communication (NFC) technology to store digital yuan as well as allowing the card holder to spend e-money near participating point-of-sale terminals. But unlike common plastic bank cards, a small screen embedded in the upper right corner of the DCEP digital currency card displays the account balance, amount of purchase and the number of remaining uses of offline payments.
China has been testing out its new central bank digital currency for much of 2020. Six years in the making, the DCEP has not yet officially launched — but China watchers believe the date could be near.
The testing up to now has largely taken place within banks and with people in large cities. Even though this test was carried out in Shanghai, analysts note that for the first time, the DCEP hardware wallet offers a window into how China is planning to engage the rural poor in its national digital currency ambitions.
The first "phone-free" e-RMB wallet
Dr. Yu Yiming was one of the first people to test out the e-RMB hardware wallet. He bought a meal in the staff canteen at the Shanghai Tongren Hospital, which is affiliated with Shanghai Jiao Tong University School of Medicine.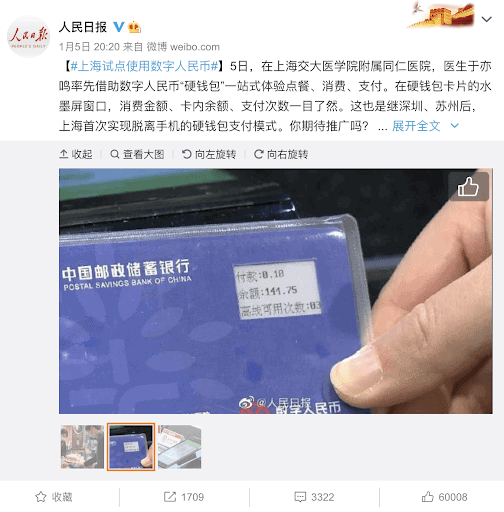 "It is my first time to use e-RMB for a purchase," Dr. Yu told People's Daily. "I feel it is very convenient and I can see the balance. That feels very assuring."
The news of the DCEP's phone-free hardware wallet attracted attention far and wide in China once People's Daily published it on its official Weibo account on Tuesday, with more than 57,000 netizens "liking" the new development and 3,000 people commenting on it. Some commenters expressed concerns about privacy, as it would show the balance on the card to anyone who can see it.
"I am afraid that people would see my balance of a few cents," said the most popular comment, which gained more than 6,000 likes.
Others expressed confusion over the value and purpose of this new product.
"What's the difference between this and mobile payment or swiping a debit card?" some wanted to know. "Will it be more convenient?"
Helping the rural poor and the elderly
Despite its many modern cities and advanced payment technologies that surpass what much of the West is currently using, China is a vast country with a large gap between its rich and the poor. Many rural poor do not own mobile phones and lack access to the internet.
According to Newzoo's 2019 report, about 40% of China's population do not use a smartphone, which means over 700 million Chinese would not be able to access the e-RMB wallet app through a smartphone.
As a result, including a "phone-free" payment option for the new DCEP may be a required feature for the e-RMB to gain acceptance and widespread adoption. Mu Changchun, the president of Digital Currency Research Institution, a research arm of PBOC, described the DCEP e-RMB — which is legal tender, but in digital form — as M0, just like banknotes and coins.
The DCEP digital currency "is a product for the public, for any groups in the society," and it should be convenient and inclusive for all, Mu said in an October 2020 speech. He also mentioned that the e-RMB needed to be accessible to the elderly — some of whom may not be very tech savvy even if they owned a mobile phone.
See related article: Is China trying to put its cryptocurrency industry out of business?
A digital payment smart card like the one being tested in Shanghai could help close the payment technology gap between China's rich and the rural poor, said Stanley Chao, managing director of All In Consulting, a culture change consulting firm based in Los Angeles.
"This is really a game changer," Chao told Forkast.News. "Millions of new users without a phone, without online access, without any of the traditional high-tech infrastructure, living in China's rural areas can seamlessly perform day-to-day transactions."
Making the DCEP digital currency more accessible to China's poor can also have larger economic consequences.
"The DCEP hardware wallet can allow the underbanked population to spend and participate in the economy, which also helps the overall economic recovery from Covid-19," said Flex Yang, CEO at Babel Finance, a Hong Kong-based crypto asset management company.
Impact on cross-border payments and RMB
Aside from serving the marginal groups, the phone-free digital yuan hardware wallet could also boost cross-border payments and RMB-based transactions between China and developing countries in Africa and Central Asia.
As trade tensions escalate between the U.S. and China, an easy-to-use, no-internet-required and mobile phone-free DCEP digital yuan could allow China's trading partners in developing regions to get away from SWIFT and the U.S. dollar when they make payments to China — which in turn would reduce China and those countries' reliance on the U.S., Chao said.
"With U.S.-China relations at an all-time low, it seems more likely that the two countries are heading towards bifurcation, particularly with respect to high-tech and economic trade," Chao said. "Introducing the DCEP quickly accelerates the rift and eventual independence from the U.S."