Bitcoin miners may soon be hit with another increased mining difficulty later this week, as the cryptocurrency's total hashrate continued to recover.
The Bitcoin mining difficulty level is expected to increase by about 12% for the next adjustment this week, according to data from BTC.com recorded as of Tuesday afternoon Hong Kong time.
The upcoming adjustment follows two increases after four consecutive declines since May.
The last difficulty adjustment, made on Aug. 13, saw the difficulty increase 7.31% to 15.56 trillion at block height 695,520, following the July 31 increase of 6.03%, the data showed. The last two increases came after the difficulty plummeted to the lowest difficult level in about 18 months.
Bitcoin mining difficulty is a measure of how hard a miner would have to work to "dig out" Bitcoins. The difficulty level undergoes an adjustment every 2,016 blocks, which usually takes about two weeks, and would be affected by the changes in mining hashrate. The more difficult to mine Bitcoin, the less profitable for miners.
When the hashrate increases, the mining difficulty typically follows. That said, the expected mining difficulty increase could be largely due to a recovering hashrate.
The total Bitcoin hashrate has been steadily recovering since July 3, as suggested by data from Blockchain.com. The total hashrate had been nose-diving from mid-May, plunging from 180.67 million terahashes per second — an all-time high — to 84.79 million on July 3, the lowest since September 2019, according to the data.
On Monday, the hashrate reading was at 123.29 million TH/s.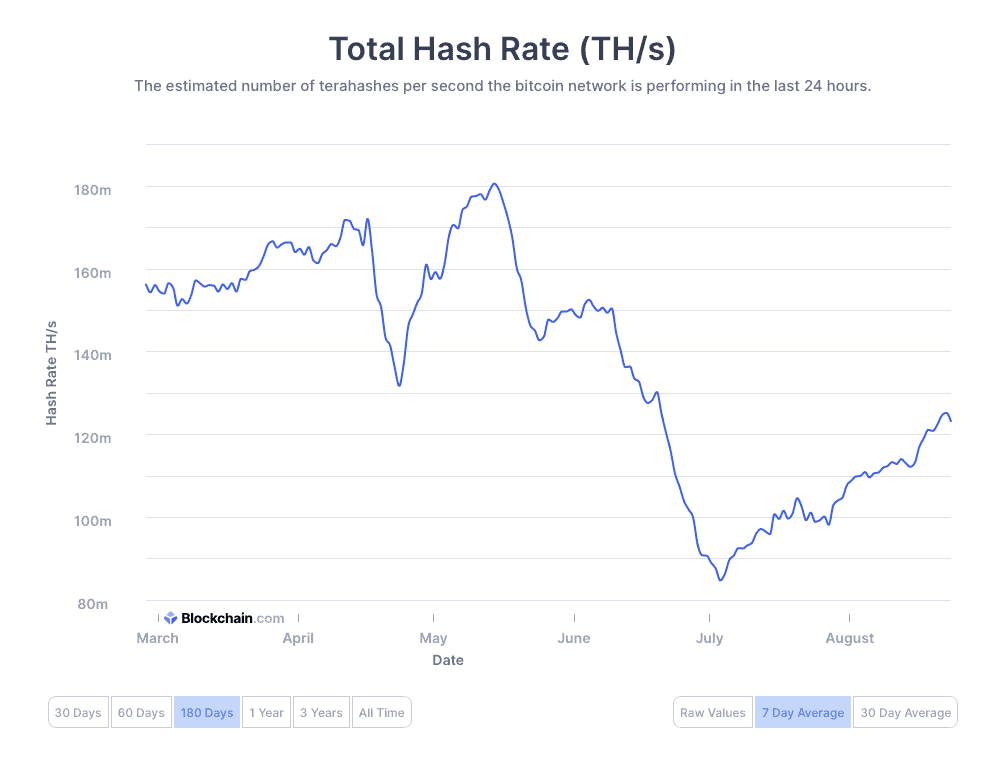 Miners settled outside of China
The hashrate moves are considered largely due to the acceleration of mining operations out of China.
As China continues cracking down on crypto mining, many miners have fled China for other places that appear to be more regulations-friendly and offer inexpensive power. Some of the top destinations for displaced Chinese miners have included North America, Kazakhstan and Northern Europe.
The9 Ltd., for instance, has decided to partner with two Kazakh companies, through a wholly-owned unit, to set up two joint ventures for building mining facilities in Kazakhstan, a Central Asian nation that shares a border with China.
Nasdaq-listed The9, a Chinese gaming company that only a few months ago pivoted its business to crypto mining, has also signed a crypto mining hosting agreement with BitRiver, a Russian crypto mining company. In June, it announced that it was acquiring Montcrypto Ltd., a Canadian clean energy crypto mining company.
It's not just The9 that has eyed Kazakhstan for migration. Hong Kong-headquartered crypto miner BIT Mining is also betting big on Kazakhstan. It said last week in a statement that it had delivered 7,849 Bitcoin mining machines with a total hashrate capacity of 292.7 petahashes per second to Kazakhstan. Of all the machines there, a total of 3,293 machines had been deployed.
BIT Mining is also in the process of building a new data center outside of mainland China, which is expected to commence operation late in the third quarter of this year.
Meanwhile, Bit Digital, a New York-headquartered Bitcoin mining company that has had significant operations in China, recorded growing losses in the second quarter of this year as it continued relocating its China-based machines to North America.
During April through June 2021, Bit Digital shipped 14,500 miners to the United States, and reported — as of the end of June — 9,484 miners in China, 7,090 machines in the U.S. and 1,426 in Canada, according to its Q2 report.
Texas emerges as new promised land
Poolin, a major mining pool with significant operations in China, has also been actively moving its mining operation from China to the United States, with efforts to relocate some of its executives to Austin, Texas — a state that is emerging to be a friendly destination for crypto mining.
Governor Greg Abbott has announced a law that would create a master plan for expanding blockchain in Texas. Abbott described himself as a supporter of the crypto law proposal, saying: "[Crypto] is increasingly being used for transactions and is beginning to go mainstream as an investment. Texas should lead on this."
In May, BIT Mining announced that it was investing US$25.7 million in a crypto mining facility in Texas that it will build and operate jointly with Dory Creek, a wholly-owned subsidiary of fellow Chinese cryptocurrency cloud mining platform BitDeer.