Over the past two years, TRON founder Justin Sun has received public attention — perhaps disproportionate to the blockchain platform's actual success — that might make even the most thick-skinned celebrity CEOs cringe.
Sun, who is not yet 30, is already an old hand when it comes to generating controversy and negative publicity. Last year, he raised eyebrows when he won a record-setting $4.6 million bid in a charity auction to have lunch with Warren Buffet. More recently, public outrage followed reports that the U.S. subsidiary of his billion-dollar Chinese company applied for and received a $2 million Covid-related Paycheck Protection Program loan intended for small American businesses.
Even in China, Sun is hardly viewed as a hometown hero. For every effusive Justin Sun fan there also seems to be a hater equal in passion.
With TRON 4.0 set to launch July 7, will Sun's notoriety eclipse the big unveil?
Sun's announcement on Weibo about the upcoming launch — which would have the fourth iteration of the blockchain platform aiming to provide a more business-friendly public chain, with new features like smart contracts — was met with some congratulatory notes, including: "Add oil!"
But the hate also quickly piled up, with many commenters deriding him as a cheater and a fraud.
"Your credit is bankrupt," one poster seethed.
Another asked, "where is the Dream Fund?" the lottery totaling 50,000 yuan that Sun promised to give to a lucky person at the end of 2019. In a recent interview with PA News, the host asked Sun whether the Dream Fund existed, and Sun replied "the Dream Fund will still go on," without disclosing any timetable or further details.
Crypto Weibo doesn't have the same level of traffic and audience engagement as the free-wheeling crypto Twitter, perhaps because everything posted on Chinese social media can also be subject to a follow-up by censors and other authorities. Still, activity on Weibo — China's equivalent of Twitter — is a barometer of community sentiment.
Other Chinese celebrity blockchain CEOs, no matter how big or valuable their company, can't touch Sun when it comes to success in rousing the public.
Binance CEO Changpeng Zhao's engagement — the number of times someone reacts to his post — might be in the single-digits for reposts and comments on Weibo, while Sun's engagement can go well within the hundreds range.
Zhao, popularly known as "CZ," has around 300,000 followers. But Zhao's Weibo account was registered in 2011, while Sun's Weibo opened only in April this year. And within a week, Sun gained 200,000 new followers, totaling about 525,000 followers as of this week.
Sun's recent Weibo post announcing TRON 4.0, had around 230 reposts and over 200 comments — a relatively high amount of engagement for a Weibo post in China's blockchain and crypto space. But part of that Weibo traffic also could be driven by Sun's reputation for gift giving.
See related article: Ep. 14 | Was that Satoshi? TRON 4.0 gets lukewarm reception. Blockchain Bill of Rights.
The most liked comment under Sun's posts regarding TRON 4.0's launch was his promise to give TRON souvenirs to 40 select recipients.
"Pick me!" some ardent fans implored.
The tokens of Sun's affections are usually just that. In the past, his giveaways have also included TRX as well as the JUST (JST) token named after, who else — to those who sing TRON's praises.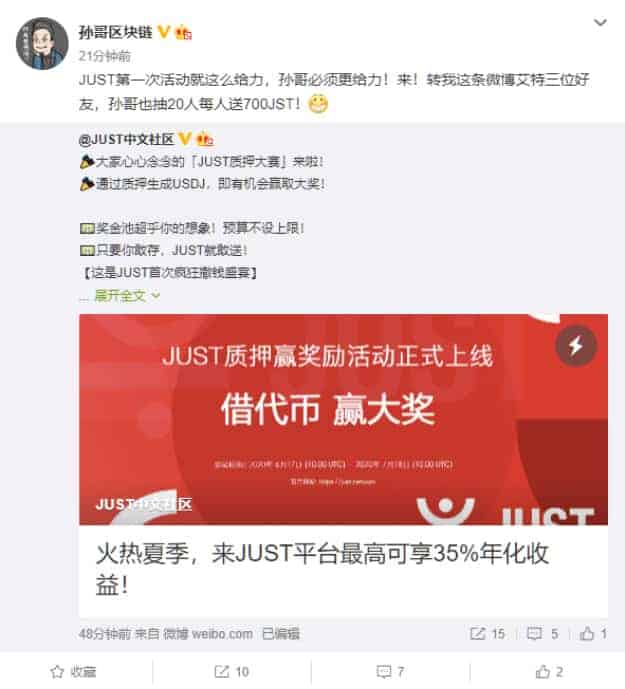 Though last year, Sun's online largesse included Teslas.
Aside from wooing fans with gifts, Sun likes to repost his favorite comments, no matter how audacious it might come across to others.
"Justin Sun is Jack Ma 4.0, TRON 4.0 is the 21 century's Alibaba," according to one of Sun's reposts, comparing him to the legendary founder of the Chinese internet juggernaut that now handles more e-commerce business than Amazon.
Sun's detractors are effusive as well.
Another recent Weibo arrow shot at him: "After you finished boasting about the dreams of the future, you have to look at the harsh reality. The gap is pretty big, don't you feel it?"
Justin Sun did not reply to a Forkast.news request, posted to him on Weibo, for an interview.
Looking into the Sun
Who is this millennial who seemingly came out of nowhere to start and build a billion-dollar company?
Despite Sun's free-spending habits and larger-than-life persona, his roots are relatively modest. Sun's mother was once a newspaper reporter and his father, an officer in a government planning department. They lived in Huizhou, a city in the Guangdong province that is a poor cousin to glittery Hong Kong and prosperous Shenzhen nearby. In the family's early years in Huizhou, Sun's home did not have air conditioning, so in the summertime, the whole family would visit indoor shopping malls to escape the heat, according to a 2015 profile of Sun in Chinese GQ. (Sun claimed the story was full of lies, but Chinese GQ stood by its story and said it had recorded interviews backing up the story's assertions.)
Unlike other wunderkind company founders in emerging technology, Sun did not come from a STEM background. He studied history as an undergrad at Peking University, and then earned a master's degree in political economy from the University of Pennsylvania, according to his LinkedIn profile.
It was during his time in America, he has said, that he became interested in cryptocurrency and became an early investor in bitcoin. After a stint at Ripple, he attended Hupan University, a Chinese business school founded by Jack Ma.
Sun founded TRON in 2017, graduated from Hupan in 2018 and a few months later that same year, paid $140 million to acquire BitTorrent, the company behind the eponymous peer-to-peer transfer protocol. Before starting TRON, Sun founded Peiwo, a matchmaking app that had been criticized for vulgar content before it got removed from China's app stores.
While the jury may still be out on the wisdom of Sun's business savvy and deal-making, he has already won handily in one area: generating public attention.
Last June, after Sun successfully bid for the lunch with Warren Buffet, Wang Xiaochuan, CEO of China's second most-popular search engine Sogou, denounced Sun as a "swindler."
Sun returned the volley by calling Wang a "daddy's boy" while pointing out that his fortunes are self-made.
On Weibo, Sun then challenged Wang to the CEO version of a duel. He asked the Sogou chief to make a bet on each firm's value in three years.
At the time of their first fiery exchange, early last year, TRON had a market cap of $2.03 billion, while Sogou was at $1.59 billion. Although the bet is still on the table, TRON's fortunes have since changed dramatically. According to CoinMarketCap, TRON is now worth just over a billion dollars, thanks to the vulgarities of the crypto token market, while Sogou is now 50% larger than TRON, with a market cap of $1.54 billion as of mid-June.
But if success is to be measured in other ways, Sun may take solace in having amassed a ringside audience of over 1.37 million followers on Weibo by mid-July last year and regularly occupying the microblogging site's trending stories slot.
A testy relationship with Weibo
While the Chinese digital world, especially Weibo, helped create the myth of Justin Sun, there are signs that the Chinese government and other voices of China's establishment are displeased with his cult of personality and displays of money worship. State-owned mouthpieces like Global Times as well as commercial newspapers like Caixin and The Beijing News have depicted Sun as a marketing genius who is also entangled in scandals involving illegal fundraising and money laundering.
Weibo took away Sun's social media megaphone by deleting his account in December 2019.
Whether Sun's forced exit off his Weibo stage was spurred by too many user complaints or offenses that triggered Chinese social media censors, or both, we may never know for sure as Weibo doesn't tell.
But we do know Sun has since been trying to regain his Weibo footing.
In 2020, a seemingly more contrite and chastened Sun applied for three Weibo accounts, but one after another, each one of them got canceled.
Weibo does not publicly state specific reasons for banning a user, other than saying it violated its community rules, but involuntary account deletions typically happen because the user posted content that violated government censorship policies or has been the subject of user complaints that Weibo deemed to be valid.
One Weibo account named "TeacherJustinSun" only was online for 12 hours before getting kicked out.
Sun has not given up. He registered another Weibo account called "Bro Sunblockchain" in April 2020. This is the account that recently announced TRON 4.0 would be unveiled in July.
The "Bro Sunblockchain" account, which garnered 525,000 followers within two months, has been relatively low-key and is still publicly visible. Will this account — Sun's 4th on Weibo in less than a year — be around for next month's launch of TRON 4.0?