Facebook has grand ambitions for its digital wallet project, Novi. Announced in 2019, the company hopes the project can help bridge the gap between crypto and fiat by leveraging its own stablecoin Diem (rebranded from Libra). In doing so it hopes to create a more inclusive payments system that is interoperable with the company's existing services — and tap into an incredibly lucrative market.
Novi is now market-ready, according to a blog post by Facebook's head of payments and financial services division David Marcus, though an official launch date is not mentioned. In the blog, Marcus also highlights the inequities of current financial systems and how projects like Novi could help address the issue of unbanked people across the world. "It has never been more urgent to transform our broken payments infrastructure," he said.
Of the 1.7 billion unbanked people around the world today, around 290 million are in Southeast Asia. Given Facebook's presence in the region, and the project's goals and ability to address unbanked populations, Novi has real potential to see significant adoption in these markets and help bring segments of these populations into the financial system.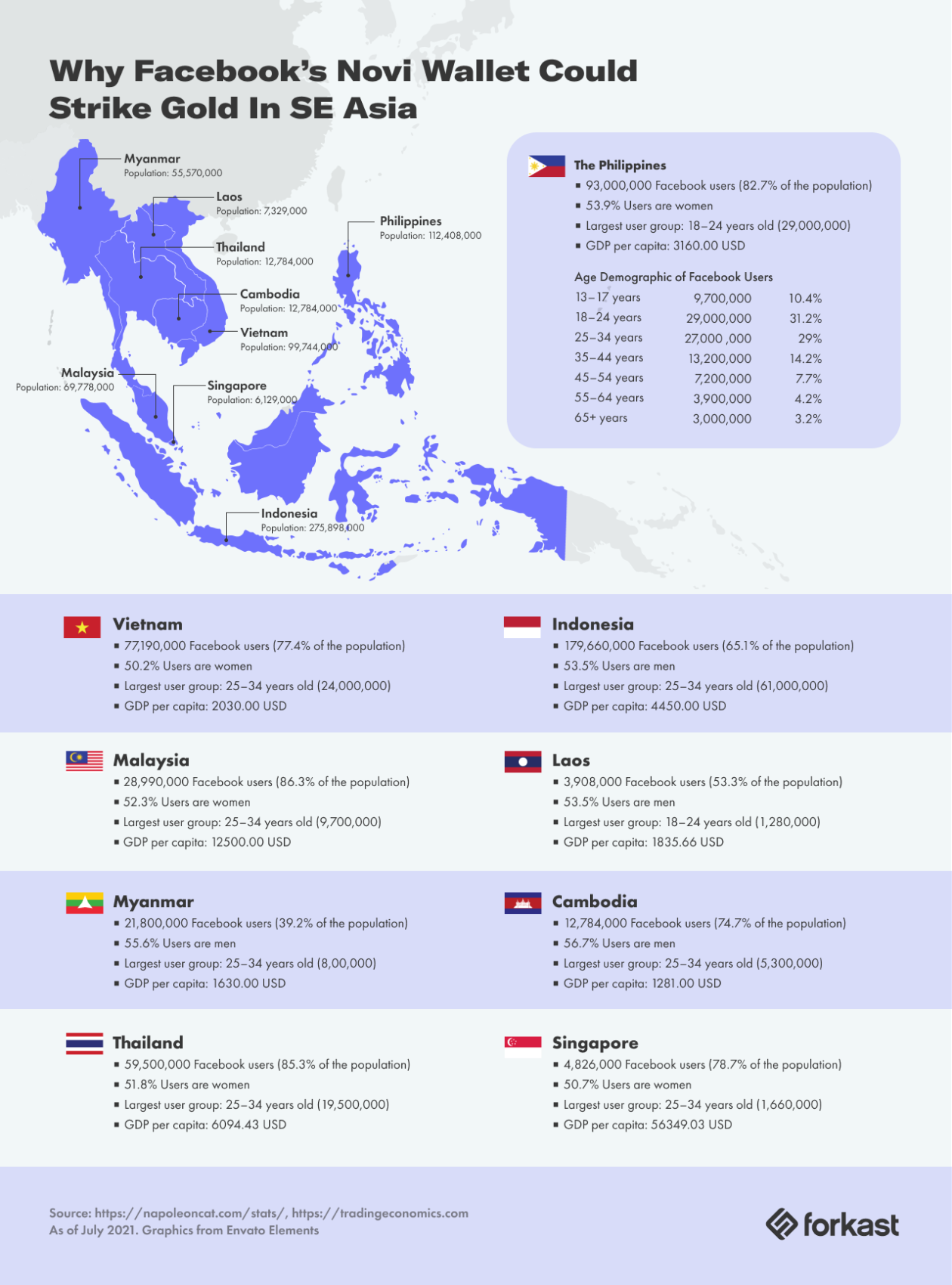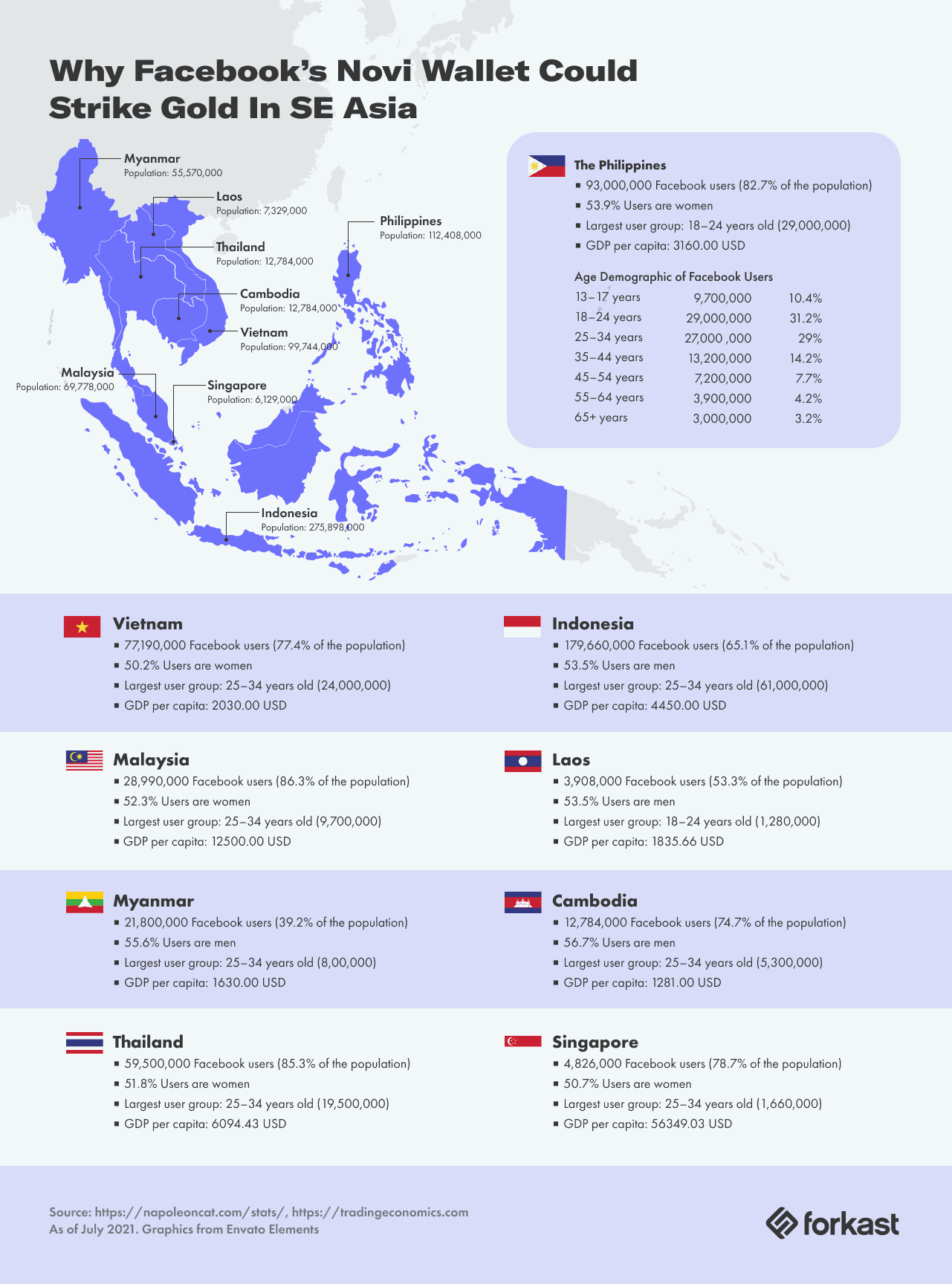 Facebook's penetration in the Philippines
One country that Novi may have strong uptake in particular is in the Philippines; last month Forkast.News reported the company had five openings for positions in the project in the Philippines alone. That number has since increased to eight, as well as an additional Singapore-based position for manager of Philippine markets.
Facebook already has a significant presence in the country of 112.4 million. As data from aggregate site NapoleonCat shows, 82.7% of Filipinos are already Facebook users. This level of market penetration might be only slightly higher than other nations such as the U.S. or Australia — both around the 78% mark — but several other key market conditions set the Philippines and other countries in the region apart from these western economies.
In the Philippines alone, 71% of the country's adults do not have a bank account, according to a 2019 report by the country's central bank, which equates to more than 51 million people. The report gave several reasons why people were unbanked, but a simple lack of documentation requirements was cited in 26% of cases.
The most common reason given for not operating a bank account remained lack of money, reported in 45% of cases. This is understandable given the concern for fees often associated with operating an account. The survey also showed that over half of all people in the country who receive government benefits do so via either check or cash. Cryptocurrency has long been seen as being able to address the needs of these communities by providing lower cost and more accessible financial services, available to anyone with a mobile phone. Facebook believes Novi makes this even more accessible through the incorporation of Diem and interoperability with its existing services.
A younger demographic
It is not only the level of market penetration but the age demographics that suggest Novi could prove popular in the Philippines. While the country may have similar total levels of market penetration to other western nations, its user base tends to be much younger. In the West, where the platform first launched over a decade ago, after seeing initial popularity in younger people for the first few years, the platform has increasingly become more popular among older age groups.
As of Q1 2021 in the U.S., only just over 18% of the platform's users were between 18 and 24, whereas in the Philippines this number was almost twice as great at almost 33% of the users fitting this age group. Younger people are typically drivers of new technologies, such as new fintech companies already changing the way the country operates.
Electronic payments in the Philippines are expected to make up 75% of all transactions in the country by 2025, according to a 2020 study entitled "Fintech and Digital Banking 2025 Asia Pacific" by research firm International Data Corp. The report found unbanked Filipinos were moving toward fintech options as they did not feel they had any options for "value add" banking products. It also found that 80% of new customers will be registering new accounts with institutions other than their primary bank over this time frame as well.
Despite being published early last year, subsequent global events have only served to accelerate these trends. As David Marcus wrote, "The COVID-19 pandemic supercharged the expansion of the digital economy around the world. It sparked changes in how people buy, where they buy, and how they discover and interact with businesses…. This all makes it more critical than ever for businesses and policymakers to move faster to help ensure people aren't left behind."
Novi may be ready to come to market, it just remains to be seen if the market is ready for Novi.
Nikita Koirala contributed research to this article.