2020 has been a year of ups and downs. With Covid-19 affecting every strata of society and disrupting the way of life as we know and introducing a "new normal," the ripples were bound to be observed in the cryptocurrency market, too.
While the pandemic came with its own share of casualties, it came with a silver lining. The pandemic saw an exponential rise in interest in cryptocurrencies, among Indians who were intrigued and fascinated, ever since the Supreme Court judgement overturned the Reserve Bank of India's banking ban.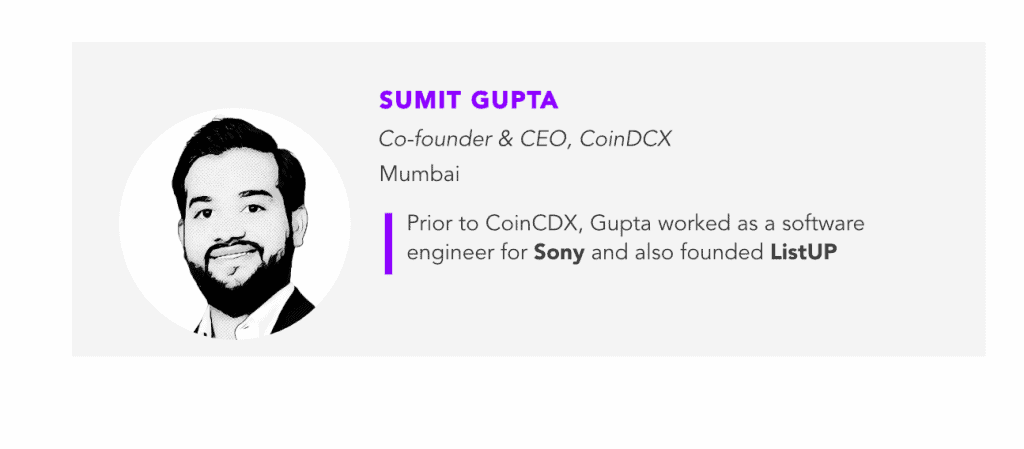 CoinDCX saw a great number of users, shortly after the Supreme Court judgement in March this year, when we started our #TryCrypto movement to onboard 50 million Indians into crypto. Within the first 50 days, we saw 50,000 Indians onboard our platform. In Q1 we saw 10x growth in signups, 47% growth in trading volume, $10-15 million in average trading volume on the platform, and 150% growth in daily active users since the Supreme Court judgement in March 2020.
Despite Covid-19's impact on the overall contraction in the GDP of India, the nation's cryptocurrency markets grew in every possible way. While CoinDCX's product Insta has shown a 38% month-on-month (MoM) growth since its inception in 2018, we witnessed a 62% MoM growth in the months following the Supreme Court verdict. In October we saw 25% growth MoM in daily active users (DAU). We also saw 21% growth MOM in average daily trading volume. Other products showed a similar exponential growth.
So far, 2020 has been a year full of good starts for crypto in India. With every passing day, it seems like a new adventure where we learn so much from our users — their demands, expectations from us, suggestions, and everything possible. People in India seem to have started looking at cryptocurrency in a positive light. While some have little idea about it, others are willing to share their knowledge on public channels and social media platforms.
Our Mood of the Nation Survey came into being after a lot of thought and internal research around the current crypto trends in India. This survey was designed to focus on how people perceive cryptocurrencies in their daily lives and the observations we received were really eye-opening.
To enlist participants, we distributed the questionnaire through the CoinDCX social media community. Additionally, we amplified our outreach through our influencer network, both in cryptocurrency and non-cryptocurrency, who were gracious enough to share it among their peers and followers through social networks such as Twitter and LinkedIn.
We are very happy to say that of the 11,000-plus respondents of our survey, fewer than 4,000 were CoinDCX users. A majority of the 11,000-plus respondents to the survey belonged to the age group of 25-35 years and while 53% were crypto investors, 47% had never invested in cryptocurrencies before.
Findings
Despite the ever constant supply of information provided by relevant crypto stakeholders and industry experts, almost 72% of university graduates felt they could not enter or trade in cryptos because of their lack of knowledge or awareness about cryptocurrencies. Irrespective of their income, users also either lacked awareness or lacked clarity when it came to laws and regulations.
Almost half of the respondents have never traded in crypto, and this survey helped us understand what stopped them from doing so. Only 22% of the respondents from above the age group of 40 years cited a lack of legal and regulatory clarity around cryptocurrencies that prevents them from entering the space. More than half of the people below age 40 believe education could be a better way to help improve crypto adoption in the community.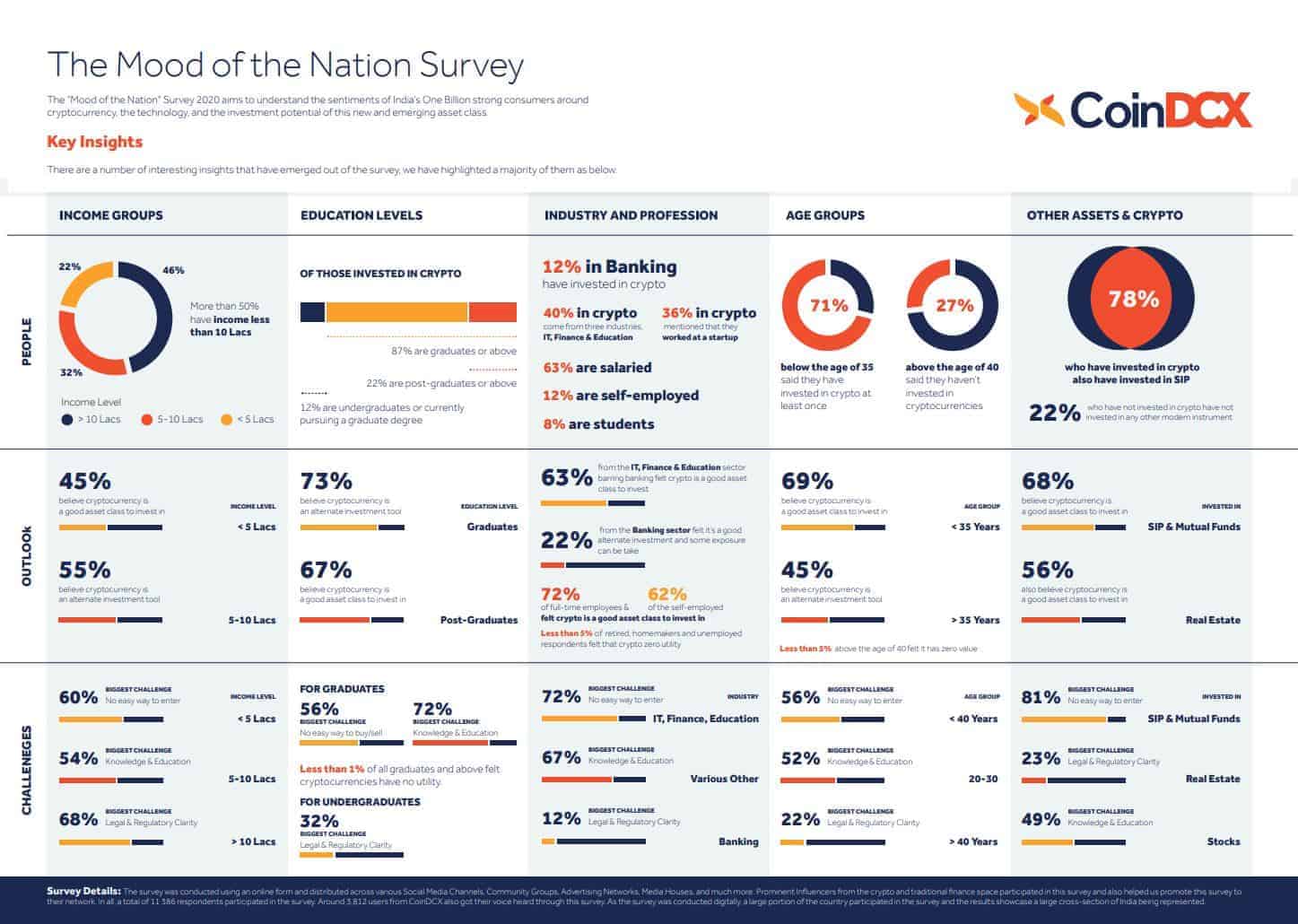 Most people who have traded in cryptos have also engaged in systematic investment planning (SIP), showing an initiative to diversify their portfolio. On the other hand, 22% of people who have not invested in cryptocurrencies were not investing in any alternative asset either.
What was fascinating to see is, irrespective of the age education, income, or investments made in cryptos and other alternative assets, a majority of respondents believed that "crypto is a good asset class to invest in." Less than 5% of the respondents, which comprised homemakers and unemployed respondents, said cryptos have zero utility.
Our Learning from the Survey
While this survey still shows a majority of the people lagging behind when it comes to their knowledge about cryptocurrencies and their experience in dealing with them as an alternative asset class, many also believe that these asset classes have a lot of potential to be a part of anyone's portfolio.
Similar to our respondents' belief in cryptos being a good asset class, India may think the same way. More clarity needs to come from the legal and regulatory side and we are taking every step possible to achieve it, including helping educate India about cryptocurrency and blockchain through our educational learning portal, DCX Learn.
Closing Thoughts
This survey is an important benchmark in the Indian crypto discourse. Not only does it highlight that the majority of the Indian investors see cryptos to be difficult to understand, but it also emphasizes the requirement of smart regulation in the country. It is clear from the report that, while outwardly India is set to become the next global player on the international scene, it is also important that smart and sensible crypto regulations become a part of the discourse.
Understanding how an average Indian perceives cryptocurrency puts CoinDCX as well as the Indian cryptocurrency community in a position of responsibility to ensure that every single Indian can understand and adopt cryptos, and join this ever-growing community.