OKEx's Jay Hao expects 'more amazing developments from DeFi' in 2021
OKEx CEO speaks candidly on how 2020 was difficult for his crypto exchange, and offers his predictions for DeFi, regulations and CBDCs in year to come.
Welcome to Forkast Forecasts 2021. In this series, leaders, innovators and other visionaries in crypto and blockchain-related fields tell Forkast.News what they see as the most noteworthy industry developments over the past 12 months and their predictions for the new year.
Jay Hao
Jay Hao is chief executive officer at OKEx, a cryptocurrency spot and derivatives exchange based in Malta.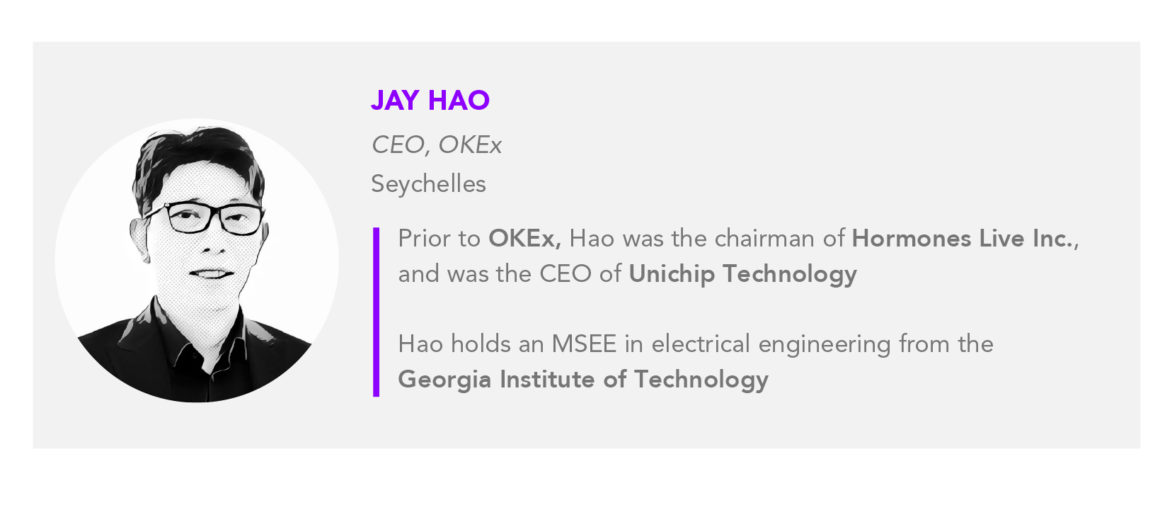 Last year, OKEx temporarily suspended its token withdrawal services to its customers after its founder — Star Xu — was detained by police to assist with an investigation. OKEx subsequently reached out to Forkast.News to announce that its withdrawal services for all digital assets would be resumed following the release of Xu from police custody. According to Xu's WeChat feed, he had been cooperating with authorities on an investigation into an equity merger of his blockchain company, OK Group.
Prior to OKEx, Hao focused on blockchain-driven applications for live video streaming and mobile gaming, and was also involved in developing a wide range of multimedia chips in the semiconductor industry.
Biggest developments in 2020
Explosive growth of crypto: "We're fortunate to see staggering innovations come out of decentralized finance and other subsectors of the blockchain space, such as non-fungible tokens (NFTs) and decentralized web."
Major players entering the crypto space: "Major players coming into the space, such as PayPal, MicroStrategy, Square, Guggenheim and macro investors like Paul Tudor Jones calling it 'the fastest horse.' Without doubt 2020 [will] be remembered as the year that cryptocurrencies really took off in earnest against the backdrop of a flailing economy and struggling financial systems."
Bitcoin's continued development: "We have seen its breathtaking resilience, its continued growth, all-time high hashrates, price, its third halving."
See related article: New 2021 bitcoin price report forecasts risks and opportunities
Rise of decentralized finance (DeFi):

"Cut-throat" growth and pace: "I have also been fascinated by the growth of DeFi and the cut-throat pace of iteration there. That has, and will continue to, force centralized exchanges to innovate and improve. To that end, 2020 has seen many changes and developments to OKEx as well. Development of our own decentralized public chain — OKEx Chain — continues."

DeFi's darker side: "It has been very unfortunate to also watch a bunch of exit scams, blog posts and fake pre-sales that also occurred in the DeFi space by the mining people looking to dupe investors off their money. It's a stark reminder that in the unregulated space, these things can happen, and it took me back to some of the many unfortunate incidents that occurred in backing the ICO boom 2017 and 2018. This is not the kind of association that we want for crypto space as we grow."
2020 was not all OK for OKEx: "In August we experienced an unfortunate double-spend attack on Ethereum Classic, which meant that we had to reimburse more than US$5 million dollars to users from our own funds. We experienced a further crisis this year, which meant that we had to temporarily pause withdrawals from the exchange. This was a very difficult time for OKEx, yet we were overwhelmed by the support that we have received and our product had been able to maintain a fully functioning service to all other areas of the exchange throughout the time."
See related article: China's OKEx crackdown is a warning shot to other crypto exchanges
Predictions for 2021
Continued crypto adoption by financial institutions: "We will continue to see increased adoption from institutions who see the remarkable gains being made by some of the pioneering investors like MicroStrategy, Square and Guggenheim, and with this group of investors managing trillions of dollars. There's no telling how high the bitcoin price will go — and and could go — as a scarce asset with more and more big players competing to buy."
Greater retail adoption: "We'll also see greater retail adoption as more companies like PayPal throw their hats into the ring and create a greater awareness and then legitimacy for digital assets."
More developments in DeFi and impact on Ethereum: "We will see more amazing developments from DeFi. It will be interesting to watch the progress of Ethereum 2.0 as well as how this reflects the ETH price."
See related article: What's next for Ethereum 2.0 after the Beacon Chain?
Regulations playing catch-up: "Going hand-in-hand with the development of new technologies, regulation would be playing to catch up and we will see ongoing developments here. We may see a shakeout of some of the existing participants and smaller exchanges in the space that cannot meet all the regulatory requirements."
See related article: New year brings new crypto actions from FinCEN, OCC and IRS
Central bank digital currencies (CBDCs) coming to market: "It would be very interesting to watch how quickly [CBDCs] come to market and how this plays out with the existing financial infrastructure as well as its effect on cryptocurrency."
NFTs will continue to gain momentum: "We could see [non-fungible tokens] getting increased adoption as we see more tokenization of real world assets like real estate and artwork."