CoinDCX's Sumit Gupta on CBDCs, regulation and India's potential for crypto in 2021
In this edition of Forkast Forecasts, the co-founder and CEO of CoinDCX offers his views on the growth of crypto in India, regulation and CBDCs.
Welcome to Forkast Forecasts 2021. In this series, leaders, innovators and visionaries in blockchain-related fields tell Forkast.News what they see as the most noteworthy developments for this industry in 2020 and their predictions for the year ahead.
Sumit Gupta
Sumit Gupta is co-founder and chief executive officer at CoinDCX, a cryptocurrency exchange platform in India. The country has witnessed growth in crypto activity since the Supreme Court reversed a ban from the Reserve Bank of India on banking services to crypto companies in March. Previously, Gupta told Forkast.News that the reversal would be a "game changer" for startups, and a recent survey by the company found that a majority of its Indian respondents believe that "crypto is a good asset class to invest in." Earlier this month, CoinDCX announced that it raised US$13.9 million in a Series B funding round.
Prior to establishing CoinDCX, Gupta was a software engineer for Sony in Tokyo. He also co-founded ListUp, a location-based online marketplace mobile app.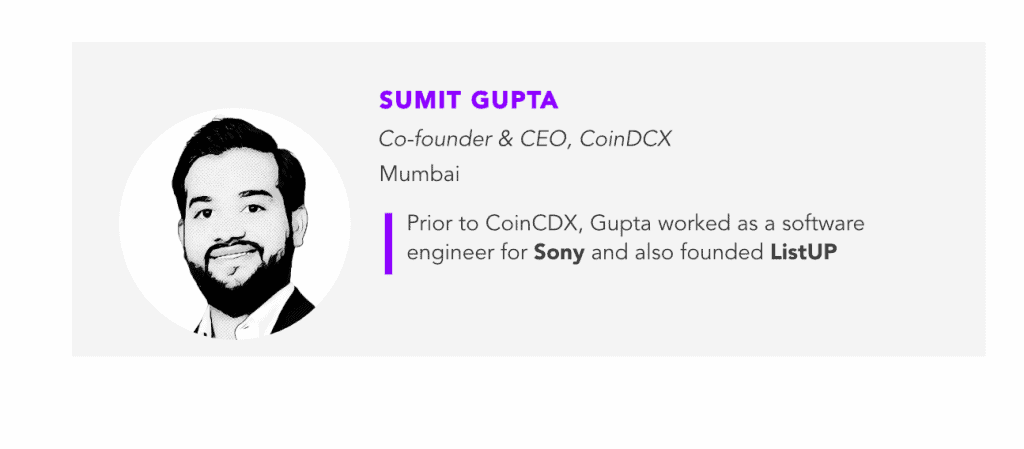 Biggest developments in 2020
On the Supreme Court's reversal of the ban on crypto in banking: "That was a very good sign, and the whole industry became much more mature and evolved after that banking ban [was lifted]. It led to more crypto funds operating bases in India, and also marked a lot of investments in crypto exchanges and entities, including CoinDCX. So a lot of exchanges, a lot of crypto businesses in India were getting investments to shape a bigger market."
See related article: Why India's crypto industry needs regulatory clarity more than ever
Launch of Ethereum 2.0: "Many more decentralized applications will come and essentially will further prove that this can be scaled to a greater extent. It will also solve the problem of congestion, which was the major roadblock in Ethereum ecosystem development. It's more scalable compared to the past version."
See related article: What's next for Ethereum 2.0 after the Beacon Chain?
Companies bringing crypto to the mainstream: "Companies like PayPal announced crypto services in October. That essentially is one big step because it gave exposure to millions of people towards crypto and it makes the whole ecosystem more mature. There will be a violent adoption of cryptocurrencies in terms of the general public and it can also lead to faster settlement and more secure transactions."
See related article: What is the mood of India when it comes to cryptocurrencies?
Predictions for 2021
Potential growth in India's crypto market: "You might see a lot of blockchain and crypto startups coming from India in 2021. There will be a lot more foreign capital coming in and investors who would be willing to invest into these startups."
See related article: Crypto has the potential to revitalize India's economy
Greater push for positive regulation: "A lot of governments are realizing that it's important to regulate this asset class so that more legitimacy comes in. In India also, I'm seeing that governments and regulators are also getting more clarity, and we feel that within governments there will be a push to come up with positive regulations. There will be global investors, family offices, investment banks of hedge funds, you name it — they will continue to invest and take large positions in crypto assets."
See related article: Crypto's new dawn: the future of India's burgeoning cryptocurrency landscape
Central bank digital currencies (CBDCs) to gain further traction: "CBDCs and the so-called future of money — how government would want to convert their traditional fiat currency and would want to move that on blockchain — will get more traction. We've also seen India highlighting that they [might] also want to come up with a digital rupee, and will use that for circulation, which will save billions of dollars for the government."