Acoer's Jim Nasr on using blockchain to track Covid vaccinations
Acoer's founder and CEO offers his predictions for 2021, including blockchain being used to track Covid vaccinations as well as in the war against fake news.
Welcome to Forkast Forecasts 2021. In this series, leaders, innovators and other visionaries in crypto and blockchain-related fields tell Forkast.News what they see as the most noteworthy industry developments over the past 12 months and their predictions for the new year.
Jim Nasr
Jim Nasr is the founder and CEO of Acoer, an Atlanta-based blockchain-enabled applications developer with a focus on healthcare.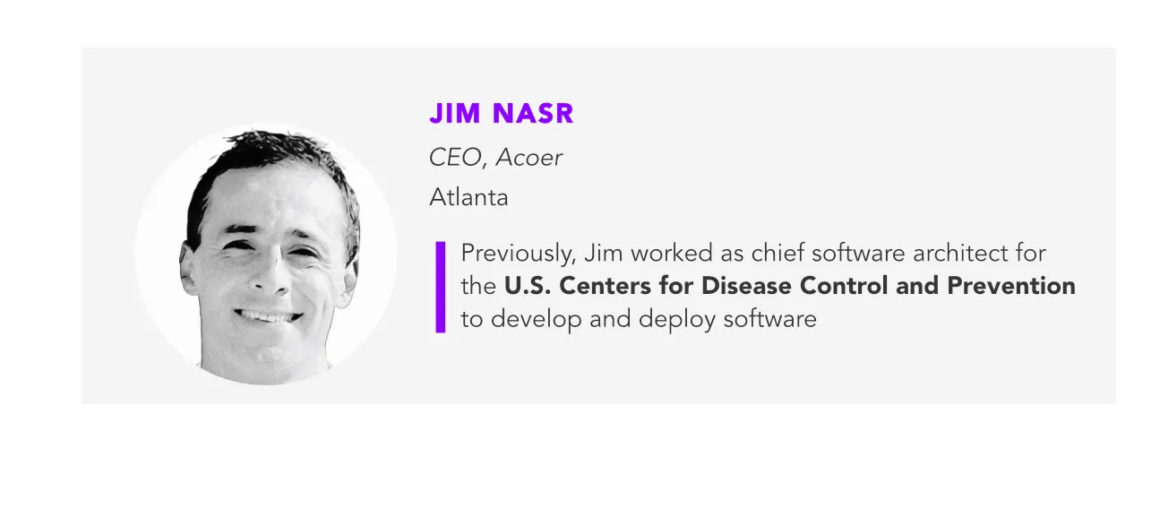 Last year, Acoer employed Hedera Hashgraph's distributed ledger technology (DLT) to create a coronavirus-tracking application.
"If you are using blockchain and using it correctly as we are, you can show that [healthcare] data provenance, and it can be interrogated by anybody on demand. What it doesn't guarantee and really nobody can guarantee this is that the point of origin data collection is accurate," Nasr told Forkast.News in a previous interview.
Hedera Hashgraph has recently been adopted for the cold chain monitoring of Covid-19 vaccines for the U.K.'s National Health Service hospitals, according to a statement from Hedera Hashgraph.
See related article: How healthcare uses blockchain to wage a smarter war against the coronavirus pandemic
Prior to Acoer, Nasr was drug development services firm Certara's vice president of technology as well as the U.S. Centers for Disease Control and Prevention's chief software architect. He was also co-founder and CEO of Armedia, a technology firm providing enterprise content management services.
Biggest developments in 2020
Predictions for 2021
More "proof of" use cases: "Developers and innovators will find a way to essentially bundle a skinnier version of blockchain — or blockchain benefits, if you like — into their applications. A good example is this concept of a proof of something, proof of action. We do this with HashLog and our data sampling service, where essentially we offer a proof of data authenticity. This idea of proof of having done something can be applied across different use cases and really rather simply and without creating a lot of user disruption."
Developing more real-world blockchain solutions: "Enterprises are going to demand more return on investment on blockchain initiatives and will want to have objectives that are met, and not just experiments and proof of concepts. So, with this context, the opportunity to me is to abstract blockchain into a solution, particularly for industries that are highly regulated."
See related article: Tokenized health care? How Hedera Hashgraph could improve data transparency in medicine
Blockchain as a tool for fighting fake news: "Consumers are going to have more of an awareness about misinformation — fake news, if you like — and also will demand some answers from the technology community about this. And there's an opportunity in this for developers. This idea of showing the authenticity of data, showing its flow, showing that it's compliant, I think all that really can play nicely into blockchain solutions."
Using blockchain to track Covid-19 vaccinations: "I believe there's a real opportunity with Covid-19 vaccinations to use blockchain effectively in an abstracted way that doesn't really impact user behavior, but provides a much more reliable and trustworthy mechanism for knowing if the information really is true. And then in turn, using an application, such as a health pass application, to show that you have been vaccinated and you're able to go back to events and school and activities like this."
See related article: How DLT is fighting the information war in Syria and saving lives