In the second of a special four-part series, Forkast.News looks at the growing role of non-fungible tokens in South Korea's K-pop culture. Part 1 in the series examines how NFTs and blockchain technology could redistribute money and power in the music business, and Part 3 looks at how the NFT platform brings musicians into the crypto world.
__________________________________

As non-fungible tokens shake up the art scene in Asia, the entertainment industry — especially in South Korea — is sparing no effort to join the NFT world in a move that leverages its huge and loyal fanbase, particularly at a time when K-pop has thrived online amid the Covid-19 pandemic.
JYP Entertainment, one of South Korea's four biggest entertainment conglomerates, which counts K-pop acts such as 2PM and TWICE among its stars, recently unveiled a plan to partner with blockchain company Dunamu to set up an NFT platform dedicated to K-pop.
Brave Girls, one of K-pop's most prominent idol groups, last month teamed up with Upbit to release limited edition NFTs in time for a comeback.
And K-pop star Se7en, who released his first single last month after a hiatus lasting nearly two-and-a-half years, has also joined the growing number of musicians and entertainers launching their own NFTs.
"NFTs are definitely going to be in K-pop in the future. I can see it already," Areum Jeong, an assistant professor who teaches Korean pop culture at Sichuan University-Pittsburgh Institute, told Forkast.News in an interview.
Lucrative global business
K-pop, broadly defined as Korean mainstream pop music, has "emerged from a subculture into this global mainstream phenomena," Jeong said.
The overseas market size of the Korean entertainment industry — based on exports — doubled in four years from US$5.7 billion in 2015 to US$10 billion in 2019, according to a report by Korea Creative Content Agency, a government entity that oversees the promotion of the Korean content industry.
Thomas Baudinette, a lecturer at Macquarie University in Sydney whose research interests include how K-pop innovates, shared the view that K-pop is a huge phenomenon.
"We're seeing these K-pop groups completely dominate social media trending on the back of passionate fans all over the world," Baudinette said.
K-pop fans, most of whom are social media savvy, are rather active on Twitter. The number of tweets related to K-pop grew to 7.5 billion for the year ended in June, from 5.1 million for the year ended in June 2011, according to a recent report by the Washington Post.
Despite an overall downward trend in the global music market in terms of album sales, the K-pop industry hasn't seemed to have struggled, and sees selling albums as one of its main revenue drivers.
The International Federation of the Phonographic Industry revealed in its global music report released in March that 2020 had been a "record-breaking year for K-pop," as it drove South Korea to 44.8% growth in recorded music revenues and its position as the fastest-growing major music market last year.
During the first 11 months of 2020, the sales value of South Korean albums and music DVDs amounted to US$171 million, almost double the US$93.25 million recorded for full-year 2019, according to data from the Korea Customs Service.
From January to November 2020, Japan imported K-pop albums worth US$59.9 million, making it the largest importer of such products, the data revealed. The United States, which purchased albums worth US$17 million, came in second place, followed by China with US$15.5 million and Taiwan with US$7.1 million.
K-pop has taken the world by storm, with BTS — a seven-member boy band that debuted in 2013 — being one of the most successful acts in the genre. HYBE, the Korea-listed company behind BTS, generated 278.6 billion won (US$244 million) in the second quarter of this year, up 79.2% year on year, while its net profit for the quarter increased by 9.9% to 20.8 billion won, according to its latest earnings report, released last week.
"Of course, it's a huge money maker," Baudinette said. "[Fans] are so invested into the success of these groups that they follow, that they're willing to really pay a lot of money to get their hands on albums or get their hands on merchandise or attend concerts — both virtual in the Covid context or face-to-face if [it's] possible to travel."
When the coronavirus hit last year, the K-pop industry reacted quickly and has been actively exploring alternatives in going virtual in a bid to offset potential losses. Entertainment companies have taken concerts, fan meetings and other fan events online.
As a result, despite the pandemic, HYBE's revenue last year increased by 36% year on year to 796.3 billion won (US$700 million), and its net profit grew 19% to 86.2 billion won, according to its 2020 annual report. Last year, revenue generated from its merchandise and licensing business surged 53%, the report showed.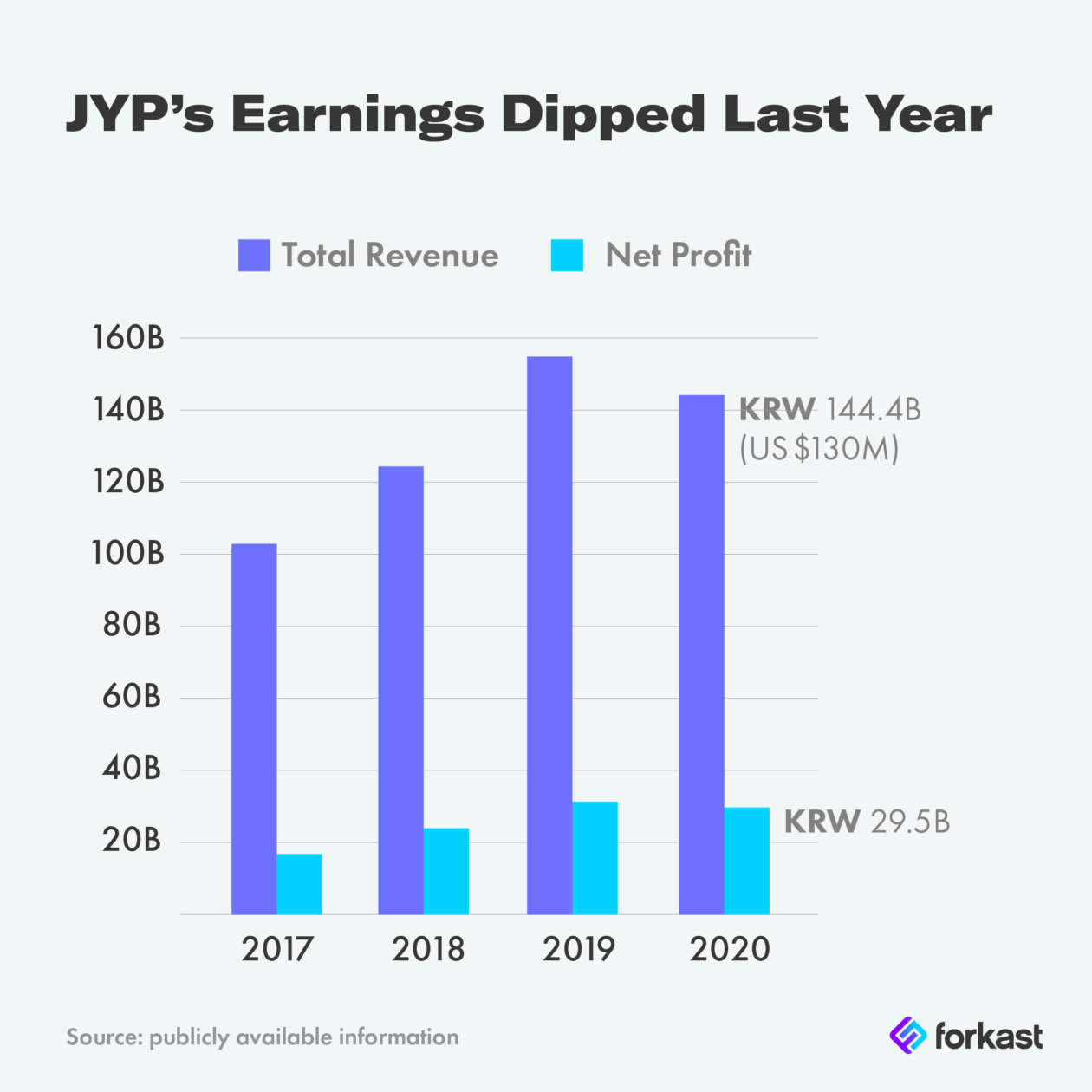 JYP Entertainment, which plans to go into NFTs, last year recorded 144.4 billion won (US$130 million) in total revenue, down 7.1% year on year, but revenue generated by its album and digital content business was up 31.2%, according to a company earnings report. Its net profit shrank to 29.5 billion won last year from 31.3 billion won in 2019, the report showed.
Already a thing: trading collectibles
NFTs are widely considered digital collectibles, and the idea of trading them has caught on among K-pop fans.
"This is Lucas from [K-pop band] NCT. He's my bias," Jeong said, holding up a number of photo cards of the K-pop idol to the webcam on a video call with Forkast.News. "Fans covet these pieces of papers so much that they would buy, trade or sell them for a good range from a couple of dollars to several hundred dollars."
"I've seen some of them being sold for US$500 on Twitter, like rare cards," she said, adding that NFTs could provide an online-only venue for such fan activity.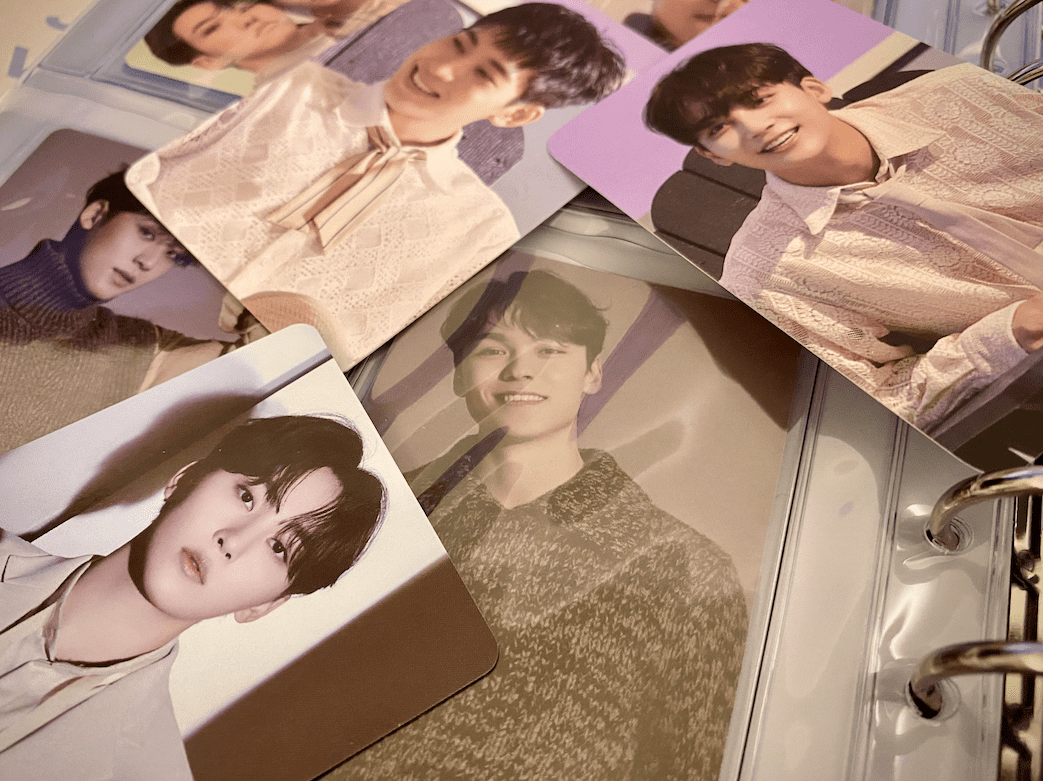 The sense of belonging and ownership may be what lures K-pop fans into NFTs.
"[NFTs are] all about trading in digital ownership and being able to say, 'Yes, this piece of digital art exists in the open digital marketplace but it's mine and that's registered through the blockchain,'" said Baudinette. "I think that what JYP is thinking is that they're aware that there's this strong, effective drive — like this emotional attachment that fans have for their idols."
Baudinette added that the sense of possessiveness is something that JYP could see the potential for, and that NFTs were a fantastic way to harness it.
NFT sales could also fit into the existing K-pop merchandising model. Many fans would buy as many physical albums as they could, not only to collect photo cards that come with the albums, but also to win a chance — through a raffle — to participate in events such as "fan signs," at which winners meet their idols and have direct conversations with them as they sign the merchandise.
"Yes, it's a split-second kind of interaction, but when you're a fan of these idols, and they are something that is really important to you, and really a kind of safe haven for you in a very turbulent world, then this motivates people to spend," Baudinette said.
"So [it's] 100% that I can see a business model [that] an NFT could be linked to," he added. "If you're willing to bid, and be the highest bidder to get exclusive rights to this particular NFT, well, then we'll also throw it in for you, an opportunity to meet the idol."
Tech innovation, fan demand
When A.C.E — a K-pop boy band with great international popularity — announced an NFT merch drop in April, many of their fans were not happy with it amid energy sustainability concerns surrounding NFTs.
"There is that drive to innovate on a performative level as well. That's very significant when thinking about the K-pop industry," said Baudinette, adding that the move by A.C.E's company, which is relatively small, to drop NFT merchandise was something of a stunt.
Technological innovation, nonetheless, is something that the K-pop industry has been keen to display, and has been encouraged to do so by South Korea's government.
"We're talking about something that the South Korean government invests megabucks into promoting as a form both of soft power in the sense of building attraction to South Korea among global consumers, but also as a form of what I would call technological innovation. Like kind of saying, 'Look, Korea is a dynamic nation that innovates,'" Baudinette told Forkast.News.
The four biggest K-pop agencies — HYBE, JYP, SM and YG — have been competing to invest in new forms of technological advancement. "One of the things that K-pop production companies are very heavily invested in is a narrative of innovation," Baudinette said. "K-pop positions itself as being cutting edge. And we see a competition between the major producers … to demonstrate that they are at the cutting edge."
As the pandemic continues to ravage the world, big entertainment companies have been making attempts to demonstrate how tech-savvy they are by offering unique virtual experiences for fans.
For instance, SEVENTEEN — a popular 13-member boy band signed to label Pledis, which last year was acquired by HYBE — on Sunday live-streamed an online fan meeting with a multi-view streaming system powered by U.S.-headquartered tech company Kiswe. The system allows fans to enjoy a multiple-camera viewing experience, with each camera shooting one member of the band. That means the audience could watch the concert from 14 positions — something an offline concert could hardly offer.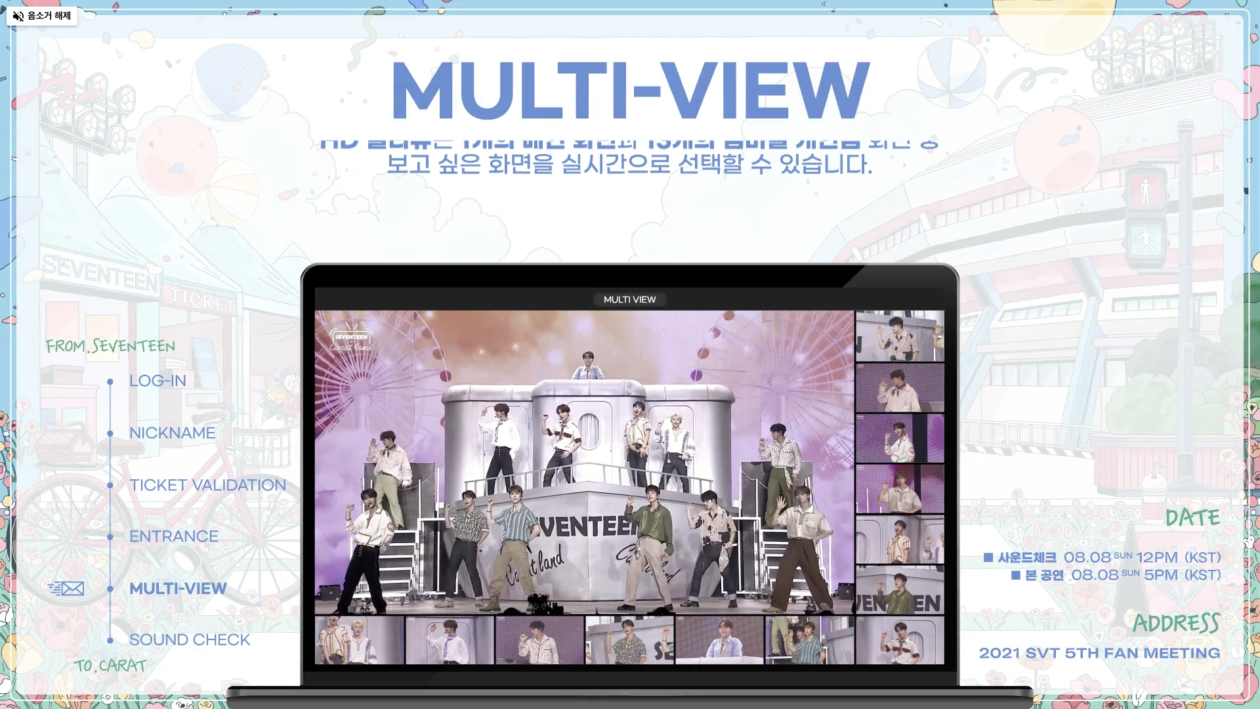 JYP's plan to make a foray into NFTs didn't come as a surprise for many, given its ambition to innovate. Hanjin Tan, a Hong Kong-based, Singaporean singer-songwriter, told Forkast.News that when he worked with JYP chief executive Jinyoung Park about a decade ago on a commercial song featuring Rain, one of JYP's top singers at the time, he got the feeling that the company was really ahead of the curve.
"They stay small. They stay lean. And they push fast," Tan said.
While the K-pop industry warms up to the idea of NFTs, not all fans are excited about the new technology.
"The reception has been from fans, lukewarm, to say the least," said Baudinette.
"In South Korea, there was a lot of incredulity among fans saying, 'Oh, this isn't what we want. We want new music. What are you doing?' Or like, 'This is a little bit creepy. I'm not sure. Is this going too far? Are you exploiting your idols?' — which is a constant conversation," he said.
The digital nature of NFTs could also push away fans who prefer a physical experience.
"If it's something related to merch and to support my favorite K-pop idol, I'm more of a tangible person," said Carolina Donastorg, an American fan who co-produces podcast show "Not Your Average Fangirls" and has been into K-pop since 2011.
Donastorg said that she was more into buying merchandise such as clothes or albums that typically come with photo cards and posters. "For me, NFT is just something digital that doesn't really spark my interest," she said.
Another fan who works in cryptocurrency told Forkast.News that there had been backlash, with NFTs described as a scam, although the fan said: "But I think JYP, being a K-pop company with dedicated fans, can get around that by pushing the exclusivity of NFTs."
The fan, however, wouldn't buy a K-pop NFT personally. "I'm happy with the content we already have … and there is enough idol content out there as is," the fan said.
"I think JYP is trying to pioneer something that there isn't and won't be a demand for within the next few years," the fan said.
See related article: NFTs and the music industry: Token gesture or transformative technology? | Part 1