Singapore's financial regulators have been sending a consistent message: trading in cryptocurrencies is fraught with too much risk for non-professional investors, but the digital asset industry holds much promise.
If that seems like a mixed message, the Monetary Authority of Singapore, the city-state's central bank known as MAS, acknowledged as much at a seminar titled "Yes to digital asset innovation, No to cryptocurrency speculation" organized by the bank on Monday.
"What does MAS really want? Well, we know what we want but I think we need to do a better job of explaining it," MAS Managing Director Ravi Menon said in opening remarks at the seminar.
"The digital asset ecosystem is where MAS sees strong potential and is actively promoting," he said as part of his explanation, adding that cryptocurrencies are useful within a blockchain to reward those who help validate and maintain the record of transactions.
"But outside a blockchain network, cryptocurrencies serve no useful function except as a vehicle for speculation," he said. However, "banning retail access to cryptocurrencies is not likely to work" as they trade on borderless networks, accessible with a mobile phone.
Another life
"Cryptocurrencies have taken a life of their own outside of the distributed ledger and this is the source of the crypto world's problems," Menon said, arguing that price volatility rules out cryptocurrencies as a viable form of money or investment asset.
See related article: Siloed regulatory efforts unlikely to help bring oversight to highly decentralized crypto industry
This elaborates on the mantra that MAS has been repeating and following through on with actions such as bans on crypto advertising in public areas and crypto ATMs, while stressing it intends the city state to be at the forefront of digital asset innovation.
Despite the bans, Menon said surveys show that consumers are increasingly trading in cryptocurrencies.
"Adding frictions on retail access to cryptocurrencies is an area we are contemplating," Menon said, which may include customer suitability tests and restricting the use of leverage and credit facilities for cryptocurrency trading.
"Consumers must take responsibility and exercise judgement and caution. No amount of MAS regulation, global cooperation, or industry safeguards will protect consumers from losses if their cryptocurrency holdings lose value."
Promising
Officials from local companies were on hand to hear the message, including blockchain analytics firm Nansen Pte. and trade finance blockchain network developer Contour Pte.
New York-based crypto brokerage Paxos Trust Co. was also in the audience, along with JP Morgan Chase & Co.'s Onyx unit, which claims to be the world's first bank-led blockchain platform.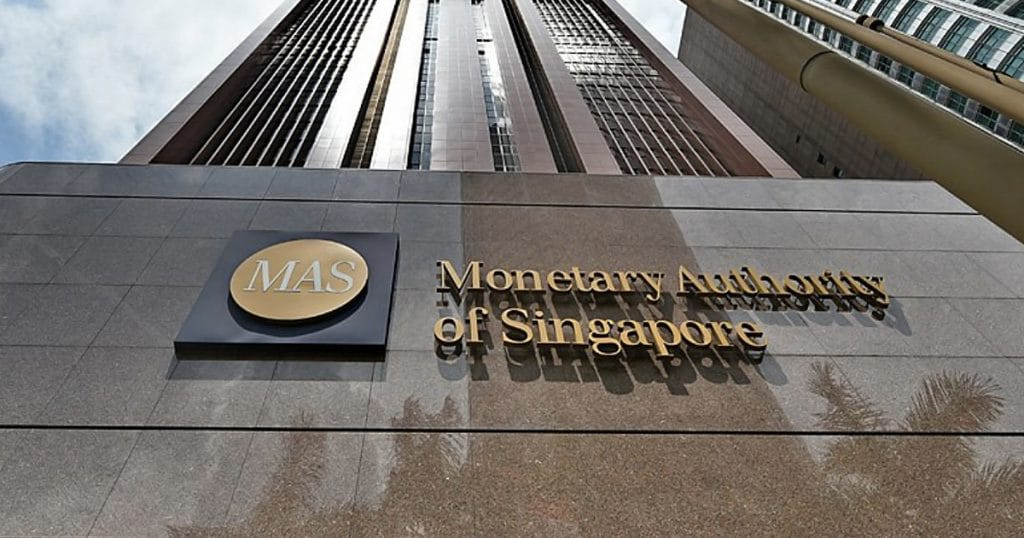 "We are encouraged to see policymakers and industry work together to guarantee regulatory clarity," Hassan Ahmed, Regional Director Southeast Asia at Coinbase, said in an emailed response to Forkast's questions about the MAS seminar.
"The crypto industry moves so fast that frequent regulatory discussion is important to keep abreast of recent innovations," said Hong Qi Yu, chief executive officer of Singapore-based Tokenize Xchange, in an email response to questions.
At the event, Menon said the most promising use cases of digital assets in financial services are in cross-border payment and settlement, trade finance, and capital market activities.
He cited UOB Bank's issuance of a SG$600 million (USD$429 million) digital bond on Marketnode's digital asset platform. MAS is also working with DBS Bank, JP Morgan, SBI Group and Marketnode in what was dubbed Project Guardian to test asset tokenization and decentralized finance (DeFi).
The juice
Menon said MAS recognises that a digital asset system needs a medium of exchange for transactions and the three options are cryptocurrencies, stablecoins, or central bank digital currencies (CBDCs).
He repeated the MAS view that cryptocurrencies lack the three fundamental qualities of money – medium of exchange, store of value, and unit of account – and are driven largely by speculation.
See related article: Singapore's central bank says cryptocurrencies have 'no fundamental value'
MAS does recognise potential in stablecoins, if they are securely backed by high quality reserves and are well regulated, Menon said, but seemed more in favor of so-called wholesale CBDCs, or those restricted to use by financial institutions.
"They have the potential to radically transform cross-border payments, which today are slow, expensive, and opaque," he said.
The central bank does not see a need for retail CBDCs, he said, stating that Singapore's electronic payment systems are fast, efficient, and at zero cost.
However, MAS is building the technology infrastructure that would permit issuance of retail CBDCs should conditions change, he said.
Risk
MAS had concentrated on money laundering and terrorist financing risks as key areas of concern with cryptocurrencies and digital assets.
However, Menon said it is expanding this focus to managing technology and cyber related risk, safeguarding retail investors, stability in stablecoins, and overall financial stability risks.
"Technology and cyber risks are continually evolving," Menon said.
Menon added that MAS has been sharing its concerns with the industry and inviting views on measures to protect consumers and will publicly consult on the proposals in October this year.
MAS will also propose consultations on a regulatory approach to stablecoins in the same month.