In the space of a weekend, the U.S. and Japan have announced sweeping cryptocurrency regulations in the clearest evidence to date that lawmakers around the world are moving beyond jawboning about crypto to writing up enforceable legislation. Expect piles of paperwork.
While the U.S. bill, which was announced Tuesday and runs to about 70 pages, needs to go through Congress for approval and may shift accordingly, it is being touted as the first bipartisan legislation on the industry. That in itself is something, seeing as the Republican and Democratic parties can barely agree on anything.
The bill classifies decentralized cryptocurrencies as commodities, which puts them in the same basket as soybeans and copper and under the jurisdiction of the Commodity Futures Trading Commission, not — to the relief of many in the crypto world — the Securities and Exchange Commission (SEC).
However, the bill does propose that centralized crypto assets that function similarly to securities should fall under the SEC. The SEC Chairman Gary Gensler has previously made clear he favors stricter regulation of cryptocurrencies.
Clarity on crypto legislation in the U.S. and Japan is a good start, seeing as they are two of the world's top three economies, but officials in the cryptocurrency industry have pointed to the need for cross-border rules to cover digital assets.
For now, governments in many countries, including South Korea, India, and the Philippines, are pondering legislation that ranges from threatening to tax crypto out of existence, establish a rules structure to work with private digital money, replace it with government versions, or all of the above. China, as we know, has banned it outright.
Rise of the regulators
So far, this year has been defined by a slump in crypto markets, but could 2022 also turn into the year of the regulator?
The U.S. bill, known as the Responsible Financial Innovation Act, is led by Democratic Senator Kirsten Gillibrand and Republican Senator Cynthia Lummis. It will create a complete regulatory framework for digital assets, Gillibrand's office said.
"The United States is the global financial leader, and to ensure the next generation of Americans enjoys greater opportunity, it is critical to integrate digital assets into existing law and to harness the efficiency and transparency of this asset class while addressing risk," Gillibrand said in a statement.
Blockchain Association Executive Director Kristin Smith likes the look of it, noting in a statement: "The bipartisan legislation announced today by Senators Lummis and Gillibrand represents a milestone moment for crypto policy and a major step forward for the crypto industry in Washington."
Not everyone is impressed.
"This 'compromise' bill would WEAKEN existing investor protections in the guise of increasing them just so that MAYBE this time [the crypto] industry will follow the law," tweeted Todd Phillips, director of financial regulation and corporate governance at the progressive think tank Center for American Progress. He argues the industry is already sufficiently regulated, but is not compliant.
Japan coins
In Japan's case, legislators on Friday passed the world's first bill to provide legal protection to stablecoin investors. The bill has been in the works for some time under the Financial Services Agency (FSA), but it is timely following the estimated US$40 billion collapse of the TerraUST stablecoin (USTC) last month, a debacle that seems to have put the fire under regulators.
The Japan bill — listed as an amendment to the Payment Services Act — runs to a hefty 248 pages but comes with a helpful summary from the FSA.
The summary says the bill comprises a regulatory framework for issuers and intermediaries to handle so-called stablecoins and will provide transaction monitoring, as well as obligations to identify customers and prevent money laundering.
Translated, it appears that under the new law effectively only banks and trust companies will be allowed to issue stablecoins.
This provision has already faced criticism as it will freeze out smaller, innovative companies as well as foreign operators, the Nikkei newspaper said, citing Yosuke Shiraishi, head of the stablecoin department at the Japan Cryptoasset Business Association.
Fraud
Laws and regulations are there to provide the rules of the road and prevent crime and the crypto industry has had its fair share of fraud and rug pulls. Even high-profile NFT collectors are not safe from phishing scams that use official Discord channels to defraud holders.
According to blockchain analytics firm Chainalysis, illicit activity was responsible for US$14 billion worth of transactions last year — nearly a 44% increase from the previous year — and scams made up the majority of that figure.
While that is a huge amount of money, it can be sliced and diced differently. When factoring in the stratospheric growth in the crypto industry in 2021, total fraud represents only 0.15% of the total crypto transaction volume for the year — a 75% decrease from the previous year. That may be little comfort to a fraud victim, but it is the context.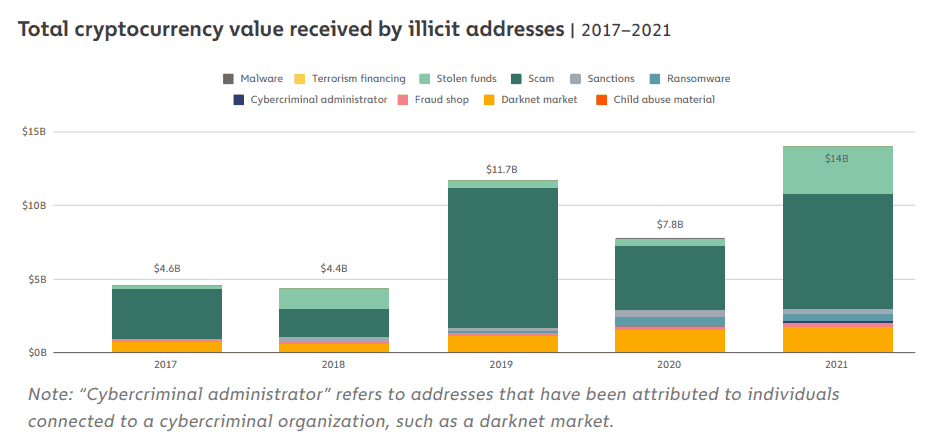 "Crime gets so much attention, but it's really less than 1% of transactions that occur on the blockchain, and we really have to try and keep that in perspective," said Caroline Malcolm, head of international public policy and research at analytics firm Chainalysis in an interview with Forkast.
"It's important to tackle it, but it's also important to recognize how much value the ecosystem brings."
These concerns, combined with the fallout from UST stablecoin collapse, seem to have kickstarted regulators into action.
"Crypto regulation is a race," Australian Senator Andrew Bragg told Forkast in an interview, explaining that race is to attract people and capital while protecting consumers.
"It is a race that we see in our region, but it's also a race where we see very significant policy being deployed in Europe and in North America," said Bragg, who published a namesake landmark Senate report on cryptocurrency and financial technology in the country last year.
While there has been a change of Government in Australia since Bragg's Liberal party lost the Federal election in May, he says Australia is in an excellent position to work with and keep abreast of the sweeping regulatory reforms that are occurring across the Asia Pacific and the rest of the world.
"We can work with like-minded democracies to put in place policies and laws that promote investment, and try and establish global standards, which are valuable, and deal with any security and other problems."