In the first eight months of 2021, the fledgling but fast-growing cryptocurrency industry saw almost as many companies come to market as 2019 and 2020 combined, according to the "The Arrival of Cryptocurrency Stocks" report published this month by CoinShares Research.
Fast facts
As of August 20201, there were 57 publicly listed cryptocurrency pure play companies with a combined market capitalization of close to US$100 billion, according to CoinShares Research. The companies spanned cryptocurrency mining, financial services, exchanges and mining hardware.
The industry has seen massive growth over the past two years. The combined market capitalization of all listed cryptocurrency-focused companies at the beginning of 2020 was just under US$3 billion, with Chinese cryptocurrency mining rig maker Canaan accounting for a third of the amount. In April this year, the industry surged to almost US$120 billion, driven by Coinbase — the largest crypto exchange in the United States — going public. Companies' valuations have since dropped, with the cryptocurrency industry's market cap now around US$95 billion, CoinShares Research said. IPOs were the most popular route to market.
According to CoinShares Research, cryptocurrency miners delivered the best year-to-date performence. Their aggregate market cap surged 121%, driven by the price appreciation of cryptocurrencies in the first quarter of 2021 as well as the decline in Bitcoin mining hashrate following China's mining crackdown, which made it easier to mine Bitcoins. Cryptocurrency financial services and exchanges saw increases of 105% and 34% respectively. Hardware dropped by 9%, driven by Ebang's 62% price decline this year.
In terms of geographic distribution, North America dominates the cryptocurrency industry, accounting for 44% of the publicly listed companies and 82% of the industry's market cap.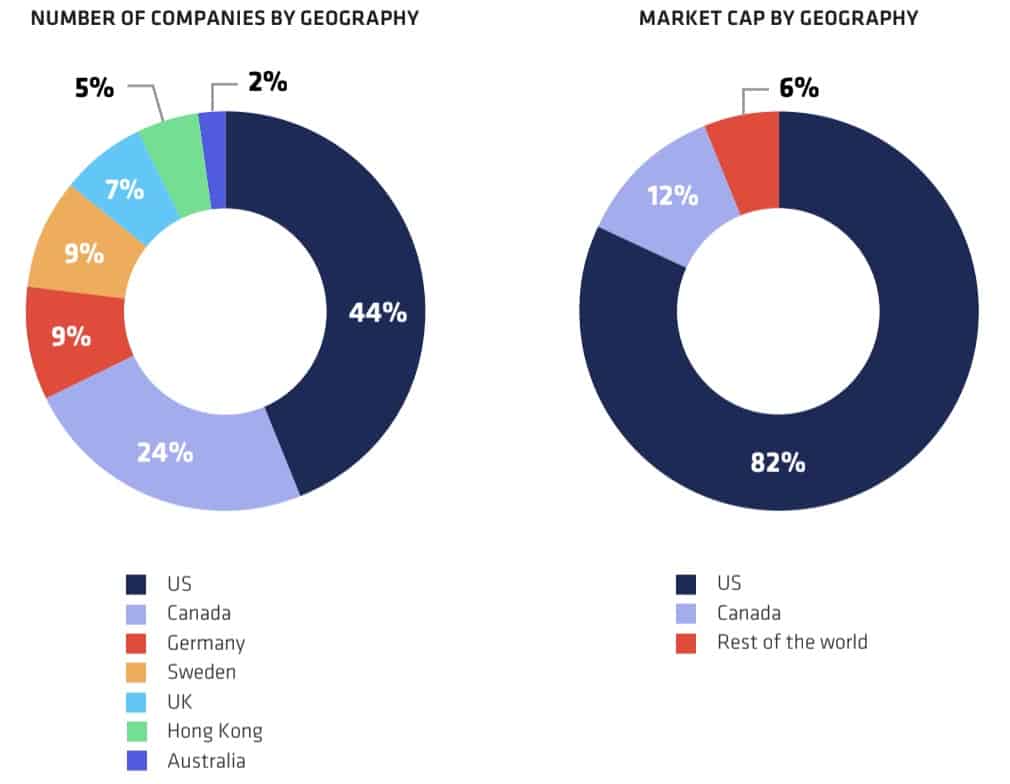 "The cryptocurrency sector is certainly a fast-growing one, with new businesses appearing by the day," CoinShares Research said. "This is a cyclical sector, and our analysis has made it clear that there is a high positive correlation between new entrants and cryptocurrency prices. If the new Bitcoin rally sustains itself, it is likely that more businesses become more appealing to investors, whose appetite for the sector should continue to grow, leading to more IPOs, RTOs and SPAC deals in the sector."