In the U.S., teens often earn money by delivering newspapers, babysitting, or by helping neighbors with gardening. Younger children may set up lemonade stands during summer vacation and get a hands-on lesson in how a small business works, while older teens often work at McDonald's or other fast food or retail outlets for pocket money.
In India, though, the concept of pocket money is not very popular — it's limited to more affluent families. In fact, usually parents manage all household money matters, which could even include cash received as a gift by the kids, who therefore grow up without adequate experience with handling money. The concept of children earning money is largely discouraged — it's only the poor children who cannot go to school or need to support their families who work in factories or restaurants.
But that's because in a country with almost 1.4 billion people and a large number of educated and unemployed youth — nearly 38.5 million youths enrolled in higher education last year alone — there are not many opportunities for kids to earn. The most common way for teens to make money in India is by tutoring younger children.
But with crypto adoption rapidly increasing in the country, India's youth-earning culture may be starting to change.
The boy who DeFi-ned new standards
Gajesh Naik, a 13-year-old from Goa, has established himself in the crypto world with his two ventures — Gaj Finance, formerly PolyGaj, a decentralized finance platform built on the Polygon blockchain for crypto staking, and StableGaj, a stablecoin swap platform. Back when Mark Cuban invested in Polygon, Gaj Finance was managing US$7 million. Today, that number has come down to less than US$200,000. 
Nevertheless, for an Indian teen, it is a noteworthy achievement. So how did a teen from a small tourist city in India come to handle hundreds of thousands of dollars? According to his father, Siddhivinayak Naik, Gajesh showed interest in computers early in life.
"He [Gajesh] was showing some kind of inclination, some kind of curiosity towards computers, not to mention that whenever I used to make presentations at home or do some excel sheet work, he used to be curious," Siddhivinayak said. Gajesh used to observe his father intently and asked questions about how his father worked on the computer, Siddhivinayak said.
Unlike parents who ask their children to stay away from electronics, Siddhivinayak encouraged his son to use computers if he wanted to. This gave Gajesh early exposure to computers and the digital world. At the same time, Gajesh, then 8, sharpened his academic skills by solving puzzles and interactive exercises available on CDs with the children's magazine called Champak, Siddhivinayak said.
It was only when Siddhivinayak enrolled Gajesh in a boot camp organized by Goans Empowered with Information Technology (GEIT), a voluntary community project planned, funded and organized by Goan IT professionals, that his coding journey began. At the camp, Gajesh was introduced to block-based visual programming language Scratch.
"Once the camp was complete, he [Gajesh] told me, 'I want to learn more,' " Siddhivinayak recalls. So he enrolled Gajesh in classes for coding as well as Abacus, a calculation tool, to help him build a strong mathematical foundation and increase his ease and confidence with numbers — a necessary skill for any coder.
It was in 2018 when Gajesh first delved into the world of cryptocurrencies and blockchain after attending the International Blockchain Congress held in Goa. Soon he became the youngest person to complete the Certified Blockchain Developer course provided by the Blockchain Council.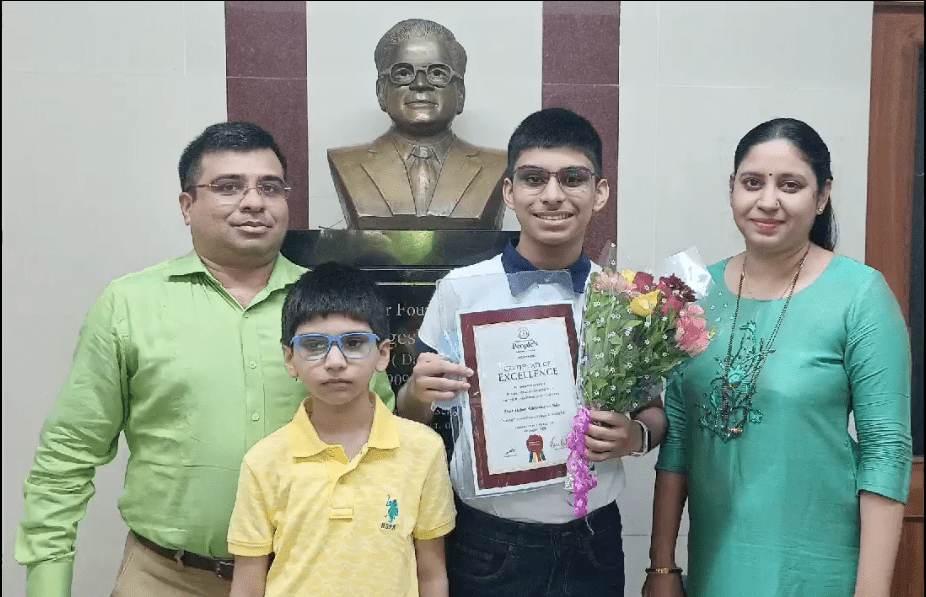 In October 2020, Gajesh received the first payout for his YouTube videos aimed at helping regional language students. He invested the money in cryptocurrencies and started researching more about the crypto world and learning Solidity, a language used to develop smart contracts. When asked why he likes coding, Gajesh said he cannot "express it in words." He used his coding skills to freelance but became bored with it in three months and launched Gaj Finance and StableGaj.
He is currently looking to add more features to Gaj Finance and raise a US$300,000 seed round to finance StableGaj. But despite his many accomplishments, Gajesh is still a normal teen who needs to be told not to ignore his studies, Siddhivinayak said. Besides, Gajesh may be more of a business opportunist than a coding genius as Gaj Finance is like a clone of Goose Finance, a DeFi protocol on the Binance Smart Chain, both in terms of the website interface and the features, except a few tweaks.
But the fact that a 13-year-old can understand what DeFi is, much less build a DeFi platform, is in itself astonishing. After all, not every teenager can understand the complex mechanisms of the crypto world. But there has been no dearth of criticisms against Gajesh.
Chris Blec, a DeFi researcher, has criticized Gaj Finance's $GAJ token for allowing a single administrator to have control over the entire network. But Gajesh claims it is not true. He said: "That's false, that is completely false. It has also been proven wrong. I don't know, he says this to most of the projects just to gain popularity." Gaj Finance's wallet address currently lists 1,872 holders.
A love for art and programming pays off
Laya Mathikshara, a 13-year-old from Chennai, found it extremely difficult to understand what cryptocurrencies and non-fungible tokens are and how they function. So she sought the help of her 22-year-old sister, currently a computational neuroscientist master's degree student at Stanford University in California.
The two sisters started reading blogs and watching YouTube videos to learn more about NFTs and the crypto world. But still unconvinced, young Laya decided to mint her own NFTs. At age 8, Laya had started learning art under her mother's guidance. At 11, she started learning programming languages like Python and HTML from her elder sister. So when she discovered NFTs amid the pandemic, it hit the sweet spot where her interest in art and programming intersected.
"During this pandemic, I had a lot of [spare] time, I browsed online. I wanted to explore a new hobby and [thought that] digital art might be a nice one [to] explore," Laya said. "So I started off by watching YouTube videos and tutorials online and following a couple of folks on Instagram and Twitter and noticed every digital artist talking about NFTs."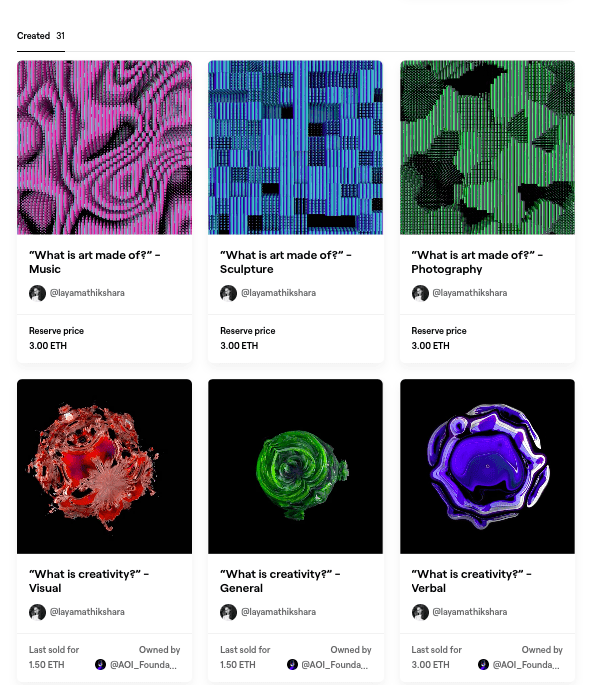 Laya has created nearly 40 NFTs on the WazirX NFT platform and Foundation NFT platform since she started in March this year. Around 32 of her NFTs have been sold for approximately US$40,000 in total, which is an astronomical sum for Chennai and almost enough to buy a small apartment in her city.
It was only after Laya sold her first NFT that her parents started taking more interest in her work. "After the first artwork was collected, that's when I kind of explained to my parents what it [NFT] is and stuff," she said. "But until then, you know, my parents did not understand much about NFTs or stuff for like the first three to four weeks." She is now researching and learning about generative art and programmable art.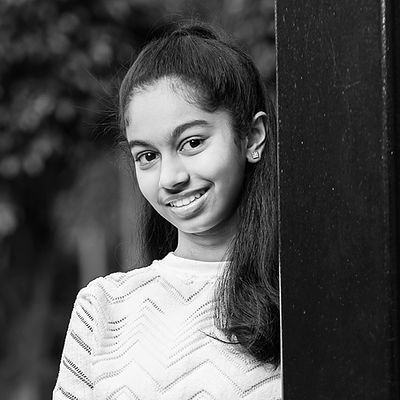 As a student, Laya loves mathematics but is not keen on learning languages and history. She is bubbling with enthusiasm and says she is a fussy eater and can be quite stubborn at times. The teen devotes hours every day to conceptualizing new artworks for NFTs. It takes her only two to three days to fully conceptualize and create an NFT. When she runs out of ideas, she watches YouTube videos for inspiration.
Her animated movie NFT named "Gratitude," which pays tribute to Covid-19 frontline workers, was nominated for the All American High School Film Festival 2021 and the 16th Busan International Kids and Youth Film Festival. She has also built a gallery in the metaverse that displays the artwork of around 20 artists from around the world.
While art has traditionally been a competitive landscape with low prospects for earnings in India, this teenager has already earned enough to buy two cars from minting her art as NFTs. While the NFT community in India is still a relatively small one, participation from teens like Laya hints that its adoption in the country is picking up.
Crypto and NFTs are providing young talents with global exposure
Crypto and NFT mania are opening up new opportunities to earn for teens as well as adults — opportunities that did not exist until a few years ago. The fact that teenagers are earning thousands of dollars from the crypto world only indicates how easy it is. And the trend can be observed globally. Indian origin 14-year-old Ishaan Thakur and his 9-year-old sister Ananya rake in over US$30,000 every month from mining Bitcoin, Ethereum and an altcoin called Ravencoin from their home in Texas, U.S. Benyamin Ahmed, a 12-year-old Pakistani British boy, has earned around US$400,000 by selling NFTs.
But what about the dark side? Teenagers cannot be held legally liable for anything and are also more vulnerable to scams. How will these children remain protected while exploring the world of crypto that has no laws to protect them?
Sumit Gupta, CEO and co-founder of crypto exchange CoinDCX, said: "When it comes to working with minors, businesses must always be clear about their responsibilities, and the priority must always be about ensuring [that] the interests of minors they work with are protected. Education plays a key role here, and as crypto is an emerging space, it is especially critical that players in the crypto space educate their stakeholders, regardless of age, on the ins-and-outs of crypto."
Despite the many pitfalls, it is indisputable that cryptos and NFTs are providing these teenagers exposure to the global world, in addition to global recognition. Their talents and creations are being evaluated by critics across the world, helping them to gain further knowledge and hone their skills.
"Talent deserves recognition and we must absolutely encourage and nurture ambitious talents, especially those who are driving innovations in the blockchain space. The demand for talented blockchain developers is of great significance right now with cryptocurrency set to redefine the future of finance. As such, it is imperative that more youths are equipped with the knowledge and exposure to harness the full power of blockchain," Gupta said.
"At its core, crypto is about democratizing finance to those who need it the most, and exposure to crypto is an important step towards inspiring future innovators and leaders to dream big, applying their expertise in this area to contribute to a more financially inclusive society."