Fox News' Chris Wallace had his hands full Tuesday evening as the two men vying to be the next President of the United States traded barbs and insults on stage in Cleveland with frequent interruptions being the theme of the evening rather than any substantive policy discussion.
At one point, Wallace beseeched President Donald Trump, who had a tough time allowing others to get a word in: "I think the country would be better served if we allowed both people to speak with fewer interruptions. I'm appealing to you, sir, to do that."
At another point when Trump kept trying to talk over Biden, Biden said: "Will you shut up, man? This is so unpresidential."
"And him, too!" interjected Trump, referring to Biden as he sought affirmation from Wallace.

"Well, frankly," Wallace retorted to Trump, "you've been doing more interrupting."
As viewers around the world lowered TV and computer volumes to keep their heads from exploding, the crypto futures market also registered its annoyance — with Trump.
On the cryptocurrency derivatives exchange FTX, which earlier this year launched a series of futures contracts allowing you to bet on the chances of your favorite politician being elected, TRUMP futures saw a big spike in trading volume during the debate. The futures, which would pay out US$1 should Trump be re-elected, traded at nearly 44 cents prior to the debate. Prices tumbled nearly 7% during the 90-minute face-off to 40 cents, which indicated that the market is now taking a dimmer view of Trump's chances of winning the White House in November, at 40%.

On the other side, FTX's BIDEN futures rose by 6.82% during the debate, indicating that the cryptocurrency market viewed the former Vice President's performance more favorably and upped his odds of winning the November election.
Crypto Traders have made their opinion clear on who is winning this debate. $TRUMP on FTX is reaching it's all time lows. pic.twitter.com/RdIShsY4c8

— Sean Nance (@TheSeanNance) September 30, 2020
For Trump, who has been grappling with national chaos over the coronavirus pandemic as well as the Black Lives Matter protests, this represents a substantial slide from when FTX launched the product bearing his name in February when punters put Trump's odds of reelection at 62%. During the great summer of American discontent, when anti-police brutality protests rocked major American cities and hospitals overflowed with Covid patients, the price of TRUMP dipped as low $0.39, or 39%.
But for traders, placing longs or shorts on Trump's chances of remaining in the White House seemed to be more exciting than betting on Biden's hope of taking it — probably because the election is a political referendum on Trump.

The 24-hour volume on TRUMP futures is at approximately $115,615, up from an average of $68,000 during the summer, while volume on BIDEN is at approximately $67,000, which is also substantially up from the summer when it was just under $5,000.
#TRUMP has a 43.6% chance of winning the 2020 election according to @FTX_Official

— FTX – Whale (@FtxSniper) September 30, 2020
Before the Presidential Debate: Less people are wanting to Predict it.
FTX isn't the only game in town where people can place bets on the political future of the United States.
Predictit, the first platform to commoditize political betting, was substantially less active during today's debate. During the event held in Cleveland, Biden bets got a 1 penny bump to 59 cents, while Trump lost a penny to 44 cents. The structure of the contracts operate in a similar way to FTX, paying out a dollar should your chosen candidate win the White House.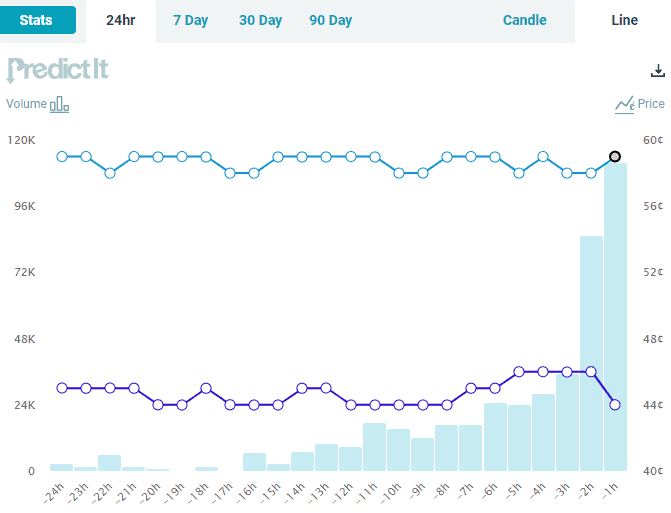 Perhaps Predictit is a better reflection of the political mood of the country than crypto traders, particularly when it comes to undecided voters. According to polls, for average voters, debates don't really matter and won't affect how they mark their ballot.
This debate has actually convinced some undecided voters to not vote at all.

I've never seen a debate cause this reaction. #Debates2020

— Frank Luntz (@FrankLuntz) September 30, 2020
According to a poll conducted between September 13 and 16 by the Wall Street Journal, the number of undecided voters in the U.S. is at a historical low. The poll shows that 70% of Americans say the debates won't matter much to them and 44% who say they will not matter at all to how they will vote, a record high dating to 2000.
This follows similar trends reported by a poll from Quinnipiac, which says that 94% of voters have already made up their mind, a stark contrast from this time during the 2016 election when 15% of voters were undecided.
"Presidential debates matter less than people think. Voters don't watch to make up their minds. They watch to root for their favorites," Jack Pitney, a professor of government at Claremont McKenna College, told NBC News.
"A debate could affect the outcome if either candidate showed serious signs of mental instability or cognitive decline," Pitney said. "The key word is 'serious.' "
For what it's worth, the price of bitcoin has remained stable trading around $10,740 during the U.S. evening and Asia morning as the debate rolled on, with markets more concerned about Uniswap volume. Perhaps that means the big bitcoin holders have also already made up their minds about who should be the next President of the United States.