China's National College Entrance Examination — also known as the Gaokao, or "[higher Education] exam" — is the world's most widely taken test, as nearly 10 million students write it annually. High school students preparing for this year's grueling exam, scheduled for July 7 and 8, are now bracing themselves for questions on cryptocurrency and the economic geography of the bitcoin mining industry.
According to a screenshot provided by local Chinese media, a top education publisher's mockup Gaokao exam contains a question that asks students to provide an analysis of why bitcoin mines are clustered in the province of Sichuan.
Students are provided some information about Sichuan province's geography: rich in hydropower, excess infrastructure for the population base, and plenty of hydropower being wasted. From there, students are asked to provide a written analysis of why bitcoin mines would want to cluster in the area and how seasonality would affect the industry.
Two college students who have taken the Gaokao in the past years both told Forkast.News that they thought the bitcoin mining practice question was not very hard compared to others they have seen. The theme of economic geography comes up every year, they said — though the topic of cryptocurrency was a new twist.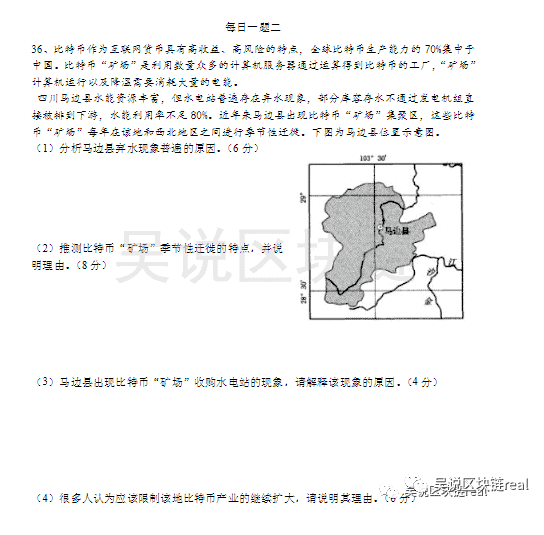 "It should not be hard if you know the nature resources and climate characteristics in certain locations" said Zhu Hai, a Sun Yat-sen University undergraduate.
Yifei Hong, a Tsinghua University graduate student, added: "But in the past, the context was always water power stations or wind farms…. 'Bitcoin mining' is a new thing."
"Candidates need to have basic knowledge of bitcoin and bitcoin mining," Hong said. "If they misunderstand 'bitcoin mining' as typical 'coal mining,' the focus of analysis could be misdirected."
Other reports in Chinese media say that the topic of bitcoin mining has also come up in other publishers' Gaokao exam prep books this year, in a variety of questions that requires some preexisting knowledge of how the cryptocurrency mining process works. The questions also explore some of the negative aspects of the industry, such as the pollution created when mining is done using a carbon-intensive power source and the electronic waste generated from discarded mining equipment components.
Bitcoin mining entering the mainstream
As the Gaokao is taken by an enormous cross-section of Chinese society, like the SAT in the United States or the A-Levels in the United Kingdom, the questions asked in the exam become deeply rooted in the broader cultural zeitgeist of China's young people.
Exam questions are considered to be a barometer of the most important political topics of that time, and this being China, that comes from the top down. Certain questions appear on the test because they pertain to the national government's top policy priorities and what it wants all of its young people to know about.
Gaokao test-prep centers and practice exam publishers often claim to have inside sources, close to the people who design the actual Gaokao, and they formulate practice questions accordingly. If they correctly predict the year's gaokao questions, their business performances will increase dramatically the following year. So they have strong incentives for their practice questions to be on point.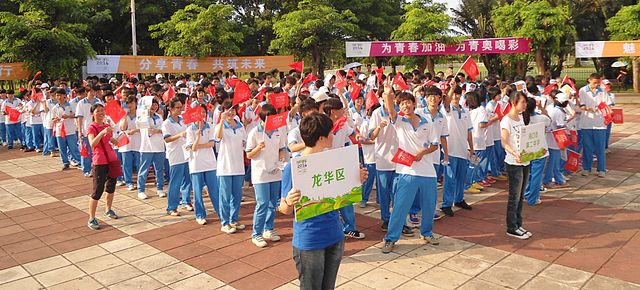 For example, the civics section of 2007's Gaokao focused heavily on the 11th 5-year plan, a quinquennial set of economic and development initiatives presented to China's congress to develop strategies to guide it through a specific period. On the 2014 test, the Belt and Road Initiative — introduced earlier that year as a key political initiative to drive economic growth in China — began popping up in test prep books and later indeed took center stage as the context of one of the actual exam's key questions.
In terms of bitcoin mining and blockchain, the Chinese government has outwardly seemed conflicted about the two. On the one hand, China has made initial coin offerings (ICO) illegal and has banned cryptocurrency trading since 2017, and greatly tightened up supervision of the industry for the past few years.
But as much as China is cracking down on cryptocurrency and discourages its use, the country is also home to most of the world's crypto miners and hashing power, and major mining equipment makers like Bitmain and Canaan are home-grown. China also regards blockchain as a one of the nation's key strategic technologies, with governments of all levels investing millions and implementing business friendly policies to hothouse the technology. Research firm IDC estimates that it'll be a $1.67 billion market by 2022 — perhaps a conservative estimate considering the central government's sense of urgency in developing the technology.
See related article: How China hot-housed a new technology and 35,000 'blockchain' companies bloomed
Perhaps the key to understanding the paradox of China's blockchain strategy is knowing that there's more to the industry than moving capital around. Blockchain technology's use cases can be applied to many more industries than just cryptocurrency, and China's play demonstrates that. Blockchain mining may be tolerated and even promoted because, aside from the physical location of the miners, there isn't really a nexus to China under current law. The production is in-country, but the consumption and use largely are not. Plus, there's also the strategic element of controlling a resource that others use, even if it's not allowed locally.
So now, in 2020, bitcoin mining has been elevated to this level. It's something that the test prep industry — whether through inside information or reading into the government's many pro-blockchain decrees — have agreed that this is a topic that the central authorities want all the youths of China to brush up on and know something about.