As he went about his afternoon nap, Lin woke up to a persistent buzz on his phone.
A member of a WeChat group where hundreds of people participate in auctions of non-fungible tokens (NFTs), Lin was participating in what Beijing calls speculation that needs to be curbed.
"No. 28, a bundled offer of three CCTV Yangyang Shishi items, with bids starting at 0 yuan," an auctioneer announced in a WeChat group of 500 participants, the maximum allowed by the app on a weekday afternoon. "Each bid should add on at least 10 yuan (US$1.5)," the announcer added.
To bypass the technical barrier, the team ran the same auction simultaneously in at least nine group chats, Forkast learned.
The development comes as China steps up its warnings of trading risks in NFTs, along the lines of previous diatribes against the buying and frequent flipping of property and stocks.
State-run media have been at the forefront of the rhetoric against NFT trading even as they themselves launch marketplaces to trade the tokens or launch their own. To get around the apparatchiks, Chinese firms have resorted to calling NFTs "digital collectibles," though slip-ups are not entirely uncommon.
Last month, industry lobbies of the banking, securities and internet finance sectors urged members to "resolutely curb" the "financialization and securitization" wave of NFTs.
Meanwhile, the Chinese NFT market has ballooned to 3 billion yuan in April, according to estimates from brokerage Caitong Securities. It estimated the market at 45 million yuan in January.
Nothing's Gonna Stop Us Now
"Group chat no.5 at 200. Group chat no.1 at 500," an auctioneer went on in Lin's group. "Let's be more generous with our bids!" the announcer added as bids started pouring in.
While it would be easy to sneer at the activity, the operators of these chat groups are only capitalizing on the propensity of the Chinese to speculate.
The country's massive leaps to the cutting edge of global technology, especially when it comes to mobile technology and digital payments, have only meant a new-age avatar for practices which were in place for centuries.
Ever since the ancient Chinese Emperor Yao (堯) commissioned Go (圍棋) for his son, Danzhu, the tendency of Chinese audiences to bet on outcomes has evolved into a daily pastime, especially with the elderly. In the lead-up to the 1997 handover, Deng Xiaoping famously quipped that "horse racing will continue, and dancing parties will go on" in Hong Kong.
In Lin's group, the auction of the three digital collectibles issued by Chinese state broadcaster CCTV, featuring its panda and dragon mascots, closed at 2,200 yuan in a matter of minutes following a bidding frenzy whipped up among some 4,500 participants. These NFTs were priced at just 98 yuan each when they went on sale last month.
"Congratulations on winning the bid! You'll for sure have a prosperous year ahead," the auctioneer added, followed by an emoji of a gavel and a line that said "it's a deal!"
The evolution of the propensity to speculate from Go to NFTs has meant attracting even younger audiences to the gambling addiction.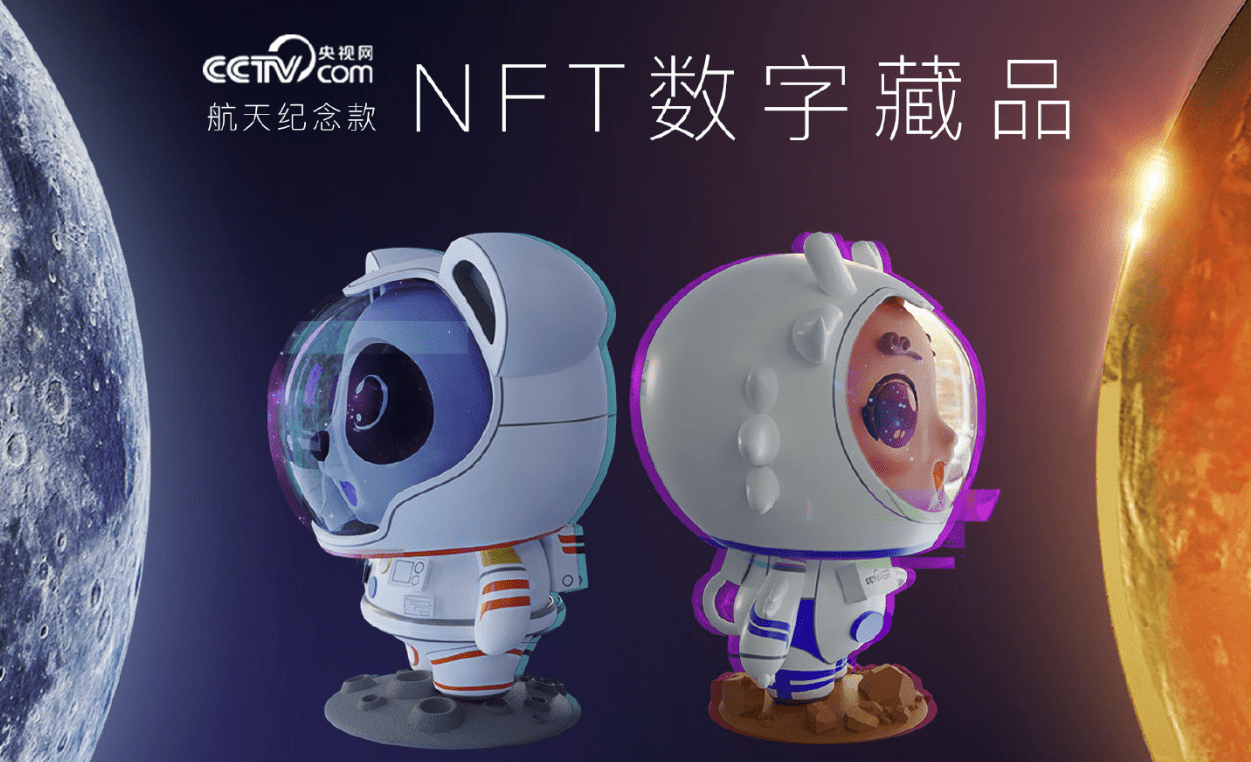 Lin, who prefers a pseudonym due to the sensitivity of the subject, said he has been following these auction groups and has successfully sold his NFTs through such chat groups.
"I frequently trade, with prices ranging from a few hundreds to thousands of yuan," said Lin, who is in his 20s and used to "speculate on cryptocurrencies" before China banned crypto transactions last September.
"Sometimes you get to earn a few times more than the initial price," Lin told Forkast. "But sometimes you could easily suffer a 90% loss immediately," he added, based on his trading experience.
As demand for NFTs surges, it is spawning an entirely new trading industry.
Some vendors on Xianyu, China's major online second-hand trading marketplace owned by Alibaba, have started to offer information monitoring services for investors, notifying them about NFT sales and details on airdrops.
Some vendors also serve as brokers on WeChat to help their clients hunt for specific digital collectibles they fancy.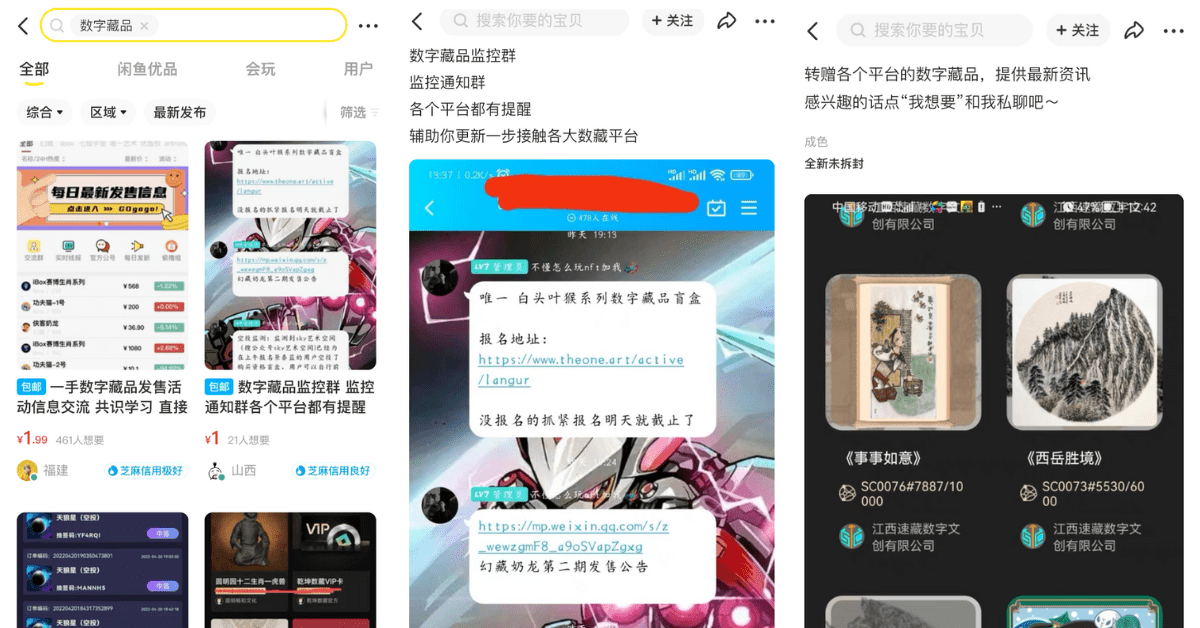 Dead in the water?
Understandably, industry experts are a tad worried about what such frenzy might entail for the industry.
Yifan He, chief executive officer of Red Date Technology, the developer behind state-backed Blockchain-based Service Network (BSN), told Forkast that he sees a bleak future for the industry if market players continue to package NFTs as investment products.
Some NFTs "carry the characteristics of quasi-financial products" and there's no way Chinese regulators will tolerate the speculative activity in the asset class, He said.
"In principle, we need to avoid the financialization of digital collectibles," said Hongfei Da, CEO of blockchain developer Onchain Technology, a member of the internet finance industry lobby that put out an April advocacy statement. "It can easily be used as a tool for speculation once it's financialized," he added.
"Each platform has come up with their own interpretations, with some setting lock-in periods for reselling and some restricting the volume of transfers," Da said.
See related article: Resist the temptation on NFTs, Chinese state-backed developer says
Despite regulatory uncertainties, for many platforms, the demand for trading is still too big of a business opportunity to miss.
"At the moment we only operate a primary market issuing NFTs," Pengfei Wang, CEO of ShucangCN, an NFT platform that launched only in January in China but quickly became one of the largest players, told Forkast. "In April alone, our sales of digital collectibles totaled around 8 million yuan to 9 million yuan," he said.
Spreading your bets
Wang said many platforms in China operate secondary markets by themselves, and while he's seen large trading demand from his company's user community, ShucangCN seeks to put out a marketplace that comes with less risks of potential regulatory headwinds.
With compliance in mind, ShucangCN acquired an auction company last month with plans to offer NFT auction services starting in late May or early June, according to Wang.
"We're hoping to diversify our revenue stream, with ideally half from direct sales and half from secondary trading by the end of this year," he said, adding that the company has set its annual revenue target at 200 million yuan for this year.
Cooperating with a cultural equity exchange is also on the table, he said.
"We're in talks with a cultural equity exchange called Huaren Shushang, and we plan to offer secondary trading with them at the end of May," Wang said, adding that such an exchange holds relevant trading licenses to operate cultural assets trading businesses.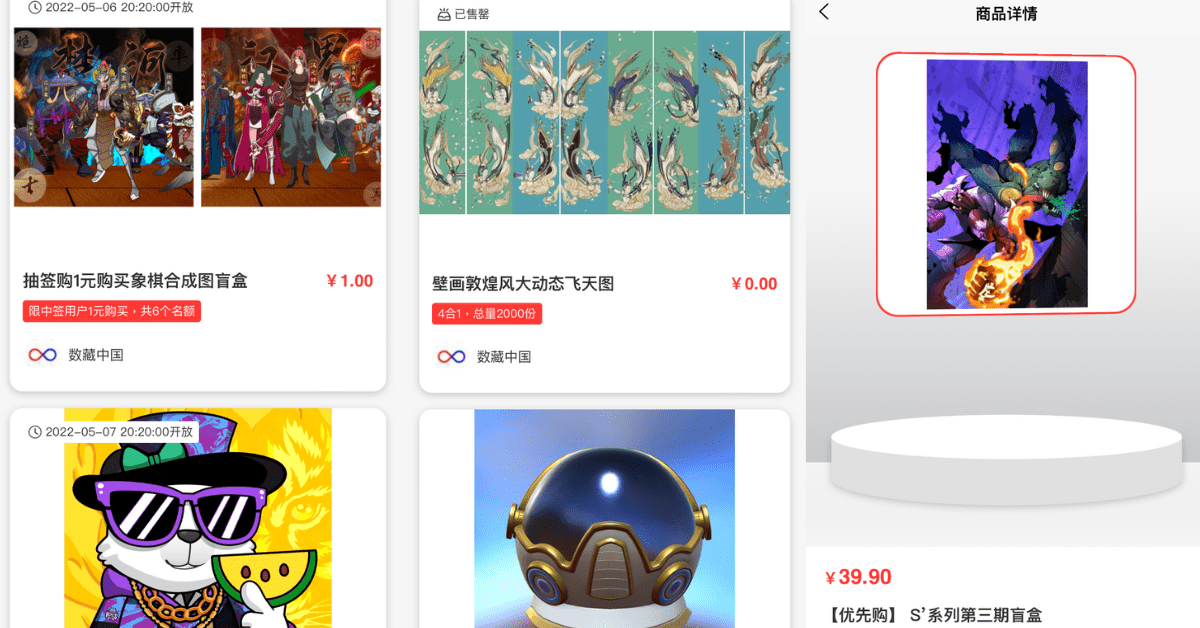 Hui Zhang, CEO of Chinese NFT issuance consultancy Metachi, said it's still unclear if cultural assets and equity exchanges can really offer a way out for NFT trading in China but it's a good exploration.
Although the government hasn't spelled out its stance on NFT trading, the April statement from industry lobbies, set up by Chinese regulators, can offer an insight into the thinking of authorities, Wang and Zhang said.
The Wild West
At some point, the industry associations hinted that NFT platforms should not just go ahead and operate secondary markets by themselves without proper trading qualifications, Zhang pointed out.
"It's important to have regulation in place to boost the development of the market," Wang said, adding that without clear rules, risky events may occur and in turn trigger regulators to ban trading with a one-size-fits-all approach.
Wang said that compliance was ShucangCN's top priority when the team decided on which blockchain to build on for the company's platform in November.
"We went with BSN," he said, as the team held a positive view on the outlook of BSN-DDC, a state-developed NFT infrastructure with no links to cryptocurrency.
"The industry can only thrive in a sound regulatory framework, or it may get banned completely just like what happened to the peer-to-peer lending industry," Wang said.
Wang was referring to the peer-to-peer (P2P) lending frenzy in China a few years back that forced the authorities' hand when many households were wrecked following an inability to pay back loans with debilitating interest payments.
China launched a multi-year clampdown on the industry, chopping the number of such platforms from 5,000 to just three in 2020, according to the country's banking regulator.
Lin, who likes to jump on the flavor of the season when it comes to investments, says he's late to the game as he only started buying NFTs earlier this year.
"My friends who bought into [digital collectibles] last year are already 'enjoying their meat' now," Lin added.
"Okay, stop asking questions," Lin quipped to Forkast reporter. "I need to take a nap now," he added as he spent his lunch break tracking the latest NFT sales.