China has re-emerged as one of the world's largest Bitcoin producers despite the government's 2021 blanket ban on cryptocurrency mining, according to a new study from the Cambridge Centre for Alternative Finance (CCAF).
In January, China controlled 21.1% of the global Bitcoin hashrate, to become the second-largest Bitcoin producer trailing the 37.8% in the U.S., according to the CCAF.
China's world-leading hashrate share dropped to zero in July and August last year following a series of intensive crackdowns on crypto mining, which subsequently led to a blanket ban on the sector in September.
However, China's Bitcoin hashrate surged back to 30.47 exahashes per second in September, right after the ban, suggesting "significant underground mining activity has formed in the country," the CCAF said.
A source from a Chinese mining rig repair company told Forkast that the majority of the firm's clients are still in China. The source requested anonymity due to the political sensitivity of the subject.
"Access to off-grid electricity and geographically scattered small-scale operations are among the major means used by underground miners to hide their operations from authorities and circumvent the ban," the CCAF said in the report, adding that underground miners could be using foreign proxy services to deflect scrutiny.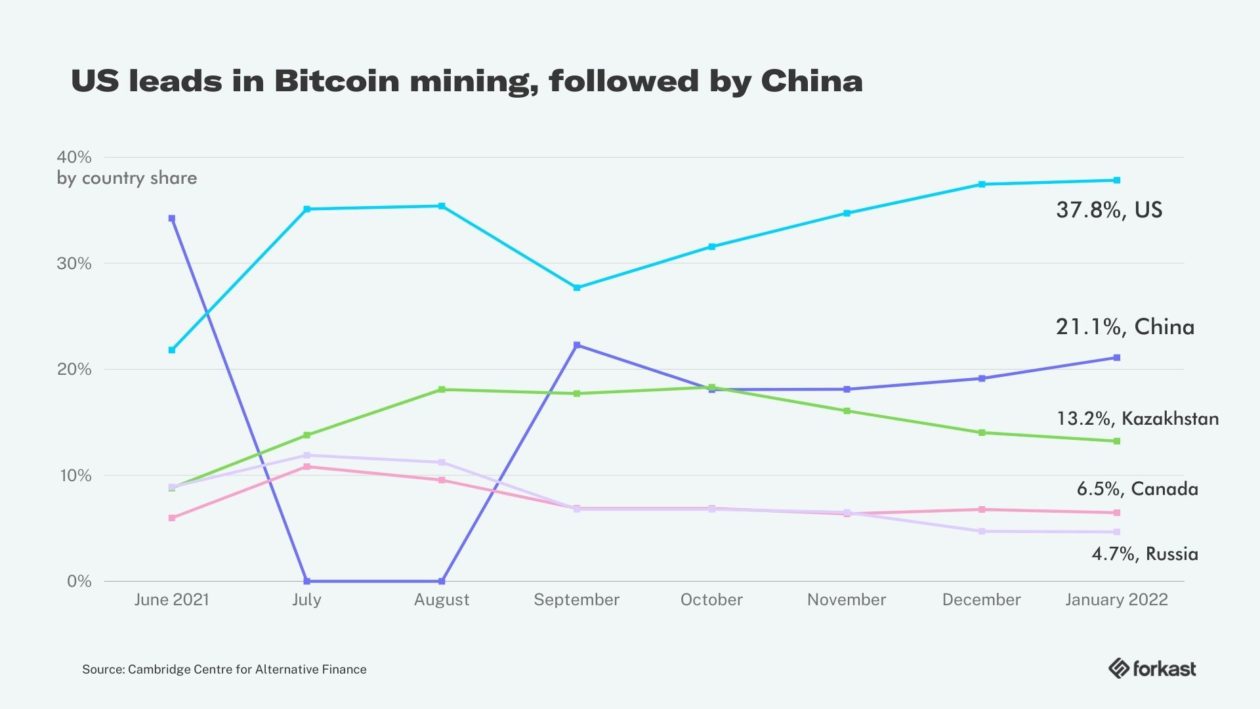 Chinese authorities have taken various approaches to identify and bust hidden mining operations. They have relied on unusual electricity consumption and IP addresses associated with mining pools to locate mining farms.
Some provinces have also increased electricity rates for miners as a penalty in an attempt to deter the resurgence of mining activities.
In March, the country's anti-graft watchdog warned that authorities are keeping a close eye on possible corruption behind underground crypto mining. It noted that some public servants use state resources to mine crypto.
The CCAF data showed that Kazakhstan, which became a popular destination for fleeing Chinese miners following Beijing's ban, placed third with 13.2% of Bitcoin hashrate share in January, followed by Canada at 6.5%.