Despite Covid-19's chill on the investment industry, investors are still keen on the blockchain industry — with a notable shift in interest and money toward Asia, according PwC and Crunchbase.a.
A new report by PwC, the professional services consultancy, has found that crypto M&A investment activity continues to shift away from the Americas, with 57% of deals occurring in Asia and Europe during the first half of 2020. This is up from 51% in 2019 and 43% in 2018.
PwC's aggregated data shows that $597 million was spent in 60 deals related to the blockchain and cryptocurrency industry in the first half of 2020, compared to $481 million spent in all of 2019 for 125 deals.
"We expect crypto M&A activity to remain strong for the coming months particularly with some of the larger or more profitable players acquiring firms that offer ancillary services to their current offerings," Henri Arslanian, PwC Global Crypto Leader, said in a statement. "We should expect the large crypto unicorns to become increasingly like crypto octopuses by acquiring or investing in various ancillary businesses in order to remain dominant."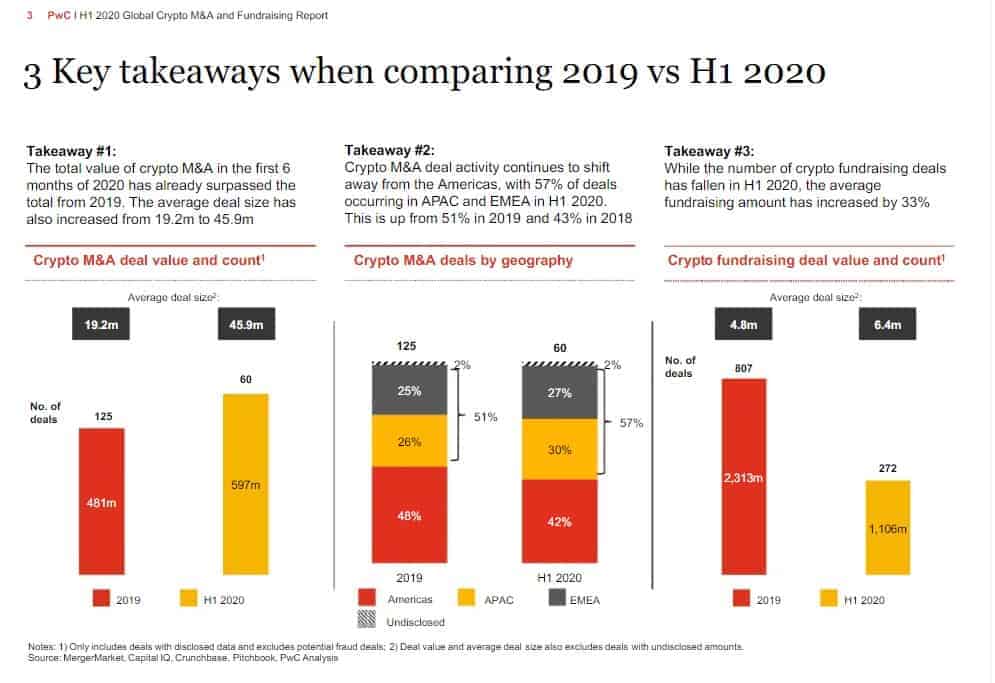 According to data sourced from Crunchbase, 38% of all the crypto industry-related deals closed this year were in the seed stage and only 10% series A. This shows that the market is maturing to a point where firms are graduating out of the seed stage and hitting a more mature point in their journey.
Investors seem to have a keen appetite for crypto exchanges and trading infrastructure, as that was a clear theme for purchases during the first half of the year, dominated by the mega-purchase of CoinMarketCap by Binance for a reported $400 million earlier this year.
Investors in Asia focused on nimble deals
As Asia's major economies recovered more quickly from the Covid pandemic and have reopened faster than those in the West, dealflow has rebounded as well.
According to Crunchbase, investors in Asia have closed 66 deals related to blockchain or crypto to date, with average funds raised coming in at $2.5 million. Within the region, investors are increasingly interested in smaller deals in the $1 to $2 million range for firms disrupting incumbent businesses, like remittances or currency exchanges.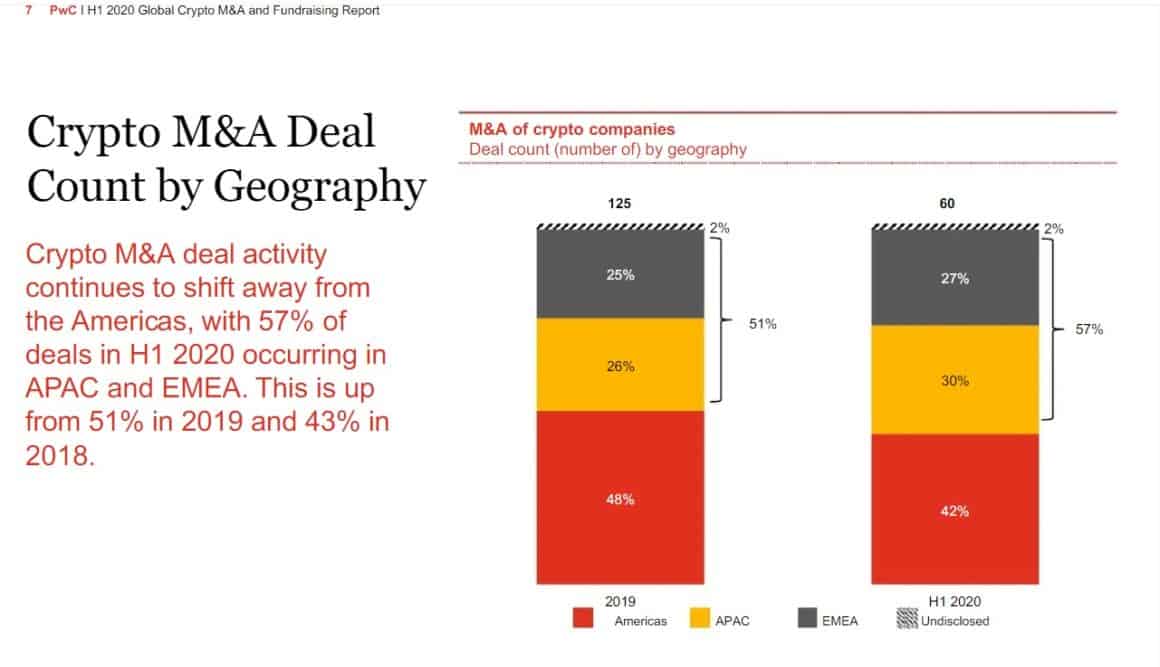 What's notable is the biggest deals in Asia aren't from trading infrastructure but rather from human resources and cybersecurity, with Singaporean HR software and blockchain-powered relocation specialists Moovaz raising $7 million in March and security firm HUB raising $5 million in May.
VC's have recovered from the Covid-cold
Forecasts from the start of the year were dire as to the health of the venture capital market, but all signs are pointing to a swift recovery — in more than just the VC space.
According to the PitchBook-NVCA Venture Monitor, exits are at an all time high. Investors have continued to consolidate capital into their most valuable and mature businesses, which is driving up the value and tempo of VC deals.
"Despite continued uncertainty throughout the year, the rebound in public markets has given investors' confidence. LPs are recommitting with proven GPs raising successor VC funds," said John Gabbert, founder and CEO of PitchBook in a statement.
"As investors seek growth opportunities in a low-rate environment, the growth potential of the venture strategy continues to entice both traditional LPs and nontraditional investors," he added. "Additionally, we saw the return of large IPOs during the third quarter and expect more in the coming months as VC-backed companies look to capitalize while the IPO window remains open."
According to PitchBook data, the third quarter this year saw a massive uptick in blockchain investments, with $103.9 billion raised across 185 exits, representing a quarter-on-quarter increase of 292.5% and 7.6%.