Bitcoin rose in early Monday morning trading in Asia to reclaim the US$30,000 support level, but later retreated. Ether moved higher to near US$1,900, while most other top 10 non-stablecoin cryptocurrencies logged gains. Cardano's ADA token led the winners. In other markets, NFTs traded flat, while U.S. equity futures did the same. The week ahead brings lots more earnings in the U.S. for investors to get a picture of the state of the economy, while the Federal Reserve has a two-day meeting where it's expected to raise interest rates.
Crypto
Bitcoin rose 1.33% over the 24 hours to US$30,059 as of 07:30 a.m. in Hong Kong, according to data from CoinMarketCap. Ether gained 1.73% to US$1,887.
However, both tokens have yet to make up losses for the past seven days, with Bitcoin off 0.37% for the week, while Ether is sitting on a weekly loss of 1.73%. Bitcoin fell back later in the morning.
Trading in Bitcoin and Ether will remain rangebound until the Fed decision on rates on July 27, Mark Wong, senior trader at Hong Kong-based digital asset platform Hashkey Group, said in a Friday newsletter. "A rate hike is all but priced in with an implied probability of 99.8% from the futures market," Wong said.
Most other top 10 non-stablecoin cryptocurrencies also traded higher Monday, with Cardano's ADA token leading the winners with a gain of 3.01% to US$0.3169 and up 0.59% for the week.
Input Output Global, one of the developers behind the Cardano blockchain, last week said Mithril – a Cardano stake-based signature scheme – was nearing its mainnet launch to improve the node syncing and security of the Cardano network.
On the regulatory front, a portion of the court's recent verdict in the Ripple case was "wrongly decided," said the U.S. Securities and Exchange Commission (SEC) on Friday in documents filed in its on-going lawsuit against Singapore-based Terraform Labs, hinting that the SEC would challenge the Ripple ruling.
The SEC in February charged Singapore-based Terraform Labs Pte and its co-founder Do Hyeong Kwon with orchestrating a multi-billion dollar crypto asset securities fraud involving an algorithmic stablecoin and other crypto asset securities.
The total crypto market capitalization rose 1.14% in the past 24 hours to US$1.20 trillion, while trading volume rose 13.56% to US$24.5 billion.
Forkast 500 flat, OpenSea starts NFT swapping
The main Forkast 500 NFT index edged up 0.08% in the past 24 hours to 2,674.69 as of 10:10 a.m. in Hong Kong. Forkast's Ethereum, Solana and Polygon NFT market indices moved lower, while the Cardano index logged gains.
Total NFT sales volume rose 1.30% in the past 24 hours to US$17.24 million, according to data from CryptoSlam, with the volume on Ethereum totaling US$12.02 million or more than two thirds of the total.
Among all NFT collections, Ethereum-based Bored Ape Yacht Club topped the 24-hour sales volume at US$1.60 million, edging up 1.19%. Volumes traded mixed in the top five NFT collections.
OpenSea, the world's second-largest NFT marketplace by trading volume, launched its "Deals" function on Friday, which allows its NFT holders to directly swap their collections with each other and include wrapped Ether (WETH) in their offers to sweeten up the transactions.
Elsewhere, the slump in value of Twitter Co-Founder Jack Dorsey's first NFT caught the attention of mainstream media including CNBC and the Economic Times on Sunday. The NFT, based on Dorsey's first Twitter post, sold at over US$2.1 million in 2021, but the highest offer for the NFT is now 1 ETH (US$1,875), according to OpenSea.
"The NFT market is looking rather flat in the Forkast 500 index, (which) reflects that continued downtrend we've been watching most of the year," Yehudah Petscher, NFT Strategist at Forkast Labs, said on Friday. The Forkast 500 NFT index has dropped over 35% since the start of the year.
"With the exception of January, the market almost completely slants right," said Petscher.
US equities await Fed, earnings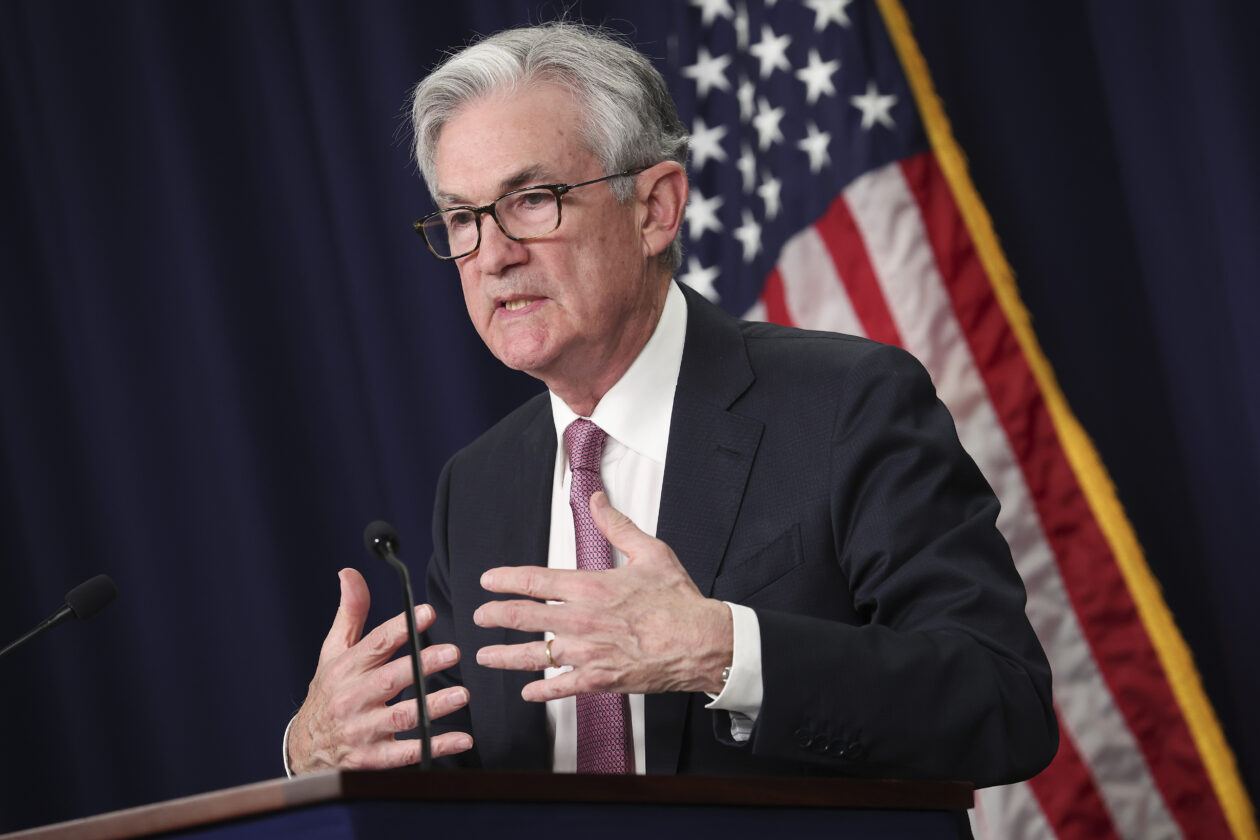 U.S. stock futures traded mixed as of 12:30 p.m. in Hong Kong, with Dow Jones Industrial Average and S&P 500 futures dipping and Nasdaq futures edging higher. The three major U.S. indexes closed mixed in regular trading on Friday.
Asia's main stock indexes also traded mixed on Monday morning. China's Shanghai Composite, Japan's Nikkei and South Korea's Kospi all gained, while Hong Kong's Hang Seng fell.
The U.S. Federal Reserve meets Wednesday and Thursday this week on interest rates and analysts overwhelmingly expect another 25-basis-point rate hike. The European Central Bank (ECB) is also expected to raise its rates later this week.
The CME FedWatch Tool predicts a 99.8% chance the Fed will raise rates to the range of 5.25% to 5.5% on July 26, the highest since January 2001.
With a rate hike priced into many markets, the focus on the Fed meeting will be forward guidance on monetary policies. Both Federal Reserve Chair Jerome Powell and ECB President Christine Lagarde have flagged stubborn inflation as a concern, according to Bloomberg on Saturday.
Along with the Fed and ECB, Japan's central bank will also meet this week, but there is little likelihood of any change to its ultra-loose monetary policy.
In the U.S. this week, more than 150 U.S. corporations, including Microsoft, Alphabet and Meta Platforms, will release second-quarter results.
(Updates with equity section.)