Tesla's huge investment in bitcoin, revealed in a recent SEC filing, set the market alight and pushed bitcoin prices to new all-time highs. The move also set off an unprecedented wave of activity among aspiring bitcoin miners, prompting a surge in demand for mining hardware.
Demand for bitcoin mining machinery has never been hotter, with new models already sold out and the second-hand market busier than ever.
The bitcoin bull market in the second half of 2020 has already led to supply shortage of crypto mining rigs. It has put additional pressure on the world's biggest bitcoin mining hardware manufacturers that were already facing production difficulties from the Covid-19 pandemic and a global shortage of semiconductors.
"[Elon] Musk's views largely represent the positive attitude of the tech elite towards bitcoin," Nangeng Zhang, the CEO of Canaan Inc., one of the biggest crypto-mining rig manufacturers in the world, told Forkast.News. "[The Tesla news] has attracted a large number of institutions, publicly-listed companies, and funds to increase their bitcoin holdings and even enter the crypto mining industry themselves."
Bitcoin mining equipment manufacturers facing a flood of demand
Canaan, which is headquartered in Beijing, has signed partnerships with several crypto mining firms, which ordered over 12,400 mining machines in total during the fourth quarter of 2020, Zhang said. "Canaan has locked in the whole year's worth of orders from overseas customers for 2021, with shipments of our A1246 Avalon Miners scheduled through to Q3."
Canaan is not the only crypto mining manufacturer facing a flood of demand. Beijing-based Bitmain Technology — which just resolved an infamous feud between its two co-founders — is the biggest crypto-mining equipment producer in the world. Bitmain is completely sold out of equipment through to August this year, even after nearly doubling the price of some models. Last November, Bitmain's Antminer S19 Pro reportedly sold for $1,897; now, the same machine is priced at $3,769, a 98% markup.
MicroBT, one of China's newest and biggest manufacturers of crypto mining equipment, famous for its WhatsMiner series sold out of new machines until May 2021.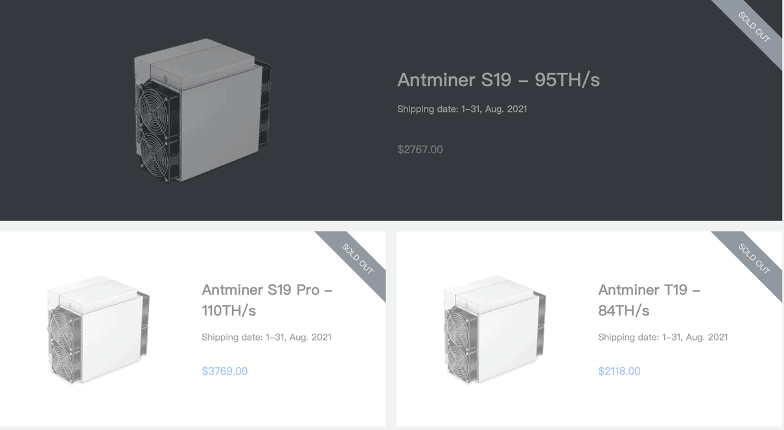 Bitcoin mining fever is also reflected in other bitcoin mining services, such as cloud mining services, which allow miners to participate remotely by renting cloud computing power instead of buying or renting mining machines directly.
"In the last three months, the sales of our 'joint mining' services have been very popular, and each batch of mining machines has been sold out," said Jiang Zhuoer, the CEO of BTC.TOP, one of China's major mining pools.
B.TOP, the subsidiary of BTC.TOP, provides "joint mining" services, which allows users to jointly purchase crypto mining machines and shares profits based on stakes they hold in the machine.
"It is expected that the order quantity will continue to increase," Jiang told Forkast.News. Currently, the most popular mining machines are bitcoin miners, especially Bitmain's Antminer. In order to fill customer needs, B.TOP is hunting for any available mining machines on the market, including second-hand machines.
Mining machine secondary markets surge
As a result of the shortage of new machines, miners are turning to the secondary market despite the machines being older and with possible quality issues. Even in China, with its highly developed and widely used e-commerce market dominated by platforms run by Alibaba and JD.com, it is hard to buy either new or second-hand mining machines online.
One reason for China's lack of e-commerce related to crypto mining equipment may be the nation's lack of clear regulations. While holding cryptocurrency is legal in China, crypto mining — which creates adds to the supply of cryptocurrency and affects the crypto market's liquidity — is in more of a regulatory gray zone.
Shenzhen Saige Electronics Market, one of China's best-known markets that sell mining machines, has been selling second-hand mining rigs at a big premium. Last month, a reporter from Jiemian.com visited the market as a prospective buyer and learned that the price of an Antminer S19 95T ranged from CNY 46,000, or about US$7,100, to CNY 49,000 yuan, or US$7,600 — a markup of around 40% from Bitmain's original listed price, according to checks by Forkast.News.
Aside from physical electronic markets, the private buying and selling of used mining machines via online forums is common. A recent search for second-hand mining machines on the forum Wakuang.com showed nearly 500 search results, suggesting an active market exists via that channel.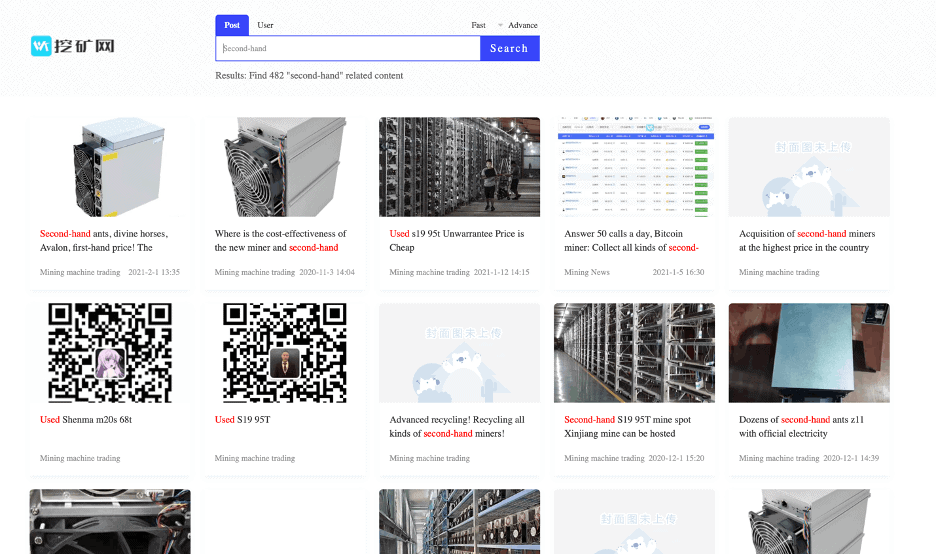 Despite the heightened demand, 2020 was not an easy year for mining machines manufacturers. As more investors stepped into the crypto mining sector toward the end of 2020, manufacturers struggled to keep pace.
"The ongoing Covid-19 pandemic and the plunging price of bitcoin in March 2020 meant that most hardware manufacturers were unprepared for the surge in market demand at the end of the year," Zhang said.
A global chip shortage also hampered the production of mining machines. The pandemic caused major disruption to the global industrial supply chain, Jiang said. He added that "industries from mobile phones to vehicles have recovered gradually this year. Demand for chips has soared."
The main producers of specially designed chips used in mining rigs, TSMC and Samsung Electronics, prioritize supplies to sectors such as 5G and consumer electronics, where chip demand is considered more stable, Alex Ao, Vice President at InnoSilicon Technology Ltd., a Silicon Valley-based chip designer and major provider of mining equipment, told Reuters.
Stimulated by Tesla's investment, the cryptocurrency and mining industry are on the radar of more investors. Yet, for the crypto mining industry, that could be a double-edged sword.
"Elon Musk's interest has helped to attract more companies to shift their focus to cryptocurrencies as a legitimate asset class — and the injection of large amounts of funds from institutional investors will only serve to promote the commercialization of cryptocurrency mining in the long run," Zhang said.
But for small miners, the equipment shortage and rising prices might make it that much harder for them to survive. "The whole mining industry has gradually become a capital-oriented one," Jiang said, adding that it may be inevitable that crypto mining will become more centralized and controlled by big miners in the future.