Bitcoin recovered to above US$27,000 on Wednesday morning in Asia, with nearly all other top 10 non-stablecoin cryptocurrencies rebounding even as U.S. regulators this week launched a series of lawsuits against Binance and Coinbase, two of the world's biggest crypto exchanges, alleging most tokens are unregistered securities. Polygon's Matic token was the exception, dipping 1.7% in the past 24 hours.
Bitcoin, Ether bounce
Bitcoin rose 5.36% over the last 24 hours to US$27,118 at 6:50 a.m. in Hong Kong, bouncing back to the same price range before the U.S. Securities and Exchange Commission (SEC) filed the lawsuits this week. The world's largest crypto by market capitalization was still down 2.32% over the past seven days, according to data from CoinMarketCap.
Ether climbed 4.01% in the past 24 hours to US$1,881, but logged a 1.32% weekly loss.
The meme coin Dogecoin led the winners this morning with a gain of 6.43%, edging out Bitcoin for the top spot. Polygon's Matic missed out on the rebound, sliding 1.7% in the last 24 hours, and lost 9.39% over the past week.
Nick Ruck, chief operating officer of non-fungible token (NFT) intellectual property licensing firm ContentFi, told Forkast that while the flurry of lawsuits by SEC chair Gary Gensler hit hard, the crypto market has largely held steady.
"The initial panic quickly wore off as many traders not only expected the lawsuits, but apparently dismissed them entirely," Ruck said. "A lawsuit may work against the SEC's expectations when these cases are determined by court judges rather than Gary Gensler's opinion."
Bloodbath
While prices came back among leading tokens, Jeff Mei, the chief operating officer of the BTSE crypto exchange in the British Virgin Islands, said "we've seen something of a bloodbath for altcoins."
He said this is likely due to the SEC lawsuits naming a "basket of altcoins as securities, while not categorizing BTC and ETH in the same class."
This creates volatility opportunities for savvy investors, but requires care to navigate, he added.
On Tuesday, just a day after the SEC sued Binance for alleged securities violations, the same regulator filed suit against Coinbase, the largest crypto exchange in the U.S., for allegedly breaching securities rules.
The SEC alleges San Francisco-based Coinbase made billions of dollars unlawfully facilitating the buying and selling of crypto asset securities since at least 2019, according to its statement released Tuesday.
SEC Chair Gary Gensler tweeted Tuesday that Coinbase's alleged failures "deprive investors of critical protections, including rulebooks that prevent fraud and manipulation, proper disclosure, safeguards against conflicts of interest, and routine inspection by the SEC."
In a related development showing coordination among financial regulators across the U.S., the Alabama Securities Commission on Tuesday filed a so-called show cause order to Coinbase, backed by regulators in many other states.
"The Order gives Coinbase 28 days to show cause why they should not be directed to cease and desist from selling unregistered securities in Alabama," according to the notice. It adds that nine other state regulators, including California where Coinbase is based, were part of a multi-state task force involved in the order.
Back and forth
In response, Brian Armstrong, chief executive officer of Coinbase, tweeted that the company was "proud to represent the industry in court to finally get some clarity around crypto rules."
Armstrong noted that the SEC reviewed Coinbase's business and approved it to sell shares to the public in 2021. He added that the SEC and the Commodity Futures Trading Commission have made conflicting statements on crypto assets don't agree on what is a security and what is a commodity.
Coinbase had argued back in April that the SEC's attacks against Coinbase appeared to be undermining its own role as the approver of companies registering to sell shares to the public.
Coinbase shares dropped 12.09% at the close of U.S. trading on Tuesday, but rose 2.48% in after-hours trading.
In an additional action against Binance, the SEC on Tuesday asked a federal judge to freeze the assets of Binance.US, the crypto trading platform set up by Binance chief Changpeng Zhao to serve U.S. clients.
In response, Binance.US tweeted on Tuesday that user assets "remain safe and secure" and "the platform continues to be fully operational with deposits and withdrawals functioning as normal."
Denys Peleshok, head of Asia at London-based multi-asset brokerage CPT Markets, said: "The SEC has had a very aggressive approach toward crypto companies for some time now and could be increasingly creating an unwelcoming environment for such firms and for the crypto industry as a whole in the country."
Republican Senator Cynthia Lummis followed up on this theme in criticism of the SEC actions in a tweet on Tuesday.
"Real consumer protection requires creating a robust legal framework that exchanges can comply with, not pushing the industry offshore into the shadows."
Different view
"Tech start-ups are encouraged to 'run fast and break things' and to 'ask for forgiveness, not permission,' however when the sector the start-up is operating in is finance and investments, there can be real consequences to this approach," said Bradley Duke, founder and Co-CEO at ETC Group that specializes in exchange traded crypto products.
"This is especially true in the US, where there is an absence of a regulatory framework for crypto, coupled with a regulator that has taken a very aggressive stance towards companies operating in the space," Duke said in email comments.
Not everyone in the blockchain world agrees that the SEC is out of order.
"What we've seen with crypto exchanges is they have created a market where they act as the Exchange, Broker Dealer, Depository, the Transfer Agent, and even as the Regulator in some cases," said Jai Waterman, the chief executive officer of U.S.-based Blockstation.
"In this case, Binance operates as all of the above. It is no surprise to us that regulatory action would be taken, and that the SEC is going after Binance and Coinbase, we expected it to happen sooner," said Waterman at Blockstation, which describes itself as a blockchain-driven platform for tokenizing, listing, trading, clearing and settlement of digital assets and securities.
"A lot of what's listed on Binance and Coinbase, I would argue, are securities and whereas in the traditional securities market you have decentralization of duties, crypto exchanges are adding significant risks by playing all parts," he said.
NFT sales rise
In the NFT market, the Forkast 500 NFT index edged down 0.08% to 3,284.07 in the 24 hours to 9:40 a.m. in Hong Kong.
NFT sales on Ethereum rose 22.81% over the last 24 hours to US$30.06 million, and sales on the Bitcoin network jumped 159.38% to US$8.5 million, according to CryptoSlam data.
"NFT traders are rather bullish still on the space in the short term, though watching carefully," Yehudah Petscher, NFT Strategist at Forkast Labs, the parent company of Forkast.News, said on Wednesday.
Petscher added that NFTs generally trade in cycles between art and profile picture (PFP) NFTs. "Though, with news about the SEC filing lawsuits against Coinbase and Binance, all bets are off."
The NFT market saw a large art sale on Tuesday. Digital artist Tyler Hobbs' Fidenza #545 was sold for around US$1.1 million in a reserved sale, according to NFT marketplace OpenSea.
"High art sales are an indicator that NFTs may be primed for some action, but the SEC trying to freeze Binance's U.S. assets and potentially Coinbase's does have people considering what their best moves are," Petscher added.
Ruck of Singapore-based ContentFi said that Binance is "placing bets on their involvement in the future of the NFT industry," as the world's largest crypto exchange launched support for Bitcoin NFTs on Tuesday even after being sued by the SEC.
Bored Ape Yacht Club had the biggest sales in the past 24 hours with a 1.36% rise to US$14.27 million.
Uncategorized Ordinals – recently popular Bitcoin Ordinals that are not part of an established collection – recorded a 5.11% increase to US$6.49 million in sales over the past 24 hours.
Coinbase shares drop amid broader stock rally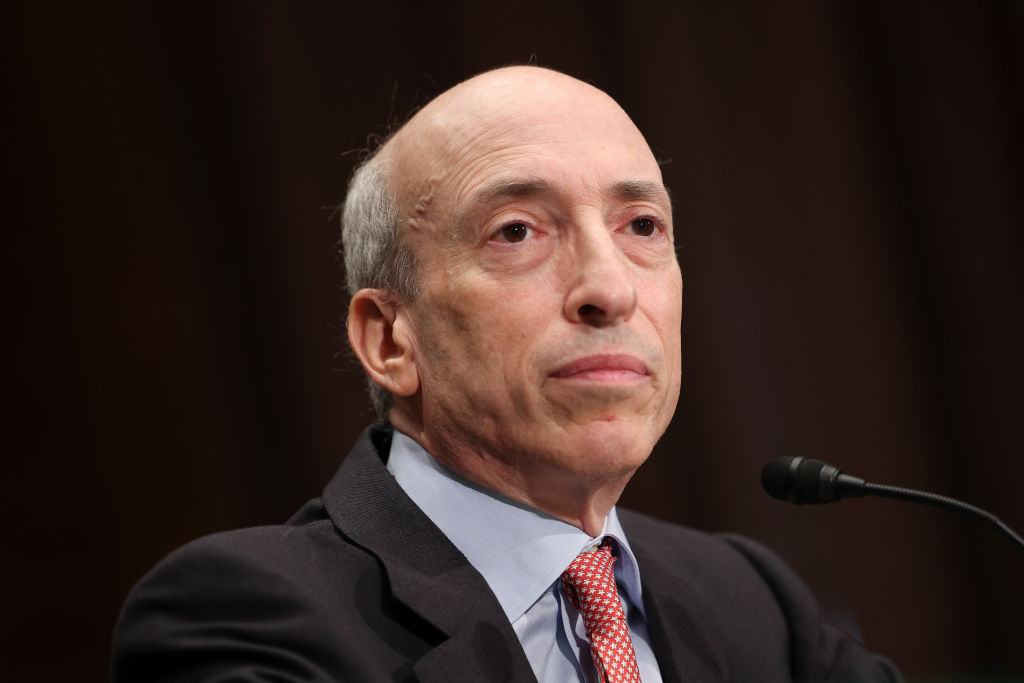 Shares of Coinbase dropped 12.09% at the close on Tuesday following a 9.05% fall on Monday, while shares of Microstrategy, the world's largest corporate holder of Bitcoin, rose 8.13% on Tuesday, recovering from its 8.53% decline on Monday.
Mei at BTSE said the sharp difference in stock performance shows the outsize impact of the SEC's actions on market sentiment for altcoins as opposed to Bitcoin.
The S&P 500 closed up 12.02% on Tuesday, reaching its highest level since August 2022.
U.S. stock futures were mixed as of 11:50 a.m. in Hong Kong. Dow Jones Industrial Average futures edged up 0.02%, and S&P 500 futures gained 0.08%. Nasdaq Futures fell 0.03%.
In macroeconomic developments, the U.S. Federal Reserve will meet on June 14 to make its next move on interest rates, which are now between 5% and 5.25%, the highest since 2006.
The CME FedWatch Tool now predicts a 80.6% chance the Fed will leave rates unchanged in June, and a 19.4% chance for another 25-basis-point rate hike.
(Corrects Different View section to show Blockstation in based in U.S., not Canada.)