Bitcoin traded flat on Wednesday morning in Asia as risk-aversion remained the market theme, though the token managed to hold above US$29,000. Analysts say a possible extended legal fight between the U.S. regulator and Ripple Labs as well as comments from the Federal Reserve on the interest rate outlook expected later today is breeding caution. Ether also treaded water, while other leading tokens were a mixed picture. Dogecoin led the winners again on speculation it may be integrated into Twitter as the social media app gets revamped into a more general-purpose platform. Elsewhere, the Forkast 500 NFT index dipped and U.S. equity futures traded mixed after Wall Street closed higher on Tuesday.
Bitcoin lacking catalysts
Bitcoin inched 0.14% higher over the last 24 hours to US$29,222 as of 07:35 a.m. in Hong Kong, but lost 2.07% for the week, according to data from CoinMarketCap. After briefly falling to a monthly low of US$28,890 on Monday, the world's leading cryptocurrency has seemingly found support around US$29,000.
"Several factors are currently affecting Bitcoin and cryptocurrencies, including concerns about the Ripple case resumption and investors' speculation on Bitcoin investment funds," Rania Gule, an analyst at Cyprus-headquartered multi-asset broker XS Group, said in an emailed comment.
The market is keeping a close eye on the Federal Reserve's interest rate decision, while negative headlines about Binance, the world's largest digital currency exchange, contributed to price declines across crypto, Gule added.
"The main trendline support currently stands at $26,800, and as long as Bitcoin remains above it, the trend is expected to be bullish," said Gule.
William Cai, co-founder and managing partner at New York-based asset manager Wilshire Phoenix, said Bitcoin has been trading within a tight US$25,000 to US$30,000 range and is in search of a story and "a major Fed rate or language surprise this week could provide the impetus needed to break out."
Reflecting the current lacklustre trend, CoinMarketCap's fear and greed index, a measure of market buy and sell sentiment, fell further into neutral territory on Wednesday with a reading of 52.
The caution was reflected in digital asset investment products that saw net outflows of US$6.5 million in the week ending July 21, following four prior weeks of consecutive inflows that totaled US$742 million, according to a Monday report from European cryptocurrency investment firm CoinShares. 
Trading volumes in such investment products last week fell to US$1.2 billion, below the yearly average and down from US$2.4 billion the prior week, according to CoinShares. By regions, the U.S. and Canada saw 97% of the total outflows of US$21.7 million.
Bitcoin-backed investment products were the primary focus which saw US$13 million of outflows last week, while Ether-backed products logged an inflow of US$6.6 million, suggesting sentiment is improving around the second largest cryptocurrency.
Ether edged up 0.41% to US$1,857 in early trading in Asia on Wednesday, but remained 2.17% lower for the week.
Other top 10 non-stablecoin cryptocurrencies traded mixed, with Dogecoin, XRP, and Tron's TRX logging gains, while the rest declined. Polygon's Matic led the losers, falling 2.84% to US$0.7081 and down 4.12% for the week.
Dogecoin again headed the winners list on optimism it could become a feature in Twitter's rebranding to X.com, which will include functions such as "payments/banking," according to Twitter Chief Executive Officer Linda Yaccarino on Monday.
"Dogecoin rallied recently as speculation increased that the meme coin could be used as a payment mechanism for the rebranded Twitter platform," said Markus Thielen, head of crypto research & strategy at digital asset service platform Matrixport, in an emailed comment.
"As crypto is entering the summer lull that we initially expected for August, DOGE might be the summer's highflyer as other crypto themes are taking a backseat."
The total crypto market capitalization edged up 0.22% in the past 24 hours to US$1.17 trillion, while trading volume fell 27.41% to US$25.68 billion.
Forkast 500 dips, Axie Infinity developer to make NFT game with CyberKongz
The main Forkast 500 NFT index dipped 0.60% in the past 24 hours to 2,642.91 as of 09:30 a.m. in Hong Kong, down 2.60% for the week. Forkast's Ethereum, Solana and Polygon NFT market indexes also logged losses, while the Cardano index edged higher.
Total NFT trading volume dipped 2.90% in the past 24 hours to US$17.77 million, according to data from CryptoSlam. Volumes on the Polygon Solana and Bitcoin networks rose, while Ethereum, BNB Chain and Cardano logged losses
By NFT collections, Ethereum-based Bored Ape Yacht Club (BAYC) topped the 24-hour trading volumes, though total trades fell 39.79% to around US$695,000.
"It's another slow day in the NFT market, with a majority of NFT trades still being wash trades, or sellers accepting points farmers offer on Blur," said Yehudah Petscher, NFT Strategist at Forkast Labs.
The floor prices of leading Ethereum NFT collections Bored Ape Yacht Club and Mutant Ape Yacht Club (MAYC) have dropped 18% and 25% in the past 30 days, while trading volumes in the two collections over the same period slumped 80% and 67% respectively, according to NFT data tracker WGMI.io.
"There's nothing happening out there to make buyers want to buy NFTs at the prices they're at still. Really, they're massively overpriced even after declining over the year," said Petscher.
Yuga Labs, the developer of BAYC and MAYC, launched "Made by Apes" on Tuesday – a platform that grants BAYC and MAYC holders unique on-chain licences for their own products or services featuring the ape-themed NFTs.
BAYC holders have already been building businesses around their collections, including fast food, clothing, and beverage operations, and more brands are using BAYC in promotions.
"During this bear market we are seeing actual utility begin to get fleshed out like with Yuga Labs' new fully on-chain IP licensing platform," said Petscher.
Elsewhere, Sky Mavis, the Vietnam-based developer behind play-to-earn NFT game Axie Infinity, announced a partnership with NFT project CyberKongz on Tuesday, where the two will jointly develop an NFT game based on CyberKongz's incoming Genkai NFT collection.
U.S. equity futures stall ahead of Fed move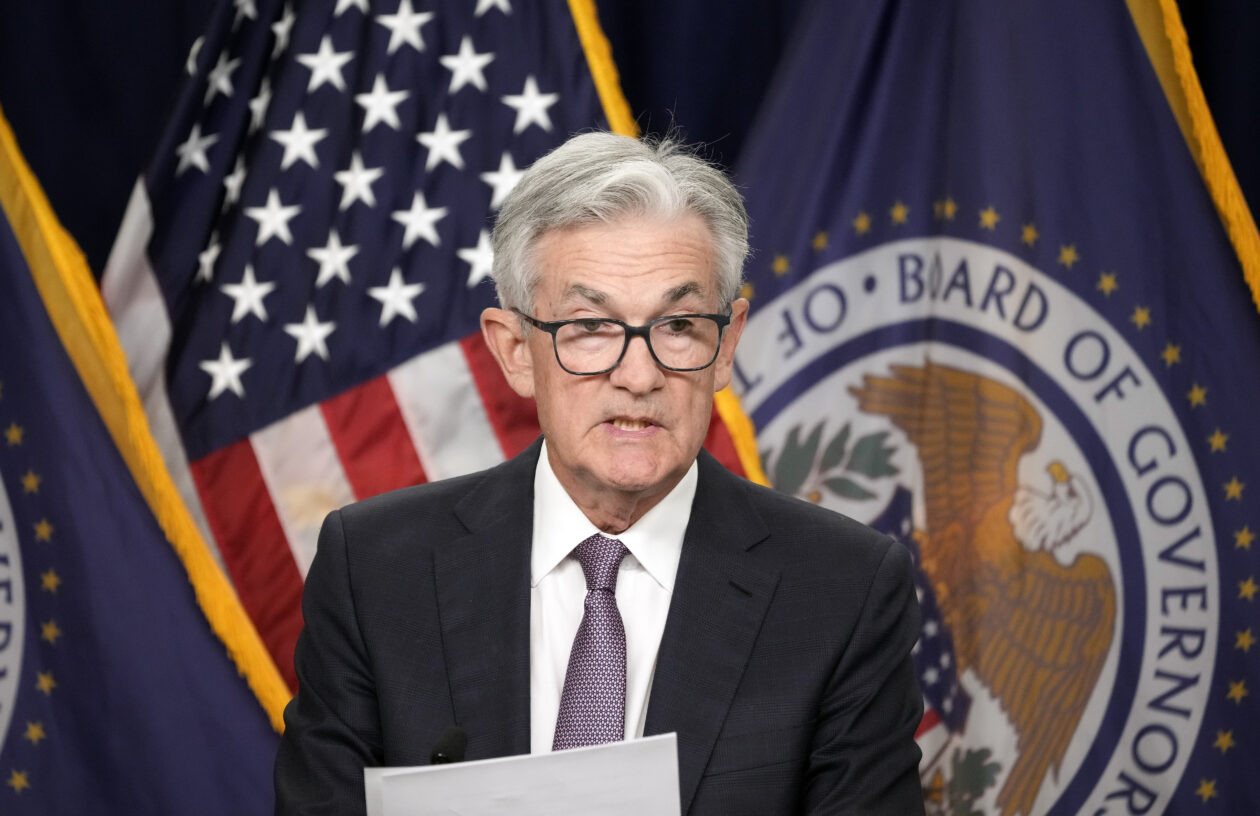 U.S. stock futures traded mixed as of 11:30 a.m. on Wednesday in Hong Kong, with Dow Jones and Nasdaq futures inching lower, while S&P 500 futures edged up.
All three major U.S. indexes closed higher in regular Tuesday trading, with the Dow Jones Industrial Average logging gains for the 12th consecutive day, extending its longest winning streak in six years.
In Asia, the main stock indexes fell on Wednesday ahead of the U.S. Federal Reserve's interest rate announcement later today. China's Shanghai Composite, Hong Kong's Hang Seng, South Korea's Kospi and Japan's Nikkei all logged losses.
Although a China Politburo meeting on Monday pledged policies to support the country's ailing property market and revive domestic consumption, China's stock market requires imminent and actionable measures from the government, Bloomberg reported on Tuesday citing a note by U.S. investment bank Morgan Stanley.
The U.S. Fed announces its interest rate decision on Wednesday with analysts at the CME FedWatch Tool predicting a 98.9% chance for a 25-basis-point rate hike this month.
With a rise in rates mostly priced into markets, the focus of attention will be comments by Fed chair Jerome Powell on how the central bank views inflation trends, offering some pointers on future monetary policies.
The current Fed under Powell has raised rates 10 times since March 2022 to tackle inflation that was running at 40-year highs last year. The annual inflation rate has since fallen to 3% in June from more than 9% last year.
However, with inflation still above the Fed's target of 2%, economists forecast more potential hikes this year based on recent comments by Powell.
On the economic data front, the U.S. consumer confidence index hit a two-year high in July, according to the U.S. think tank Conference Board on Tuesday, "likely reflecting lower inflation and a tight labor market."
The consumer confidence index, together with data on inflation, the housing market and retail sales, contributed to the optimism that the U.S. economy could avoid a recession in 2023, Reuters reported on Wednesday.
(Updates with equity section, adds fear and greed index in first section.)