Bitcoin traded above US$30,000 in Thursday morning trading in Asia, leading gains across all top 10 non-stablecoin cryptocurrencies by market capitalization. The rally follows news of more major financial institutions venturing into crypto after BlackRock announced a Bitcoin ETF application last week. In addition, the U.S. Federal Reserve Chair Jerome Powell said in congressional testimony on Wednesday that Bitcoin has "staying power."
Crypto
Bitcoin surged 6.72% over the last 24 hours to US$30,118.51 at 7:00 a.m. in Hong Kong, up 20.33% for the past week, according to CoinMarketCap data. The world's largest cryptocurrency broke through the US$30,000 resistance line early morning on Thursday for the first time since April.
Ether also rose 6.04% to US$1,893, gaining 14.79% for the week.
"Market confidence has recently been buoyed by BlackRock's BTC ETF application as they've successfully attained 575 ETF applications with only one denial, while Fidelity is rumored to be following right behind with a BTC ETF application too," said Nick Ruck, the chief operating officer of blockchain venture studio ContentFi Labs, in an emailed statement.
BlackRock, the world's largest asset manager with US$8.59 trillion under management as of the end of 2022, filed an application on June 15 for the Bitcoin exchange-traded fund (ETF). Other leading financial institutions followed, despite U.S. regulators this month filing lawsuits against crypto exchanges, alleging they illegally trade many tokens that should have been registered as financial securities.
In a related bullish development, EDX Markets, the New Jersey-based digital asset exchange backed by Wall Street firms, such as Citadel Securities, Fidelity Investments and Charles Schwab Corp., opened for business in the U.S. on Tuesday. The exchange offers Bitcoin, Bitcoin Cash, Ethereum and Litecoin tokens for trading.
Deutch Bank AG, Germany's largest bank, has also applied to a local regulator for a license to operate as a crypto custodian, Bloomberg reported on Tuesday.
"Jerome Powell also made some remarks about Bitcoin that could be interpreted as bullish," Benjamin Stani, the director of business development and sales at crypto trading platform Matrixport, told Forkast via Telegram message.
Powell reportedly said during a monetary policy hearing at Capitol Hill on Wednesday that cryptocurrencies like Bitcoin have "staying power" as an asset class, and that the central bank regards stablecoins used for payments as a form of money. He also said that the central bank should have a stronger role in regulating stablecoins.
All other top 10 non-stablecoin cryptocurrencies gained in the past 24 hours. Cardano's ADA jumped 7.02% to US$0.287 for a weekly increase of 9.61%, helped by news of network improvements. Litecoin rose 6.56% to US$85.28, up 16.87% in the past seven days.
Ripple's XRP token jumped 5.10% to US$0.5217 Thursday morning after San Francisco-based Ripple Labs said it received in-principle approval from the Monetary Authority of Singapore to offer digital payment services in the city-state.
The total cryptocurrency market capitalization rose 4.96% to US$1.17 trillion in the last 24 hours, while trading volume surged 59.05% to US$60.3 billion, according to CoinMarketCap data.
NFT little changed
In the non-fungible token (NFT) market, the Forkast 500 NFT index rose 0.43% to 2,910.36 in the 24 hours to 8:45 a.m. in Hong Kong. The index is down 0.50% for the week.
Total NFT transactions rose 1.15% to US$53.4 million, while transactions on Ethereum rose 81% to US$15.3 million.
"Overall kind of a boring day in NFTs," said Yehudah Petscher, NFT Strategist at Forkast Labs, the parent company of Forkast.News. "There is some excitement about all of the news in crypto, but that's not impacting NFTs yet, other than helping us stay even instead of maintaining that decline we were in."
Ethereum-based Bored Ape Yacht Club NFT transactions surged 95.51% to US$1.9 million. Transactions in Mutant Ape Yacht Club, another collection from Yuga Labs, grew 44.93% to exceed US$1 million. Yuga Labs said Wednesday it is launching a new game on June 29 based on its Bored Ape-related HV-MTL NFT collection.
U.S. futures dip following Powell speech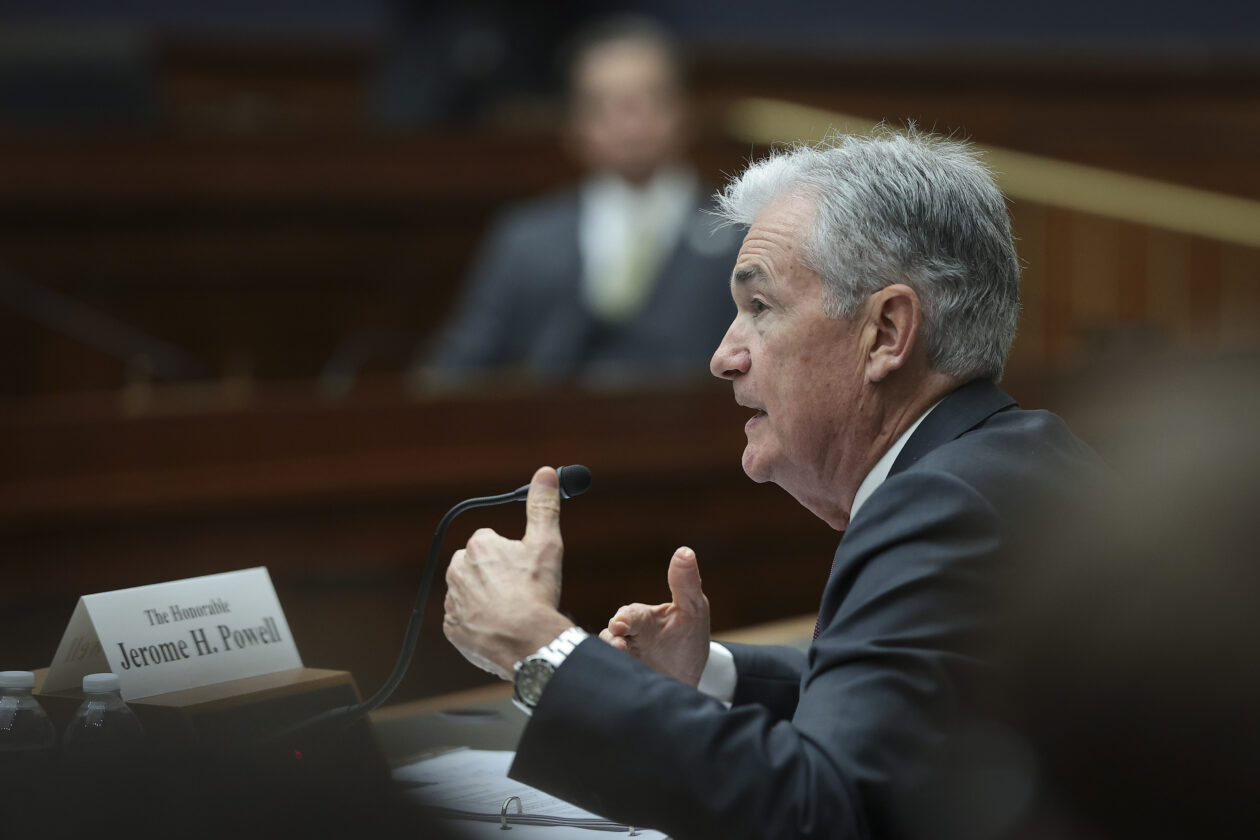 U.S. stock futures traded lower as of 11:30 a.m. in Hong Kong. Dow Jones Industrial Average futures and the S&P 500 futures both inched down 0.11%, while Nasdaq futures dipped 0.19%.
The three major U.S. stock indexes closed lower on Wednesday after Fed chair Powell told a U.S. Congress committee that interest rate will need to go higher to tame inflation, which is now at around 4.05% or on a declining trend, but still more than double the Fed's target of 2%.
While the Fed left rates unchanged at its meeting on June 14, it does project rates to reach 5.6% in 2023, indicating two more rate hikes within the year.
"Inflation remains well above our longer-run goal of 2 percent," Powell said. "Nearly all FOMC participants expect that it will be appropriate to raise interest rates somewhat further by the end of the year."
Powell is scheduled to speak again on Thursday before the Senate Banking Committee.
U.S. interest rates are now between 5% and 5.25%, the highest since 2006. The Federal Reserve's next meeting on rates is July 26. The CME FedWatch Tool predicts a 28.1% chance the Fed will keep rates unchanged in July, and a 71.9% chance for another 25-basis-point rate hike, down from 76.9% on Wednesday.
(Updates with equities section.)