Bitcoin fell but stayed above the US$30,000 threshold on Thursday morning in Asia. All top 10 non-stablecoin cryptocurrencies traded lower after MicroStrategy, the world's largest corporate Bitcoin holder, said Wednesday it has acquired 12,333 Bitcoin for $347 million over the past two months. Additionally, traditional financial institutions continue to show interest in venturing into the U.S. digital asset industry, with ARK Invest amending its spot Bitcoin exchange-traded fund (ETF) application to enhance the chance for regulatory approval.
Bitcoin, altcoins lose ground
Bitcoin dropped 1.57% to US$30,103 over the last 24 hours to 7:00 a.m. in Hong Kong, according to data from CoinMarketCap. The world's largest cryptocurrency by market capitalization is down 0.12% over the past seven days.
Ether fell 3.12% to US$1,827 for a loss of 3.51% for the week.
All other top 10 non-stablecoin cryptocurrencies traded lower. Cardano was the biggest loser among the top 10, logging a 6.49% 24-hour fall and a 6.65% weekly loss.
On Wednesday, business analytics firm MicroStrategy said in an exchange filing that between April 29 and June 27, the company and its subsidiaries together acquired roughly 12,333 Bitcoin for US$347 million in cash at an average price of US$28,136 per Bitcoin.
That purchase took its total Bitcoin holdings to 152,333 Bitcoin as of Tuesday, the company said.
Meanwhile, on Wednesday, investment management fund ARK Invest filed an amendment to its April application for a spot Bitcoin ETF. The application — which would see the firm partner with crypto exchange-traded product provider 21Shares — now includes a proposed surveillance-sharing agreement.
As seen in the ETF application made by investment firm BlackRock earlier this month, an agreement of that kind is seen as a way to prevent market manipulation, increasing the application's chances of success. If approved, it would become the first such ETF in the U.S. market.
21Shares said Wednesday that the recent wave of spot Bitcoin ETF applications is "validating" for investors in the asset class.
"Bitcoin has proven its value as an investable asset and disruptive technology, amidst the current markets and regulatory headwinds," Hany Rashwan, co-founder and chief executive officer of 21Shares, said in the statement.
The total cryptocurrency market cap dropped 2.26% to US$1.16 trillion, with trading volume dropping 3.77% to US$34.12 billion, according to CoinMarketCap data.
Azuki floor price plummets
In the non-fungible token (NFT) market, the Forkast 500 NFT index dipped 0.79% to 2,852.82 in the 24 hours to 9:20 a.m. in Hong Kong. The index is down 1.79% for the week.
NFT trading volume on Ethereum dropped 56.24% to US$27.39 million over the past 24 hours, while volume on the Bitcoin network rose 105.26% to US$2.83 million, according to CryptoSlam data.
Azuki-related NFT collections topped the chart in CryptoSlam's sales volume ranking. The new Azuki Elementals collection logged a 34.02% increase in the past 24 hours to US$6.04 million in sales volume.
Sales of the original Azuki dropped 24.16% to US$4.59 million, and the Azuki Elemental Beans sales dropped 91.21% to US$2.96 million.
While the new Azuki Elementals sold out its 20,000 NFTs within 15 minutes when it began minting on Tuesday, collectors were "angry" as the new NFTs looked almost identical to the original Azuki collection. According to Yehudah Petscher, NFT strategist at Forkast Labs, the parent company of Forkast.News, that could potentially devalue the NFT industry as a whole.
"Lenders are taking a hit on Azuki NFTs as the prices have fallen, borrowers default on loan, and then new owner immediately sells to recover what they can before the price falls even further," Petscher said. "It's a vicious cycle that has yet to find the bottom."
The floor price of Azuki Elementals dropped to 1.38 Ether (US$2,530) on Thursday morning in Asia from its mint price of 2 Ether, according to data from NFT tracker NFTpricefloor.com. The original Azuki NFT's floor price fell to 8.85 Ether from over 17 Ether a week ago.
Criticism from the Azuki community led its development team to admit mistakes had been made in the design of the Elementals collection.
The Azuki project then teased what appears to be a "green beans" new collection, which NFT enthusiasts "speculate may evolve the initial Azuki 10,000 collection into a different looking new collection," Petscher added.
Powell signals more restrictions coming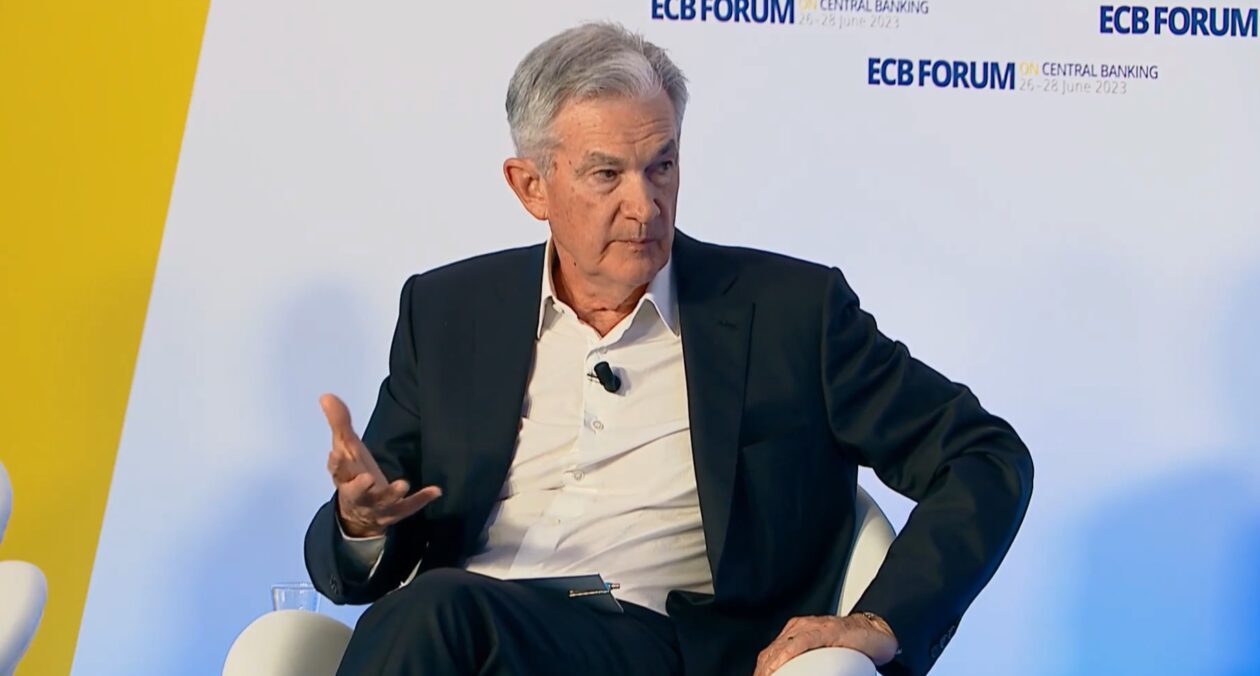 Asia equity markets mostly edged higher on Thursday morning as investors weighed the risk outlook for potential interest rate hikes in the U.S. this year.
U.S. stock futures rose as of 10:30 a.m. in Hong Kong. Dow Jones Industrial Average futures edged up 0.13%, S&P 500 futures climbed 0.13%, and Nasdaq Futures added 0.19%.
U.S. Federal Reserve Chairman Jerome Powell said Wednesday at a European Central Bank forum in Portugal that there will be "more restriction coming," signaling that the Fed may raise rates at the next two meetings if necessary.
"I wouldn't take…moving at consecutive meetings off the table," Powell said.
Powell is expected to speak again on Thursday at the Banco de España Fourth Conference on Financial Stability in Madrid, Spain.
U.S. interest rates are now between 5% and 5.25%, the highest since 2006. The CME FedWatch Tool predicts an 81.8% chance for another 25-basis-point rate hike, and an 18.2% chance the Fed will leave rates unchanged at the next meeting on July 26.
Markets in Singapore, Malaysia and Indonesia are closed for the Eid al-Adha holidays.
(Updates to add equities section)