A "substantial amount of assets" of collapsed cryptocurrency exchange FTX have either been stolen or are missing, an attorney for FTX said on Tuesday at its first hearing in the federal bankruptcy court in Delaware, U.S.
"What we have is a worldwide organization but an organization that was run, effectively as a personal fiefdom of Sam Bankman-Fried," said James Bromley of law firm Sullivan & Cromwell, who was appointed counsel by new FTX leadership.
"We have witnessed probably one of the most abrupt and difficult collapses in the history of corporate America," he added.
Bromley's description of FTX came after the exchange filed for Chapter 11 bankruptcy on Nov. 11. In a bankruptcy filing on Nov. 14, FTX said that it has more than 100,000 creditors and that figure could exceed one million.
A document presented at the hearing showed that the Cayman Islands had the most FTX users, accounting for 22% of the exchange's global users before bankruptcy proceedings, followed by 11% in the Virgin Islands and 8% in the U.K. Users in the U.S. accounted for 2% of the global total.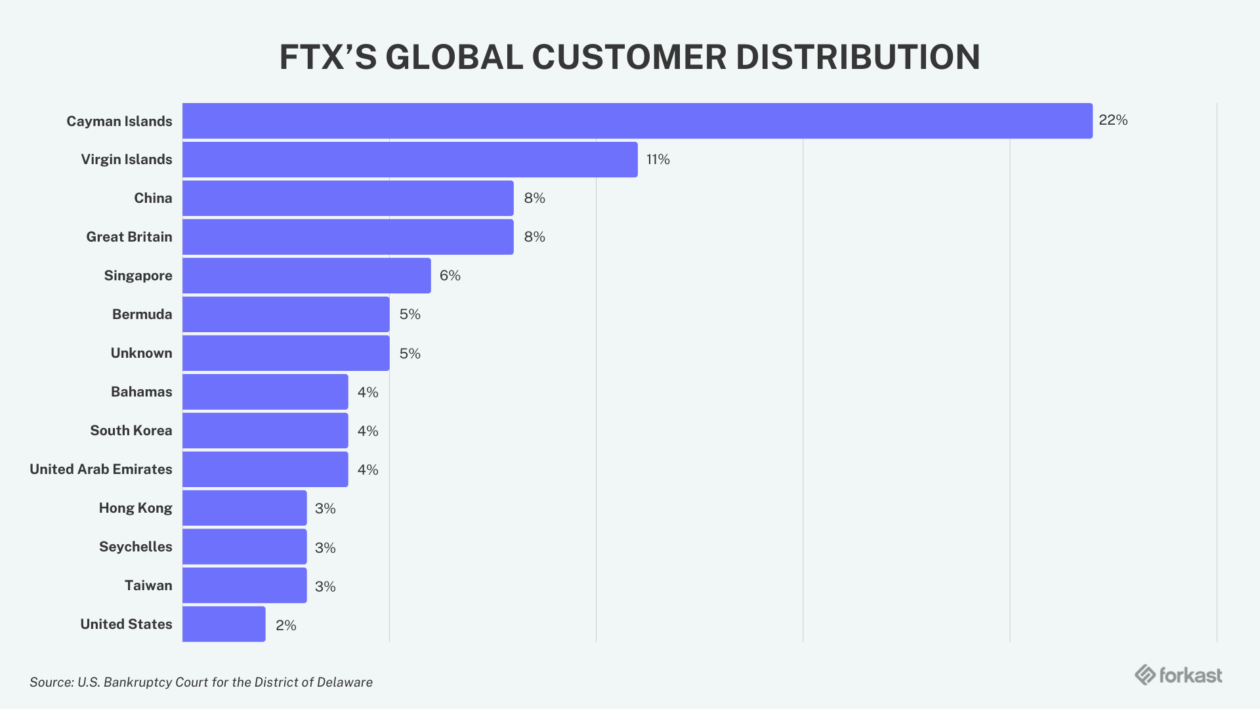 FTX Trading and its affiliates were found to owe their 50 largest creditors about US$3.1 billion, according to Forkast's calculation based on the estimates listed in a bankruptcy filing FTX submitted on Saturday.
The creditors were not named in the filing, and on Tuesday at the hearing, Delaware District Court Judge John Dorsey granted a motion to redact the names of the top 50 creditors, but said he will reconsider it at a later date.
"I need to make sure I'm protecting the interests of these individuals," Judge Dorsey said. "This is a space where it's all done over the Internet, and everyone in this room knows the Internet is fraught with potential dangers. Hacking happens all the time. People's individual accounts get hacked."
Judge Dorsey added: "I think it's important that we protect those individuals who are seeking to participate in this case, want to file their proofs of claim, but also want to protect their assets."
Judge Dorsey will take up a Chapter 15 bankruptcy case that Bahamian liquidators filed to the New York federal court and will transfer the case to Delaware.
John J. Ray III, FTX's new CEO, said in a statement on Saturday that FTX has started a strategic review of the group's global assets.
"It will be a priority of ours in the coming weeks to explore sales, recapitalizations or other strategic transactions with respect to these subsidiaries, and others that we identify as our work continues," Ray said in the statement.
FTX currently has about 260 employees, an FTX representative told the judge on Tuesday.
Bromley told the judge on Tuesday that FTX did not just suffer a run on the bank but "a leadership crisis."
"The FTX companies were controlled by a very small group of people led by Mr. Sam Bankman-Fried," Bromley said. "During the run on the bank, his leadership frayed and that led to resignations throughout the ranks."
Ningwei Qin contributed to this report.