What you'll learn in this article:
How AI is being used in health care around the world
Why robot nurses, drones and facial recognition can help reduce Covid infections
The expected growth in the AI health care market
AI's current limitations in health care
The next frontier for AI in the war against Covid
---
As Covid-19 continues to create massive disruptions around the world, experts are increasingly trying to deploy artificial intelligence (AI) to battle the pandemic that has crippled the global economy and killed more than 460,000 people.
AI is already being used in many industries, including but not limited to manufacturing, logistics, aviation, education, information technology, entertainment, science and medicine.
Since the outbreak of the coronavirus, AI is also increasingly replacing humans in caring for patients as well as helping authorities track infections and enforce quarantines.
In China, where the first cases of Covid-19 were reported and where AI usage is relatively advanced, companies such as Tencent Holdings and Ping An Technologies are at the forefront of using the technology to help fight the coronavirus. Tencent Holdings has developed an AI medical imaging platform capable of diagnosing a broad list of illnesses and a cloud-based ecosystem for sharing and collaboration between domestic health care AI companies, while Ping An Technology developed a prediction model that is helping health care authorities in Chongqing and Shenzhen predict outbreaks ahead of time with accuracy rates of more than 90%, according to South China Morning Post.
See related article: How healthcare uses blockchain to wage a smarter war against the coronavirus pandemic
In Spain and Romania, robot nurses are used to provide general support like disinfecting the wards, delivering food and cleaning, the EU Robotics reports. Around the world, robots are also increasingly replacing human workers for patient care.
"The main thing is that you can remove the risk of direct contact of the frontline clinician with the patient and therefore minimizing the risk of infection," Professor Guang-Zhong Yang, founding editor of Science Robotics and dean of the Institute of Medical Robotics at Shanghai Jiao Tong University in China, told Forkast.News.
Robots are also monitoring and enforcing lockdowns. According to SyncedReview, AI-powered robots and unmanned aerial vehicles and drones are currently used to track and monitor people placed under voluntary quarantine. Shenzhen based drone manufacturer, DJI Enterprise, has donated drones to authorities in China, 21 U.S. states and the Dominican Republic that are currently being used for monitoring, disinfection and delivery of medical necessities.
Many of the uses for AI are still in the idea stage. In the United States, a team of Chinese and American robotics researchers and computer scientists co-authored a recent editorial for Science Robotics, in which they described current as well as potential uses for AI in the fight against the coronavirus. The researchers identified the following as areas ripe for robots: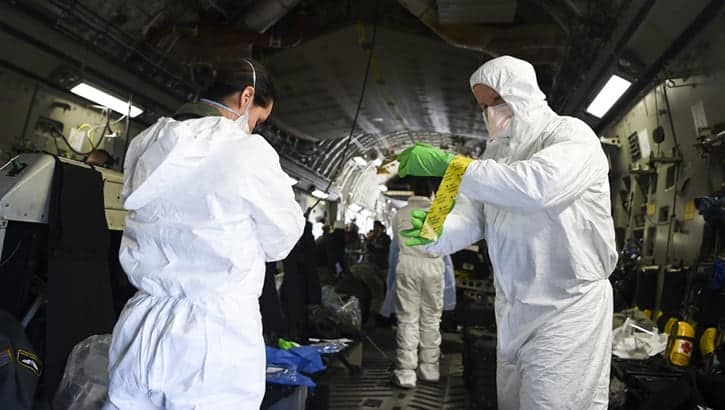 For disease prevention, researchers say, robots can be used to conduct noncontact ultraviolet (UV) surface disinfection, as Covid-19 spreads not only from person to person through contact with respiratory droplets but also via contaminated surfaces. The researchers point out that opportunities lie in intelligent navigation and detection of high-risk areas and continually working to sterilize high-touch surfaces.
For diagnosis and screening, mobile robots can be used to take people's temperature in public areas and ports of entry. "By networking existing security systems with facial recognition software, it is possible to retrace contacts of infected individuals to alert others who might be at risk of infection," the researchers wrote.
Initial diagnostic testing
The editorial indicates that for initial diagnostic testing for Covid-19, most countries recommend collecting and testing nasopharyngeal and oropharyngeal swabs. The researchers recommend deploying automated or robot-assisted nasopharyngeal and oropharyngeal swabbing to speed up the process and reduce the risk of infecting human medical care staff. They also suggest automating the process of drawing blood for laboratory tests.
"Detecting asymptomatic carriers, that will be difficult because the definite test will be through swabbing and testing antibodies in blood samples," said Yang, the dean of the Shanghai medical robotics school. "A lot of those tests can be automated by using robots. There are prototypes being developed for swabbing robots."
Patient care and disease management
To further limit exposure, researchers are suggesting deploying autonomous drones or ground vehicles for transferring testing samples as well as delivering medicines to infected patients within hospitals and out in communities. This could be especially helpful for frontline medics who have limited or no access to adequate protective equipment. However, although robots have proven effectiveness in delivery and logistics tasks, Yang said "they are not ready" for the frontline clinical management of patients.
Like in many other industries and applications, intelligent chatbots can be used as virtual assistants to conduct non-emergency clinical diagnostics as well as log or monitor patient-doctor appointments. In the case of Covid-19, chatbots and AI-powered virtual assistants can be used to periodically broadcast public service announcements by text or human voice. For instance, a four-legged dog-like robot named Spot developed by Boston Dynamics is helping Singapore enforce social distancing. Spot is used by Singaporean authorities to patrol parks and broadcast pre-recorded messages advising the public to keep a distance and minimize crowding.
For patients who need more care, virtual nursing assistants and robot nurses are employing AI to care for their round-the-clock needs, reducing the time and costs associated with human nurses. "64% percent of patients reported they would be comfortable with AI virtual nurse assistants, listing the benefits of 24/7 access to answers and support, round-the-clock monitoring, and the ability to get quick answers to questions about medications," according to VentureBeat.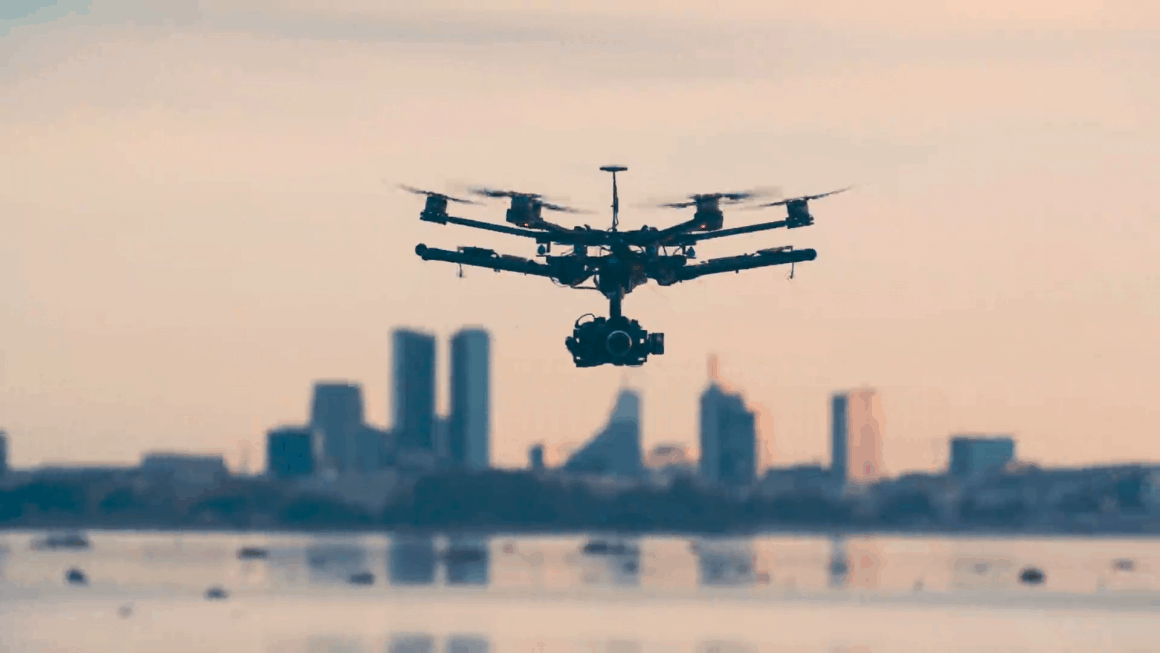 AI can also augment what doctors do in operating rooms. For instance, AI is already currently used for AI-assisted surgery by analysing pre-surgery medical records to guide surgeons' instruments during actual surgical procedures, according to VentureBeat. This process is said to reduce patients' hospital stay by 21%.
Robots' role in surgeries will likely only grow. Sooner or later, the surgeon and the robot may not even need to be in the same physical location. The operator can control the robot digitally from a different location to further minimize direct contact between medical personnel and patients.
"The use of robots certainly will add many other advantages because motion scaling, tumor removal, and a lot of those things that you wouldn't be able to do otherwise," said Yang, the Shanghai professor. "It really enhances dexterity and also manipulation as well."
Benefits: Saving costs and lives
The novel coronavirus pandemic has created one of the worst health and economic crises in recent history.
The United Nations' International Labour Organisation indicated in May 2020 that 1.6 billion workers in the informal economy are in immediate danger of having their livelihoods destroyed due to Covid-19. This is likely to push up global unemployment to unprecedented levels. The World Health Organisation reported over 460,000 deaths as of this month, with confirmed global Covid-19 cases approaching 9 million.
In the midst of such a gloomy scenario, there is technological and financial justification in investing more in this technology. According to an Accenture analysis, key clinical health AI applications, when combined, can potentially create US$150 billion in annual savings for the United States health care economy by 2026.
The analysis indicates that the growth in the AI health market is expected to reach US$6.6 billion by 2021, or a compound annual growth rate of 40%. The analysis calls on organisations from different industries to embrace and adopt new technologies because "as AI continues to become more prevalent and adoption flourishes, health care organisations must enhance their underlying structure to be positioned to take full advantage of new AI capabilities."
According to Business Insider Intelligence, "30% of healthcare costs are associated with administrative tasks. AI can automate some of these tasks, like pre-authorizing insurance, following-up on unpaid bills, and maintaining records, to ease the workload of healthcare professionals and ultimately save them money."
Fear, precaution or simple naivety?
Not everyone is enthusiastic about the increasing use of AI in society. Foremost are concerns about privacy, confidentiality and ethics. For instance, using location-based technology to track and monitor people placed on self-quarantine raises privacy and confidentiality issues. For example, in Hong Kong, authorities are using electronic wristbands linked to a smartphone to track and monitor people on quarantine. According to a report in Quartz, countries like Australia, China, Israel and Singapore are also using "surveillance technology" to combat the coronavirus, while discussions are ongoing in the United States on the possibility of using "aggregated and anonymised location data from smartphones."
AI skeptics also worry about the possibility of personal data being accessed by unauthorised parties or carelessly lost through a cyber-attack. Such a concern may be valid given that much of the global effort is currently being directed towards minimising new infections, containing further spread and finding treatment for COVID-19 rather than data protection.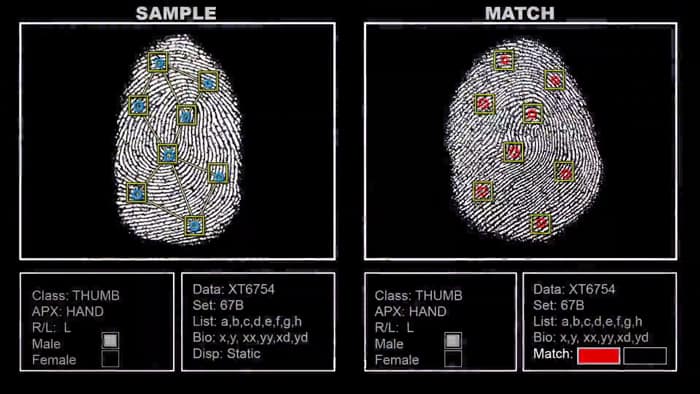 Abhishek Gupta, Founder of Montreal AI Ethics Institute and Machine Learning Engineer at Microsoft cautioned in a recent post that "location data, even when anonymised, using a few points can lead to re-identification of the individual concerned."
Leading Computer Scientist and researcher, Yoshua Bengio told NHK World Japan in December 2019 that the use of certain AI technologies should carry a social and ethical factor to their usage. Bengio, who also serves as Scientific Director of the Montreal Institute for Learning Algorithms, pointed out that although AI can be used to benefit society, it may also cause serious harm if exploited or used irresponsibly. Bengio cited facial recognition as one technology that can be used to benefit society or exploited in circumstances where people are targeted for wrong reasons.
Battle the virus from all frontiers
Research on Covid-19 is ongoing as researchers and scientists around the world are learning more about the virus. Although some of the many applications of AI to battle the pandemic are known and are currently in use, other uses are yet to be fully understood. This is because AI technology is partially based on machine learning. As such, there is a continuing need for new data for global research and development teams. Data sharing may help scale up the use of AI to fight the pandemic.
Markus Schmitt, founder of Data Renebu, posits that machine learning has proven to be invaluable in predicting risks in many spheres including infection risk, severity risk and outcome risk.
"Machine learning can potentially help predict all three risks," Schmitt writes. "Although it's still too early for much Covid-19-specific machine learning research to have been conducted and published, early experiments are promising. Furthermore, we can look at how machine learning is used in related areas and imagine how it could help with risk prediction for Covid-19."
If the data for machine learning is constantly changing, is inaccurate or outdated, it is highly likely that an artificially intelligent robot or unmanned aerial vehicle being used to fight coronavirus may present a certain margin of error. Thus the need for constant data sharing and updating to ensure accurate and reliable data.
Covid-19 is likely not the last new virus to hit the globe. More pandemics will likely come in our lifetime. With better coordination, planning, shared early warning systems, and advances in AI technology, perhaps the world will be in a better position to respond to such crises in the future.
"These outbreaks always happen when you least expect. We need to sustain the problem to make sure that the frontline clinicians can make full use of the technology," Yang said.
"This will require academic, industrial and also company agencies to work together….We can make sure that the robots can be put into the center stage to minimize a lot of the risk that we face today as you see in many countries."