What did you do during the long Covid-19 lockdown of 2020 and 2021?
Learned to bake? Binged on Netflix? Adopted a pet?
For 12-year-old Rien Lewis Pecson in Makati City, an affluent suburb in the capital Metro Manila, the answer is a little more sophisticated than that. The eighth grader started learning to code and — in the span of one month, according to his mother — built the Philippines' first non-fungible token (NFT)-enabled blockchain voting platform.
Called iVote.ph, the site lets people vote on the NFT artwork — created by 28-year-old graphic designer Neil Fernandez — depicting each of the Philippine presidential candidates for 2022. Users sign up with their mobile numbers and are then assigned unique tokens. Answers are recorded as individual, anonymous transactions on the blockchain, which means the voter's personal data isn't exposed, though anyone can see and audit the results in real time. 
"​​I've been hearing from the news, my parents and other grown-ups, about the election and voting issues in the Philippines," Rien told Forkast.News. "I decided that I would try to help fix it."
Perhaps even more unusual than his age is the fact that Rien learned software development from his mother, who herself says she's self-taught as far as blockchain is concerned. Liezl Pecson, 34, is the chief information officer at a fintech startup in Mandaluyong, a city in Metro Manila. She said writing software isn't a core part of her job, but she slowly picked it up from colleagues and the internet.
Shortly after the first lockdown was imposed on the Philippines in March 2020, Liezl and her husband, who also works in IT, were both forced to work from home. They then decided to homeschool Rien and his two younger siblings. That's when Rien blossomed, she said.
"His interest in learning other stuff outside of school really started [during] this pandemic", Liezl recounted. "With homeschool, it's self-paced. So that [gave him] lots of time for other activities."
At dinner, the parents engaged the children in conversations about daily life and current events. They often spoke about the upcoming general elections, which, amplified by social media and a protracted lockdown, is turning into one of the most divisive in recent memory.
Can blockchain voting be trusted?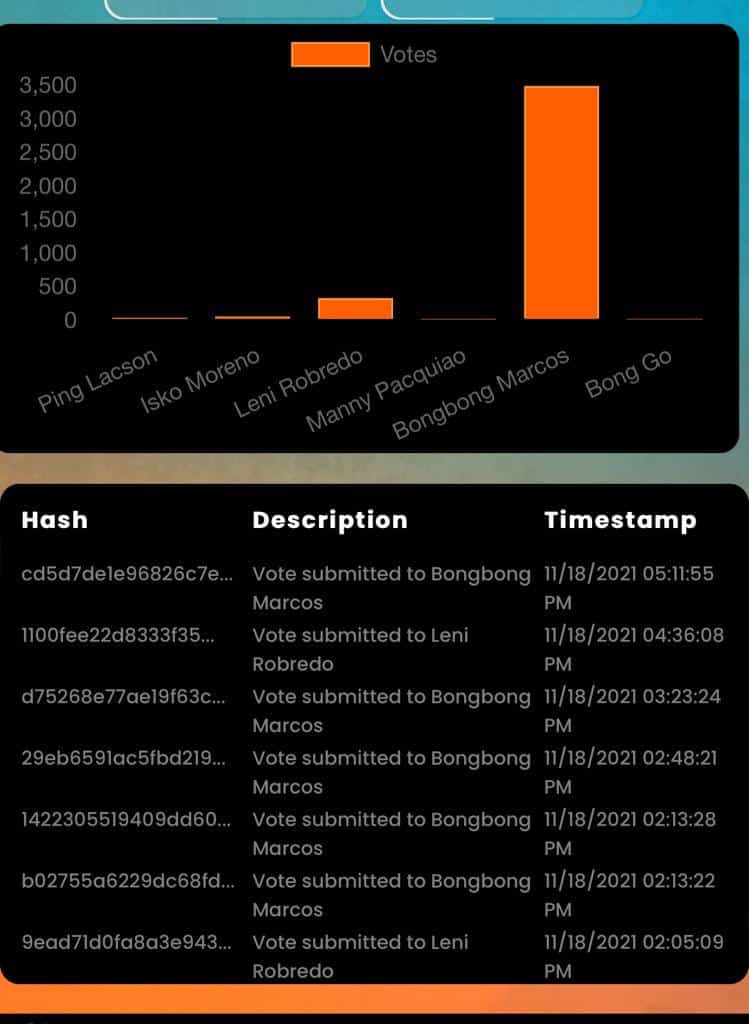 On iVote, out of six presidential candidates, the polling results — totaling nearly 3,800 votes so far — overwhelmingly favor Ferdinand "Bongbong" Marcos Jr., the son and namesake of the late dictator. Bongbong has been in the lead from the time of iVote's Oct. 25 launch to the time this story went to press.
And that raises a few questions. The underlying blockchain protocol of iVote is powered by Cloudchain, which is operated by First Shoshin Holdings Corp (FSHC) — which in turn is owned by husband and wife Juan Ponce Enrile Jr. ("Jack") and Salvacion Ponce Enrile ("Sally"). Jack is the son of Juan Ponce Enrile, a close ally and Defense Minister of the late dictator Ferdinand Marcos. The elder Enrile is often described as the architect of the Philippines' martial law.
In fact, on Nov. 5, the 97-year-old Enrile and his daughter Katrina Ponce Enrile forged an alliance with Marcos Jr. at the latter's house. That means the influential Enrile family behind the blockchain supporting iVote is publicly endorsing Marcos Jr. for president in the 2022 election, while Marcos Jr. will support Katrina's bid for a seat in Congress.
"There are no real [political] parties in the Philippines," Julio Teehankee, a political scientist who specializes in electoral politics, recently told local cable news channel One News. "It is clans, not parties, that are the building blocks of Philippine politics." Old political clans are usually associated with "bailiwicks" — or strong provincial bases — which means in many ways, alliances with well-entrenched political families hold much more weight than party support.
By the way, Rien's mother, Liezl, works for the Enrile family at First Shoshin. She asked that Forkast.News withholds her employer information, but Forkast.News believes the public interest in knowing about these ties outweighs the interviewee's desire for confidentiality.
How secure and transparent is the technology?
All of this isn't to suggest that the results on iVote are manipulated — but the issue does underscore the two Holy Grails of blockchain voting: security and transparency.
"When discussing critical blockchain use cases like voting, it's necessary to begin our inquiry at the base level — i.e., the blockchain itself," said Luis Buenaventura, the country manager of play-to-earn startup Yield Guild Games and a leading voice in the blockchain industry in the Philippines, in an interview with Forkast.News. "This is because issues like decentralization and transparency become increasingly relevant at the nation-scale."
"Although I am in favor of blockchain innovation and certainly very much in favor of supporting talented young developers, projects like iVote cannot be evaluated in a vacuum," Buenaventura added. "If it had been built on more decentralized blockchains like Polygon, Solana or Cardano, my confidence level would be much higher."
Coincidentally, the Philippines in September did mock trials for blockchain-enabled voting, with the goal of rolling it out to its overseas population by 2025. But in a recent interview with Forkast.News, Election Commission spokesman James Jimenez said they also realized it would take time before people warm up to blockchain voting.
"One of the things we noticed was that people were very hesitant to use the technology, mainly because they had doubts about its security," Jimenez said. "Of course, we hope to address that in the future by showing them that the security for remote voting is intense — that it goes beyond what normally would be considered adequate".
Now that iVote has gotten some public attention, with Rien and his mother recently appearing as guests on CNN Philippines, the 12-year-old says he's working on additional features, including a "citizen verification system" — roughly the digital equivalent of the know-your-customer (KYC) protocol that banks follow.
"[Through that] we will have the ability to add a valid ID and the voter's credentials," Rien said. "We hope to satisfy the requirements for real elections. And we want it [to be used] not just for politics, but also [in] other industries and countries."