In this issue
Worldcoin's free crypto: More than just a freebie?
Forkast 500 NFT Index: NFTs find ways to grow
Japan's metaverse ambitions: More support ahead for Web3
---
1. No free lunch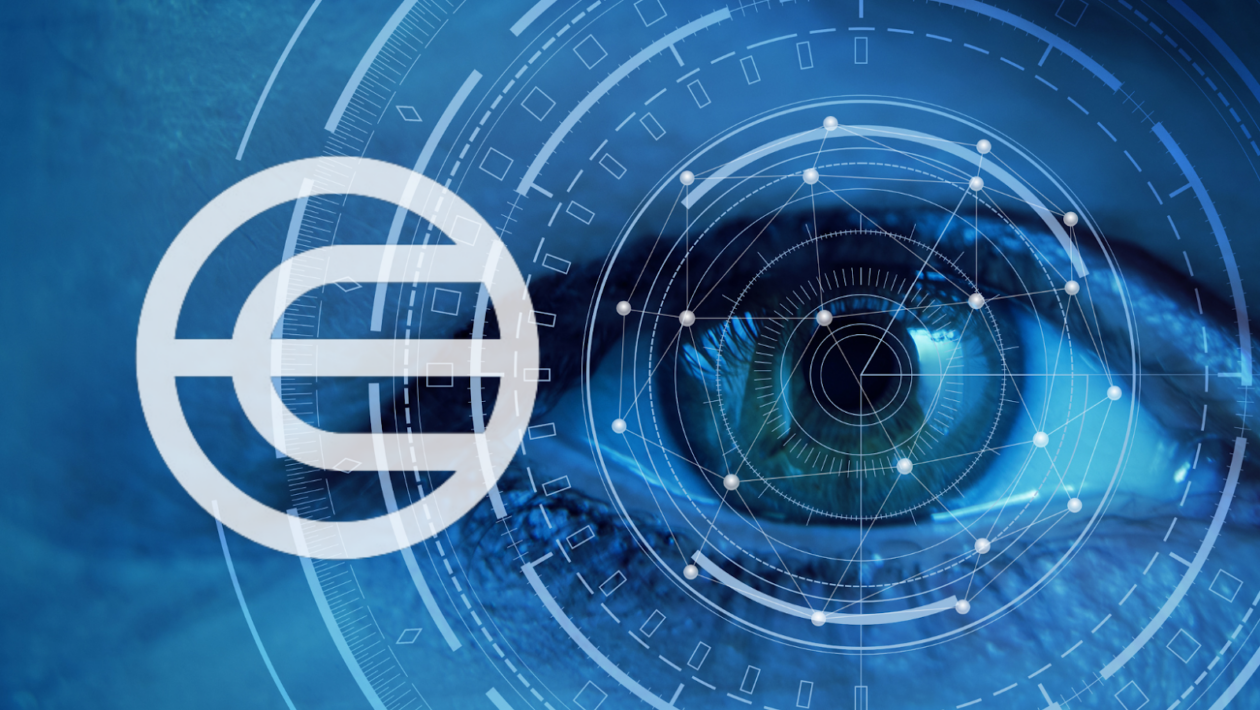 Worldcoin, a cryptocurrency project co-founded in 2019 by OpenAI chief Sam Altman, launched its mainnet and WLD token on Monday, offering free crypto to eligible users for "simply for being human" in a move that is raising industry concerns over privacy, accessibility and security.
Regulators are also venturing into the fold, with the U.K.'s Information Commissioner's Office saying on Tuesday that it will be making enquiries on the Worldcoin project, according to Reuters. The project is also unavailable in the U.S. due to regulatory restrictions.
Ethereum co-founder Vitalik Buterin expressed his concerns in a Monday blogpost, pointing out potential issues in privacy, accessibility, centralization and security. He added that the decentralized proof-of-personhood solution that Worldcoin works towards is "one of the most valuable gadgets that people in the Ethereum community have been trying to build."
On Worldcoin, which aims to build a global identity and financial network, users receive a World ID by scanning their iris through hardware named "Orb" to confirm their identity and receive WLD cryptocurrency as a reward.
Through this network, Worldcoin aims to build a universal basic income funded by artificial intelligence, which will be equally distributed to its users.
Upon signing up for a World ID, users in countries that allow the operation of Worldcoin can receive 25 WLD tokens as a "genesis grant." Each user can then claim a free WLD token each week with no cap on the total number of tokens, according to the Worldcoin website.
The WLD token is listed on some major crypto exchanges, including Binance, Bybit, Huobi and OKX. It peaked at US$3.58 on Monday and is trading at US$2.21, moving down 6.71% in the past 24 hours, according to data from CoinMarketCap.
---
2. Growth, but sideways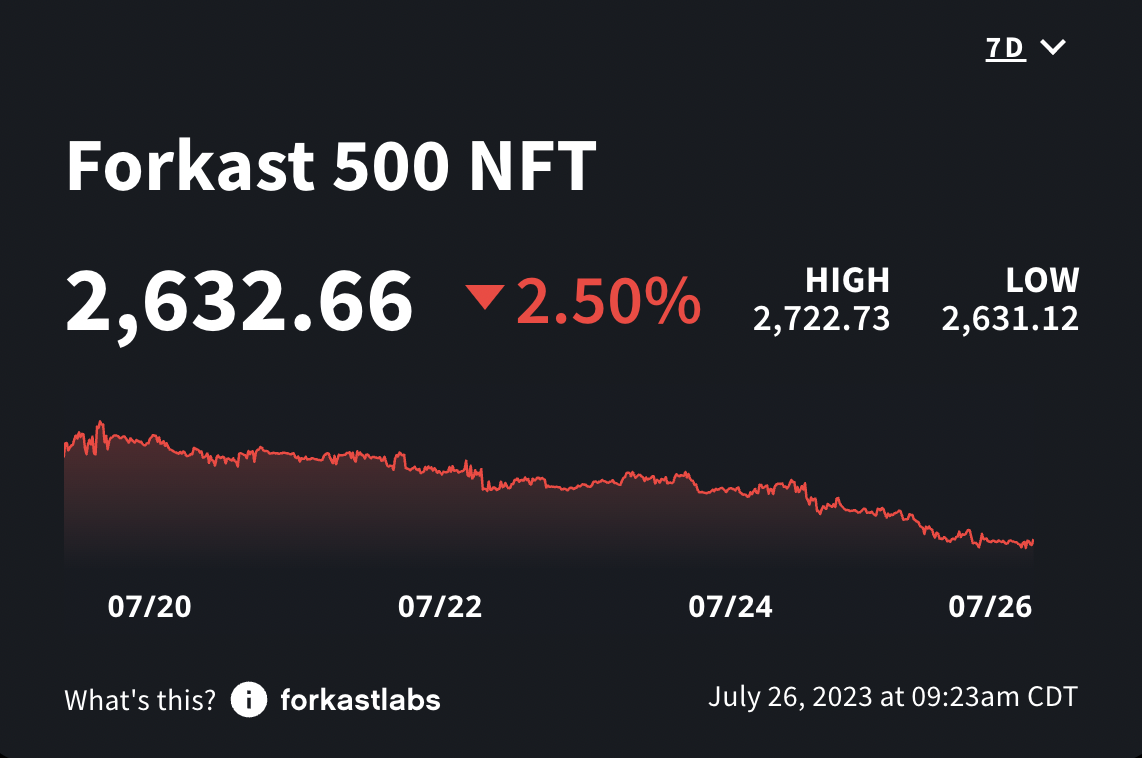 The summer slump continues in NFTs, with the Forkast 500 NFT Index reflecting an NFT market with weaker volumes and sales. This week, the index declined 2.5% to another new all-time low at 2,632.66.
Among blockchains tracked by Forkast Labs indexes, the Cardano NFT ecosystem was the sole chain to gain this week, with the CAR NFT Composite up 1.19%. The Ethereum, Solana and Polygon NFT Composites all declined.
Blockchain sales volume mostly decreased from last week, with Ethereum, Polygon and ImmutableX all falling under 10%, as Bitcoin declined 67% and Solana lost 23.4%. BNB was the only top five blockchain with higher sales volumes this week, rising 8.48%
Ethereum's US$4.1 million in sales on July 21 stood at a daily low since June 10, 2021, when sales stood at US$3.3 million in sales.
Global sales volume shrank 40.33% this week with US$74.7 million in sales, down from US$112.4 million last week.
Average global sales prices declined 40.14% to US$43.17 from US$64.85 last week.
Sellers were on the losing end of trades this week, losing US$8.1 million across blockchains.
---
3. Japan's next big thing?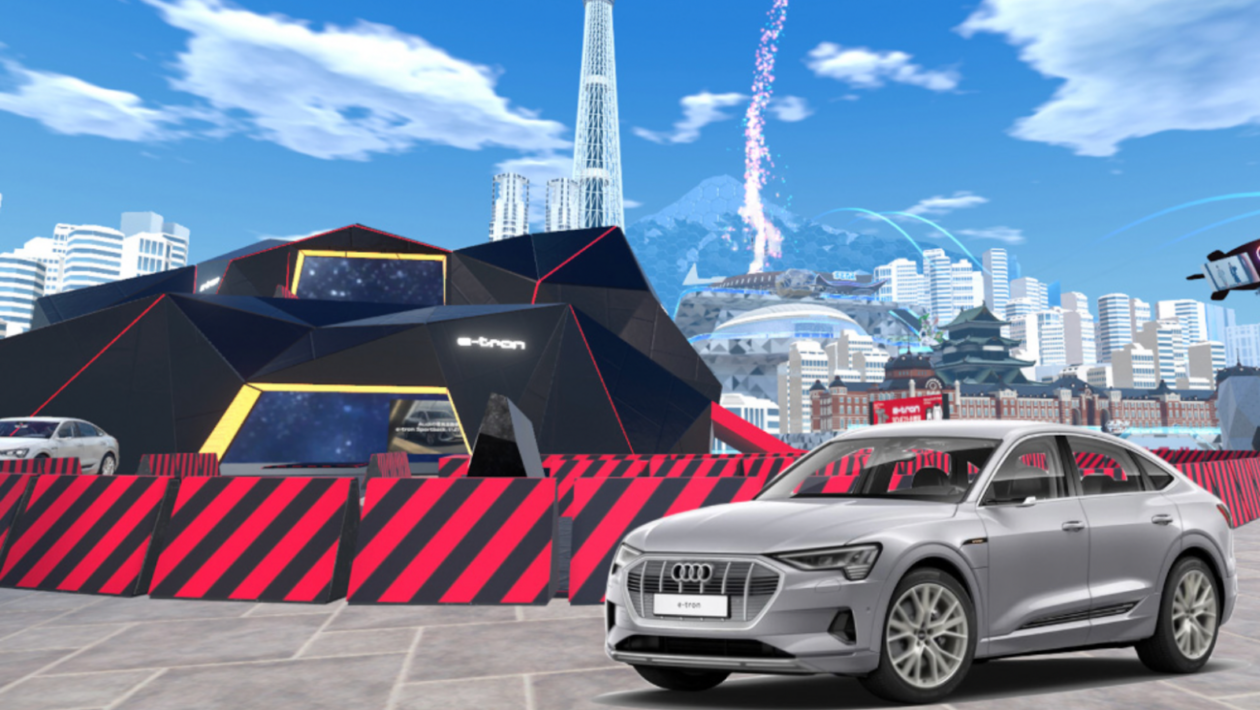 A major Japanese firm might be on the cusp of unveiling the nation's next big metaverse project at the WebX conference in Tokyo, said Prime Minister Fumio Kishida as he pledged stronger policy support for the Web3 industry.
"I have heard that a large Japanese company will take this opportunity to announce to the world a big, ambitious project that aims to create a valuable economic system in the metaverse," said Kishida in a recorded video at the conference.
Japan, an early believer in blockchain and cryptocurrencies, has become increasingly supportive of emerging metaverse technology as a pillar of the country's economic future.
Kishida also said that Web3 is part of "the New Form of Capitalism," an economic strategy that he first revealed in June to boost government investment in areas including digital transformation, start-ups and technology.
"The administration is proactively supporting domestic startups including the Web3 industry," Koichi Hagiuda, chairman of the Policy Research Council of the Liberal Democratic Party, said in his opening remarks at the conference.
The conference is part of Japan's efforts to become a global Web3 hub as it faces similar competition from regional economies such as Hong Kong, South Korea and Singapore.
Managed by Japanese Web3 media firm CoinPost, WebX is a global Web3 conference that aims to position Japan as "the Web3 center of Asia" and accelerate the mass adoption of Web3 technologies.
In April, a government-affiliated white paper discussed Japan's path to widespread adoption of Web3 technology, including crypto. The East Asian nation also raised entry barriers to the crypto industry by introducing tougher anti-money laundering rules in June.