Bitcoin rose 1.78% from May 12 to May 19 to trade at US$26,846 as of 7:30 p.m. on Friday in Hong Kong. The world's largest cryptocurrency by market capitalization has been trading under US$30,000 since April 19. Ether rose 2.44% over the week to US$1,808 after falling below US$1,800 multiple times this week.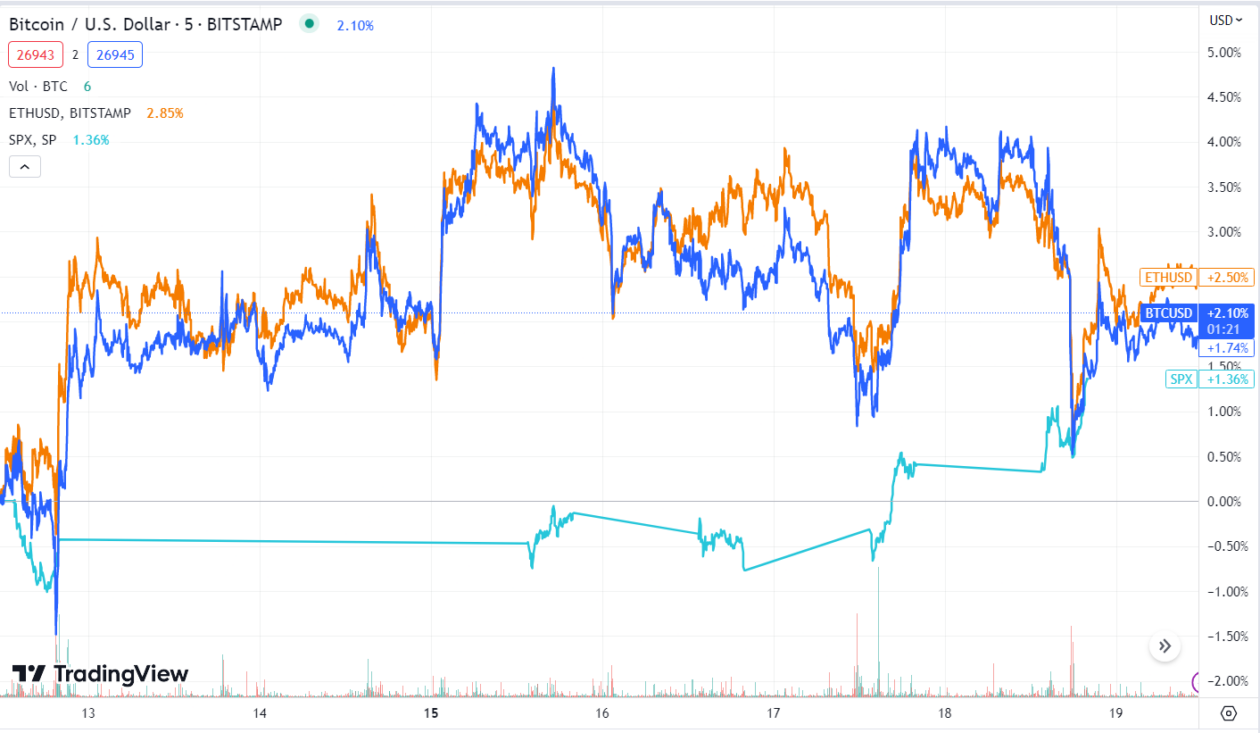 "Looking at the charts, Bitcoin is currently demonstrating a new bear flag pattern, indicating a potential downward trend after weeks caught in a range below US$30,500, which has remained a price ceiling for numerous weeks now," said Tim Frost, the chief executive officer of digital wealth platform Yield App. "The bear flag is presently targeting a price decline to approximately US$24,000,"
"An opportunity to go long could arise around US$23,000. If the Bitcoin market were to flush out to this level, there would likely then be a bounce," he added.
The prospect of a governmental default in the U.S. weighed down market sentiment this week after the U.S. Treasury Department reiterated on Monday that it expects to default by June 1 without a debt limit increase. President Joe Biden and House Speaker Kevin McCarthy signaled on Wednesday that they're committed to reaching an agreement on raising the government's US$31.4 trillion debt ceiling.
Over in Europe, inflation accelerated to 7.0% in April from 6.9% a month earlier, mainly driven by rising services and energy costs. Core inflation, which excludes food and fuel, slowed to 7.3% from 7.5%, according to Eurostat. Further interest rate hikes can be expected, as inflation is still above the European Central Bank's 2% target.
Liquid Ether staking protocol Lido Finance passed the community vote to execute the Lido V2 upgrade, which went live on Monday, enabling Ether and staked Ether (stETH) withdrawals directly on the protocol. Following the upgrade, Lido's stETH supply fell by over 437,000 stETH on Wednesday, according to Dune Analytics data.
The rate of Ordinals inscriptions, a version of non-fungible tokens on the Bitcoin blockchain, slowed down this week after the network passed a new milestone of 7 million inscriptions on Sunday, Dune Analytics data shows. However, Bitcoin network congestion remained high this week, with over 263,548 transactions waiting to be validated at 7:30 p.m. in Hong Kong on Friday.
The heightened demand for block space was mainly driven by the growth of BRC-20 tokens, the fungible tokens standard built on the Ordinals protocol. The number of different types of BRC-20s grew from 14,300 tokens on May 11 to 24,677 on Friday, according to data provider BRC-20.io.
A new security concern emerged after crypto wallet firm Ledger announced the launch of Ledger Recover, an optional recovery service for users' seed phrases — causing widespread community distress about Ledger's potential backdoor into users' seed phrases. Ledger Chief Technology Officer Charles Guillemet attempted to quell the fire by saying, "There is no backdoor for anyone, neither us, a provider or even a very gifted hacker to access it."
The global crypto market capitalization stood at US$1.12 trillion on Friday at 7:30 p.m. in Hong Kong, up 1.8% from US$1.1 trillion a week ago, according to CoinMarketCap data. Bitcoin's US$520 billion market cap accounted for 46.3% of the market, while Ether's US$217 billion accounted for 19.4%.
See related article: Crypto and NFT Market Updates – May 18th
Biggest gainers: Render and Mask
The Render Network's native cryptocurrency was this week's biggest gainer among the top 100 coins by market capitalization listed on CoinMarketCap, rallying 39.72% to US$2.42. The token started picking up momentum on Wednesday, gaining increased interest thanks to a new toy line promo video of the Ethereum-based NFT collection, Pudgy Penguin, which was animated using the Render network.
The Render Network allows idle graphics processing units to be used for the digital rendering needed in fields like 3D modeling, gaming imagery, and virtual reality.
Mask Network's governance token was this week's second biggest gainer in the top 100, rising 25.23% to US$4.53. The token started rallying on Tuesday, after Mask announced its investment in The Open Network, to further develop its decentralized social network.
Mask Network is a mobile app and browser extension that aims to bridge Web 2.0 with Web 3.0.
Next week: All eyes on U.S. debt ceiling negotiations
All eyes will be on the ongoing negotiations over raising the U.S. debt ceiling of US$31.4 trillion. House Speaker Kevin McCarthy suggested on Wednesday that a potential deal could come as soon as next week.
Investors will be looking forward to the release of the minutes of the U.S. Federal Open Market Committee on Wednesday, for clues about the health of the world's largest economy. Investors will also be anticipating speeches from U.S. Treasury Secretary Janet Yellen and speeches from numerous key members of the Commodity Futures Trading Commission.
Fans of Didit, a digital identity and metaverse solution, are gearing up for the launch of the project's protocol on Tuesday.
See related article: It's a fight for the future of money in the US, says Christopher Giancarlo