Bitcoin fell 0.13% from April 28 to May 5 to trade at US$29,197 at 8 p.m. on Friday in Hong Kong. The world's largest cryptocurrency by market capitalization has traded below US$30,000 since April 19. Ether rose 0.82% over the week to US$1,914, returning to a key support level.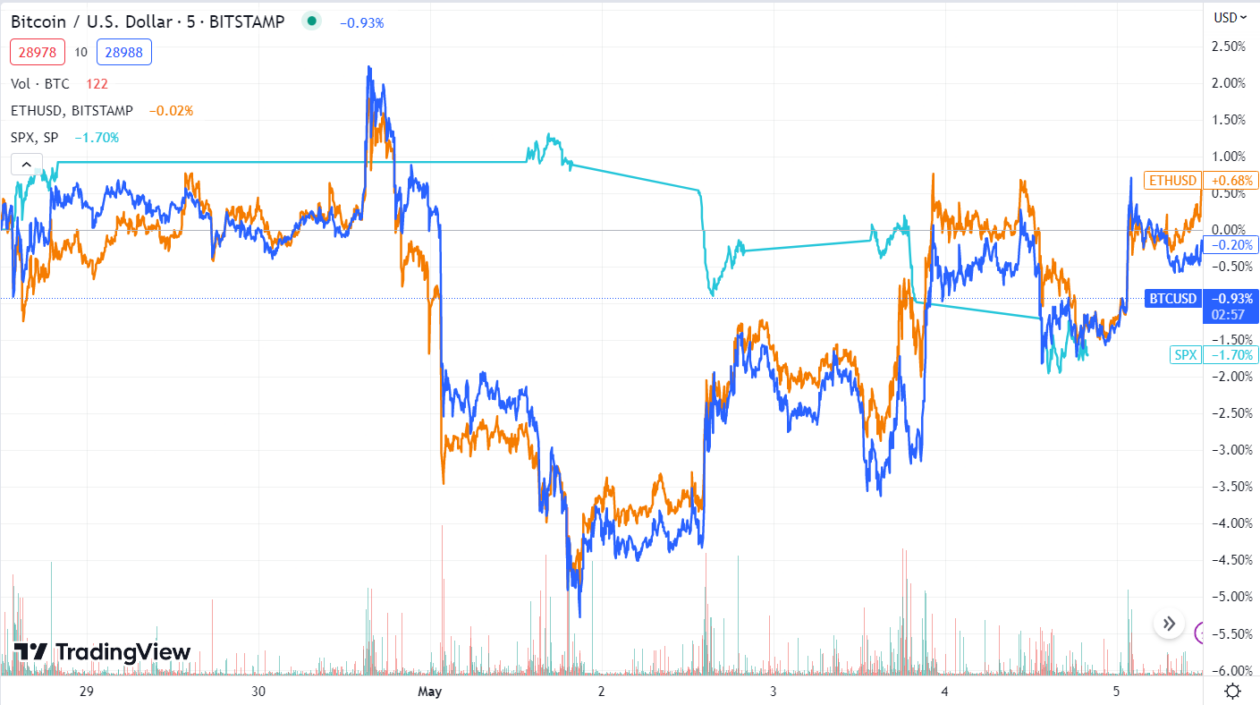 This week, the U.S. Federal Reserve delivered a 25 basis point rate hike, bringing interest rates to 5% to 5.25%, the highest since September 2007.
The European Central Bank also raised interest rates by 25 basis points to 3.25% on Thursday, its seventh consecutive rate hike and a sign of more tightening ahead in its fight against inflation.
Market concerns of a potential banking crisis have returned after First Republic Bank reported around US$100 billion of withdrawals last month, causing its stock price to plunge 45.4% last week. The bank was placed under the receivership of the U.S. Federal Deposit Insurance Corporation and was the second largest banking failure in U.S. history, before investment banking giant JPMorgan Chase on Monday announced the purchase of the majority of the collapsed bank's assets.
"The last 50 days' data show that Bitcoin bounces on fear of banking crises, along with gold," wrote Nilesh Verma, crypto market analyst and founder of Crypto Granth consultancy, in a Twitter response to Forkast, adding that Bitcoin's main support prices stood at US$26,500-US$27,000.
Issues with the global banking system could increase demand for Bitcoin, as it is viewed as a safe haven asset by some investors. Bitcoin prices rose over 46% since March 10, from US$19,669, when Silicon Valley Bank collapsed.
Adding to investor concerns, U.S. President Joe Biden's administration is campaigning for a tax on crypto miners equal to 30% of the cost of the power they use, citing "negative spillovers" from the mining industry.
"A 30% tax would increase the cost for miners to operate," Tom Wan, a research analyst at 21.co, the parent company of 21Shares, an issuer of crypto exchange-traded products, wrote in an email to Forkast. "According to Glassnode, the current [Bitcoin] production cost is at US$22,500. An additional cost would mean miners will need to sell more Bitcoin they mined in order to sustain the business."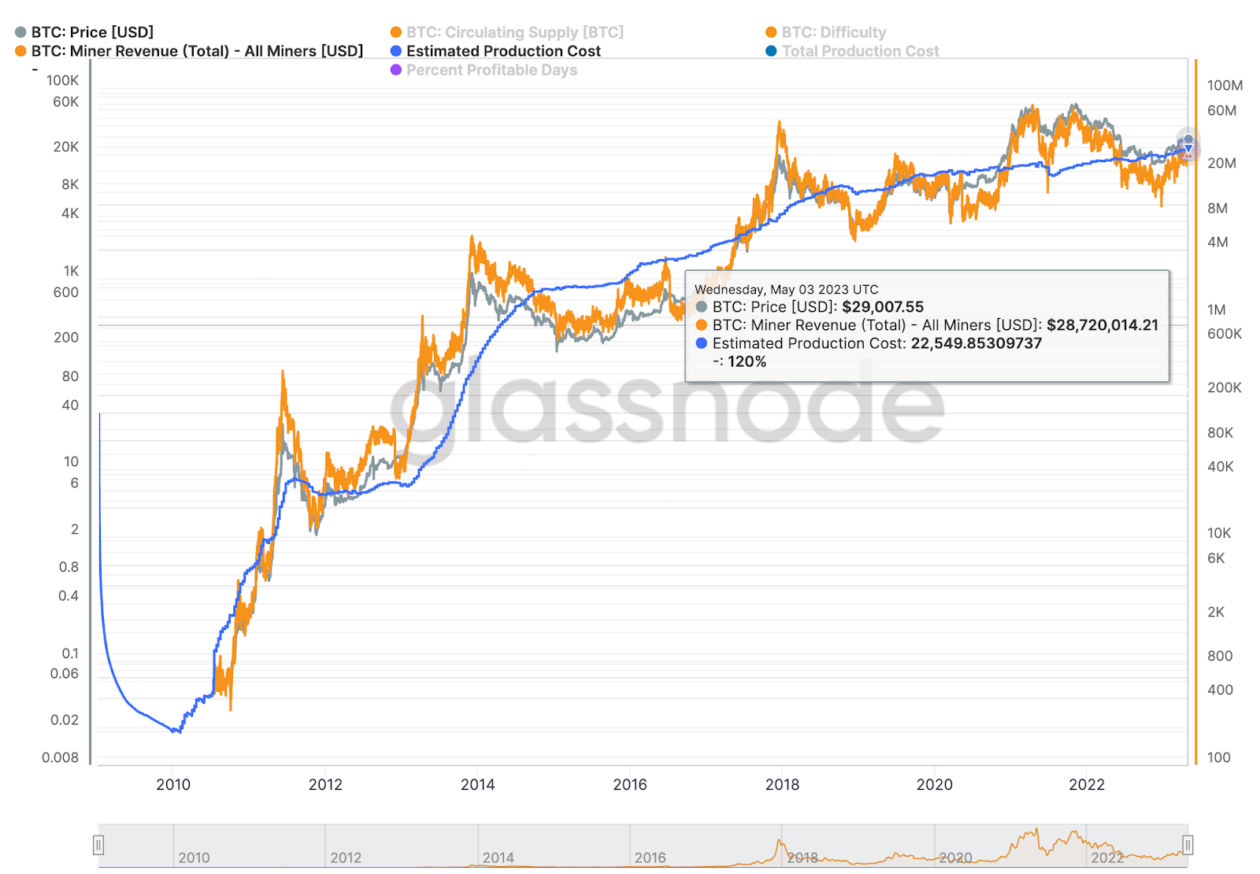 "Mining pools with access to clean and cheap energy, or located outside the U.S. might be less impacted. However, since a large percentage of the mining power resides in the U.S., the tax might force mining companies to move to another country," wrote Wan.
The global crypto market capitalization stood at US$1.2 trillion on Friday at 8 p.m. in Hong Kong, down 0.83% from US$1.21 trillion a week ago, according to CoinMarketCap data. Bitcoin's US$545 billion market cap accounted for 47.17% of the market, while Ether's US$230 billion accounted for 19.1%.
See related article: Crypto and NFT Market Update – May 4th
Biggest gainers: FLOKI & CSPR
The FLOKI token, a dog-themed memecoin, was this week's biggest gainer among the top 100 coins by market capitalization listed on CoinMarketCap, rallying 42.4% to US$0.00005199. The memecoin started its rally on Friday, the same day Binance announced that it will list FLOKI and PEPE on the exchange.
Proof-of-stake blockchain Casper Network's CSPR coin was this week's second biggest gainer, with a 10.58% price increase to US$0.06019. The coin started its rally last Friday, the same day Casper Labs co-founder and chief technology officer Medha Parlikar talked about making public blockchains safe for business, at the Consensus 2023 conference.
Next week: Investors await U.S. CPI
Investors are anticipating the release of April's U.S. Consumer Price Index (CPI), scheduled for May 10. March's report showed that inflation in the U.S. rose 5% on the year, easing from a 6% rise in February and marking the ninth consecutive month with declining inflation.
The U.S.' April non-farm payroll jobs figure came in at 253,000, above estimates of 180,000. Unemployment in April stood at 3.4%, compared to an estimate of 3.6%.
Chiliz, a blockchain firm focused on Web3 products for the sports and entertainment industry, is also set to publicly launch its new Layer-1 mainnet, also known as the Sports Blockchain, on May 10. The new blockchain will be compatible with the Ethereum Virtual Machine and aims to attract more developers and brands to build on Chiliz.
Crypto Granth's Verma expects upwards momentum in crypto next week.
"We are seeing this crossover for the 4th time in Bitcoin's history. If we take Covid as an exception, this crossover gives major returns to bulls and signals an upcoming bull market," wrote Verma, adding that Bitcoin has strong support at US$25,000-27,000 and that the chart remains bullish until a weekly close below US$26,000.
21.co's research analyst Wan, said that Bitcoin needed a weekly close above US$32,000 to confirm an upward trend.
See related article: US response to crypto is like 'deer caught in headlights,' says ex-CFTC chair