The Crypto Council for Innovation, a prominent alliance of crypto industry leaders, on Wednesday released the findings of a poll of U.S. voters that highlights the particular importance the industry and its participants are predicted to play in November's tightly contested midterm elections.
Taken between Oct. 8 to Oct. 10, the survey included responses from some 1,200 likely voters and was conducted by a bipartisan team led by Pioneer Polling and the Tarrance Group.
See related article: Crypto is presidential election campaign issue for South Korea
The report found that 13% of 1,200 likely voters held cryptocurrency, with a roughly even amount coming from each party. This is more than those with mutual funds (12%), nearly triple those with bonds (5%), and slightly less than those holding stock (16%).
The Crypto Council's polling also finds that a majority of U.S. voters think crypto has unrealized potential. "Our national survey shows voters believe in the promise of digital assets and see it as a long-term part of the economy and their financial future," said Cory Gardner, former U.S. senator and chief strategist of political affairs for the Crypto Council. Such confidence in this potential has been bolstered recently amid global economic instability rocking traditional financial institutions, the report said.
The findings also point toward crypto's potential benefits for those historically excluded from the financial system. Many members of these key voting demographics are already seeking to reap these, with Hispanic Americans and African Americans each being 18% more likely to own crypto. The pattern is similar with groups often under-targeted in elections, with independents being 17% more likely to own crypto, and young voters 20%.
Some respondents from these groups have professed greater confidence in crypto than traditional financial institutions, including the more than 50% of Latino and African Americans polled who professed "a more favorable view of crypto and credit unions than banks."
A report from the Joint Economic Committee Democrats argued to the contrary, stating that such groups do not stand to benefit from crypto developments, but rather that "risky, unregulated" crypto amounted to "predatory inclusion."
Such a pessimistic policy stance may backfire on Democrats seeking re-election, according to the Crypto Council's findings, as 45% of voters want legislators to treat crypto as a serious and valid part of the economy, compared to the 36% who want lawmakers to treat the industry as a mechanism for fraud and abuse.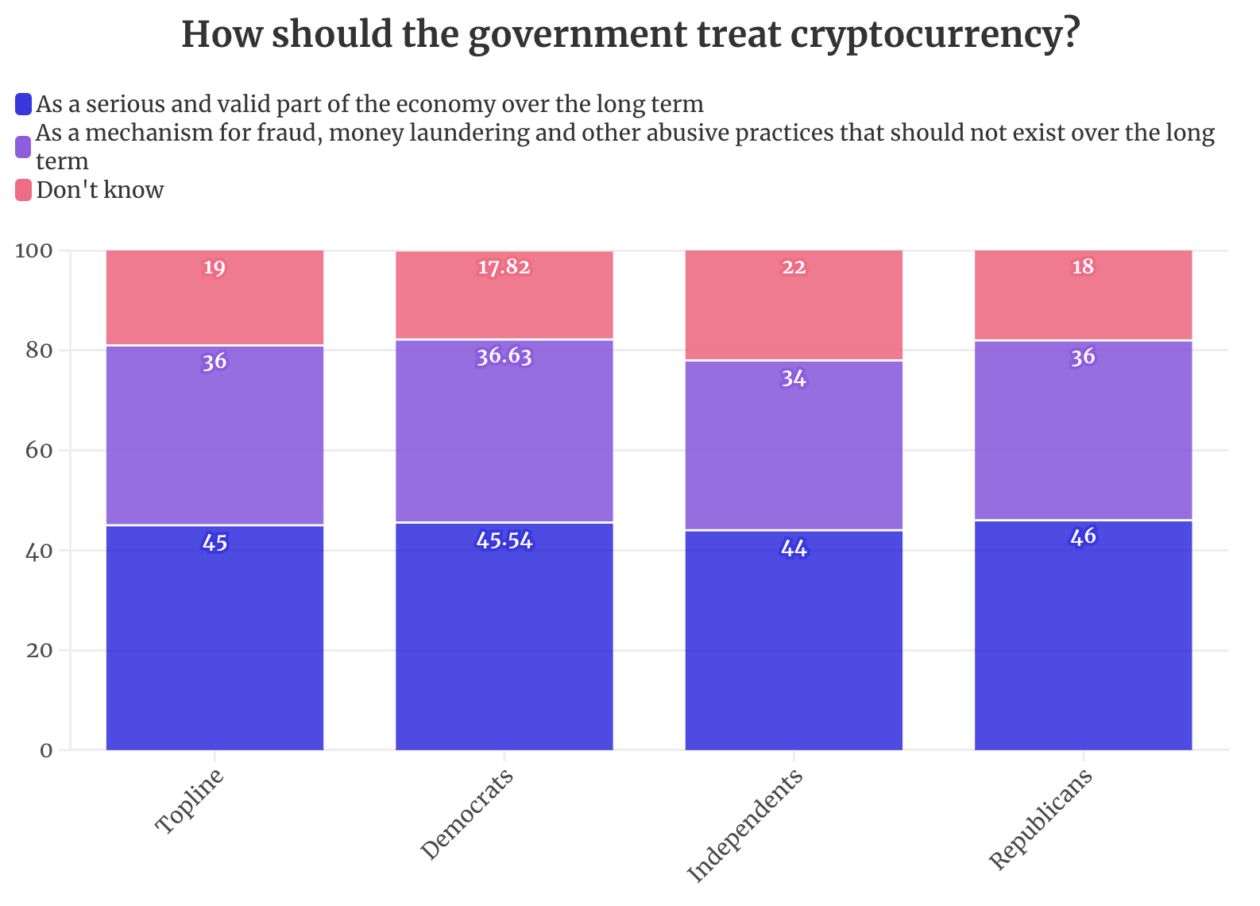 However, a majority of U.S. voters regard crypto's potential to be inhibited by the industry's lack of regulation, with 52% of respondents believing further legislative action is required. "Importantly, they are echoing what the industry has been calling for: regulation that provides clear rules of the road to protect consumers and realize the technology's full potential," Gardner said.
Whatever the aspects regulators may choose to focus on, a task which must precede this is deciding who will be responsible for overseeing and enforcing such regulation. The Securities and Exchange Commission (SEC) and the Commodity Futures Trading Commission (CFTC) are widely regarded as being in a deadlock, each seeking to claim the burgeoning crypto industry as their own beat. Although many, including Gardner and CFTC chairman Rostin Behnam, believe these responsibilities can be shared.
See related article: Former CFTC chair predicts Congress will push back on SEC's crypto regulation
The ultimate outcome of regulatory action in the U.S. will have far-reaching ramifications for the global crypto economy, with many global financial regulators being unlikely to proceed without a regulatory framework first being enacted in the U.S.
In September, for example, South Korea's Financial Services Commission expressed concern over a draft of crypto legislation, an FSC representative saying to the National Assembly, "MiCA (Markets in Crypto-Assets) is not yet finalized … and the U.S. also does not have the relevant regulation."
Ahead of such legislative action, however, many of the would-be legislators will be elected. On the basis of the report's findings, Garner believes the candidates who succeed in November will be the ones who acknowledge crypto's growing popularity and influence.
"This election promises some of the most competitive races in a generation," he said, "with many races likely to be decided by narrow margins. The crypto community is ready to make its voice heard in November — those candidates that listen will get their vote."