Smart-contract platform Ethereum's new version is set to operate on a proof of stake system that may be released in 2020, according to Andrew Keys, cofounder of ConsenSys Capital. Vitalik Buterin, cofounder of Ethereum, explained that Ethereum 2.0 will provide added capacity for users through sharding and scaling, privacy features and more alongside the new proof of stake system.
"2020 will see Ethereum move stridently beyond Phase 0 of Ethereum 2.0, onto Phase 1 and the launch of shard chains," wrote Keys, who is now managing partner at Digital Asset Risk Management Advisors, in a blog post.
Previously, according to a roadmap by ConsenSys, Ethereum 2.0's proof of stake system was slated for release in 2019.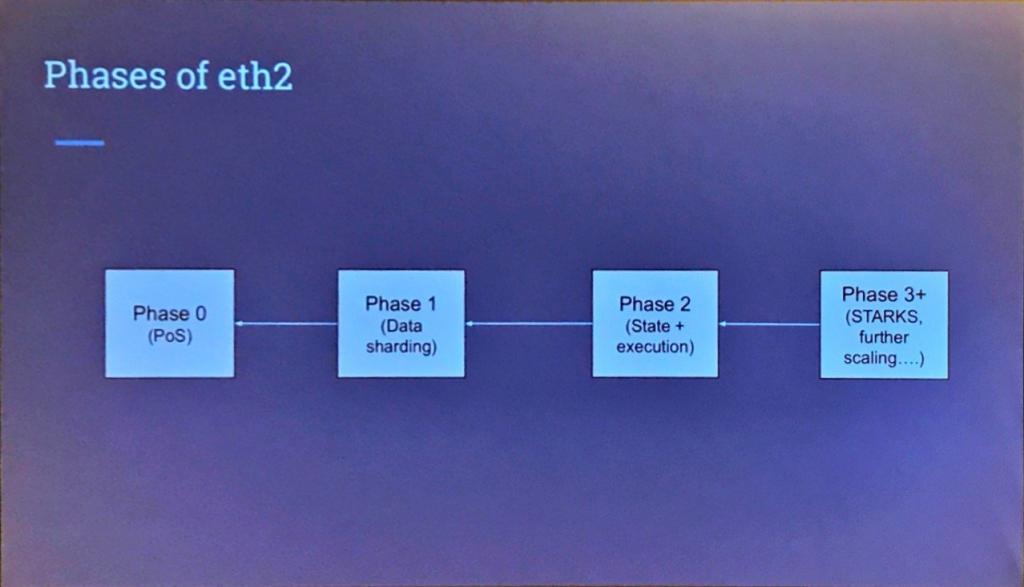 Ethereum 2.0's proof of stake system replaces proof of work miners with validators who have invested in the ecosystem. Algorithms then choose which validators will create new blocks on the blockchain depending on the size of their stake.
Ethereum 2.0's client testnet launched in January 2020, and saw "nearly 100% participation from over 22,000 active validators on the world's first boneless ETH2 testnet," according to Preston van Loon, a developer for Prysmatic in and interview with Trustnodes.
Buterin described four major phases of Ethereum 2.0: "Phase 0, get proof of stake running. Phase 1, sharding, so scalability, but starting with data. Then Phase 2, add stake and execution, which basically just means computation and smart contracts. And Phase 3 is basically other stuff that we want to add down the line," he said at The Hong Kong Jockey Club University of Chicago Academic Complex | The University of Chicago Francis and Rose Yuen Campus in Hong Kong on Oct. 16, 2019.
About 1 million ether, worth about $160 million USD, may already be staked on the proof of stake test network, according to Trustnodes.
See related article: In Conversation with Joseph Lubin, Founder of ConsenSys: Blockchain is a Paradigm Shift for the Planet
More privacy protection
Buterin explained that upgrades to Ethereum would include a raft of new features including privacy protection through the use of zero-knowledge proofs which allow users to prove information through computation without revealing specific details publicly. This would allow users private transactions and contracts to be executed without needing to demonstrate the content of those activities.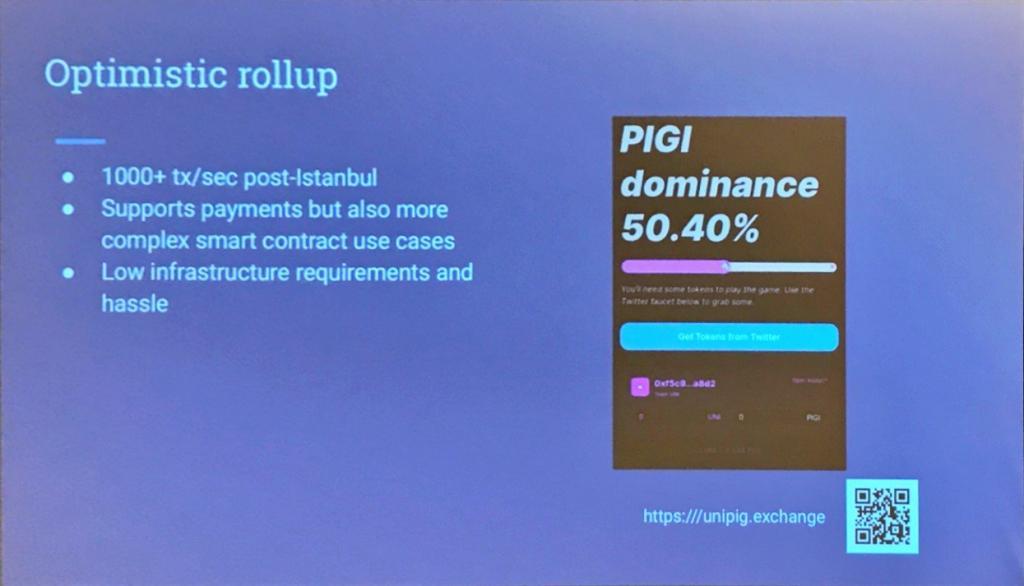 "If you're an enterprise, you want privacy," said Buterin, who added that enterprise solutions can be used by individuals. "When one of these groups build something for its own use, then a lot of the time that code can be taken and it can be re-purposed in other communities. Here we have enterprise-focused groups. One is Nightfall by Ernst and Young. The other is Zeth by Clearmatics which is a company building permissions settlements based on Ethereum for some major banking institutions," he said.
Increased scalability
Another feature will increase Ethereum's scalability. Optimistic rollup is a scaling for smart contracts and decentralized applications on Ethereum.
"It provides scalability gains that are not as large as you can get with sharding or with plasma or stay channels, but it provides scalability gains that are very real. We can expect to see … about 4,000 transactions per second in the absolute best case," said Buterin.
"Optimistic rollup is the scalability technique that says, 'We're going to put the computation off chain. We're going to put data on chain. And data is generally cheaper than computation and we're going to try really hard to compress the data,'" Buterin said. "Honestly, even if Ethereum 2.0 was delayed by another two or three years, this thing could easily carry us all the way until then."
Watch a video of Vitalik explaining Ethereum 2.0 progress here: Vitalik Buterin explains Ethereum 2.0's four phases: sharding, scaling, proof of stake and more